It's Never Too Late: SHS Class of '48 Friends Marry at St. James the Less
Tuesday, 16 July 2019 06:24
Last Updated: Tuesday, 16 July 2019 06:29
Published: Tuesday, 16 July 2019 06:24
Joanne Wallenstein
Hits: 2782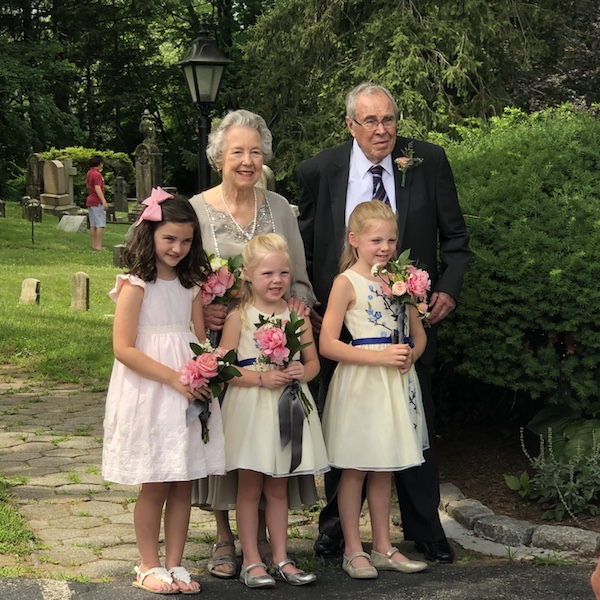 On Saturday June 29, two old friends and alumni of the Scarsdale High School class of 1948, Louise Clark and Peter Smith, celebrated their marriage at St. James the Less. Their journey to the altar weaved its way through so many connections in the Scarsdale community and proves that when love finds you it does not let you go!
In 1944, Louise Kinsey's family moved to Oak Ridge, Tennessee, where her father worked on the secret Manhattan Project. Peter Smith had been attending Edgemont School since he was five years old. In 1946, Edgemont students transferred to Scarsdale High School for their junior and senior years, and that same year, Louise's family moved to Scarsdale.
At Scarsdale High School, Louise, Peter, and Philip Clark, Louise's future husband, were all members of the Class of '48. Philip Clark had attended Scarsdale schools all the way through but had been friends with Peter Smith since kindergarten because they both attended the Church of St. James the Less. Philip, who had begun dating Louise senior year, persuaded her to attend that church also.
Upon graduation, Philip and Peter went off to Yale and Louise to Vassar (and later to Yale for graduate work). Philip and Lousie were married at St. James the Less in 1953. Peter also married and kept in touch with them. He brought his children to the Clark's home in Edgemont to attend the New York World's Fair in 1964 and continued to visit off and on. He agreed to be godfather to their son, Peter Clark.
Louise raised her children at St James the Less and they attended the Edgemont schools. Louise served as a Latin teacher in Edgemont and later a professor at Manhattanville College. She authored a book about the history of St James the Less which is so entwined with the founders of Scarsdale and another on the history of Greenville/ Edgemont. She has served as Edgemont Historian and now is the interim Greenburgh Historian. Louisewas the recipient of the Silver Box Award for community service in Edgemont, and to continue the coincidences, Peter, father received the same award long ago.
Philip Clark died in 1999, and Peter Smith visited a few months before to say good-bye. In the meantime, his engineering (aerospace and nuclear) career had taken him all over the country - St. Louis, Philadelphia, South Bend, Boston, Pittsburgh, Old Saybrook, CT, Schenectedy, and finally, Hanford, WA, another Manhattan Project site (the third was Los Alamos, NM). Louise had been teaching Latin at Edgemont High School and Manhattanville College and had become Edgemont Historian and now interim Greenburgh Historian.
When Peter's wife died, Louise and Peter became traveling companions and then decided to marry. The two had known each other for 73 years, were born four days apart in 1930 and now husband and wife, are looking forward to more travel. Both will turn 89 this August.
Friends and family attended the celebration of their marriage at St. James the Less on Saturday, June 29 at 11 am. The service was officiated by three priests who have served at St. James over the years. Smith and Clark children, grandchildren, and great grandchildren were there and provided exceptional music, with Louise's daughter-in-law playing the organ, her son-in-law the piano, and her children, grandchildren, and a great grandchild singing. Many other members of their families and extended family attended, along with parishioners of St. James the Less and old friends. A special guest was Nicholas Di Modugno, another member of SHS '48 and friend of Peter since kindergarten.