Sheet Pan Recipes to Make with the Kids
Wednesday, 01 April 2020 13:47
Last Updated: Wednesday, 01 April 2020 14:25
Published: Wednesday, 01 April 2020 13:47
Jodi Greebel
Hits: 2695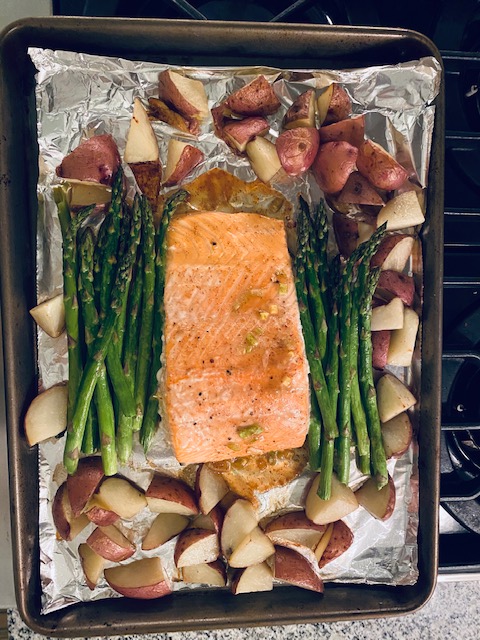 Here are some recipes that you can cook with your family from Scarsdale nutritionist Jodi Greebel:
So, you have been stuck at home for long enough that you have lost track of what day it is, made more meals than you can remember and likely not put on real pants in days. You can't seem to get out of the kitchen because you are either cooking, feeding someone a snack or cleaning up the never-ending dishes.
I am here to tell you that it's still possible to feed your family healthy meals even with limited food choices and no time between WFH, e-learning and other responsibilities. Below are two simple sheet pan meals that children of any age can help with. Let dinner prep become part of their new routine. Not only does it make less work for you, but it also helps occupy your children's time in a way that doesn't require your attention or breaking up fights. And, by making everything on one sheet pan, you cut down on the amount of dishes that need to be done. Each recipe includes LOTS of substitutions for ingredients so don't fret if you think you can't make the recipe. It also includes ideas for how to get kids of all ages involved.
MAPLE GLAZED SALMON WITH POTATOES AND ASPARAGUS
Serves 4
8 baby Yukon gold potatoes, washed and scrubbed, cut into 4 pieces
1 pound asparagus, trimmed
3 tbsp olive oil
kosher salt
pepper
2 tbsp maple syrup
1.5 tbsp Dijon mustard
1 tbsp scallions, chopped
4 salmon fillets (about 6 oz each) or 1 large piece of salmon (which can be portioned after cooking)
Preheat oven to 400 degrees. Line rimmed baking sheet with foil or parchment paper. In medium bowl, toss potatoes with oil, salt and pepper to taste. Spread on sheet pan and bake for 10 minutes.
While potatoes are cooking, in small bowl, whisk together maple syrup, Dijon mustard and scallions. Pat salmon dry and season with salt and pepper.
Remove sheet pan from oven, toss potatoes, and push them to sides of baking sheet leaving space for salmon and asparagus. Arrange salmon in middle of sheet pan and brush with maple glaze. Place asparagus around salmon and drizzle with remaining olive oil, salt and pepper from potatoes.
Return to oven and bake for 15 - 17 minutes until salmon is cooked through and vegetables are cooked and slightly charred.
SUBSTITUTES:
no baby yukon gold potatoes? try baby red potatoes, 4 regular size yukon gold potatoes, 2 sweet potatoes or 2 yams (cut larger potatoes into about 10 - 12 pieces)
no asparagus? use broccoli florets, cauliflower florets, green beans, carrot coins or Brussel sprouts (cut in 1/2). If using frozen vegetables, let defrost before cooking.
salmon - use frozen salmon or fresh. No salmon? swap for shrimp instead (cook potatoes for about 10 minutes, add vegetables and cook about 7 minutes before adding shrimp; add shrimp and cook about 7 - 8 min). If using frozen fish or shrimp, make sure to defrost before cooking.
no maple syrup? use honey
no Dijon mustard? use honey mustard and cut back to 1 tbsp maple syrup or honey
no scallions? omit
Get KIDS involved: (tasks depend on age and child's abilities)
find ingredients in pantry or refrigerator
measure out ingredients
scrub potatoes
mix potatoes with olive oil
whisk ingredients for maple glaze
set table
SHEET PAN NACHOS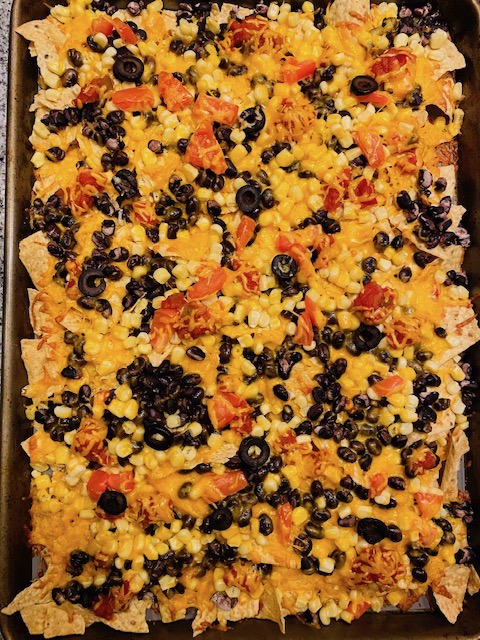 Makes 1 sheet pan
canola oil or olive oil cooking spray
About 6 - 8 oz white or yellow corn tortilla chips
2 1/2 cups shredded Mexican cheese blend
1 (15 oz) can black beans, drained
1.5 c frozen corn, defrosted
1 cup chicken, cooked and diced
1/2 c pico de gallo
1 jalapeno (if desired)
Serve with guacamole, sour cream and salsa
Preheat oven to 400 degrees. Line rimmed baking sheet with foil or parchment paper. Spray with canola or olive oil spray.
Layer tortilla chips on baking sheet. Sprinkle 1 cup of cheese evenly over baking sheet. Do the same for the black beans, corn and chicken. Spread pico de gallo over other ingredients. Sprinkle remaining cheese over chips. Add jalapeño slices if desired. Bake for about 4 minutes and rotate baking sheet. Bake another 3 - 4 minutes until golden brown and cheese is melted. Serve with above toppings.
SUBSTITUTES:
no Mexican cheese blend? substitute any type of shredded cheese such as cheddar, Monterey jack or mozzarella. Or, use a grater or food processor to shred your own
no black beans? substitute kidney beans, navy beans or omit
no frozen corn? substitute with canned corn, drained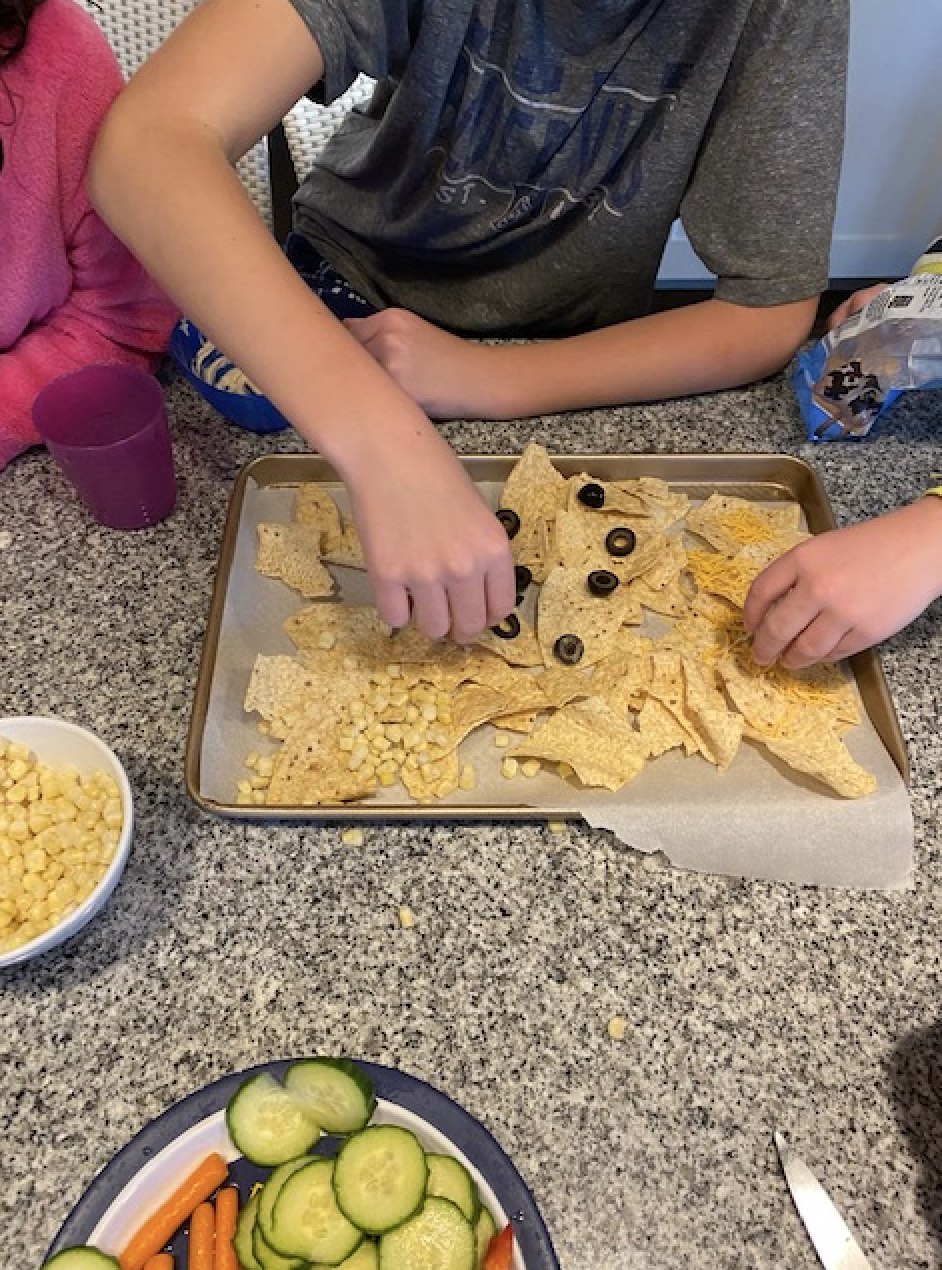 no chicken? substitute leftover cooked ground beef or ground turkey or
round chicken, cooked steak diced OR make vegetarian by omitting the meat
no pico de gallo? substsistute jarred salsa, 1/2 c canned diced tomatoes (drained), 1/2 c chopped tomatoes or omit if you don't have
no guacamole? slice up avocado
no sour cream? use Greek yogurt


Get KIDS involved: (tasks depend on age and child's abilities)
find ingredients in pantry or refrigerator
measure out ingredients
place tortilla chips on baking sheet
sprinkle cheese across tray
sprinkle other ingredients
set table

Jodi Greebel, MS, RDN is a Pediatric Registered Dietitian and the founder of Citrition (www.citrition.com). Jodi consults with children as well as for schools and camps. Follow her on instagram for healthy meal ideas, cooking tips and more on how to feed your family.