Outdoor Dining Space to Open on Spencer Place in Scarsdale
Monday, 15 June 2020 15:35
Last Updated: Thursday, 18 June 2020 07:42
Published: Monday, 15 June 2020 15:35
Joanne Wallenstein
Hits: 2417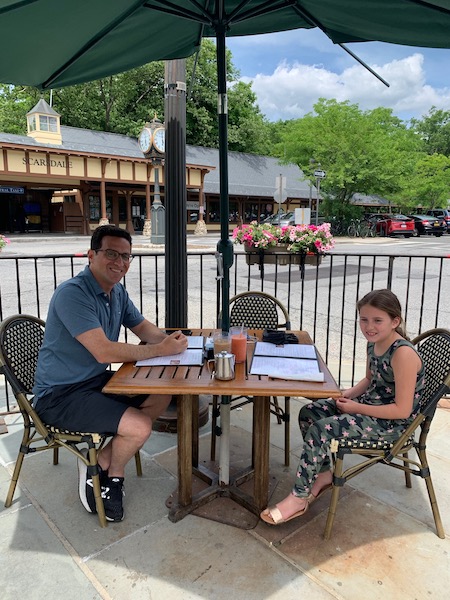 Trustee Justin Arest enjoyed lunch with his daughter outside on June 15.(This information was forwarded to us by the Scarsdale Business Alliance)
Scarsdale diners, hunkered down at home for the last few months, now have something to celebrate. Scarsdale Business Alliance (SBA) is thrilled to announce the opening of its Dine the 'Dale outdoor dining space, which will be located in Scarsdale Village on Spencer Place between Harwood Court and East Parkway.
Are you ready to see friends and neighbors again, while dining on some of your favorite Scarsdale restaurants' best dishes? Take a break from cooking, and come dine in Scarsdale Village,either under the 3,000 square foot tent located on Spencer Place or in the adjacent uncovered area. Scarsdale restaurants are so excited to welcome their customers back to the Village. Scarsdale diners can take a seat at one of the safely spaced picnic tables to enjoy table service from some establishments, delivery from others, or take-out from any of the Scarsdale Village restaurants. This is in addition to the outdoor dining areas already offered by some of Scarsdale's favorite restaurants.
Enthusiasm for the large outdoor food space is growing, as both restaurant owners and residents await its' opening this week. Of course, to ensure everyone's safety, diners will have to follow social distancing and safety guidelines, including wearing a mask when not seated.
Be sure to take advantage of this opportunity to eat out while supporting our Village center restaurants. As Scarsdale slowly reopens, this is just another step towards bringing our residents together while still staying safely apart.
The SBA is extremely grateful to Scarsdale Improvement Corp., the lead sponsor of this initiative, as well as Spencer East Realty. Additional sponsors include Partyline Rentals LTD and Scarsdale Security.
Not only can you dine outside in Scarsdale Village, you can also safely shop outside while adhering to social distancing guidelines. Following a public hearing, the Scarsdale Board of Trustees voted unanimously to amend village code to allow Village retailers to display and sell their wares outside their storefronts. "The village has spent considerable time listening to our needs and has been inclusive, welcoming and accommodating. We are thrilled to have entered Phase 2 of reopening and are excited to bring vibrancy back to our village center," said Marcy Berman-Goldstein, co-president of the Scarsdale Business Alliance.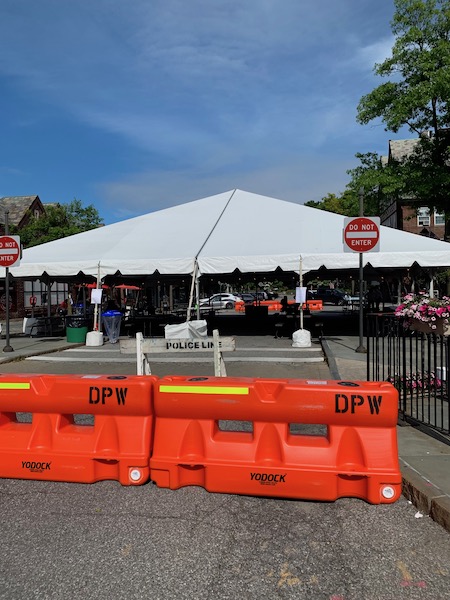 The top half of Spencer Place has been closed to traffic and a large dining tent is up.
"It is beyond inspiring to see the collaboration between the Scarsdale Business Alliance, property owners, and Village staff. In record time, they have reimagined our Village Center. Our community will be the beneficiaries of their creativity, innovation and energy. These initiatives will infuse vitality into our retail hubs and set us on a path of forward momentum. I am filled with optimism and am grateful for the resiliency and determination of our business community," said Deputy Mayor Jane Veron.
SBA board members have worked tirelessly in coordination with Village officials on all phases of Scarsdale's reopening. The SBA has regularly informed merchants of the applicable and ever-changing rules, assisted with allowing street level merchants to use sidewalk space, and helped reimagine innovative outdoor space usage on Scarsdale streets. The Village is also exploring avenues for health and wellness businesses to serve their local Scarsdale customers. In addition, the SBA continues to work with Scarsdale businesses outside of the Village Center to re-open and address current issues. All these endeavors, including this outdoor food hall initiative, put Scarsdale on a path to be the dynamic and vibrant town we all miss.

Scarsdale Village has approved the Spencer Place road closure and outdoor dining space through Labor Day Weekend (subject to a one-month trial), with the possibility of extending the initiative through October based on its success and need. This location allows for minimal disruption to traffic patterns, while maintaining the maximum number of parking spaces possible. Vehicles traveling on Spencer Place will be rerouted through Harwood Court.
The Village is providing merchant parking spots to Village center businesses in the Freightway Garage and is currently working on converting some of the commuter spots in Christie Place Garage to pay as you go meters to provide additional parking for Village patrons.
The SBA looks forward to infusing our Village with a renewed sense of community and togetherness after months of being apart.