Take A Book, Leave A Book at Scarsdale's New Library Kiosks
Monday, 17 August 2020 15:54
Last Updated: Monday, 17 August 2020 16:06
Published: Monday, 17 August 2020 15:54
Joanne Wallenstein
Hits: 2588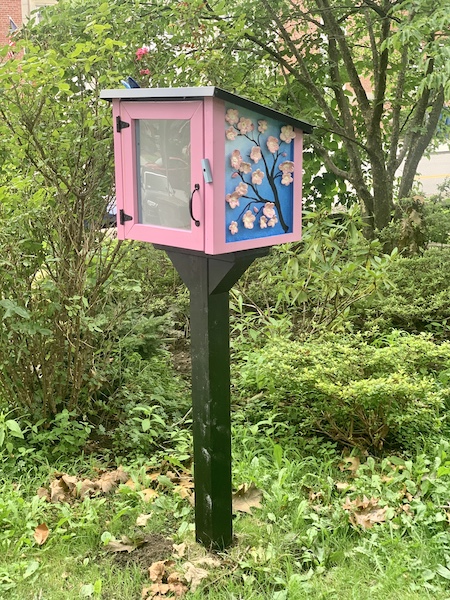 Chase Park Kiosk by Artist Simone Kestelman of Fox MeadowLibrary kiosks have arrived in Scarsdale! Four book kiosks were installed in parks throughout Scarsdale this week, with the simple mission of encouraging residents to "take a book, leave a book." Located in Brite Avenue Park, Crossway Field, Hyatt Park, and Chase Park, these community bookshelves are intended to encourage sharing books, interacting with neighbors, and lingering in the parks. A fifth kiosk will be installed at the Library Pond in September. At that time, there will be a ribbon cutting to recognize these new additions to our community, and thank everyone who contributed to this initiative.
The project was conceived of by Danielle Kohn, a senior at Scarsdale High School, as a way to promote reading and a sense of community in Scarsdale. The Scarsdale Library Board of Trustees, the Scarsdale Parks, Recreation and Conservation Department, and the Scarsdale Village Trustees approved the idea, a process that took almost two years to complete. Kohn secured the generous support of three local organizations, the Friends of the Scarsdale Public Library, the Friends of Scarsdale Parks, and the Scarsdale Foundation, which provided 100% of the funding for the kiosks. "So many volunteers and organizations came together to make this happen," Kohn said, "I hope this collaboration reflects what the kiosks can do for our community by bringing us together over a shared love of books." Scarsdale Library Director Beth Bermel and Superintendent of Scarsdale Parks, Recreation and Conservation Brian Gray were instrumental in supporting the project and bringing it to fruition. "This project is an excellent example of Scarsdale at its finest. Brian and I are so impressed by Danielle's dedication and perseverance, as well as her ability to garner support throughout the community," said Ms. Bermel.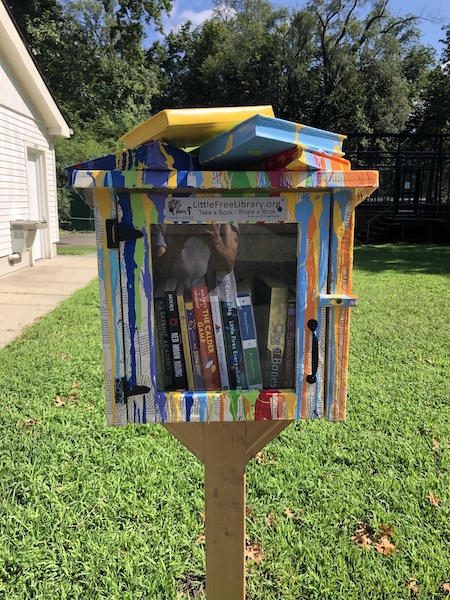 Kiosk at Brite Ave Tennis Courts by aAtist Michelle Foligno - SHS Visual Arts TeacherFour Scarsdale artists, Simone Kestelman, Michelle Foligno, Amanda Arbeter, and Lydia Hassan, donated their time and talent to transform the kiosks from wooden sheds into works of art. The result is that the kiosks are not only a medium for neighbors to exchange books, but they also serve as public art installations in parks throughout the community.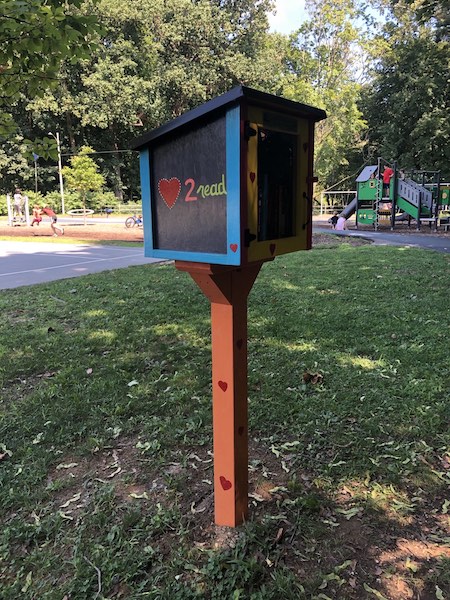 Kiosk at Hyatt Field Playground by Artist Lydia Hassan
The library kiosks are part of the Little Free Library movement, which began in 2009 when Todd H. Bol created the first neighborhood book exchange in his front yard as a tribute to his mother, a teacher. There are now over 100,000 Little Free Libraries worldwide, which have shared nearly 165 million books.
Artist Biographies:
Simone Kestelman is a sculptor and multi-media artist working in glass, ceramics, and photography. Kestelman has exhibited her art in solo exhibitions in museums and galleries around the world, and has been included in museum shows at Museu Brasileiro da Escultura e Ecologia in Brazil, the Thessaloniki Contemporary Museum, in Greece, the Katonah Museum of Art in Westchester, and Edward Hopper House Museum in Nyack. Her work can also be found in the permanent collection of the Newark Museum of Art, as well as private collections in Brazil, the United States and Europe.
Michelle Foligno is a visual arts educator at Scarsdale High School where she teaches 3D mediums of pottery, sculpture, and architecture. She is an accomplished artist, having displayed her work in many galleries in NY and NJ over the past 20 years. Before becoming an arts educator, Michelle worked in the fashion industry as a textile designer for 15 years.
Amanda Arbeter, a Quaker Ridge resident, was an Art History major at The University of Michigan, where she created a series of oversized, abstract, acrylic pieces. Inspired by two of the pieces, which hang in her home today, she started a business painting commissioned bespoke artwork. Her art is large in scale, primarily focusing on color and the relationship between each vibrant layer of paint on the canvas.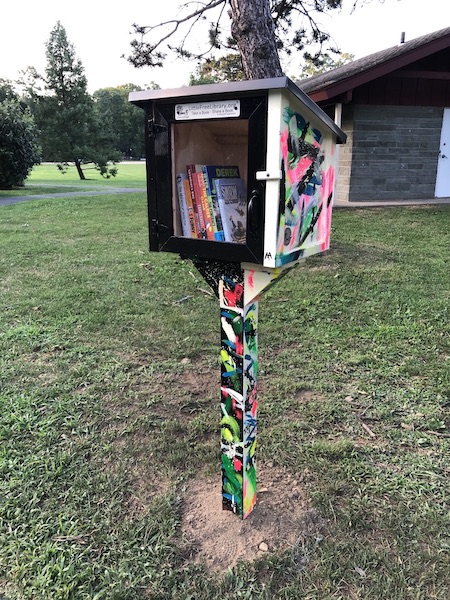 Kiosk at Crossway Tennis Courts by Artist Amanda Arbeter.Lydia Hassan has been teaching art to all age groups from preschoolers through adulthood. She has been an art teacher for many years in the preschool program at the JCC of Mid-Westchester, the Scarsdale elementary school after school clubs, and the Scarsdale Adult School.