Gun Violence Awareness Day Declared for June 4th
Wednesday, 02 June 2021 21:06
Last Updated: Thursday, 03 June 2021 16:37
Published: Wednesday, 02 June 2021 21:06
Jordi Wiener
Hits: 469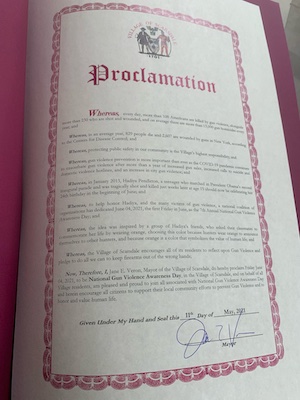 Pat Colella and members of the Westchester Chapter of Moms Demand Action Against Gun Violence gathered at Village Hall at noon on June 1 to receive a proclamation from Scarsdale Mayor Jane Veron declaring June 4 as Gun Violence Awareness Day in Scarsdale.
Before reading the proclamation, Veron thanked the group for their devotion and standing up for their beliefs. She said, "what you do is so important."
She read the proclamation which was followed by remarks from Pat Colella, the co-lead of the Westchester chapter of Moms Demand Action for Gun Sense in America.
Pat Colella said,"National Gun VIolence Awareness is an annual event that takes place on the first Friday in June, and is the beginning of Wear Orange Weekend. Wear Orange is dedicated to honoring the lives of people in the United States affected by gun violence and elevating the voice of those demanding an end to gun violence.
Wear Orange originated on June 2, 2015 - what would have been Hadiya Pendelton's 18th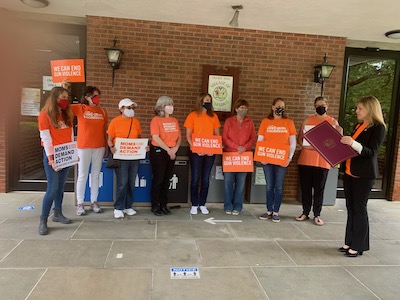 Shelly Katz, Amy Stern, Elee Bernd, Pat Collela, Ginny Srere, Nan Berke, Sara Kober, Kelly Rogers and Mayor Jane Veron. birthday. It began with teenagers in Chicago, who wanted to honor their friend, Hadiya, after she was shot and killed one week after performing in President Obama's second Inaugural Parade in 2013.
Gun violence didn't stop because of COVID-19 - in fact, it worsened. In 2020, the number of people killed by gun violence exceeded 40,000 - the highest rate of gun deaths in two decades.
But as gun violence has grown, so has the movement to stop it. I'm here as a volunteer with the Westchester County Local Group of Moms Demand Action for Gun Sense, which was founded in the wake of the shooting at Sandy Hook Elementary School. In the 8 years since that tragic day, Moms Demand Action has expanded to include a chapter in every state, with more than 6 million volunteers dedicated to ending the epidemic of gun violence in our nation.
Across the country, Moms Demand Action works with students, survivors of gun violence, law enforcement officers, faith leaders, teachers, doctors, and all kinds of Americans who know there is more we can do to prevent gun violence.
Together, we advocate for stronger laws and policies that will save lives, and we are proud to be a driving force behind many Wear Orange events.
On behalf of Moms Demand Action for Gun Sense, I thank Mayor Veron and the Village of Scarsdale for supporting us in this important movement."