SVAC Providing PCR Testing for Campers
Thursday, 17 June 2021 13:32
Last Updated: Thursday, 17 June 2021 13:50
Published: Thursday, 17 June 2021 13:32
Joanne Wallenstein
Hits: 493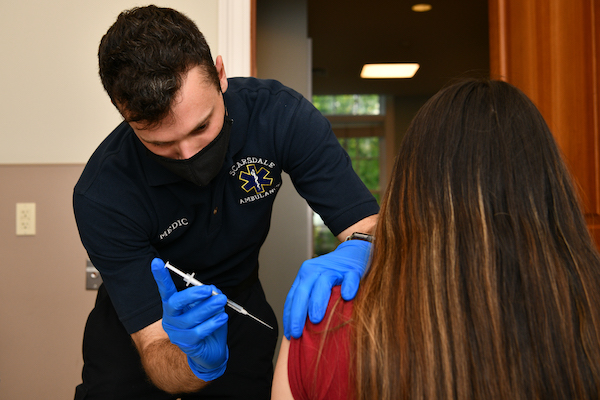 The Scarsdale Volunteer Ambulance Corps is providing extended hours PCR COVID-19 testing for kids heading to camp. This year, most camps are requiring a negative PCR test 72 hours in advance, even with proof of vaccination. SVAC provides convenient testing at its 5 Weaver Street headquarters, and results are received in approximately 15 minutes. Reservations can be made here.
SVAC acquired both rapid and PCR testing capabilities a few months ago as an alternative to the long lines that were forming at area urgent cares. Patients pull their car into a dedicated parking spot where they are met by an EMT. Without leaving the vehicle, they are swabbed, and their results provided while they wait.
"We have performed more than 400 tests in the last two months," said David Raizen, SVAC's President. "Originally, the State of New York provided us the test kits, but they have not replenished them and we must now procure them on our own at market value."
In addition to individual appointments, SVAC has worked with Scarsdale Schools to provide private testing sessions for prom-bound kids and is offering rapid testing for unvaccinated individuals attending commencement.
"We are a community-based volunteer organization that is passionate about serving Scarsdale and the surrounding area in any way we can," said Raizen. "We have highly trained personnel, we have modern equipment and facilities, and we have the supplies. It is the right thing to do."
SVAC is transitioning from a model of being purely reactive to include proactive services as well. They ran vaccination clinics including at-home injections to homebound seniors. They are currently running four EMT classes, including an accelerated version for senior option students. And, they are once again offering CPR classes, a service they had suspended during COVID.
SVAC celebrated its 50th anniversary last year and runs four 911 ambulances and three fly cars through a combination of paid and volunteer personnel. As one of a handful of certified EMS training centers in the County, they provide all the training necessary for new volunteers. No prior experience is required except a desire to help your community. For more information about becoming a volunteer, donating, or taking a class, visit scarsdalevac.com.