Wrongfully Accused Man Describes His 17-Year Prison Term
Wednesday, 18 January 2023 13:21
Last Updated: Thursday, 19 January 2023 12:25
Published: Wednesday, 18 January 2023 13:21
Amelia Fader
Hits: 664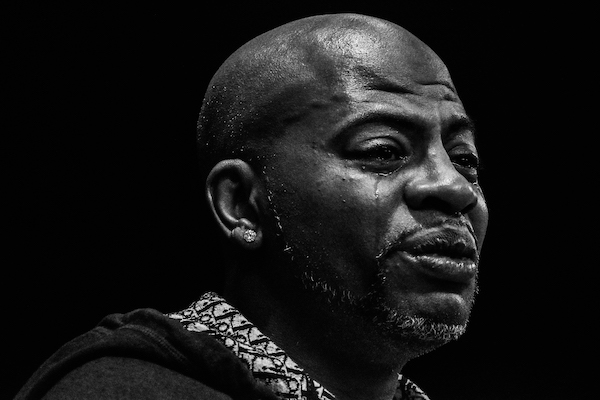 John Bunn: Photo by Joseph DiMartinoAt the age of only fourteen, John Bunn was convicted for a murder that he did not commit. On Friday, January 13th at the Scarsdale Public Library, he shared his emotional story with an attentive audience of students, parents and educators.

Raised by a single mother battling addiction in an impoverished Brooklyn community, John learned to cope with adversity by keeping himself busy and out of his house at all hours. Hanging out on the streets with older kids ultimately led to involvement in petty crimes and robberies. Then, in 1992 at the age of fourteen, he was convicted of murdering a corrections officer. This conviction was based largely upon his personal associations and, as he later learned, the fraudulent accusations of a corrupt NYPD detective. Asleep in his house at the time of the crime, John was unaware that the murder even took place. Nonetheless, given the lack of resources and inferior legal defense provided to him, he was convicted of the charges and served seventeen years in prison.

In his presentation, John shared details of his experiences in prison followed by his release in 2006, and eventual exoneration in 2018 when new evidence emerged that fully cleared his conviction. He spoke about the brutality of surviving behind bars and how he transformed from being 'incarcerated' to 'institutionalized.' As an under-schooled teen, he said his reading and writing were substandard and he took in whatever education and literature that he could obtain, eventually earning his GED. "They can lock my body but they can't trap my mind." He explained the difficulties he and other former prisoners face upon re-entering society, including his own emotional barriers to forming close relationships.

Since his release, John Bunn founded the nonprofit organization, A Voice 4 the Unheard, which strives to "properly resource students with motivational and academic content" by refurbishing community and prison libraries and providing books where they are most needed. John stated that "without proper education and communication skills, people resort to using their fists to communicate." He shared that the two books that have impacted him the most include The Coldest Winter Ever by Sister Souljah and The New Jim Crow by Michelle Alexander. It is the mission to help educate and inspire under-resourced youth to invest in themselves that gives his life meaning.
John Bunn's story and aid from The Exoneration Initiative inspired officers and members of The Innocence Club, the SHS club who invited him to speak. The club, led by President Isabelle Goldban, seeks to raise awareness about the criminal justice system and its injustices. In the following weeks, the club plans to start a book drive to gather books to donate to Bunn's organization. For further information on the clubs future events, follow them @theinnocenceclub on instagram or visit theinnocenceclub.com. For more information about John Bunn and how to get involved in his cause, visit avoice4theunheard.org.
Amelia Fader is a sophomore at Scarsdale High School.