Ho Ho Ho: See What's In Store for the Holidays in Scarsdale
Details

Written by

Joanne Wallenstein

Hits: 265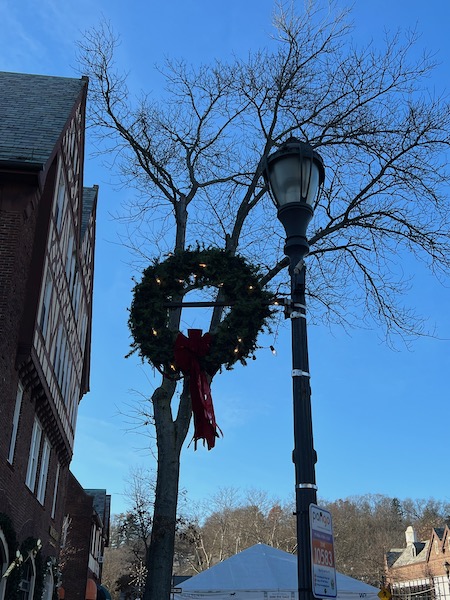 Hanukkah begins early this year. We'll light the first candle on Friday night December 8 with Christmas only 15 days behind.
We reached out to retailers in town to see what they recommend for holiday gifts and here is what they have in store. Browse below and then visit them to support our local economy.
Happy happy to you from Scarsdale10583.com.
I Am More Scarsdale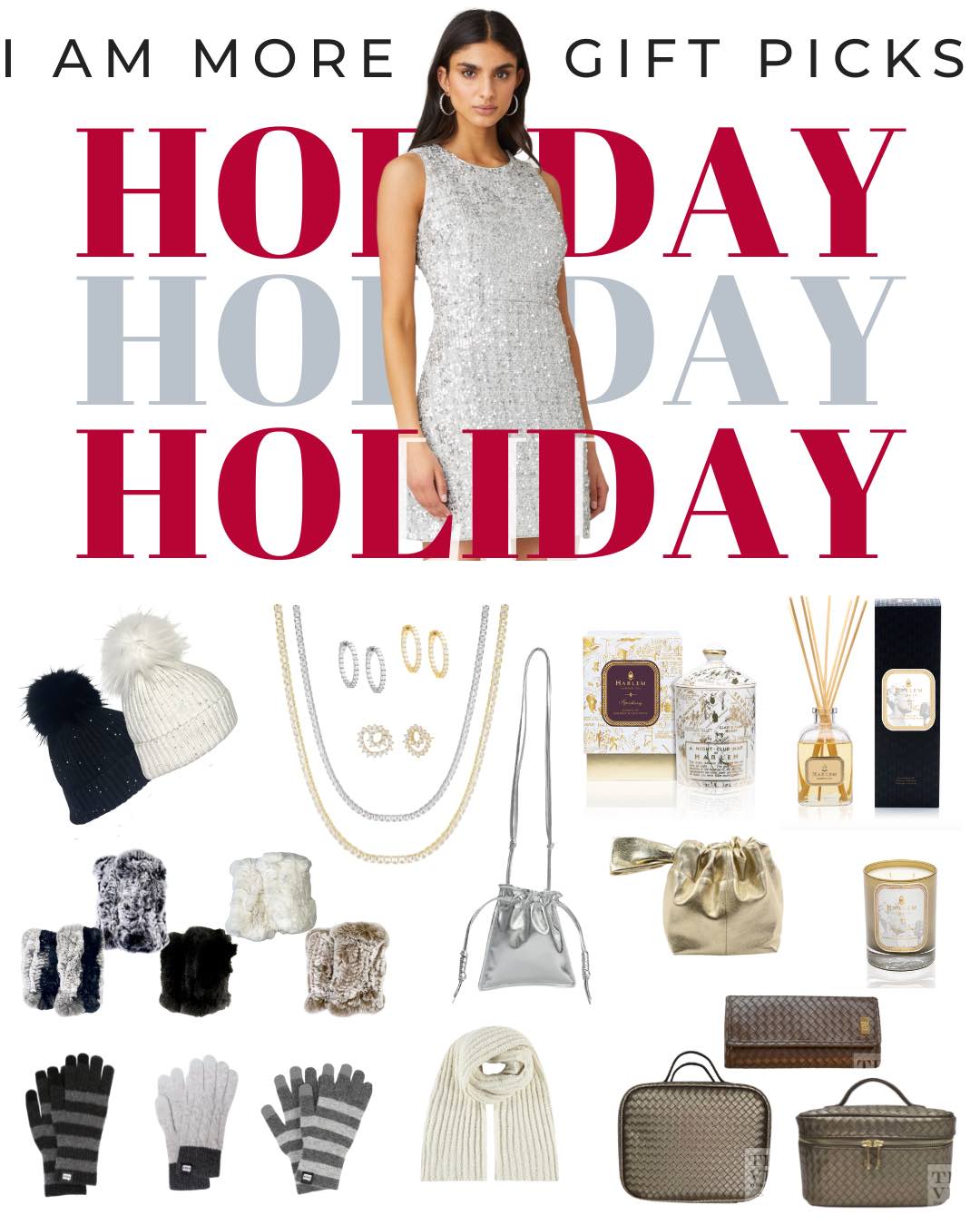 From everyday jewelry, woven travel accessories, leather metallic handbags, candles & diffusers, to hats, texting gloves and scarves, I Am More Scarsdale has all of your gifting needs!
Linda Richards hats ($120) & fingerless fur gloves ($84), Evolg texting gloves ($40-$53), Rino & Pelle Scarf ($74), Everyday Jewelry ($68-$178), Lemiz metallic leather bags ($365-$495), TRVL woven accessories($44-$84), Harlem Candles($48-$98) & Diffuser($52)
Naghedi signature sustainable handwoven neoprene totes ($210-$360)
I Am More's mission is to empower women to make them feel confident, to support women-owned businesses and designers, and to give back to local and women's philanthropic organizations. I Am More operates as a philanthropic business, with ownership forgoing a salary in order to donate profits to the organizations that it supports.

I Am More Scarsdale, 6 Spencer Place, Scarsdale, 914-723-6673 (MORE) @iammore.scarsdale
Eye Gallery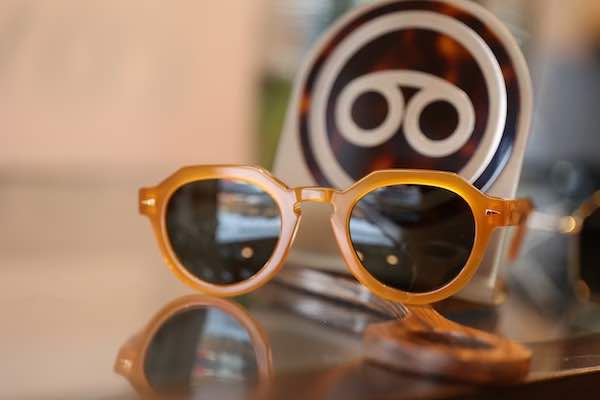 Eye Gallery of Scarsdale invites you to check out the latest sunglasses and eyewear for this holiday season! With new styles from Chanel, Celine, Chrome Hearts, Thierry Lasry, Jacques Marie Mage Barton Perriera and AHLEM eyewear you will never run out of options for holiday gifts this year! And while you're in town make sure to make an appointment for your annual eye check-up.
Keep an eye out for the opening of our brand new expanded facility at 15 Boniface Circle this winter.

Eye Gallery of Scarsdale, 8 Spencer Place, Scarsdale, (914) 472-2020.
Current Home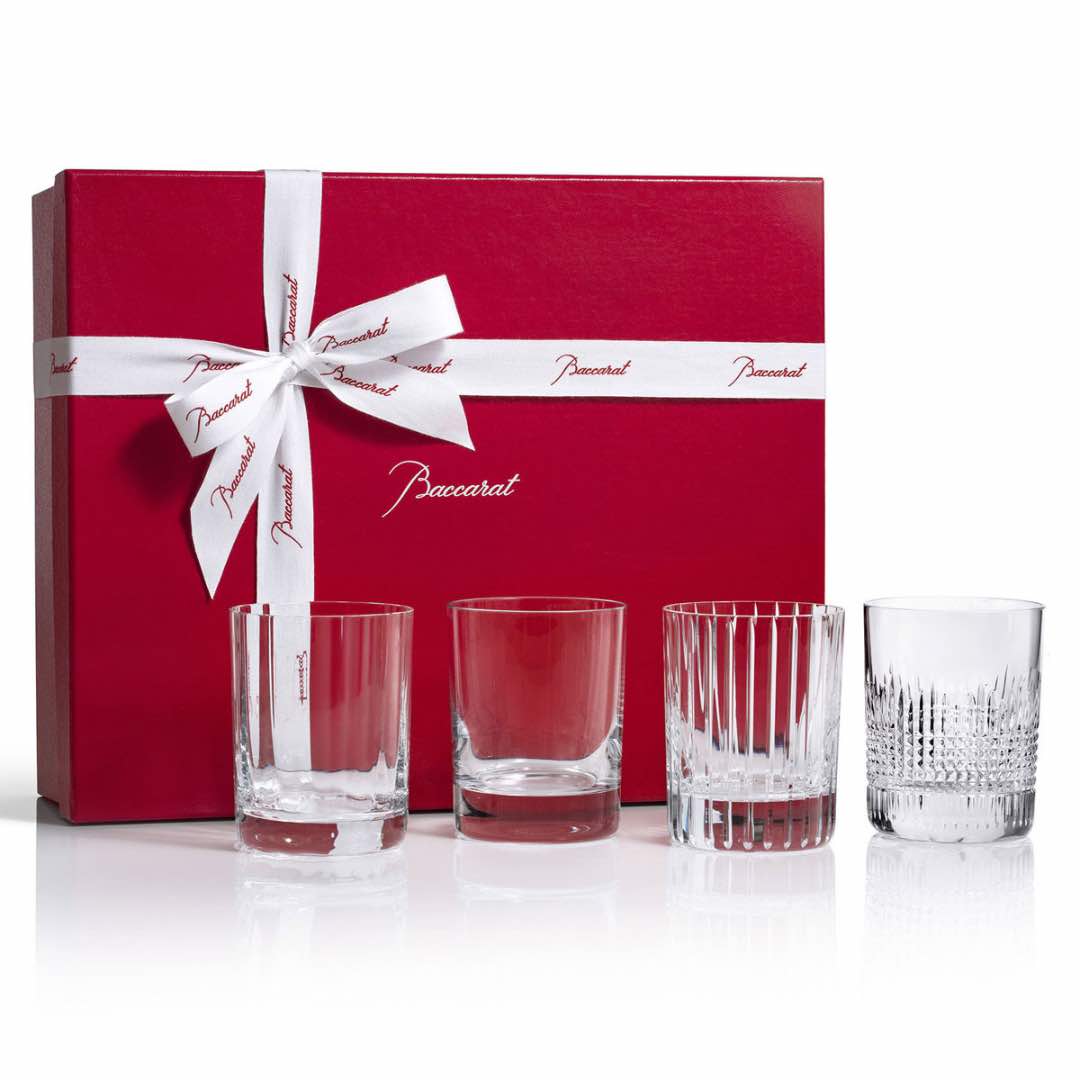 Home is where the love is this holiday and Current Home has exactly what everyone needs to make time at home special. We are the go-to destination for a large selection of truly thoughtful and luxury gifts the whole family can enjoy.
This gift set contains four Double Od Fashioned tumblers inspired by the four elements of the Baccarat crystal. Perfect for the mixologist in your life: $600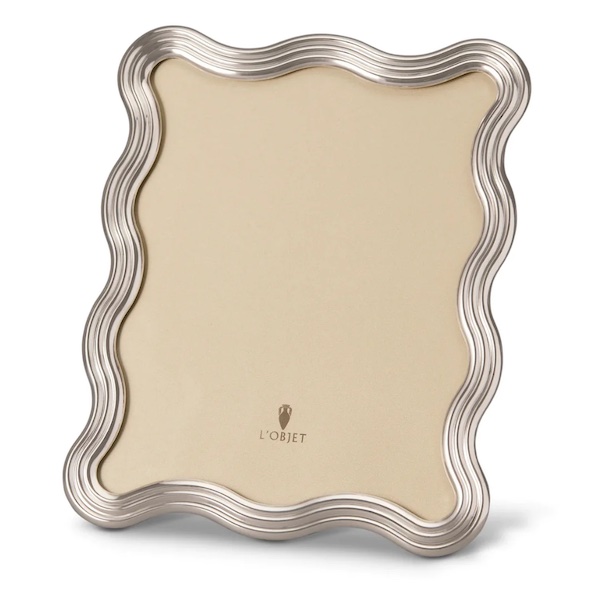 The Ripple Frame from L'Objet embodies the modernist spirit of the 1970s. Fill these stunning frames and create vivid memories that will last a lifetime: From $200
The Excelsior Rumi Set is an elegant twist on an old favorite: $165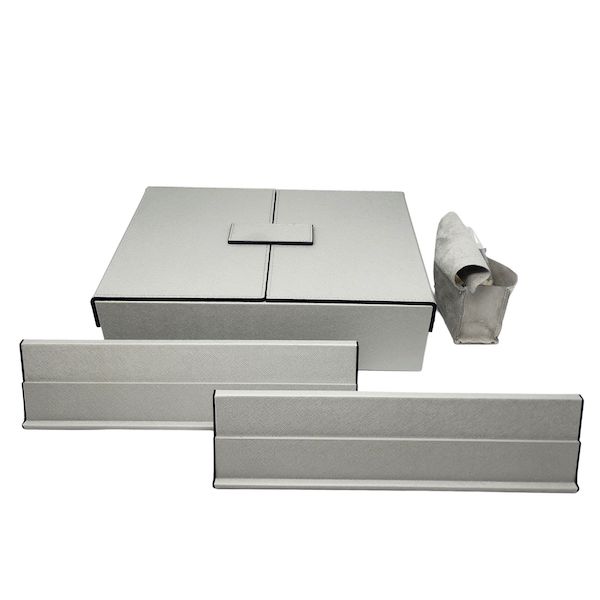 Current Home: 1096 Wilmot Road, Scarsdale and 1189 Lexington Avenue, New York, NY.
Pamela Robbins
The iconic store is where luxury and lifestyle come together for women of all ages seeking anything from tee-shirts and jeans to an outfit for a special event. Loyal customers and newcomers alike are drawn to Pamela Robbins for Pam's incredible sense of style and her team of stylists.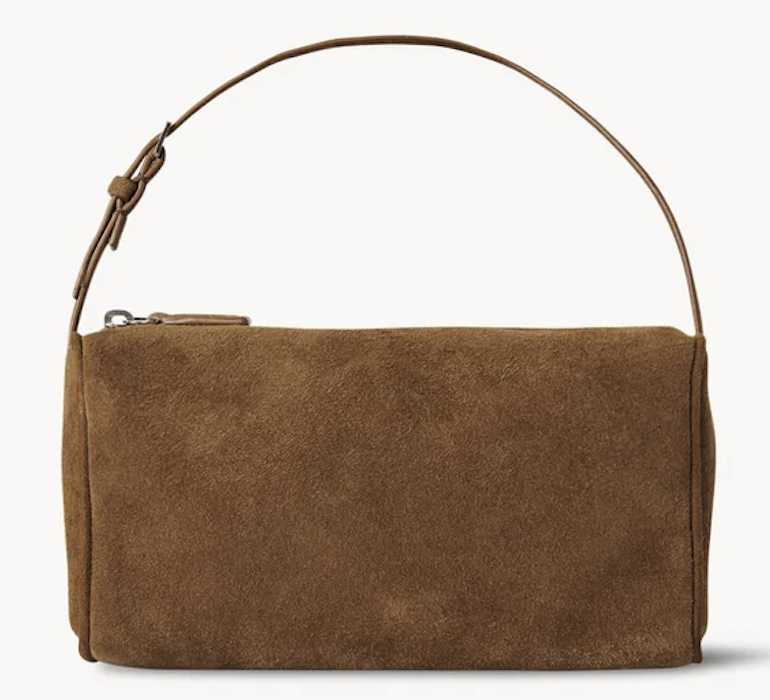 In store for the holidays:
The 90's Bag from the Row: With a focus on exceptional fabrics, impeccable details and uncompromising quality, The Row explores the strength of simplistic shapes, resulting in timeless staples with subtle irreverence. The '90s' bag is crafted from supple suede with softly rounded edges, leather piping and a slim strap. Use it to carry the essentials.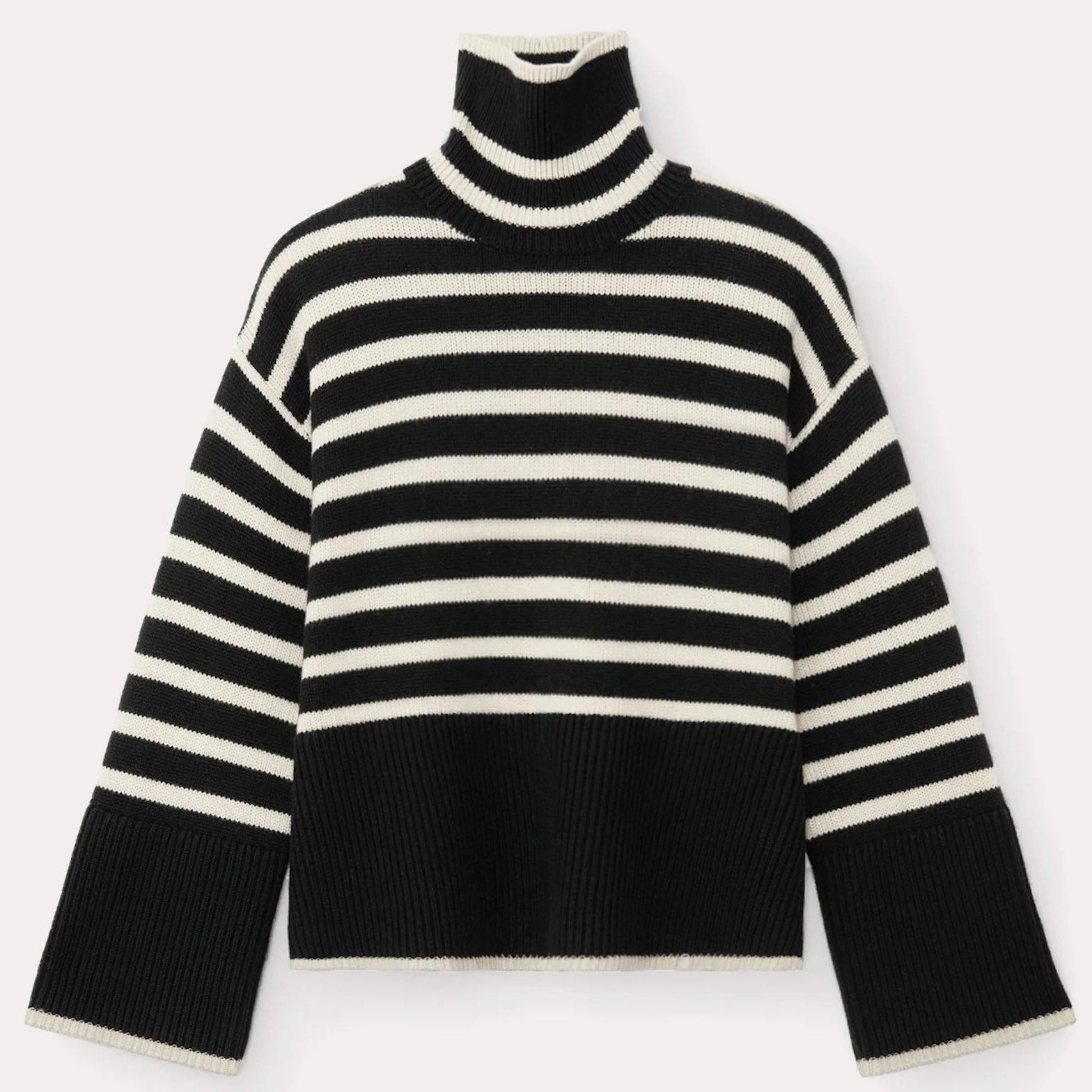 Signature TOTEME Turtleneck Sweater: Knitted with classic sand and black stripes. It's made from heavyweight wool certified by the Responsible Wool Standard and organic cotton to a box silhouette framed by a tall neck and wide, extra-long sleeves with dropped shoulders. Style it with the neck undone for a nonchalant look.
Find these and more sweaters, bags, and great looks from heritage brands and contemporary designers at Pamela Robbins, 5 Boniface Circle, Scarsdale. (914) 472-4033.
Scentfluence
Scent the season with gifts, wrapped beautifully and smelling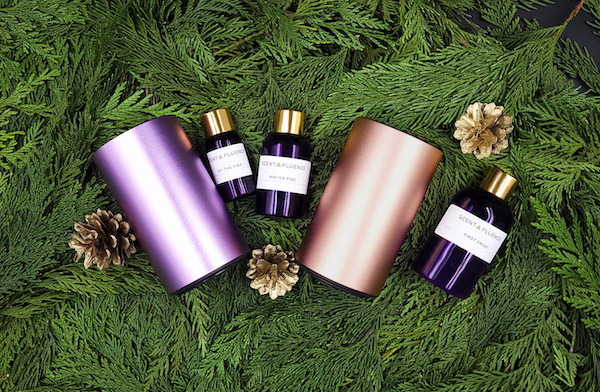 Scentfluence2021fantastic for everyone on your list. Teacher gifts, Hostess gifts, Corporate gifts, Stocking stuffers…easy, wrapped and ready. Let ScentFluence take these to-dos off your list.
Enhance your holiday home with our seasonal diffusible ambient oils, elegant diffusers, great smelling candles, scent samplers, and more. Explore our extensive library of scent oils including our unique collection of luxe hotel collabs (only available at ScentFluence). Discover something for every room and everyone.
Private in-studio scent-events are a unique gift for small gatherings of friends, or holiday company event. Contact caroline@scentmarketing.orgor 914-338-5070. ScentFluence hours: Tues-Sun 12-5.

ScentFluence, 22 Harwood Court, Scarsdale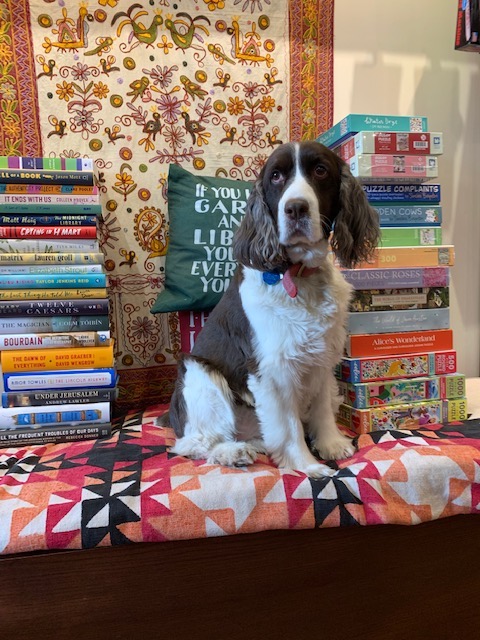 Bronx River Books
Get your Season's Readings at the neighborhood bookshop. Over 17,000 different titles currently in store. Hundreds of thousands more available within three days by special order. Plus jigsaw puzzles (more than 300 designs), bookish gift items, and gift certificates. In-store and website shopping.

Bronx River Books, 37 Spencer Place, Scarsdale, 914-420-6396.
Greenwich Medical Spa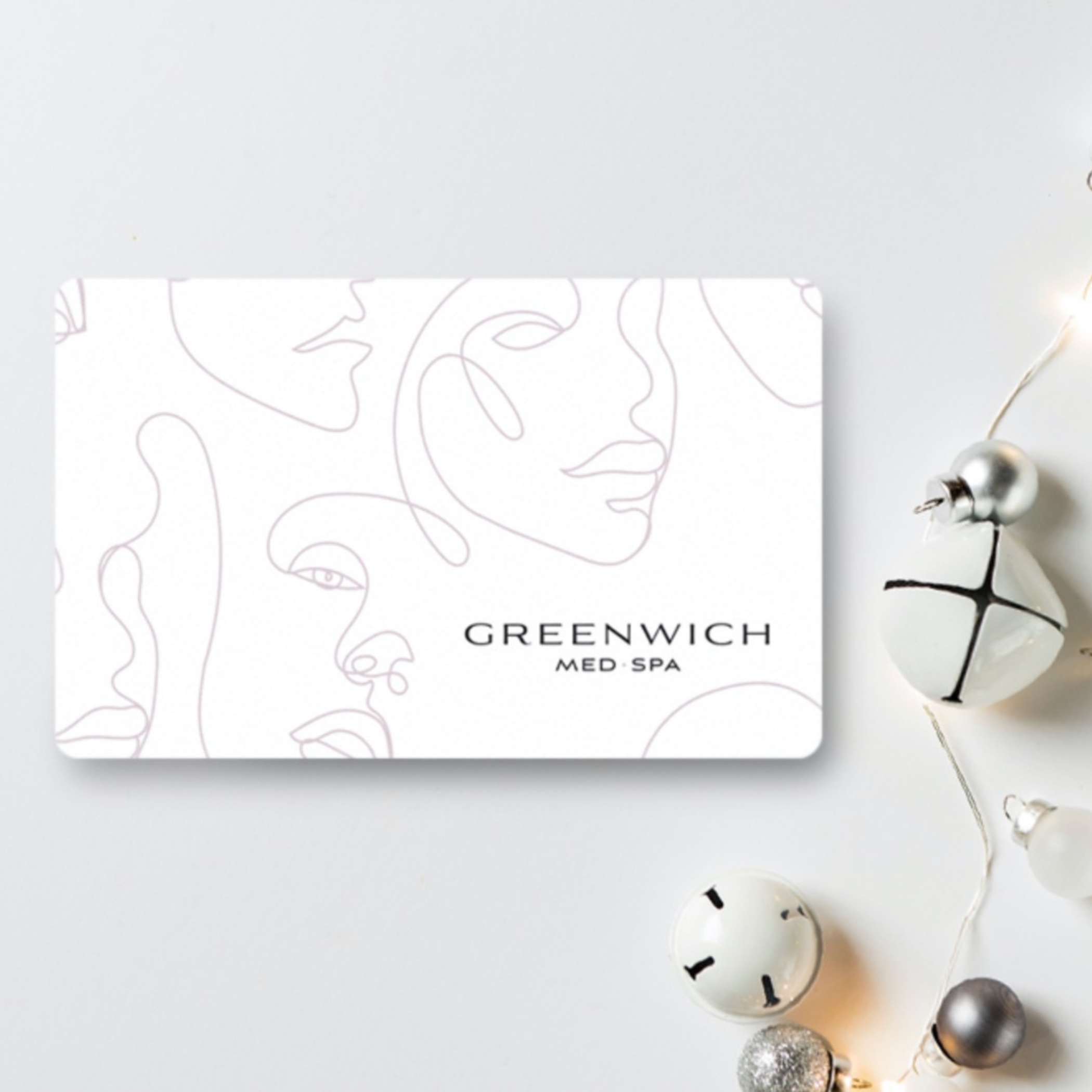 "Give the gift of confidence this holiday season. Delight friends and family with a GMS gift card to use however they wish on treatments like facials, laser hair removal, botox, filler and much more. You might just want one for yourself!"

Greenwich Medical Spa, 1132 Wilmot Road, Scarsdale, (914) 228-1954

SBA Dale Dollars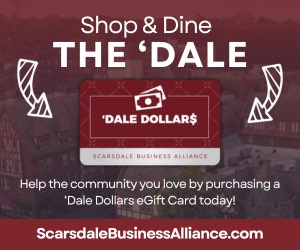 Not sure what to buy? Then give them a 'Dale Dollars eGift Card, a community-based digital gift card that makes it fun and easy to keep spending local. Purchase a 'Dale Dollars eGift Card here to use at any of the participating shops in the neighborhood. With this card, you can write a personal message and send it to family, friends and colleagues via email, text, or physical copy. Recipients can choose to spend it at one of many participating merchants in Scarsdale —or mix it up and spend flexibly at multiple locations.
All-digital and always available on your phone, the 'Dale Dollars eGift Card is great for the holidays, birthdays, teacher appreciation, coach gifts, or just to show your appreciation to a friend. Now you can give back to the community while you celebrate the holidays and special occasions!


To add your holiday gift suggestions to this guide, email us at scarsdalecomments@gmail.com.
Why Are You Grateful?
Details

Written by

Joanne Wallenstein

Hits: 549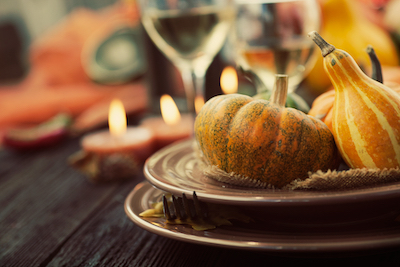 Looking out at the colorful fall leaves in our bucolic Village there are few signs that the world around us is in turmoil. So at least for a few minutes today, let's pause and remind ourselves of all the good we see and why we're grateful to live in this benevolent community.
We asked some local leaders to express why they are grateful at this time of year and here is what they shared:
County Executive George Latimer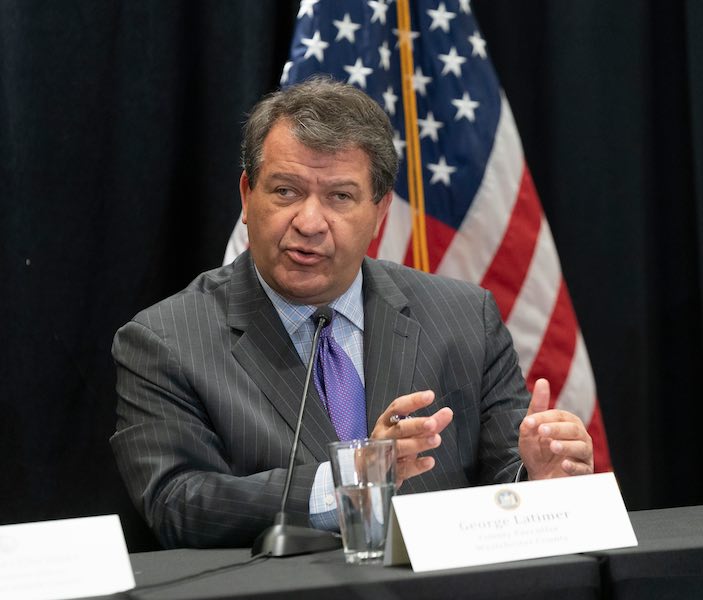 George Latimer
I'm very grateful for all my neighbors and friends who contribute time and effort to help others in the community. Scarsdale, and Westchester, is blessed with an ethic of volunteer spirit that enriches our lives.
State Assemblywoman Amy Paulin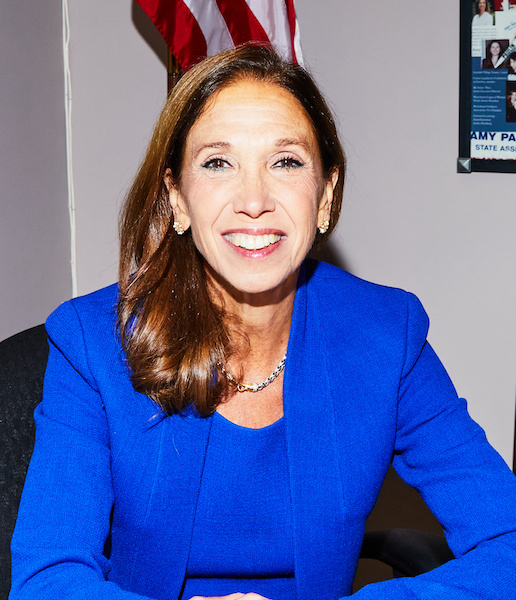 Amy Paulin I am grateful I am going on a solidarity trip to Israel leaving Sunday. When the war broke out I just wanted to be there and now I will be. I am also grateful that after hosting Thanksgiving for 39 years for 35 people, my daughter, Sarah, is hosting.
Scarsdale Mayor Justin Arest
I'm thankful for my family, friends, village staff who execute the services we rely on seamlessly, and a community of volunteers that comes together in challenging times. I am also thankful that some of the hostages are being released but they all need to come home, now.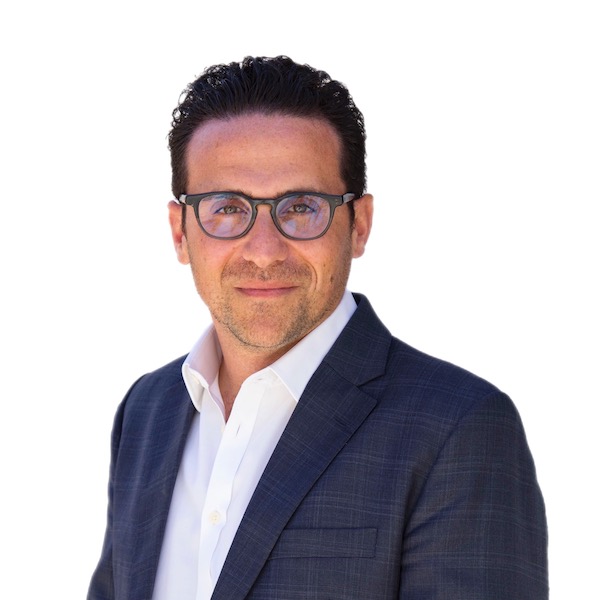 Justin Arest
Village Trustee Dara Gruenberg
With everything going on in the world, this year, I am particularly grateful for my family, our three pups, my friends, and our wonderful community. I am hopeful that the hostages will come home. I pray for their safe return.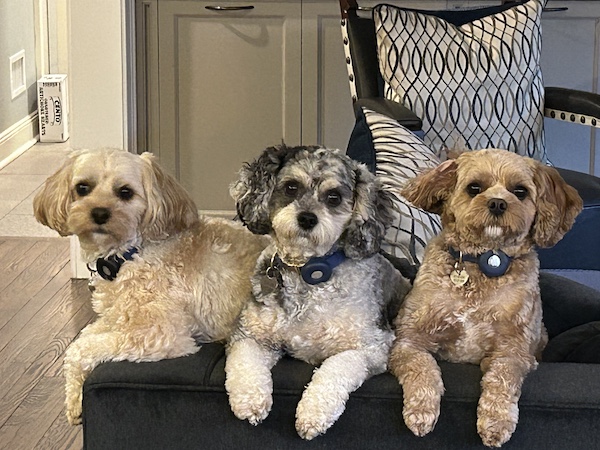 Rabbi Jonathan Blake from Westchester Reform Temple
I'm thankful for the strength, solidarity, and interconnectedness of our community, which has demonstrated tremendous resilience and activism in the face of rising antisemitism and intimidation.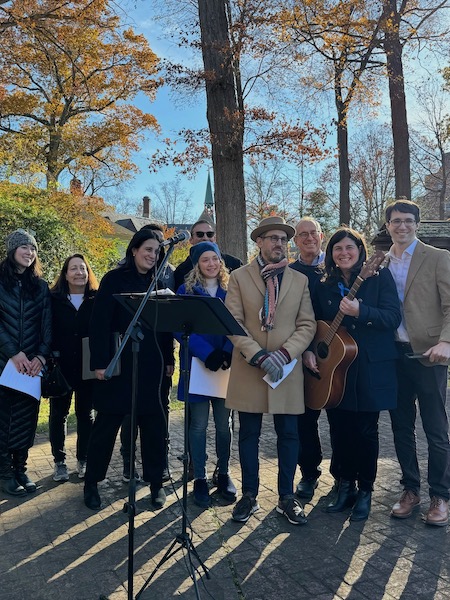 Rabbi Blake with local clergy and leaders in Chase Park
Reverend Dr. Kelly Hough Rogers
This Thanksgiving - I am grateful for a supportive and engaged community and thankful for all who make our community safe. We count our blessings daily - for our schools, our first responders, for our houses of worship, our village leaders and most of all - we are thankful to be raising our children in a place where they are accepted and cared for. Happy Thanksgiving to all.
School Board President Ron Schulhof
I am thankful to live in a community that supports each other. Every day I am fortunate to see acts of kindness, big and small, throughout our schools and community. I am also grateful to volunteer with such caring and hardworking colleagues on the Board, administration, and faculty and staff throughout our schools as we all work on behalf of our students.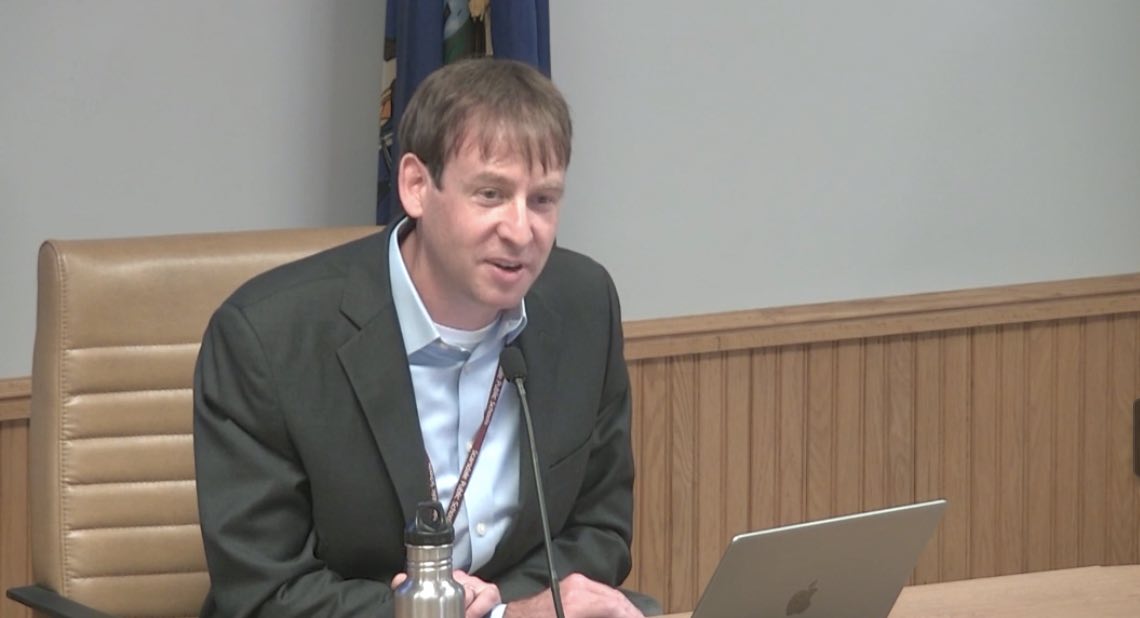 Ron Schulhof
Scarsdale Library Director Elizabeth Bermel
I am grateful to work in a community that treasures its public library and plays an active role in its future. I am grateful for the wonderful volunteers, past and present, from Library trustees, to the Friends of the Scarsdale Library, to the Village trustees. I am deeply grateful to work with smart, dedicated and caring professionals on a daily basis. On a personal note, I am thankful for the continued health and happiness of my family and friends, especially my 16-year-old dog, Diego!
James Genova, Executive Director, Scarsdale Edgemont Family Counseling Service
Being in partnership with community organizations such as the Scarsdale Village, the Scarsdale Police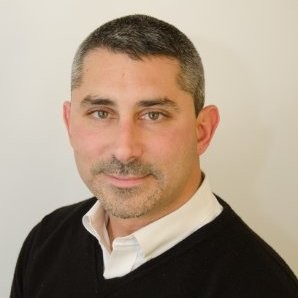 Jay GenovaDepartment, and the Scarsdale School District. Partners who work every day to keep Scarsdale's children healthy, safe, and well.
For a highly professional staff and dedicated board of directors who give tirelessly to further the Mission of SFCS.
For a generous community. Through their continued financial support, SFCS is able bridge the delta between baseline services and excellence.
Joanne Wallenstein, Publisher Scarsdale10583
On a personal note, I'm grateful to live in a town with so many interesting and thoughtful residents who create great subjects for the news. I thank all of you who contribute to the site and those who read it each week. A shout out to my friends who act as roving reporters and alert me when they see news happening. And I am fortunate to have a dynamic family who helps me each week, with proofreading, copy editing and tech support –and my three terrific kids and their partners and two beautiful grandchildren in town who make every day a treat.
Last, I am thankful that we have so many wonderful medical professionals here in town. On Monday I hit myself in the face with my paddle racquet and knocked out a healthy chunk of my front tooth which I found lying on the court. My paddle buddies quickly came up with the names of dentists to help before the holiday. I ended up in the office of Scarsdale Smiles at the Five Corners on Tuesday morning where Dr. Cox made my tooth look better than new.
Happy Thanksgiving to Scarsdale10583.
What are you grateful for? Please share your thoughts in the comments section below.
Ceremony and Public Art Installation Today in Chase Park at 1:30
Details

Written by

Joanne Wallenstein

Hits: 673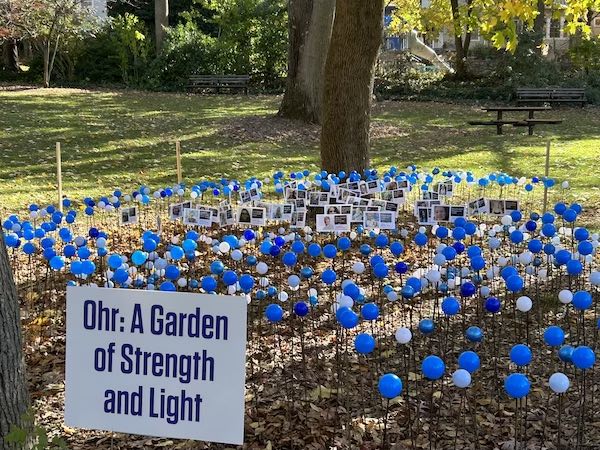 Installation of "Ohr: A Garden of Light and Strength" Public Art in Chase Park
This week marks one month since the horrific attack on Israeli citizens and since the 240 hostages were brutally taken by Hamas. In an effort to honor the lives of the hostages and show support for the Jewish community in Scarsdale, the Village of Scarsdale will be installing a temporary art installation in Chase Park titled, "Ohr: A Garden of Light and Strength." In Hebrew, "ohr" (אור) means "light." The artwork was created by Scarsdale resident and artist Simone Kestelman and features 240 blue and white orbs along with photographs representing the 240 innocent lives that were forever changed the morning of October 07. The art installation was commissioned by representatives from Scarsdale's Jewish community as a gift to the Village of Scarsdale.
When asked what inspired her design of the installation, Kestelman said, "my father always said to me that what defines us is not who hates us, but who loves us and who we love."
All residents of Scarsdale are invited to come together on Sunday, November 12 at 1:30 pm for a gathering of hope, peace, and reflection as we unveil the new artwork and hear remarks from community leaders.
A Moving Show of Support for Israel in Scarsdale
Details

Written by

Joanne Wallenstein

Hits: 1355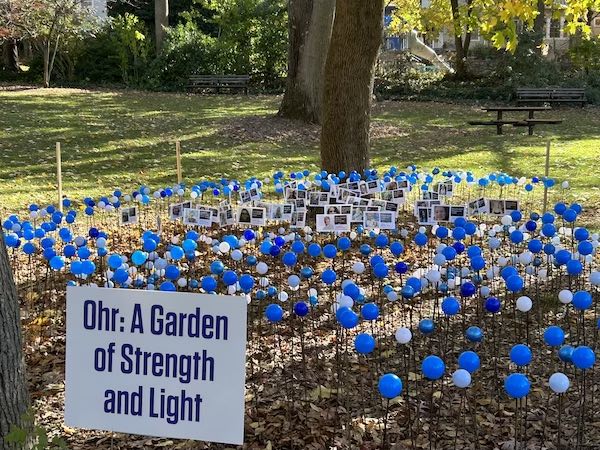 Scarsdale sent a message across the globe to the hostages and their families in Israel with a beautiful dedication of an art installation and a ceremony in Chase Park on Sunday afternoon, November 12, more than a month after the attack. Hundreds turned out on a chilly afternoon to show their support for Israel and to hear the words of local religious and civic leaders.
Planned just a few days earlier, the event showcased an outdoor sculpture made by Scarsdale resident Simone Kestelman, who as District Attorney Mimi Rocah said, "speaks for those who don't have a voice through her art." Kestelman produced the art installation of 470 blue and white orbs interspersed with signs featuring the names, ages and photos of each one of the hostages and called it, "Ohr: A Garden of Strength and Light." The installation which was commissioned by the Jewish community as a gift to the Village of Scarsdale, can now be viewed in Chase Park. Ohr is the word for "light" in Hebrew.
The installation occurred a few days after posters of the hostages, which were hung around the village, had been torn down. Now photos of the 240 hostages stand in a more permanent exhibit in the heart of the Scarsdale.
When asked what inspired the design of the installation, Kestelman said, "My father always said to me that what defines us is not who hates us, but who loves us and who we love."
The event was organized by Village Trustee Dara Gruenberg and Jessica Ainsberg. About the artist, Simone Kestelman, Gruenberg said, (her) "creativity and eye for beauty -- even when portraying something so heartbreaking and tragic -- are extraordinary." She thanked "Mayor Justin Arest for immediately embracing this idea and helping with every detail of the event and the Village Board for their unequivocal support."
Music was provided by three cantors, Chanin- Becker, Cohen, Kleinman, and Sonnet-Assor from three different synagogues who harmonized beautifully.
In an opening benediction, Rabbi Jonathan Blake of Westchester Reform Temple said,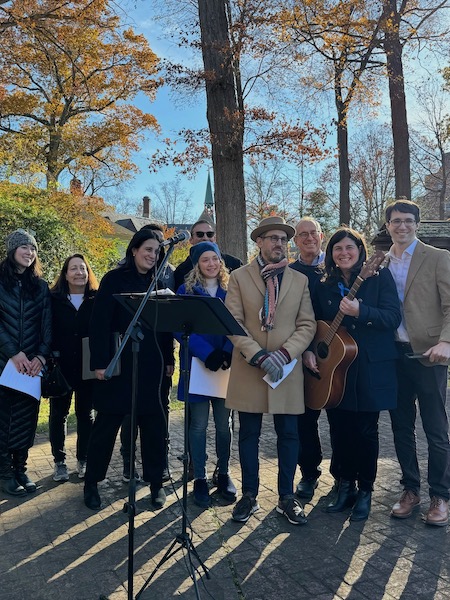 "Eternal Source of life and strength, help us stand with the living who have lost so much: The lives of their parents and children, brothers and sisters and friends, grandparents and teachers, countrymen and women. Their freedom from terror, their ability to sleep at night, Their hopes and dreams, shattered in an orgy of violence. Eternal Source of life and strength, Help us stand with the righteous, who go to war not to inflict suffering on the innocent but to break the grip of terror and fulfill the promise, "never again." Help us stand with the just, who understand that complicity with evil is neither justice nor peace. Help us stand with the hopeful, who do hard things so that their children and grandchildren might inherit a future worthy of your benediction. Help us stand with one another, able to place reason above rage and respectful disagreement over demonization and delegitimization. Help us stand together, when many in our community feel so alone. Help us stand, O God, and support us when we falter."
Reverend Kelly Rogers from Scarsdale Congregational Church read the following Prayer for World Peace, 1978.
We pray for the power to be gentle;
the strength to be forgiving;
and the patience to be understanding.
May we put our trust in the power of good to overcome evil
and the power of love to overcome hatred.
We pray for the vision to see and the faith to believe
in a world emancipated from violence,
a world where fear shall no longer lead men or women to commit injustice,
nor selfishness make them bring suffering to others.
Help us to devote our whole life and thought and energy
to the task of making peace,
praying always for the inspiration and the power
to fulfill the purpose of Love for which we and all humans were created. Amen.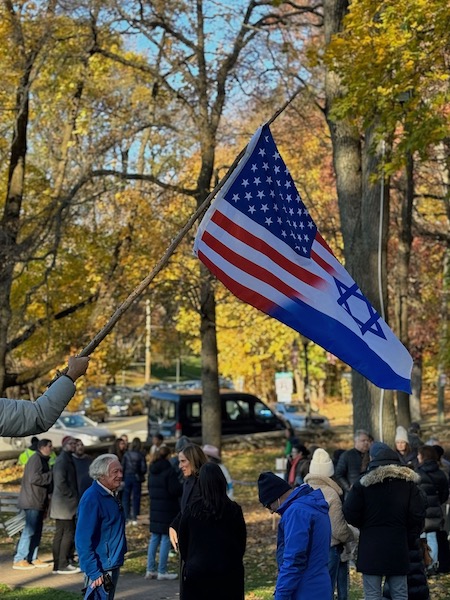 Mayor Justin Arest thanked residents, elected leaders, religious leaders along with the Scarsdale Police, the Departments of Public Works and Parks, Recreation, and Conservation, the Fire Department and Volunteer Ambulance Corp and the Board of Trustees.
He noted that this week was also another holiday, Diwali, "which symbolizes the spiritual victory of light over darkness, good over evil, and knowledge over ignorance."

He continued, "In a time when the scourge of antisemitism is on the rise, our gathering is more than a community event; it's a statement. We stand united, friends and neighbors, against not only an attack on a nation and a religion but also an assault on the very principles of justice and human dignity. Our unity here today transcends religious lines; we are a collective of freedom lovers standing resolutely against hatred."

"The complexity of our time is undeniable. Hoping for peace while also recognizing Israel's right to defend itself is not only appropriate but necessary. True peace, however, hinges on the safe return of the hostages and the accountability of those responsible for their barbaric acts of terrorism."

"…..And to those who mask their antisemitism in political discourse, to those who twist facts to fit their narrative, hear this loud and clear: We will not be deceived. We recognize the thinly veiled threats hidden in chants of "from the river to the sea," and we will not stand idly by when the truth is manipulated."

"To the propagators of hate, to the distorters of truth, to the instigators of violence, know this: We will never forget. We will stand firm, we will uphold the truth, and we will relentlessly pursue justice and peace."
State Senator Shelley Mayer said, "We need a circle of love and a spine of determination. The Garden of Light and Strength is a tribute to our determination to bring the hostages home. It must be our preeminent goal until they are free and we cannot back down from that. I recently heard the story of Vivan Silver; a 74-year-old Canadian-Israeli peace activist who was taken hostage. Her son, Yonatan, spoke of the coexisting feelings of tremendous fear and moments of hope, feelings many of us have. We face tremendous fear and yet we must hope, fight, and be determined to bring the individuals who are so beautifully represented in the ohrs and posters. We will keep them in our hearts and minds and will not be deterred until they are brought home safe and sound."
Westchester County District Attorney and Scarsdale resident Mimi Rocah said, "I am here as a mother, a mother who heard one of the mothers of two girls who are hostages say, "take me so I can console my two girls. Everyone can understand that. My soul is broken for her and all of them."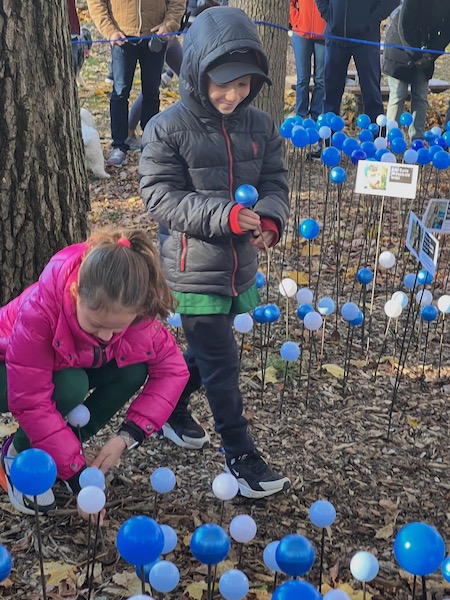 "I am here as the daughter of someone who fled Romania in 1947 and went to Palestine – and I wouldn't be here except for that land."
And I am here as a DA and a prosecutor for 20 years who knows that we do not politicize and blame victims. It is one of the cornerstones of our justice system. It is one of the things that distinguishes our country from other countries. We don't say, "Was her skirt too short? Did that murder victim deserve to be murdered?" And no one should be blaming the victims and their families. Whatever their beliefs, whatever their views, we cannot allow the hostages and their families to be blamed and become a footnote in this story."
"So we will lift them up and my friend Simone Kestleman, who speaks for people who don't have a voice through her art, always – is the perfect person to do this. So thank you all – and let's keep saying their names."
County Executive George Latimer was next.
He said, "Thank you for making something permanent that we can see at night when we pass through Scarsdale…. Today is the day that Diwali is celebrated. In almost every culture we celebrate light. The light is where there is truth and hope – and salvation. When you have light it allows us to see things as they are. We see things clearly."
"The terrorist attack that occurred was an evil act. And all of the effort to justify it after the fact is an effort to hide an evil fact. If we were attacked in the US by some other entity we would not accept that. We did not do it on 9/11, we didn't do it at Pearl Harbor."
"Frankly I find it hypocritical. When are we going to shut down Grand Central Station to protest the killing of civilians in the Ukraine? When are we going to shut down the Brooklyn Bridge because there are a million Muslims incarcerated in China? When are we going to call out Yemen for having the worst human rights in the world, closely followed by Iran?"
"The other important part of this work of art is strength… We do not use strength indiscriminately. – but use it when strength is necessary."
"It took 700,000 deaths to break slavery. How would our country be today if that Civil War did not happen? There is a time when you need to show strength. And that strength is essential for democracy to live. It is with strength that we support democracy in Israel."
The bottom line is that we have to stand together. As a Roman Catholic christian I stand with you because your cause is right. It will take time but we will overcome."
Mayor Arest then invited children to go to the garden and help plant the last pieces of it.
He said, "I pray that it brings all of us strength hope and internal peace. We are hoping to leave this installation here at least to the end of the month – but my greatest hope is that we can take it down tomorrow or soon thereafter because these brave souls have returned home."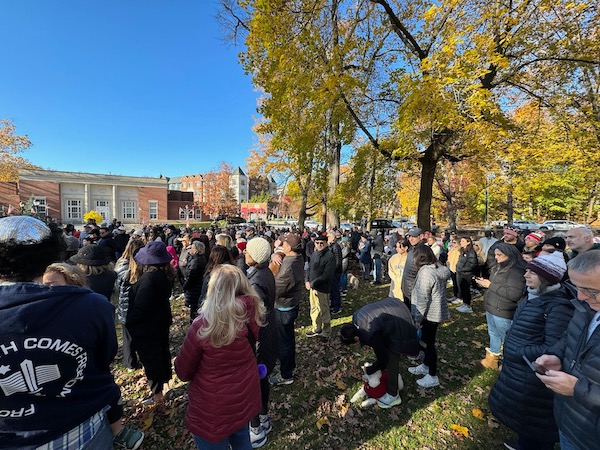 News from the Democrats: Rocah Will Not Seek a Second Term, Jones Running for NY-17, Rabbis Urging Latimer to Challenge Bowman
Details

Written by

Joanne Wallenstein

Hits: 1335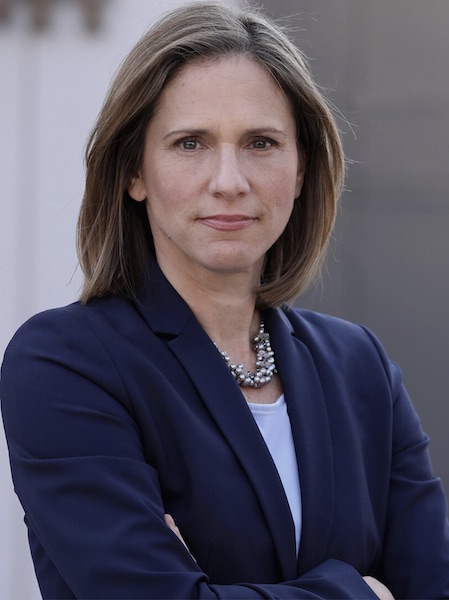 Mimi RocahFor those watching local races for District Attorney and Congress, there is much to report this week.
First, Mimi Rocah, who is currently service as the District Attorney for Westchester County announced that she will not seek another term in 2024. In an announcement on X or Twitter dated October 26, 2023 Rocah says she is "tremendously proud of what we have accomplished," and said "I am confident that the changes we have implemented in the office will continue to make Westchester safer, fairer, and more just."
However, she explained, "I do not fit the mold of a career politician…. This has been a difficult decision but one that is right for me and my family at this time. … my thoughts have been occupied in recent weeks by the terrorist attack on Israel and the aftermath, which has profoundly and personally impacted me in ways that I did not expect."
Former Congressman Mondaire Jones who lost his Congressional seat to re-districting is running for NY-17 which includes all of Rockland County and Putnam County, as well as most of Northern Westchester County, and portions of southern Dutchess County. Jones recently attended a vigil for Israel at Westchester Reform Temple. Following the vigil, he posted the following: "I was privileged to speak with our Jewish community at Westchester Reform Temple—to condemn the evil perpetrated against Israeli civilians, to share my experience in Israel as a member of Congress, and to reaffirm the profoundly important role America has in supporting our ally."
His website says, "Mondaire was raised in Section 8 housing in Spring Valley by a single mom who struggled with mental illness and worked multiple jobs to provide for their family. Their family sometimes needed food stamps to get by, and when child care was too expensive, Mondaire's grandmother took him to work with her cleaning homes in Hillcrest and Congers. Life wasn't easy, but Mondaire's mother always encouraged him to dream big despite their circumstances.
Mondaire graduated from East Ramapo public schools and went on to earn his bachelor's degree from Stanford University, work at the Department of Justice during the Obama Administration, and graduate from Harvard Law School. Mondaire worked as a litigator in the Westchester County Attorney's Office, where he defended correctional officers and took guns away from dangerous people.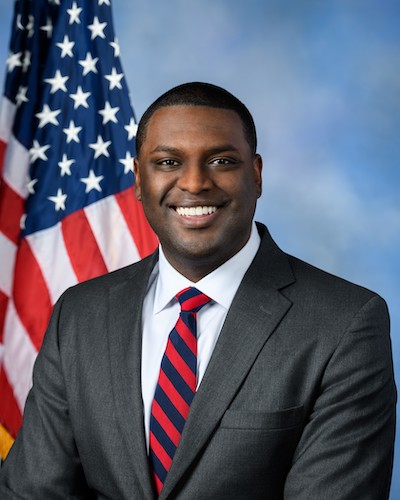 Mondaire Jones
In 2020, Mondaire was elected to Congress to represent the Hudson Valley. His colleagues unanimously elected him the youngest member of House leadership, and he was named the most legislatively active freshman in Congress."
This week he was endorsed by former house speaker Nancy Pelosi.
Meanwhile, 26 local rabbis signed a letter asking Westchester County Executive George Latimer to run against incumber Jamaal Bowman for NY-16.
In their letter they say, "Bowman boycotted President Herzog's historic speech, refused to sign a resolution that rejected Israel as a racist or apartheid state, and voted against legislation supporting the Abraham Accords and celebrating Israel's 75th anniversary of statehood.
Inexplicably, but predictably, while Congressman Bowman condemned the (October 7, 2023) attacks, he put the blame on Israel for its "blockade of Gaza." He now is calling for an immediate ceasefire, effectively a position of appeasement toward Hamas's terror regime.
Since being elected, Bowman has led the effort to erode support for Israel on Capitol Hill and within the Democratic Party. That's why we're turning to you, in the hope that you will announce your candidacy for Congress and restore our values to this important seat in Washington."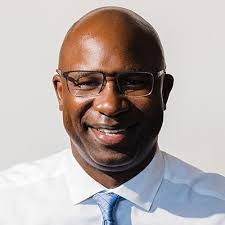 Jamaal BowmanOn November 2, Bowman issued a statement saying, "The ongoing violence in Israel and Palestine and the tragic loss of life of Palestinian and Israeli civilians has caused immeasurable trauma and pain for Palestinian, Israeli, Jewish, Muslim, and Arab people around the world." … "As we witness these horrific tragedies unfold, we have also seen an increase in incidents involving hate, threats, or harassment here at home, notably including on college campuses across the country. Whether death threats against Palestinian professors at American University or Jewish students at Cornell, each instance of antisemitism or Islamophobia is vile and disgusting. We must condemn hate in all forms."
Latimer has not officially announced his candidacy but indicated to some that he would make a formal announcement after the November elections.