Scarsdale Stands Against Gun Violence
Details

Written by

Joanne Wallenstein

Hits: 450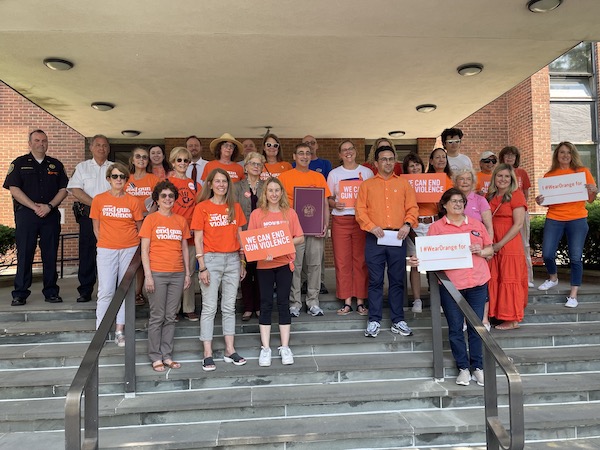 Dressed in orange t-shirts, Mom Against Gun Violence along with Village Trustees and Managers, public safety officers, state Senator Shelly Mayer and supporters gathered at Village Hall on the first Friday in June for National Gun Violence Day. With 120 people a day killed due to gun violence, the group is calling for "an end to gun violence in all of its forms, including domestic violence, suicide, and city gun violence."
In Scarsdale the group was led by Pat Collela who passed away in May. So in addition to recognizing the mission of the organization, the ceremony remembered Pat as well. Her husband, daughter and family members attended.
Mayor Justin Arest opened the ceremony saying, "This is a different year for the village recognizing national gun violence awareness day, as well as wear orange weekend. We often take some of the best community volunteers for granted and that is because of how effective and organized they are in their various causes. And in this one, like clockwork, the board would not only recognize the important day and cause at our meetings but we would also have orange T-shirt's and ribbons. Again, this dais different. And that's because Ms. Pat Colella is not with us. But I am so appreciative that her friends and family are here to support this cause and I and the board and village are proud to stand with them; to stand together against gun violence and remember a tireless advocate and volunteer. "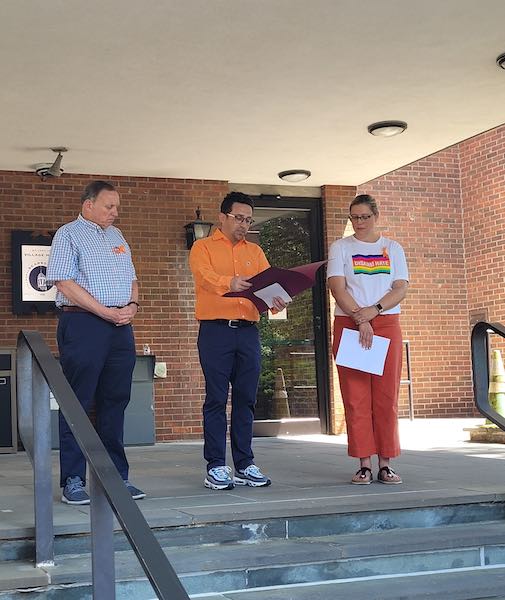 Randy Whitestone, Justin Arest and Kelly Rogers
He noted the startling statistics:
"In 2021, the most recent year for which complete data is available, 48,830 people died from gun-related injuries in the U.S., according to the CDC. That figure includes gun murders at 43% and gun suicides at 54%, along with three less common types of gun-related deaths tracked by the CDC which fall in the other category: those that were accidental, those that involved law enforcement and those whose circumstances could not be determined. These which are categorized as "Other" account for the remaining 3%. The total excludes deaths in which gunshot injuries played a contributing, but not principal, role. "
He said, "This is an American problem. This shouldn't be a political issue. Public safety, saving lives, is hopefully the priority of every government at every level of this nation. I wish we could all collectively work together and keep politics out of this. Scarsdale is proud to make our voices heard in making our nation safer."
Trustee Randy Whitestone rememberd Pat Collela saying, "We wouldn't be here today if it weren't for Pat and her commitment to this and other important causes. Having known her for 20 years, since our daughters played softball together on a team she coached I saw in action that when she was passionate about something she devoted herself completely to it -- with diplomacy, a smile, and real determination. She was the definition of a caring community volunteer, whether it was doing outreach for the Congregational Church, coaching softball, or being the face and voice of the local chapter of Moms Demand Action for Gun Sense. We are here to carry on her commitment to gun safety and will continue this tradition in years to come in her honor."
Reverend Kelly Rogers of Scarsdale Congregational Church said, "We lift up the victims of gun violence today. We continue this work and we are Pat's hands s and feet….It takes a community to do work like this. We will be back on the first Friday in June until this ends."
After the ceremony at Scarsdale Village Hall, the group continued to the Westchester County Center where they were joined on the steps by Westchester Sorority members of Delta Sigma Theta Sorority Social Action Team and Westchester Gun Sense Candidates:
Victoria Presser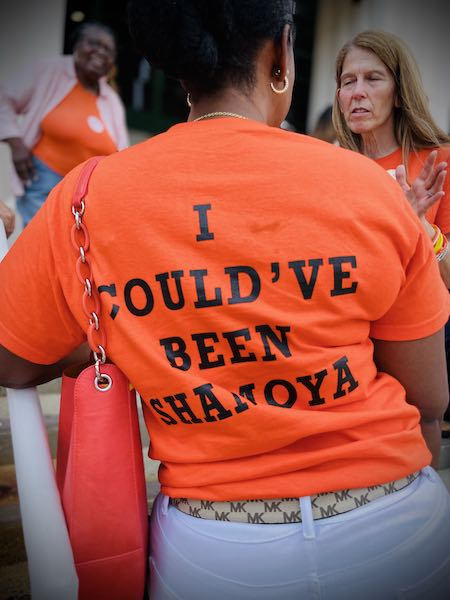 Jeremiah Frei-Pearson
J. Williams Johnson
Ximena Francella
NY Assemblywoman Maryjane Shimsky
Along with:
Moms Demand Action Volunteers and Leaders
Survivor Mom- Nadine Mckenzie
Katherine Schowalter
Amy Stern
Maggie O'Donovan Bolton
Fiona Noyes
Julia Prober
Sara Kober
Shelli Katz
Deborah Maher
Patricia Rosen
Lonnie Philo
Maryellen Chomsky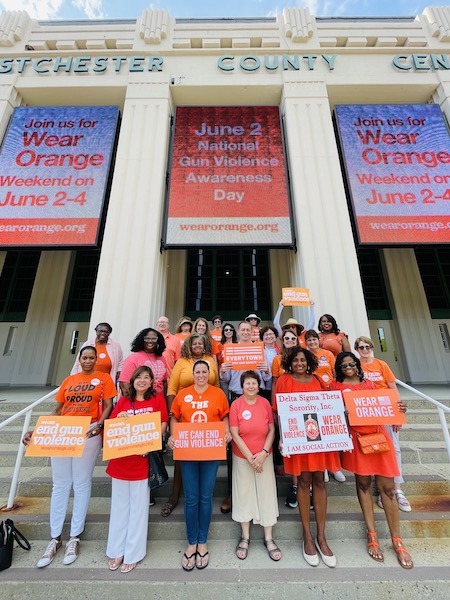 American Legion Honors Veterans on Memorial Day
Details

Written by

Vivian Zweig

Hits: 450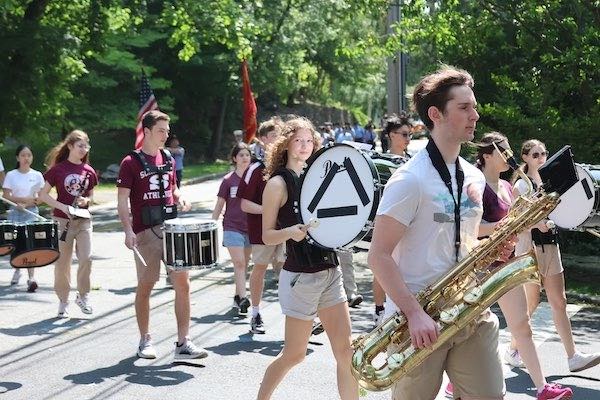 The mournful notes of taps echoed across Chase Park, signaling the end of the 2023 annual Memorial Day Parade. Each year, this parade is organized by the Scarsdale branch of the American Legion, the nation's largest wartime veterans service organization. Veteran Thomas Adamo opened the event by sharing a few words of remembrance at the Word War II monument in Boniface Circle.

Then, the parade promptly began adjacent to Boniface Circle, on Chase Road. The parade was led by members of the American Legion Post 52. Veterans marched or road by in golf carts, paving the way for boy scouts and girl scouts, who marched with their respective troops. The Scarsdale High School marching band followed the scouts, serenading the crowd. Members of the fire department and the Scarsdale Volunteer Ambulance Corps brought up the rear of the parade. The procession passed the Church of St. James the Less, where flags and flowers were left on the gravestones of fallen veterans.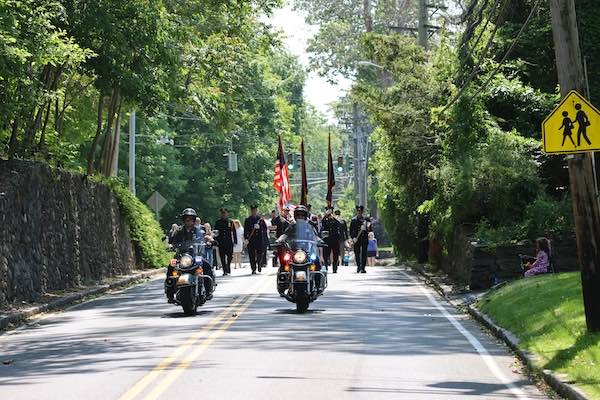 After the parade, Tom Adamo led a ceremony at Chase Park, where State Assemblymember Amy Paulin, Mayor Arest, Village Manager Robert Cole, former mayor Dr. Miriam Flisser, and Reverend Astrid Storm spoke. Paulin opened the ceremony by reciting It is the Soldier by veteran Charles M. Province, which recognizes and honors the critical role soldiers play in protecting the rights that we enjoy:

It is the Soldier, not the minister
Who has given us freedom of religion.
It is the Soldier, not the reporter
Who has given us freedom of the press.
It is the Soldier, not the poet
Who has given us freedom of speech.
It is the Soldier, not the campus organizer
Who has given us freedom to protest.
It is the Soldier, not the lawyer
Who has given us the right to a fair trial.
It is the Soldier, not the politician
Who has given us the right to vote.
It is the Soldier who salutes the flag,
Who serves beneath the flag,
And whose coffin is draped by the flag,
Who allows the protester to burn the flag.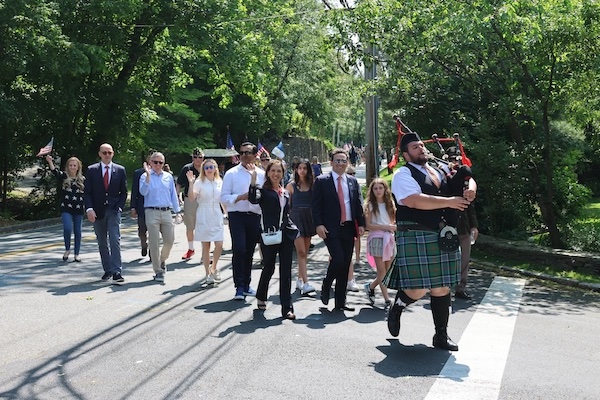 Mayor Arest succinctly summarized the purpose of the day: "Memorial Day at its core is a day to remember the ultimate sacrifice given by our service members, and to honor their legacy…. It is our responsibility to honor their sacrifice by cherishing the freedoms they fought to protect by never taking our rights for granted, and by acknowledging that our liberties have been powerful." Ultimately, the event accomplished just that by bringing together members of the community to remember and honor the soldiers and veterans who served in World War II.
Photo credit: Michelle Sterling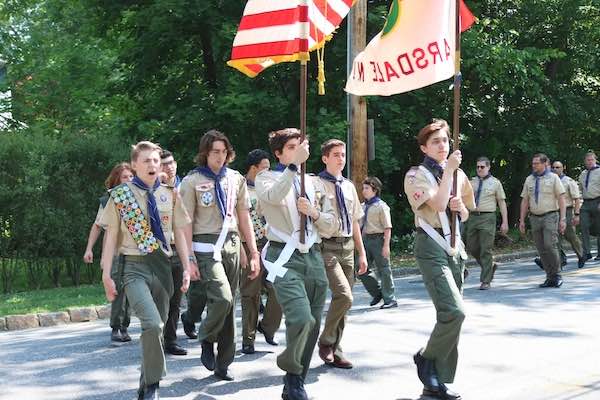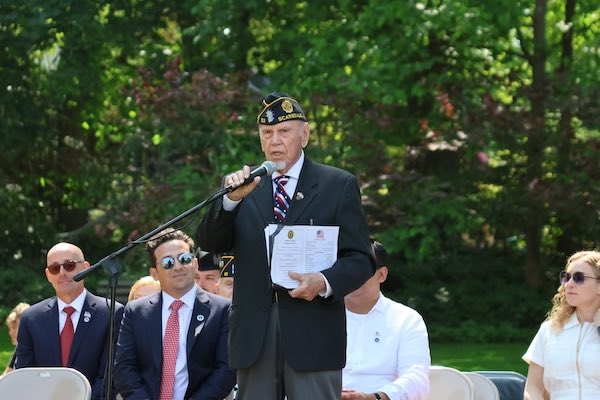 Shop Now for Mother's Day on Sunday May 14
Details

Written by

Joanne Wallenstein

Hits: 761

Mother's Day is on Sunday May 14 - just days away. Now's the time to consider what you're giving to your Mom, wife, girlfriend, grandmother, stepmother, mother-in-law, aunt or any of the special women in your life.
You don't need to go far to find a way to pamper her, adorn her and brighten up her day. See below for a selection of gifts from local merchants. Support these local businesses so they can support you!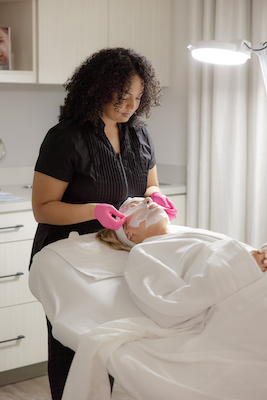 Happy Mother's Day!
Greenwich Medical Spa
Greenwich Medical Spa is founded on deeply personalized care to ensure your non-surgical facial and body contouring treatments perfectly align with the results you seek. Our nationally recognized team works closely with you, providing award-winning care and results found nowhere else. Treat your Mother or loved one to a skin-glowing facial or let them call the shots with a GMS gift card.
1132 Wilmot Rd, Scarsdale 914-722-6869, www.greenwichmedicalspa.com Email: yourskinspecialist@greenwichmedicalspa.com
I Am More Scarsdale
To Celebrate Mother's Day, enjoy 20% off all Regular-Priced Clothing. Treat Mom to the hottest clothing, accessories and jewelry from I Am More on Spencer Place in Scarsdale Village. Shop for these gifts and more fashionable items she'll love.
I Am More Accessories: The perfect finishing touch to any outfit (Retail $40 - $265)
I Am More Spring Clothing: Curated spring tops, skirts, and dresses (Retail $185 - $732)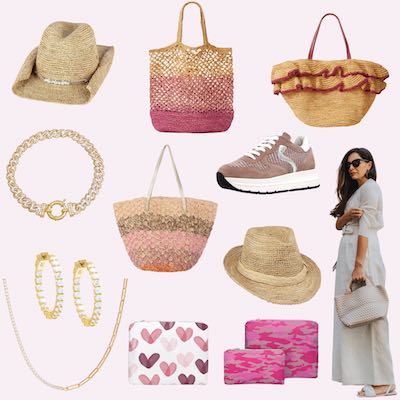 I Am More Scarsdale, 6 Spencer Place, Scarsdale, (914) 723-6673, www.iammorescarsdale.com, @iammore.scarsdale, Monday-Saturday 11am-5pm (and by appointment)
Oasis Day Spa
The Countdown to Mother's Day has begun and Oasis Day Spa in Dobbs Ferry has the perfect gift ideas and offerings just for Her! Give Mom a Hydrafacial boost with the Healing Hands Hydrafacial Mother's Day Special or book her one of our award-winning massages on the Oasis Rooftop Garden. Exclusively for Scarsdale10583 readers, you can also enjoy 15% OFF Spa Dollar Gift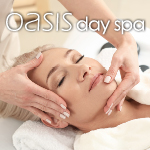 Cards of $300 or more with the code: SDMD23

Learn more about Oasis Day Spa's offers for Mother's Day.
ScentFluence
Flowers, Champagne, and Chocolate are in the air this Mother's Day with ambient scented oils and luxury diffusers ScentMay2022from ScentFluence. Stop in for a beautiful selection of memorable gifts, including our beloved hotel scents, inspiring yoga scents, uplifting and refreshing scents, and so much more. So many beautiful gift options, PLUS FREE gift wrapping!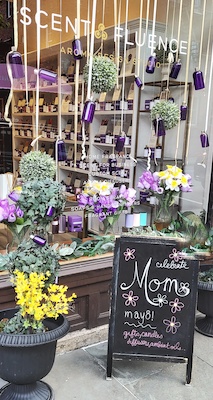 ScentFluence, 22 Harwood Court, Scarsdale Village , Tues-Fri 12-5 / Sat 11-6, www.scentfluence.com
Vintology
We love our Scarsdale mom's. Happy Mother's Day! Enjoy today and everyday.
Château de Berne Romance Rosé: Straight from the shores of the Mediterranean, the new 2022 Romance vintage is soft and full of berry and floral aromas with a nice light pink color. This light and fruity vintage is made for pool side sipping with its inviting fresh and vibrant nose with elegant softness, that hits you at the front of the tongue on the first sip. Romance is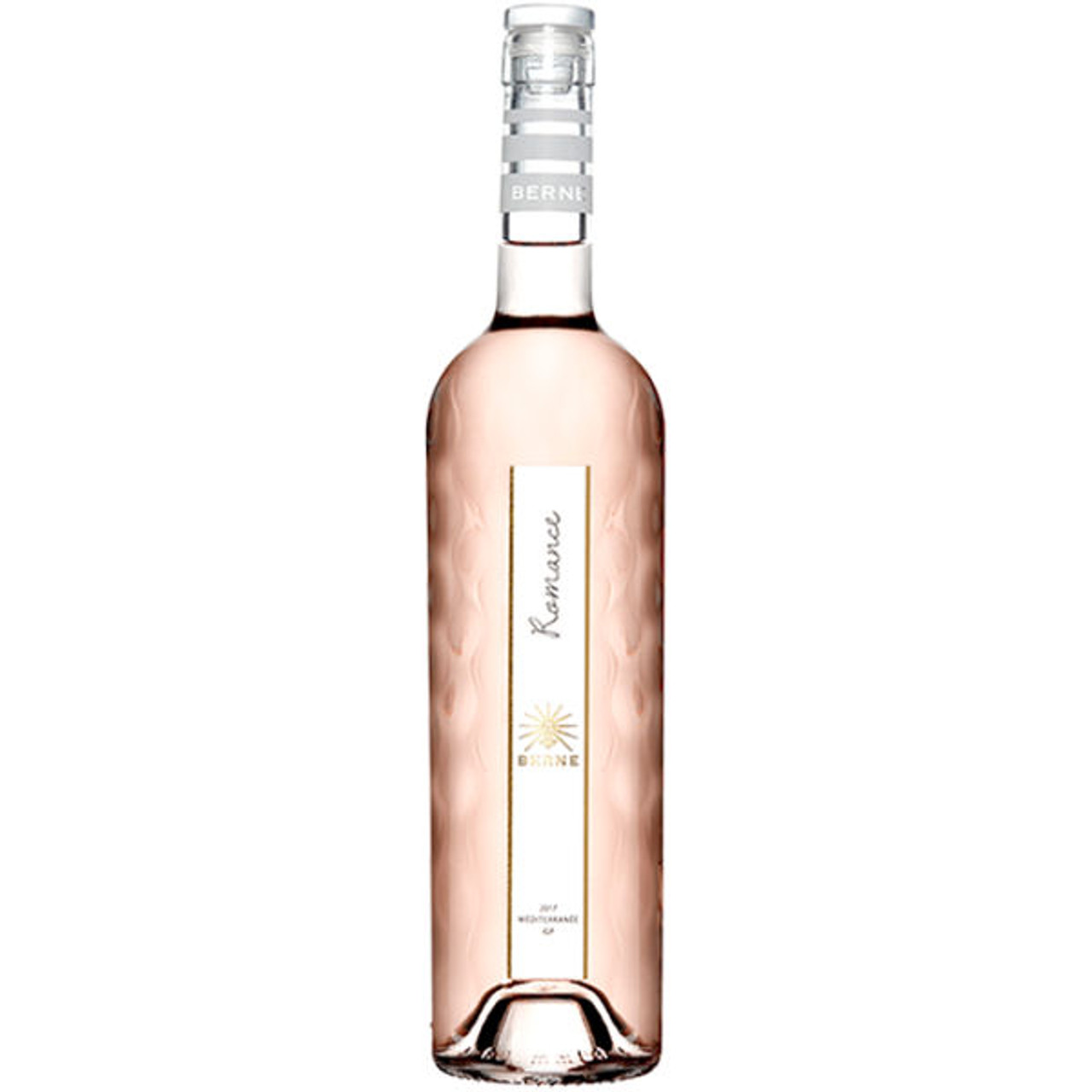 a juicy and fruit forward vintage that will pair nicely with spicy Asian cuisine, taco night and shellfish, but also stands on its own for any occasion.
Vintology Wine & Spirits, 2 Palmer Avenue, Scarsdale, NY 10583. Tel: 914-723-2040, www.vintology.com
Eye Gallery of Scarsdale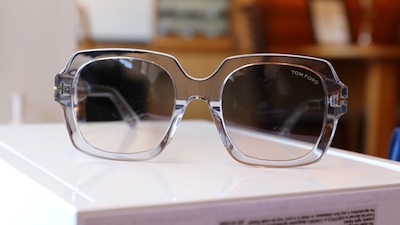 The Eye Gallery of Scarsdale invites you to check out the latest sunglasses and eyewear for spring. With new styles from Celine, Chanel, Chrome Hearts, Jacques Marie Mage, and Barton Perriera you will never run out of options for gifts this year! And while you're in town make sure to make an appointment for your annual eye check-up.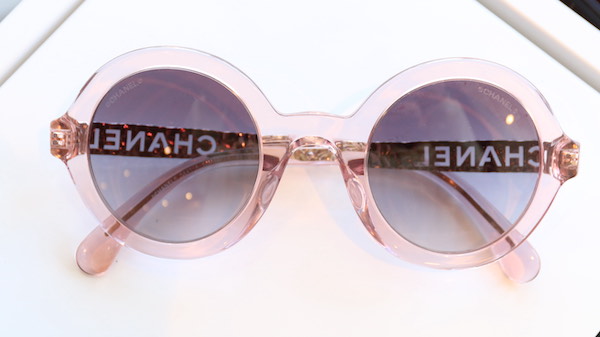 Eye Gallery of Scarsdale, 8 Spencer Place, Scarsdale, (914) 472-2020
Hair Saloon and Café

Treat yourself and a friend to lunch, a cocktail and a hair appointment or spa treatment at the Hair Saloon and Café on Scarsdale Avenue. Danielle Settembre, with over 10 years of experience at Elizabeth Arden's Red Door and the daughter of restauranteurs, combined her passions to create a new experience for salon goers.hairsaloon
Make an appointment for a haircut, hair dye, make-up, facial, wax or brow treatment and enjoy a wrap or panini with a drink too. A great way to destress during the holidays. Mention Scarsdale10583 and get a free cocktail at your first appointment.
Announcing our new line of all natural hair and body care products. Stop by the Hair Saloon to pick up our new naturally nourished, highly hydrating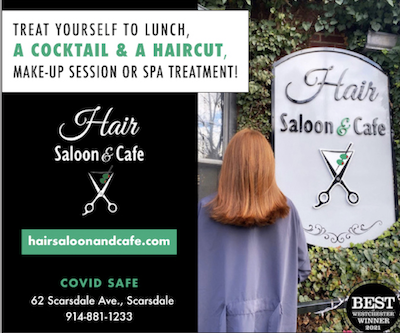 shampoo and conditioning bar plus body soaps and candles. All great for you and for holiday gifts.
Hours: Tuesday through Thursday from 8:30 to 7 pm, Friday to 8 pm, Saturday to 6 pm, Sunday from 9 am to 4 pm. Stop by for a drink from Thursday through Saturday until 9 pm. Covid safe … and a winner of the Best of Westchester 2022. Hair Saloon and Café, 862 Scarsdale Avenue, Scarsdale, 914-881-1233. www.hairsaloonandcafe.com.
Book Launch Party: Secrets of the Italian Island
Details

Written by

Joanne Wallenstein

Hits: 509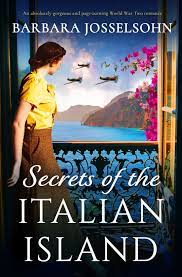 Scarsdale author Barbara Josselsohn will discuss her new book, Secrets of the Italian Island at a book launch party at Scarsdale Library on Monday June 5 from 5:30- 7:30 pm. The event will be held on the lawn outside the library where Josselsohn will speak with Dara Gruenberg, the former President of the Friends of Scarsdale Library about her book, trends in historical fiction and more for book lovers.
Secrets of the Italian Island is Josselsohn's sixth novel and her first foray into the historical fiction genre. It takes place in two locales and two different eras:
Italy, 1943. A castle once full of love and laughter is left in ruins by the Nazis, as three sisters are torn apart by one terrible mistake...
New York, present day. Broken by the loss of her beloved grandmother Annalisa, who raised her all alone, Mia is shocked when she finds an old letter sent from Italy in her belongings. Annalisa never told Mia about the magnificent, vine-covered castle on Isola di Parissi where she spent one long summer under the Italian stars. Or that she was accused of something terrible in the darkest days of World War Two...
Arriving on the stunning Italian coast just a boat ride away from Parissi, Mia is devastated to find the island closed to visitors. Desperate to find out what her grandmother was hiding, she finds dark and brooding local guide Leo, who promises to help her sneak in.
As they explore the crumbling castle surrounded by lush olive groves, Mia begins to fall in love with passionate Leo and the beautiful country he calls home. And soon they find handwritten notes hidden in the walls, which confirm her grandmother's heartbreaking story. Annalisa arrived on the island with her two sisters but was forced to abandon them when the Nazis invaded.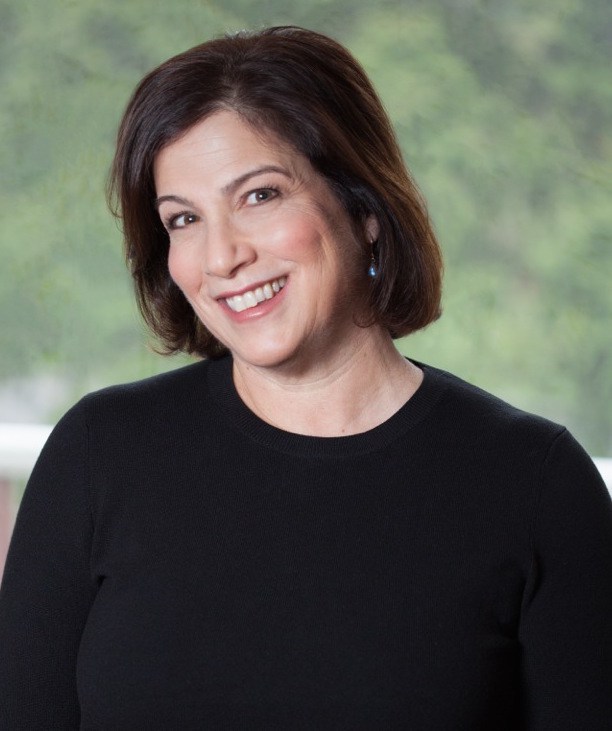 Barbara Solomon Josselsohn
Mia soon realizes that the accusation against Annalisa might be true, and that Leo has his own reasons for wanting to dig up her family's past. The terrible mistake Annalisa made tore apart the island community. Will it force Mia to leave Leo, and Italy, forever?
An epic, heart-wrenching tale based on the incredible true story of an island at war. Fans of Lucinda Riley, Fiona Valpy and Victoria Hislop will be utterly gripped.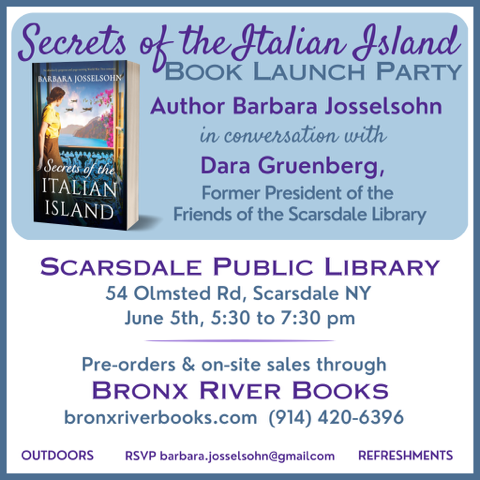 About the book, Jossselsohn says, "I was very moved by the idea of a breathtakingly beautiful place that inspired great thoughts and creative works, a place that was glorious for a time but couldn't last in the face of war. I started to think about how fleeting inspiration is, how transitory the moments when true brilliance is nurtured, and how far into the future the devastation of war can extend.?
Josselsohn is the author of five previous novels including The Lilac House, The Bluebell Girls, The Lily Garden, The Cranberry Inn, and The Last Dreamer. She has also written hundreds of articles and essays in major and regional publications about family, home and relationships. She lives in Scarsdale and enjoys escaping to the beach or the mountains whenever she can. Other than writing, her biggest passion is her family: her husband, her three kids, and her rescue pup, a mini-schnauzer named Albie. She is currently at work on Book 2 of her Sisters of War series, a follow-up to Secrets of the Italian Island.
Sign up here to attend the book launch party at Scarsdale Library on Monday June 5 from 5:30-7 pm.
Shoeless Suspect Arrested After Lengthy Manhunt in Scarsdale
Details

Written by

Joanne Wallenstein

Hits: 4971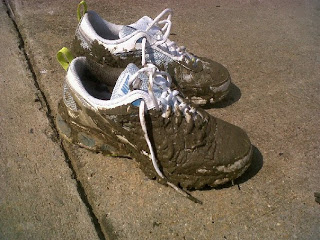 It turns out that Scarsdale Police had good reason to lock down to schools and warn residents about the manhunt for a suspect who was on the loose in Scarsdale on the afternoon of April 24, 2023. The disruption overtook Scarsdale for much of the afternoon and evening, culminating in the capture and arrest of an 18 year-old man from Connecticut who lost his shoes in the chase.

According to Westchester County Police spokesperson Kieran O'Leary the incident began in the early afternoon when county police got an alert about a stolen car from Westport that was spotted near Pelham.
O'Leary says, "At 1:35 p.m. the Real Time Crime Center notified patrol units that a stolen black Audi was traveling near the Pelham-Mount Vernon border. A County Police officer located the stolen car on East Sandford Boulevard. The Audi abruptly turned into Union Avenue where a male passenger jumped out and ran off. He dropped a semi-automatic handgun as he did so. That suspect was captured after a foot pursuit with the assistance of Mount Vernon police officers.
The other suspect took off in the stolen Audi, proceeding up the Hutchinson River Parkway toward Connecticut. O'Leary says, "A short time later, the officer spotted the fleeing Audi being driven recklessly, weaving in and out of traffic. As he caught up to it, the stolen car sideswiped a motorist near the Weaver Street exit. The officer stopped to render assistance to the occupants of the struck vehicle who suffered minor injuries."
The suspect jumped out of the car and police found the Audi abandoned near the Mamaroneck Road exit with a "MAC-10" style submachine gun inside.
Multiple police agencies responded to search for the second suspect, including the Scarsdale Police Department, Town of Mamaroneck Police Department, New Rochelle Police Department, MTA Police Department and members of the FBI Safe Streets Task Force. Westchester County Police also deployed its Aviation Unit helicopter, its tactical team (known formally as the Special Response Team), and a tracking canine/bloodhound.
A command post was established with County Police, Scarsdale Police Chief Andrew Matturro and Town of Mamaroneck Police Chief Paul Creazzo supervising the response.
The Scarsdale School district initiated a lockout at several schools. Here is what an email from the superintendent said: "Once we learned of this situation, we initiated our lock out protocol at both schools, and temporarily held dismissal. We also temporarily held an athletics bus travelling to Crossway Field. Throughout the situation, we were in contact with our partners at SPD, who kept us apprised of the evolving event. The lock out was lifted at Quaker Ridge first, allowing for normal dismissal. However, Heathcote's dismissal needed to be delayed by approximately 15 minutes. In each case, the decision to lift the lock out was informed by our dialogue with SPD."

After school baseball practice and soccer tryouts were scheduled at Crossway Field. Parents had driven kids to the field but were not letting them out of the cars as they were not sure if it was safe. A bus filled with athletes also waited for instructions. Eventually they were allowed to dispense the kids onto the field.
Police searched for hours but were unable to locate the suspect. An observant foursome who was playing golf at a nearby golf club, provided police with a more detailed description of the suspect, including the fact that he had no shoes on his feet. They sent out multiple emails to the community asking them to be on the lookout.
At 7:26 pm they said, "The second suspect fled the scene in the stolen vehicle, ultimately having crashed on the Hutchinson River Parkway. Upon crashing, the driver escaped from the scene on foot, having last been observed by County police in the vicinity of Griffen Avenue and Mamaroneck Road.
Scarsdale Police and Westchester County Police have been in the area searching for the subject since the time of the crash and have not yet apprehended the individual. It is possible the person has left the area.
At this time, the police presence is scaling down, though Scarsdale and Westchester County Police will continue to be observed patrolling the area.
If you observe anyone suspicious, please report your observation by calling 911. Should the suspect be apprehended, we will update the community."
These emails proved to be valuable when around 8 o'clock that night a resident on Continental Road spotted a shoeless man ringing doorbells in her neighborhood and promptly called police. Scarsdale Police found the suspect and took him into custody. Earlier in the day, police recovered the man's shoes in a swampy area where it appeared he ran right out of them.
Westchester County Police charged Jariel Agron, 19, and Jose Garcia, 18, both of New Britain, Conn., with Criminal Possession of a Weapon 2nd and 3rd Degree, and Criminal Possession of Stolen Property 4th Degree. Additional charges are likely. They were held overnight at County Police headquarters in Hawthorne pending arraignment today in Mount Vernon City Court.