A Moving Show of Support for Israel in Scarsdale
Monday, 13 November 2023 20:58
Last Updated: Tuesday, 14 November 2023 08:27
Published: Monday, 13 November 2023 20:58
Joanne Wallenstein
Hits: 1356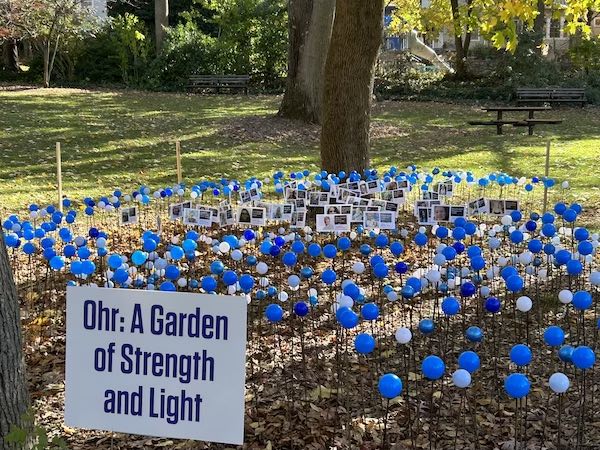 Scarsdale sent a message across the globe to the hostages and their families in Israel with a beautiful dedication of an art installation and a ceremony in Chase Park on Sunday afternoon, November 12, more than a month after the attack. Hundreds turned out on a chilly afternoon to show their support for Israel and to hear the words of local religious and civic leaders.
Planned just a few days earlier, the event showcased an outdoor sculpture made by Scarsdale resident Simone Kestelman, who as District Attorney Mimi Rocah said, "speaks for those who don't have a voice through her art." Kestelman produced the art installation of 470 blue and white orbs interspersed with signs featuring the names, ages and photos of each one of the hostages and called it, "Ohr: A Garden of Strength and Light." The installation which was commissioned by the Jewish community as a gift to the Village of Scarsdale, can now be viewed in Chase Park. Ohr is the word for "light" in Hebrew.
The installation occurred a few days after posters of the hostages, which were hung around the village, had been torn down. Now photos of the 240 hostages stand in a more permanent exhibit in the heart of the Scarsdale.
When asked what inspired the design of the installation, Kestelman said, "My father always said to me that what defines us is not who hates us, but who loves us and who we love."
The event was organized by Village Trustee Dara Gruenberg and Jessica Ainsberg. About the artist, Simone Kestelman, Gruenberg said, (her) "creativity and eye for beauty -- even when portraying something so heartbreaking and tragic -- are extraordinary." She thanked "Mayor Justin Arest for immediately embracing this idea and helping with every detail of the event and the Village Board for their unequivocal support."
Music was provided by three cantors, Chanin- Becker, Cohen, Kleinman, and Sonnet-Assor from three different synagogues who harmonized beautifully.
In an opening benediction, Rabbi Jonathan Blake of Westchester Reform Temple said,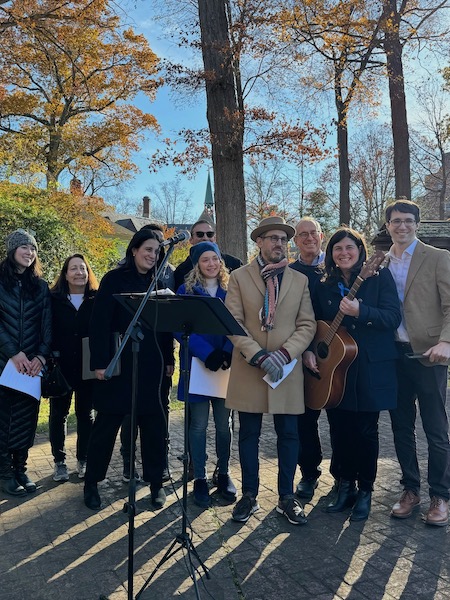 "Eternal Source of life and strength, help us stand with the living who have lost so much: The lives of their parents and children, brothers and sisters and friends, grandparents and teachers, countrymen and women. Their freedom from terror, their ability to sleep at night, Their hopes and dreams, shattered in an orgy of violence. Eternal Source of life and strength, Help us stand with the righteous, who go to war not to inflict suffering on the innocent but to break the grip of terror and fulfill the promise, "never again." Help us stand with the just, who understand that complicity with evil is neither justice nor peace. Help us stand with the hopeful, who do hard things so that their children and grandchildren might inherit a future worthy of your benediction. Help us stand with one another, able to place reason above rage and respectful disagreement over demonization and delegitimization. Help us stand together, when many in our community feel so alone. Help us stand, O God, and support us when we falter."
Reverend Kelly Rogers from Scarsdale Congregational Church read the following Prayer for World Peace, 1978.
We pray for the power to be gentle;
the strength to be forgiving;
and the patience to be understanding.
May we put our trust in the power of good to overcome evil
and the power of love to overcome hatred.
We pray for the vision to see and the faith to believe
in a world emancipated from violence,
a world where fear shall no longer lead men or women to commit injustice,
nor selfishness make them bring suffering to others.
Help us to devote our whole life and thought and energy
to the task of making peace,
praying always for the inspiration and the power
to fulfill the purpose of Love for which we and all humans were created. Amen.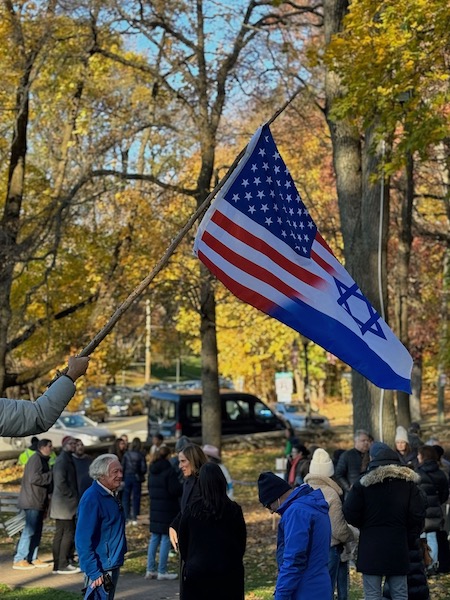 Mayor Justin Arest thanked residents, elected leaders, religious leaders along with the Scarsdale Police, the Departments of Public Works and Parks, Recreation, and Conservation, the Fire Department and Volunteer Ambulance Corp and the Board of Trustees.
He noted that this week was also another holiday, Diwali, "which symbolizes the spiritual victory of light over darkness, good over evil, and knowledge over ignorance."

He continued, "In a time when the scourge of antisemitism is on the rise, our gathering is more than a community event; it's a statement. We stand united, friends and neighbors, against not only an attack on a nation and a religion but also an assault on the very principles of justice and human dignity. Our unity here today transcends religious lines; we are a collective of freedom lovers standing resolutely against hatred."

"The complexity of our time is undeniable. Hoping for peace while also recognizing Israel's right to defend itself is not only appropriate but necessary. True peace, however, hinges on the safe return of the hostages and the accountability of those responsible for their barbaric acts of terrorism."

"…..And to those who mask their antisemitism in political discourse, to those who twist facts to fit their narrative, hear this loud and clear: We will not be deceived. We recognize the thinly veiled threats hidden in chants of "from the river to the sea," and we will not stand idly by when the truth is manipulated."

"To the propagators of hate, to the distorters of truth, to the instigators of violence, know this: We will never forget. We will stand firm, we will uphold the truth, and we will relentlessly pursue justice and peace."
State Senator Shelley Mayer said, "We need a circle of love and a spine of determination. The Garden of Light and Strength is a tribute to our determination to bring the hostages home. It must be our preeminent goal until they are free and we cannot back down from that. I recently heard the story of Vivan Silver; a 74-year-old Canadian-Israeli peace activist who was taken hostage. Her son, Yonatan, spoke of the coexisting feelings of tremendous fear and moments of hope, feelings many of us have. We face tremendous fear and yet we must hope, fight, and be determined to bring the individuals who are so beautifully represented in the ohrs and posters. We will keep them in our hearts and minds and will not be deterred until they are brought home safe and sound."
Westchester County District Attorney and Scarsdale resident Mimi Rocah said, "I am here as a mother, a mother who heard one of the mothers of two girls who are hostages say, "take me so I can console my two girls. Everyone can understand that. My soul is broken for her and all of them."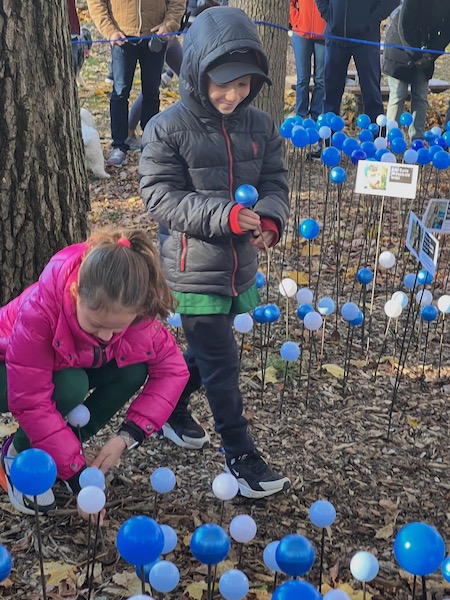 "I am here as the daughter of someone who fled Romania in 1947 and went to Palestine – and I wouldn't be here except for that land."
And I am here as a DA and a prosecutor for 20 years who knows that we do not politicize and blame victims. It is one of the cornerstones of our justice system. It is one of the things that distinguishes our country from other countries. We don't say, "Was her skirt too short? Did that murder victim deserve to be murdered?" And no one should be blaming the victims and their families. Whatever their beliefs, whatever their views, we cannot allow the hostages and their families to be blamed and become a footnote in this story."
"So we will lift them up and my friend Simone Kestleman, who speaks for people who don't have a voice through her art, always – is the perfect person to do this. So thank you all – and let's keep saying their names."
County Executive George Latimer was next.
He said, "Thank you for making something permanent that we can see at night when we pass through Scarsdale…. Today is the day that Diwali is celebrated. In almost every culture we celebrate light. The light is where there is truth and hope – and salvation. When you have light it allows us to see things as they are. We see things clearly."
"The terrorist attack that occurred was an evil act. And all of the effort to justify it after the fact is an effort to hide an evil fact. If we were attacked in the US by some other entity we would not accept that. We did not do it on 9/11, we didn't do it at Pearl Harbor."
"Frankly I find it hypocritical. When are we going to shut down Grand Central Station to protest the killing of civilians in the Ukraine? When are we going to shut down the Brooklyn Bridge because there are a million Muslims incarcerated in China? When are we going to call out Yemen for having the worst human rights in the world, closely followed by Iran?"
"The other important part of this work of art is strength… We do not use strength indiscriminately. – but use it when strength is necessary."
"It took 700,000 deaths to break slavery. How would our country be today if that Civil War did not happen? There is a time when you need to show strength. And that strength is essential for democracy to live. It is with strength that we support democracy in Israel."
The bottom line is that we have to stand together. As a Roman Catholic christian I stand with you because your cause is right. It will take time but we will overcome."
Mayor Arest then invited children to go to the garden and help plant the last pieces of it.
He said, "I pray that it brings all of us strength hope and internal peace. We are hoping to leave this installation here at least to the end of the month – but my greatest hope is that we can take it down tomorrow or soon thereafter because these brave souls have returned home."