Lights on Butler Field: Take our Survey
Tuesday, 02 July 2019 14:08
Last Updated: Monday, 08 July 2019 09:26
Published: Tuesday, 02 July 2019 14:08
Joanne Wallenstein
Hits: 7733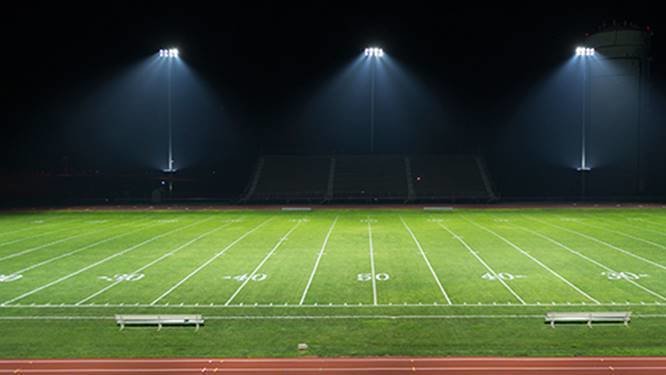 As the school year came to a close, discussions about a proposal to install permanent lights on Butler Field continued, with a final meeting of the Scarsdale School Board and Scarsdale Board of Trustees to review the matter. The field is owned by Scarsdale Village, who leases it to the school district, so the issue concerns both boards.
In brief, the lights would be privately funded by a donation from sports booster organization, Maroon and White, who plans to raise $800,000 to install lights on four 80-foot poles at the field. They would also install a new sound system to allow fans in the stands to hear game announcement and scores. The lights would utilize new technology to minimize spillover beyond the field, and sound would be targeted to the stands.
The lights would allow for a limited number of night games on Butler Field and also permit high school teams and independent sports organizations to use the turf field after sundown. This will increase the availability of the new turf field when natural fields are wet.
In brief, here are the reasons put forth by supporters and objectors:
Proponents for the lights have advocated for their installation saying that:
-Playing time at Scarsdale High School is limited as the field cannot be used after dark.
-Games need to be scheduled at competing schools to accommodate the lack of lighting.
-Scarsdale facilities are lacking when compared to other districts like Edgemont and Chappaqua who have lit fields.
-The temporary diesel lights now brought in for night contests are noisy and polluting.
-Wet fields have limited playing time and practice for younger teams organized by the Independent Sports Organizations.
-The project would be privately funded.
Those who have raised objections to the lights contend:
-More night activity at the school will bring noise and traffic to the Fox Meadow and Heathcote neighbors surrounding the field.
-The availability of the field at night will increase practice and game "creep" and put pressure on Scarsdale kids to play until 8, 9, or 10 o'clock at night.
-80 foot light poles far exceed the maximum height allowance, will be taller than any other structures and will be very visible from many points in Scarsdale
-Once the lights are in place, the field could be used for large community events or concerts and cause increased disruption to the neighborhood.
-When the first turf field was put in, some claim that Fox Meadow neighbors were assured lights would never be installed.
-The district should spend funds – public or private- on improvements to the academic program and other prioritized improvements.
-Any field usage agreement made today could be changed by future athletic directors, school boards or superintendents.
What do you think? If you are a Scarsdale resident, 18 years or older, please complete our survey. Only one response per person will be counted. Click here to complete the survey.
Do you have comments? Enter them below or email scarsdalecomments@gmail.com.
Richard Clark, SHS Track Coach sent in the following comment:

Happy 4th weekend! I am the track coach at SHS. We plan on holding meets on the facility, lights or not. However, all meets nowadays use fully automatic timing (FAT) and we would need electricity on the field. This can be done, I believe, by having outlets at the base of the light towers. Electricity on the field is an absolute must for our hosting meets so, whatever your negotiations, please make sure that electricity is available. Thanks so much and good luck.
Rich Clark