Halloween Window Painting Contest Results 2019
Tuesday, 22 October 2019 10:40
Last Updated: Thursday, 31 October 2019 11:47
Published: Tuesday, 22 October 2019 10:40
Joanne Wallenstein
Hits: 5284
It's an annual rite …. the Scarsdale Halloween Window Painting Contest. This year it was held on Sunday October 20 and kids were busy from Scarsdale Village to the Five Corners and Colonial Village decorating merchant's windows with clever Halloween-themed paintings.

According to Recreation Supervisor Dan Walczewski there were about 300 windows painted this year, up from about 260 last year. Counting team and family entries, about 700 people participated.
Anticipating rain, the Recreation Department sent out an email the night before encouraging people to paint early and for the most part they heeded the advice. They did have a few "no-shows" which may have had something to do with the weather, but it was a very small percentage of the overall number.

We asked if vacant storefronts were a problem and Dan said, "We usually request (and are granted) permission by the landlords to use the vacant storefronts, but we only use them if we need to. This year we used very few as we were able to fit the vast majority of paintings on occupied stores."
Below find a list of the winners and photos of the young artists at work. For the second year in a row, Olivia Liu took home the Grand Prize. See her painting at left.
While touring the artwork on Monday, we met Debi Kops, Anne Kaplan and her son Damian who have been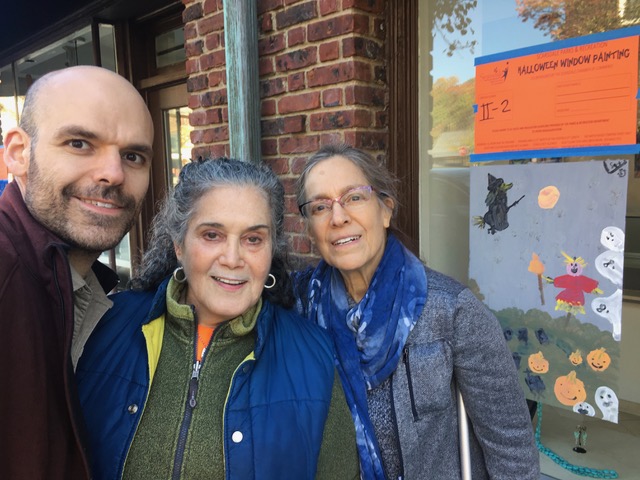 Judges Damian Kaplan, Debi Kops and Anne Kaplan. a team of judges for about 8 years. Kops explained, "Anne and I met at sleep-away camp before we were teenagers. The Scarsdale Window Painting Contest has been going on since 1952. I entered the contest 8 years in a row, when my family lived in Scarsdale. Each year I was honored and received an award for my painting, with a partner or solo. This was an important incentive for me as a young artist. After I left Scarsdale, I wanted to give back; And I do. For close to 35 years I have proudly been a Scarsdale Halloween Window Painting Judge for close to 35 years. Kudos to Dan Walczewski and the staff of The Scarsdale Recreation Department who organizes this fabulous and fun event. Celebrating Halloween has become my High Holiday."
Despite the fact that it's called a contest, the entire Village wins as we all benefit from the artwork. Congratulations to all the artists and their parents for continuing this wonderful tradition.
Photos courtesy of the Recreation Department and Charles Im.
Group 1
1 Charlotte Lemerond- Chase Bank
2 Emily Fields -Jean Claude Hair Design
3 Natalia Gutierrez -Heathcote Barber Shop

Most Comical

Trevor Miller- Heathcote Hand Laundry
Honorable Mentions

Chloe Fields -Chase Bank
Madeline Arest- Metro Deli
Eliza Pickelle- Metro Deli
Group 2
1 Whitney Rudsenske- Sam Lehr
2 Talia Koenig- Scarsdale Eye Care Center
3 Ellis Israel -Vacant
Most Comical

Ivy Fischer Scarsdale Flower Shop

Honorable Mentions
Rebecca Friedland- Scarsdale Eye Care Center
James McNally- Bango Bowls
Sophie Luo -Sam Lehr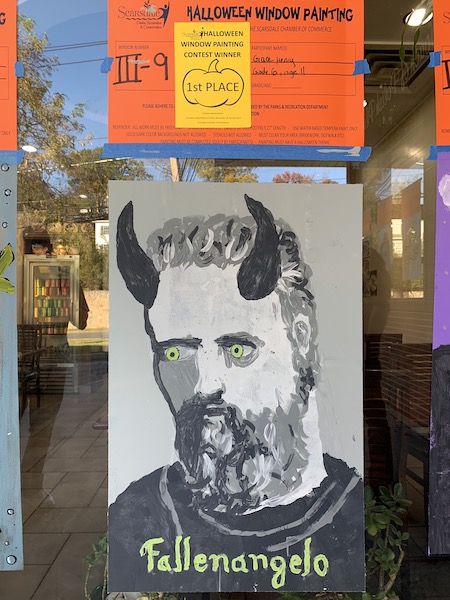 Group 3
1 Grace Henry -Jade Spoon
2 Lilah Lenskis-Kristian- A Touch of Polish
3 Alexandra Israel -Jade Spoon
Most Comical

Julia Barro- Big Top
Honorable Mentions

Blair Rudsenske- Big Top
Sarah Luo- Big Top
Daisy Bennett- Jade Spoon
Juliette Dalton -Jade Spoon
Chenyu Li -A Touch of Polish
Audrey Li -Amore Pizza
Evie Schiff -Amore Pizza
Group 4
Joshua Dong -Scarsdale Spencer Pharmacy
Isabelle Zhu -Great Stuff
Eloise Schiamberg -Parkway Coffee Shop

Most Comical

Danielle Barro- Parkway Coffee Shop
Honorable Mentions

Claire Matula-Osterman- DeCicco's
Jianna Shao -YeoMiji
Isabella Lu -Mixology
Group 5
1 Xinyi Zhao -Village Computer Shop
2 Annika Hanson-Carlson- Rothman's
3 Henry Nova -Rothman's

Most Comical

Flora Zik -Danielle Trissi
Group 6
1 Vivienne Dalton/Devon Simon- SPD Substation
2 Talia Camhi/Jiya Choudary -Nordic Edge
3 Matthew Im/Emery Farnsworth -Bank of America
Most Comical

Maya Zaitchik/Avery Altschuler -Embassy Cleaners

Honorable Mention

Mira Mazer/Clara Dichter -Embassy Cleaners






Group 7
1 Zoe Lemberg/Nicole Sensel -Dunkin' Donuts
2 Lian Guo/Iris Zhu -Dunkin' Donuts
3 Emma Daniel/Annabelle Hasson -Dunkin' Donuts
Most Comical

Molly Singer/Sofia Polak -Pizzarelli's

Honorable Mentions

Natalie Goldstein/Lindsay Goldstein -Dunkin' Donuts
Pietro Lombardi/Charlie Im -Pizzarelli's
Group 8
1 Blakely Sapirstein/Talia Arovas -Value Electronics
2 Rachel Goldberg/Sasha Lubin -La Dentelliere
3 Kaitlyn Shedroff/Tara Bamji -Rudy's Music
Most Comical

Nell Rompala/Lexi Perry -Value Electronics

Honorable Mentions

Lilliana DeRobertis/Ava Rapaport -Zachy's Liquor Store
Eleanor Orad/Delaney Weston -Zachy's Liquor Store
Morgan Greco/Mia Forray -Chase
Julia Kristol/Kate Simpson -Houlihan Lawrence
Gil Reindel/Coby Cukierman -Douglas Elliman Real Estate
Group 9
1 Julia Sobel/Reese Muntner -Wilson & Sons
2 Ava Feldman/Charlotte Aldridge -Pam Robbins
3 Nadine McMahon/Clara Bartalos -BLVD
Most comical

Sarina Mehta/Maya Dhiman -BLVD
Honorable Mentions
Annalise Corey Felicity Bennett -Wilson & Sons
Madeline Cha/Samantha Cha -Wilson & Sons
Jessica Greco/Gabrielle Smajlaj -Wilson & Sons
Group 10
1 Alexandra Simon/Olivia Liu -William Raveis Real Estate
2 Annika Johnson/Gabriella Johnson -William Raveis Real Estate
3 Celia Dibenedetto/Leo Dibenedetto -William Raveis Real Estate


Coverage of the Halloween Window Painting Contest is sponsored by the Randi Culang Team at Compass Realty.