Should Bears Be Taken Away? Letters from Greenburgh Town Supervisor Paul Feiner and Gamaliel Isaac
Monday, 15 June 2020 08:00
Last Updated: Monday, 15 June 2020 08:00
Published: Monday, 15 June 2020 08:00
Joanne Wallenstein
Hits: 2087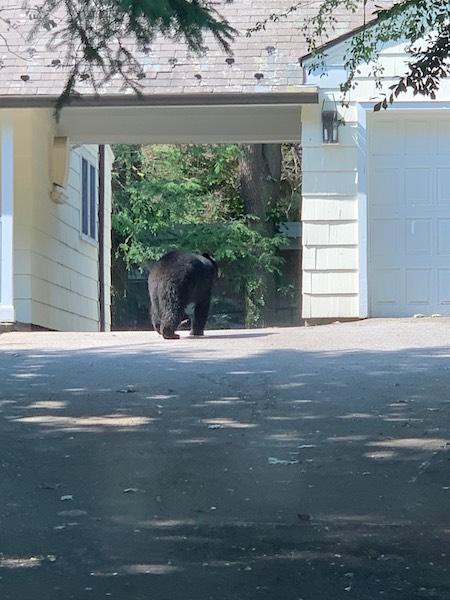 To the Editor: Recently, four black bear sightings were reported in Hastings, Scarsdale, Greenburgh (Boulder Ridge) and in White Plains. The sightings occurred within a period of four days. The New York State DEC will not remove bears from our neighborhoods unless they feel they pose a danger to residents. When I spoke to the NYS DEC they mentioned that we can expect more bear sightings in southern and central Westchester in the future.
Some residents have questions or concerns about black bears. At the Greenburgh Town Board meeting on June 24th at 7 PM, Emily Carrollo, a wildlife biologist at the NYS DEC, will speak and answer questions and explain DEC policies.
If you have questions that you would like asked at the meeting please email them to me at pfeiner@greenburghny.com. If you would like to participate in the meeting (which will be held remotely via zoom), send me an email and we will send you a link to the meeting.
After the meeting is over the town of Greenburgh will prepare a you tube video and share it with residents whenever black bear concerns come up.
Paul Feiner
Greenburgh Town Supervisor
The following letter is from Gamaliel Isaac
I have posted a petition asking that the DEC deal with the dangerous wildlife that is invading our streets at http://chng.it/vXVC5CNHfK .
Paul Feiner, superintendent of the town of Greenburgh, asked the department of Enviornmental Conservation to remove the bears. They refused his request. He then sent out a robocall warning people about the situation. After receiving the call I created the petition. Paul said he would help publicize the petition on social media.
Previously I have asked them to do something about the growing population of coyotes and they refused that to. The argument they make is that attacks by these creatures are rare.
Attacks of these creatures are rare because up to now they have been kept away from city streets and Westchester parks. The more hungry bears and coyotes their are the more likely someone's child will become animal food.
Please help by publicizing the refusal of the DEC to act and please post my petition so that concerned people can sign it.
Thank you,
Gamaliel Isaac