Edgewood Eagles Soar at an Unforgettable Moving-Up Ceremony
Sunday, 28 June 2020 13:09
Last Updated: Sunday, 28 June 2020 21:26
Published: Sunday, 28 June 2020 13:09
Sydney Albert
Hits: 1472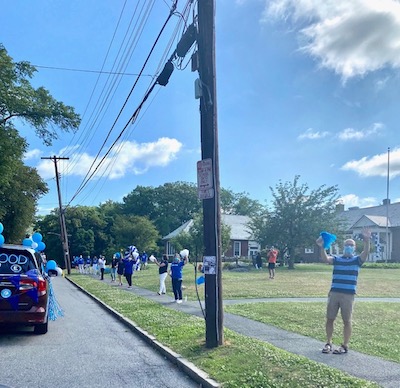 Teachers and Administrators Lined the Streets of the Edgewood NeighborhoodAnother amazing and memorable car parade took place in honor of the Edgewood elementary school class of 2020 on June 19, 2020. On a sunny and warm morning, the cheers of students and their families could be heard throughout the Edgewood neighborhood. Cars honked and students waved as they drove around in cars decked out in blue and white balloons, paint, and other eye-catching decorations. The entire Edgewood community came together for the event in order to give the fifth graders the recognition they deserve. Many neighbors watched the parade, held signs, and dressed in the school's colors. There was even a dog dressed in an Edgewood shirt!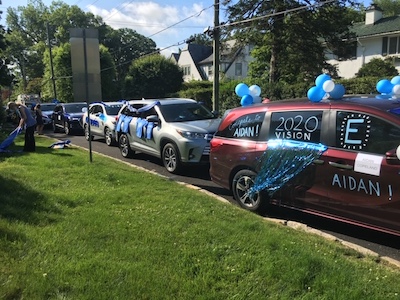 Fifth Grade Families Covered their Cars in Fun-Filled DecorationsThe celebration began at Edgewood school on the corner of Edgewood Road and Nelson Road. The cars looped twice around the school, then continued the motorcade throughout the neighborhood. Teachers and administrators lined the streets in a socially distant manner, making sure to capture this opportunity to honor their students' hard work and accomplishments. As cars drove by, they waved pompoms, enthusiastically cheered, and danced to upbeat music. In true Edgewood spirit, they were dressed head to toe in blue and white.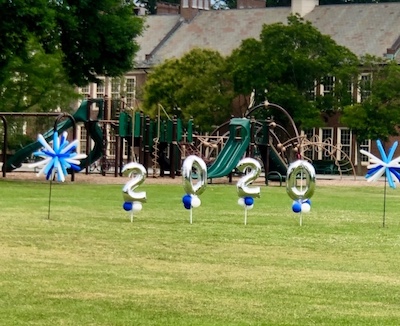 Balloons on John Coulter Memorial FieldDespite being unable to attend a traditional moving-up ceremony, the Edgewood students were overjoyed by the parade, greeting the sidewalk cheers with smiles and waves. Principal Tashia Brown made sure that each student was still individually congratulated by announcing the names of the fifth grade students as they passed. Many students even said the socially distant parade was much more fun than the typical moving-up ceremony.
Following the student parade, the teachers did their own parade up and down the Edgewood streets. Students and their families stood outside on their front lawns to cheer the teachers on and thank them for a great year. Congratulations to the graduates Edgewood Elementary School and best of luck at Scarsdale Middle School.

Click here to see a video recap of the celebration.