Latimer Says Viral Spread is Aggressive, Calls on Parents to Support Hybrid Learning Model
Monday, 16 November 2020 17:45
Last Updated: Tuesday, 17 November 2020 07:37
Published: Monday, 16 November 2020 17:45
Joanne Wallenstein
Hits: 1759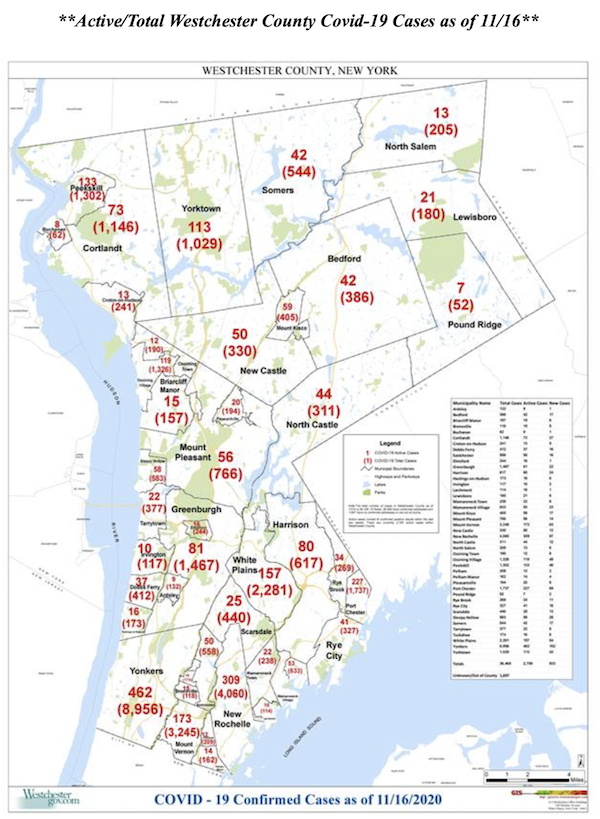 In response to rising COVID-19 infection rates in Westchester, County Executive George Latimer announced that he will now hold bi-weekly briefings. He said, "We are facing a second wave." The number of active cases in Westchester has doubled over the past two weeks with 3,515 cases as of November 16 in Westchester.
He said, the positive rate was now between 3-4% and is "heading straight up." And more people are becoming seriously ill as well. Latimer said that on November 16 there were 121 people in the hospital with COVID as compare to 47 two weeks ago. 17 people passed away in the past two weeks.
Even in Scarsdale, where the number of active cases fluctuated between 5 and 10 for many months, the map now shows 25 active cases.
According to Scarsdale Schools Superintendent Thomas Hagerman, as of November 16, the district has had 13 active cases this school year and 120 students and 22 staff members are now in quarantine. The school reports that these cases were due to community spread or contact from sports.

Latimer reported that Port Chester which was declared a Yellow Zone by the state last week, has now been declared an Orange Zone, further restricting activity and local business. Though schools remain open, there is a mandate to test sample groups of students and teachers each week to monitor the spread. Gatherings are limited to only 10 people indoors or outdoors and there is no longer indoor dining in restaurants.
The County Executive lost his patience with those who refused to comply with recommendations to wear masks and social distance, saying that these measures are required to save lives. As to those who complain about limitations on attendance at Houses of Worship, Latimer said, "These rules are not intended to limit freedom of religion – but to safeguard the community. Sacrifices are necessary to save lives. These restrictions are required so that we don't lose any more people."
In order to share information about the virus with populations that may not be aware of the risks, the county is going door to door with messaging, making robo calls and has produced a public service video. All communications are being produced in Spanish and English so that everyone can be informed.
Latimer also called for parents to understand that hybrid learning is the safest option for students and teachers. He said he has a weekly call with 40 county school superintendents and made the following statement emphasizing his support for hybrid learning models:
"As the identified rate of COVID-19 infection within Westchester County rises, we know that this creates significant challenges in our communities. School districts operating in a hybrid model, with six-foot social distancing protocols in place, are enabling students to engage in in-person learning within the school facility environment. The goal of the schools is to serve as many young people in their facilities, daily, as possible. We are also aware of the desire for some parents to have schools return to full, in person learning and bring all students back to school buildings. Unfortunately, with the rising cases of COVID-19 in our County, this is not possible at this time. Bringing more individuals into school buildings increases the density in schools and presents the possibility of significant risk of COVID-19 spread to students, staff and further risks community spread. Our health/safety protocols are working to reduce spread within our schools. Sacrificing six-foot social distancing seriously reduces the school's ability to mitigate the spread of COVID-19. The County has been working closely with local school superintendents to support the safety and mitigation efforts in our schools and communities and fully supports the hybrid models in our schools."