Locals Pay Tribute on Memorial Day
Tuesday, 01 June 2021 17:16
Last Updated: Tuesday, 01 June 2021 17:45
Published: Tuesday, 01 June 2021 17:16
Joanne Wallenstein
Hits: 515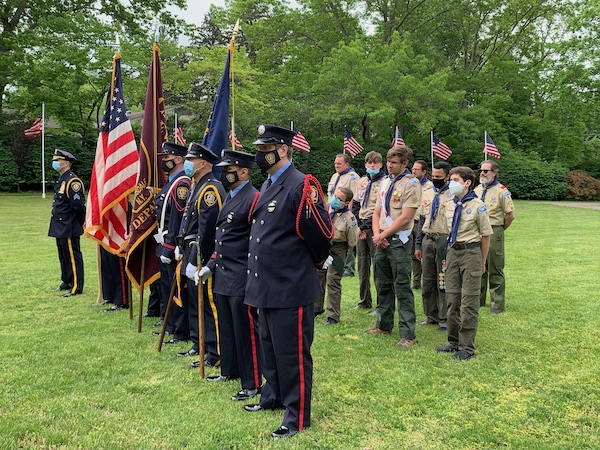 Though this year, Scarsdale's American Legion Post 52 was not able to host their traditional Memorial Day Parade, our war heroes were not forgotten, On Monday May 31, Commander Adamo, members of the American Legion, boy scouts, a Police Color Guard, Village officials and Mayor Jane Veron participated in a small socially-distanced ceremony at the memorial garden on Mamaroneck Road.

Here are Mayor Veron's remarks: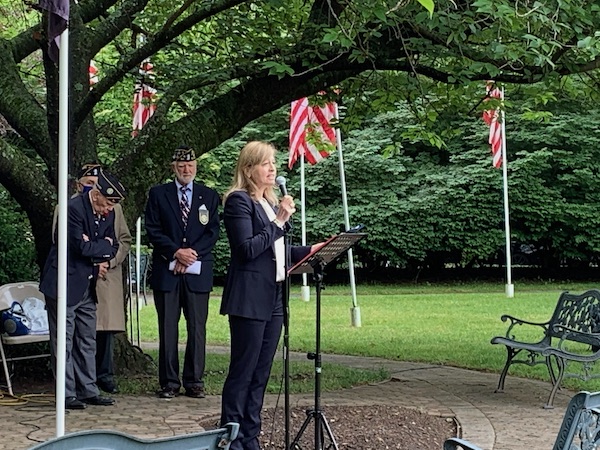 Good morning, Legionnaires, friends, neighbors, Scouts. I am Jane Veron, Mayor of Scarsdale, and on this Memorial Day, I have the great privilege to pay tribute to the men and women who gave their lives to defend our freedom.

When I received Commander Adamo's invitation to speak, I felt lucky that I would be the one to convey our community's enormous gratitude, respect, and awe. Your brothers and sisters who died in combat, as well as many of you here today, answered our country's call for service. You all stared down fear and bravely left the comfort of your hometown to join our military. From quotidian life, you all marched into uncertainty and carried out the duties required to protect our homeland. Some of you were barely out of school; others left your jobs. You answered the call, donned a uniform, and took up arms, feeling the pull of national pride and the desire to protect our liberty. Without much warning, you were on the front lines, and many laid down their lives to afford generations hence the freedoms we enjoy today. There are no words that properly express our appreciation.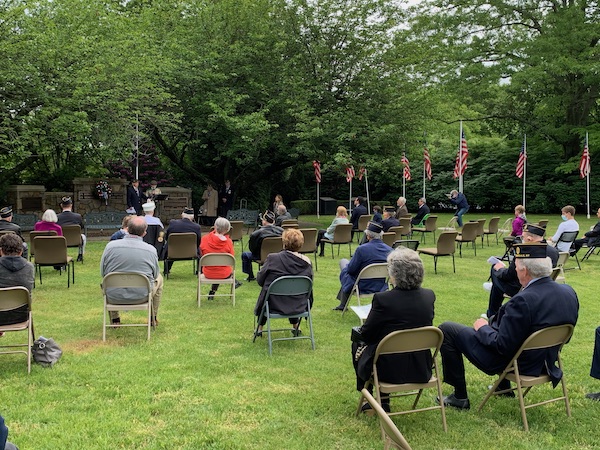 Today, Memorial Day, we mark together the weighty sacrifice of our local heroes. Their names are inscribed on the carefully crafted plaques, whispered on our lips and carried in our hearts.

It is all the more meaningful that we take stock today as we slowly emerge from our own year of struggle and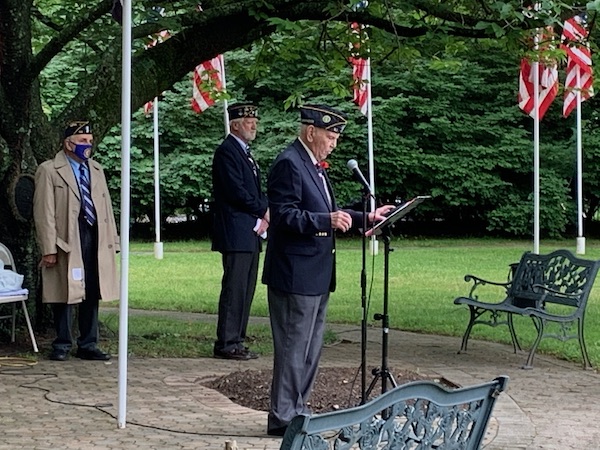 hardship. While the challenges of the pandemic differ from those in wartime, they share the similarity of a complete upheaval of life as we know it. Since March 2020, we had to abruptly shelter in place, separate from people we love, and combat an enemy we knew little about. We were all doing battle and had a window into the stresses our armed forces regularly endure. Our medical professionals, public safety officials, and essential workers became our warriors, and they risked their lives to save others. Yet there were still casualties, and we lost family and friends to a disease that took us unaware.

I know this COVID year has been hard on Legionnaires as many of your friends succumbed to the virus, but it also shined a light on the strength of your community. Under Commander Amado's leadership, you continued to lift one another up. You're the quiet force that rescues your brothers and sisters in trouble. From your earliest days when Scarsdale Post 52 American Legion was formed, you've delivered on your mission: to be there for veterans in any way you can – financially, spiritually, emotionally. As Commander Amado told me, "we're the ones who made it back. We owe it to those who did not." Today let us pay our respects to those who made the ultimate sacrifice and carry on their legacy with dignity and honor.

(Photo Credit Rob Cole)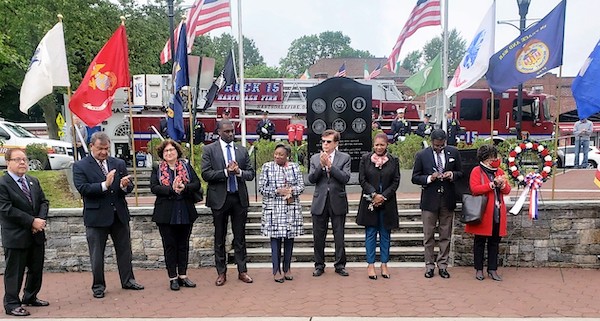 State Senator Andrea Stewart-Cousins came to Hartsdale to join elected officials, veterans, and Gold Star families for a Memorial Day Ceremony.
Cousins said, "We must always reflect on the service members, who laid down their lives for the American ideals that carry us forward as a nation today," said Senate Majority Leader Andrea Stewart-Cousins. "We honor and pay tribute to these selfless heroes, the men and women who defended the freedoms we hold dear. While we honor the fallen, we also recognize they did not serve alone. May the recognition we give today, allow Gold Star families some healing, and allow the legacies of their loved ones to live on for future generations."