How Can We Prevent the Next Flood in Scarsdale?
Wednesday, 12 January 2022 11:01
Last Updated: Wednesday, 12 January 2022 11:08
Published: Wednesday, 12 January 2022 11:01
Joanne Wallenstein
Hits: 1541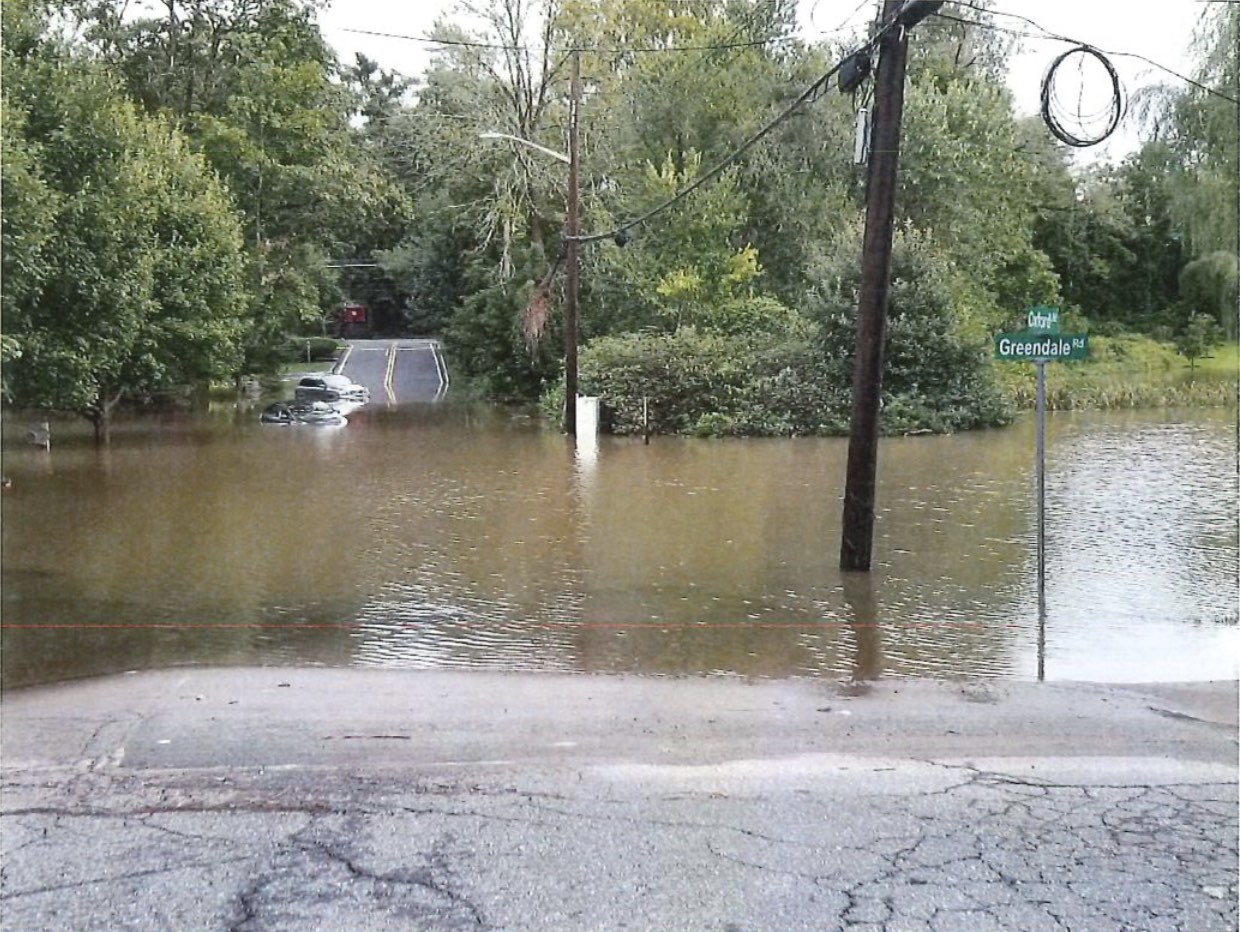 Oxford and Greendale Roads After Tropical Storm IdaWhat can be done to prevent another catastrophic flood like the one experienced after Tropical Storm Ida on September 1, 2022? That was the subject of an extensive report presented by Jeff Coleman, the Scarsdale Superintendent of Public Works, to Village Trustees at a work session on January 11, 2022.
The storm dropped over eight inches of rain on Scarsdale during a 24 hour period. As a point of reference, FEMA defines a 100-year storm as one that drops nine inches of rain in 24 hours, so Ida was just shy of that magnitude.
The report documents the rainfall, the Village's response, damage to Village infrastructure, necessary repairs and even highlights proposed changes to the Village code regarding stormwater runoff, flooding and land use that could impact flooding in the future.
In addition to the damage to Village owned facilities such as the Crossway Firehouse, the Central Garage and the Facilities Maintenance building, many areas of the Village flooded as storm drains were overwhelmed, watercourses spilled over and sanitary sewers backed up. Culverts were damaged, clogged storm drains could not handle the inundation and in some places sinkholes developed.
Even the seven acre retention pond at George Field park filled and inundated Oxford Road, creating a temporary lake in Greenacres.
The report outlines all the areas where flooding occurred and documents significant repairs, some of which have already been completed.
One of the most visible signs of the storm's aftermath was massive piles of debris lining the streets of Scarsdale. The Village sent out crews to haul away the wet refuse at no additional expense to homeowners. A report from the Village shows that in September, the DPW disposed of 1,088,96 tons of solid waste, as compared to 646 tons in August.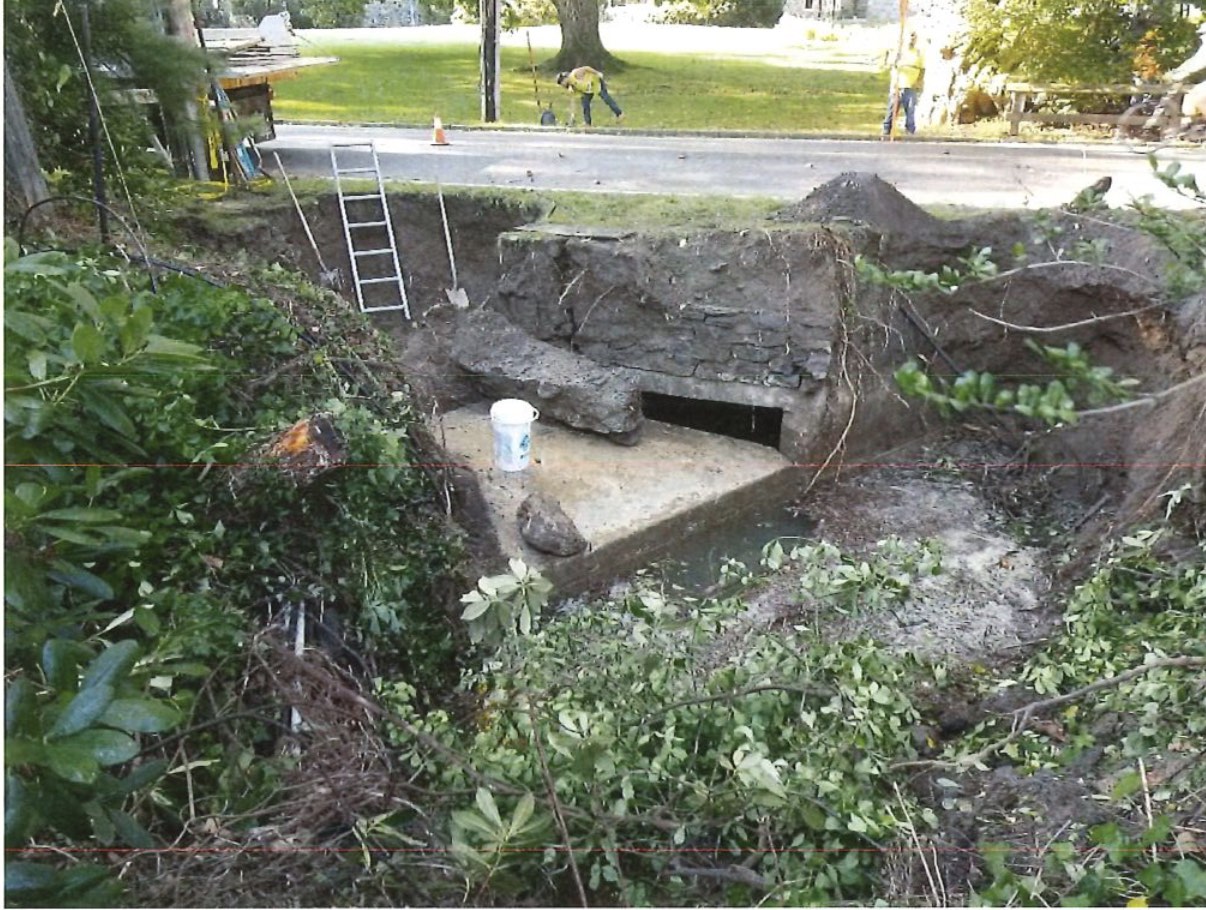 A culvert on Olmsted Road
In terms of next steps, the report recommends that the Village continue to inspect, clean and repair the storm drain system. In addition, they suggest that the Village revisit a list of proposed larger infrastructure projects outlined by engineering firm Dvirka and Bartilucci in 2009. Some of these projects have been completed, some are underway and others have proven to be "infeasible or not cost effective." DPW recommends a $27,810 study from STV Incorporated to "identify and advance the next series of improvements and form the basis for future grant applications."
Also in the report is a memo from Village Engineer David Goessel outlining changes to the Village Code on stormwater runoff, flooding and land use disturbance.
The memo recommends the following:
-Encouraging compliance with FEMA's Community Rating System for floodplain practices
-Regulating inflow into the sewers from sewer laterals, illicit connections and unlawful discharges
-More restrictive code to regulating grade changes and retaining walls for new construction projects that adversely affect neighbors and impact tree roots and topography.
-Amending Village code to redefine impervious and pervious surfaces to align with the NYSDEC Stormwater Design Manual.