Letter to the Editor: Reduce the Number of Half Days on the School Calendar
Tuesday, 25 January 2022 13:34
Last Updated: Tuesday, 25 January 2022 13:42
Published: Tuesday, 25 January 2022 13:34
Joanne Wallenstein
Hits: 394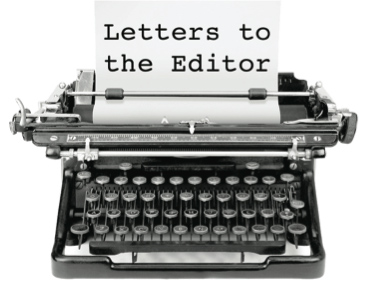 I urge the school to reconsider the number of half days in elementary school in the proposed schedule, as it places a meaningful burden on parents, is a hindrance to children's learning, and is excessive compared to other districts. In some cases, the number of half days results in Scarsdale having fewer instructional hours than peer elementary schools. Throughout a kids Scarsdale elementary education, a graduating Scarsdale 5th grader will have had a month (24 days) less of instructional hours than Rye or Chappaqua.

Based on the proposed schedule, students in Kindergarten through 2nd Grade have thirteen early dismissal days planned. These half days place an undue burden on working parents and raise issues of equity, as irregular school schedules often require parents to have a nanny to pick the kids up early or a working parent to take time off.

In addition, excessive half days for young children aren't good for their education. Kids five to seven years old thrive on consistency for learning and mental stability. A Scarsdale teacher recently told me that weeks with half days are the hardest because the kids are thrown off their schedule. Kids also can't get any learning in on a half day- imagine getting twenty three five year olds to take off their jackets, put their backpacks away and get seated only to ask them to do all that again three hours later!

We have heard that this is the best that we can do within the requirements, but that does not appear to be the case. Our district is a significant outlier compared to our peers. I have reviewed the publicly available school calendars of six other highly regarded neighboring public schools. Scarsdale has significantly more half days, sometimes as many as five times more frequently than other schools. I could only find one other schools that came close: Larchmont with ten. In looking at other schools, most of our peers take two days off for conferences yet we have three instructional days spread out of six work days. I have found only two peers that have the last week of school off as half days.

Many of our peers do not have half days during the last week of school. There are other ways to utilize this time and one is to move it to Winter Break. December is a very hard time to have school. Kids can't enjoy outdoor recess or lunch. The windows of the classrooms are open and kids are freezing while learning. In contrast, June typically has record low COVID case volume and weather conducive outdoor activities. If limiting the spread of COVID is a concern, I suggest that we maximize the amount of school that we have in June and minimize school in the winter months.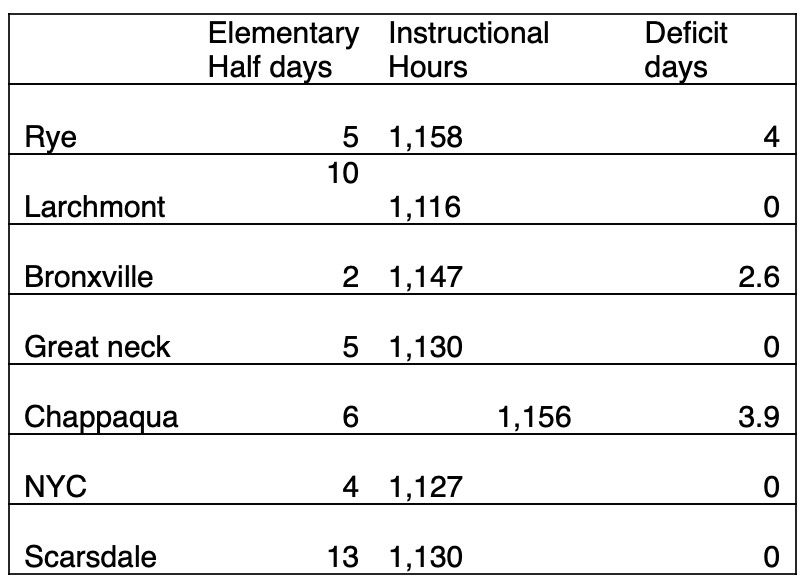 With this in mind, I'd like to make the following recommendations for the 22-23 calendar,

(1) Condense the number of half days into a smaller number of full days off to better support working parents and kids
(2) Move the June half days to Winter break to reduce teachers and students risk of COVID spread and infection
(3) Reconsider if we want to lag other schools in instructional hours
Dianna Cohen-Irom