Lisa and Jordan Copeland to Receive SFCS Rising Star Award
Monday, 06 February 2023 17:27
Last Updated: Wednesday, 08 February 2023 11:49
Published: Monday, 06 February 2023 17:27
Joanne Wallenstein
Hits: 1030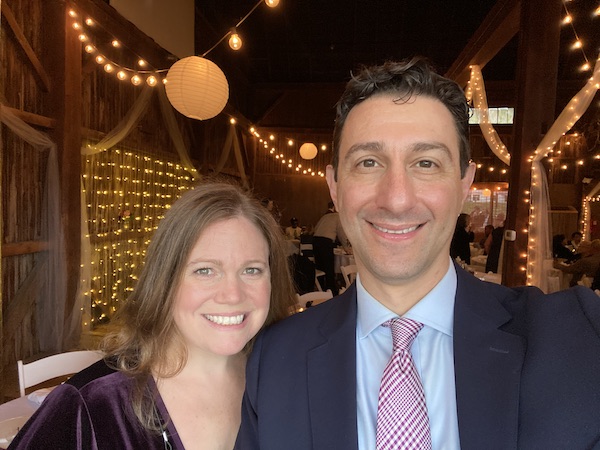 Scarsdale Edgemont Family Counseling Service (SFCS) today announced it has selected Lisa and Jordan Copeland to receive its annual Rising Star Award in recognition of their volunteer leadership and contributions to many Scarsdale organizations. The annual Rising Star Award recognizes leaders in the Scarsdale Community who have demonstrated dedicated, impactful and active community service.

The Award will be presented to Lisa and Jordan Copeland at the SFCS 2023 annual benefit gala, Thursday, May 11, 2023, at the Scarsdale Golf Club.

"This award recognizes that Lisa and Jordan have transformed their backgrounds in law, business, and education into careers of civic and social service engagement," said James Genova, LCSW, executive director, Scarsdale Edgemont Family Counseling Service.
"Together, they are using their experiences to benefit others, with specific focus on healthy youth development and care for those with mental health needs. This is why we honor this dynamic couple as two of Scarsdale's finest rising stars."

The Copelands moved to Scarsdale to raise their three sons: Caleb (20, SHS grad, attending college at Rensselaer Polytechnic Institute), Henry (16, 11th grade), Aidan (13, 8th grade). They also have two rescue dogs, Trixie and Spike.

Lisa Copeland

A former New York City public elementary school teacher, Lisa became a "professional volunteer" after moving to Scarsdale. She is a long-time member and former president of the Junior League of Central Westchester, committee chair and treasurer of Cub Scout Pack 60 for seven years, and spent many years as Class Parent Coordinator for the Edgewood PTA. Lisa has also served on the Drake-Edgewood Neighborhood Association, where she created newsletters and planned community-wide social activities. Currently, Lisa is serving her sixth year as Board Chairperson of Family Services of Westchester, one of the county's oldest and largest social service and mental health nonprofits. Lisa is also currently serving on the board of The Sharing Shelf, a clothing bank for children.

Lisa is an owner and director of her family business, which provides services, resources and information for foundations, corporations, individuals and families. Lisa is also an owner of Andersen Corporation, the window and door manufacturer founded by her great-great-grandfather.

Jordan Copeland

Jordan has also done a lot of volunteer work in Scarsdale. Currently he serves as Associate Village Historian. One of his largest projects so far has been a widely-viewed presentation on the History of Black People in Scarsdale. He also serves on the boards of the Scarsdale Public Library (finance officer), Scarsdale Adult School (finance chair), Scarsdale Historical Society (vice president) and is an Assistant Scoutmaster in Boy Scout Pack 4. Jordan was formerly the Cubmaster of Cub Scout Pack 60 (of Edgewood School) for 7 years, and chaired the School Board Nominating Committee, the joint committee of the SBNC, the Advisory Council on Youth, and the Education Committee of the Scarsdale Forum, and was a Little League coach for six years.

With degrees in law and in education, Jordan clerked in federal court for a year, and then was a public defender in the Bronx for ten years. He also taught fifth grade in a Bronx public school for seven years. The past three years Jordan has been spending most of his time writing and recording music and volunteering in the community. He also has been a Director of Andersen Corporation since 2003, and is chair of its Environmental, Social, and Governance Committee.

Scarsdale Edgemont Family Counseling Service

Scarsdale Edgemont Family Counseling Service (SFCS) is a nationally recognized family service agency accredited by the Council on Accreditation. The agency has been an anchor in the community for almost 100 years, providing counseling services and supportive programs to local individuals and families in all stages of life. Our mission is to strengthen and support family life and to contribute to the well-being of our residents. We believe families matter and that healthy families are the cornerstone of a healthy community.

Tickets will go on sale shortly. Click here for more information, or call (914) 723-3281.