Halloween Window Paintings Reflect Children's COVID Experiences
Details

Written by

Joshua Im

Hits: 496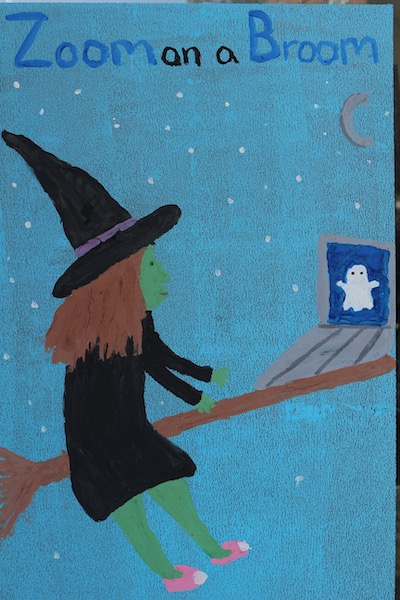 If anyone is wondering what's on the minds of Scarsdale kids, take a look at the display of Halloween window paintings this year. For the first time this year, many of the kids painted wearing masks and it seems to have influenced their work. What are the themes of their work? The pandemic, Zoom, masks and social distancing are depicted in many of the paintings.There are goblins, ghosts and witches on Zoom, quarantine scenes and the COVID 19 virus shown as the new worldwide terror.
The paintings are a window into the psyches of Scardsale's kids. Sad to say, but this is the scariest year ever! Thanks to Joshua Im for these timely photos.
CAC Says Mow, Don't Blow Your Leaves
Details

Written by

Conservation Advisory Council

Hits: 287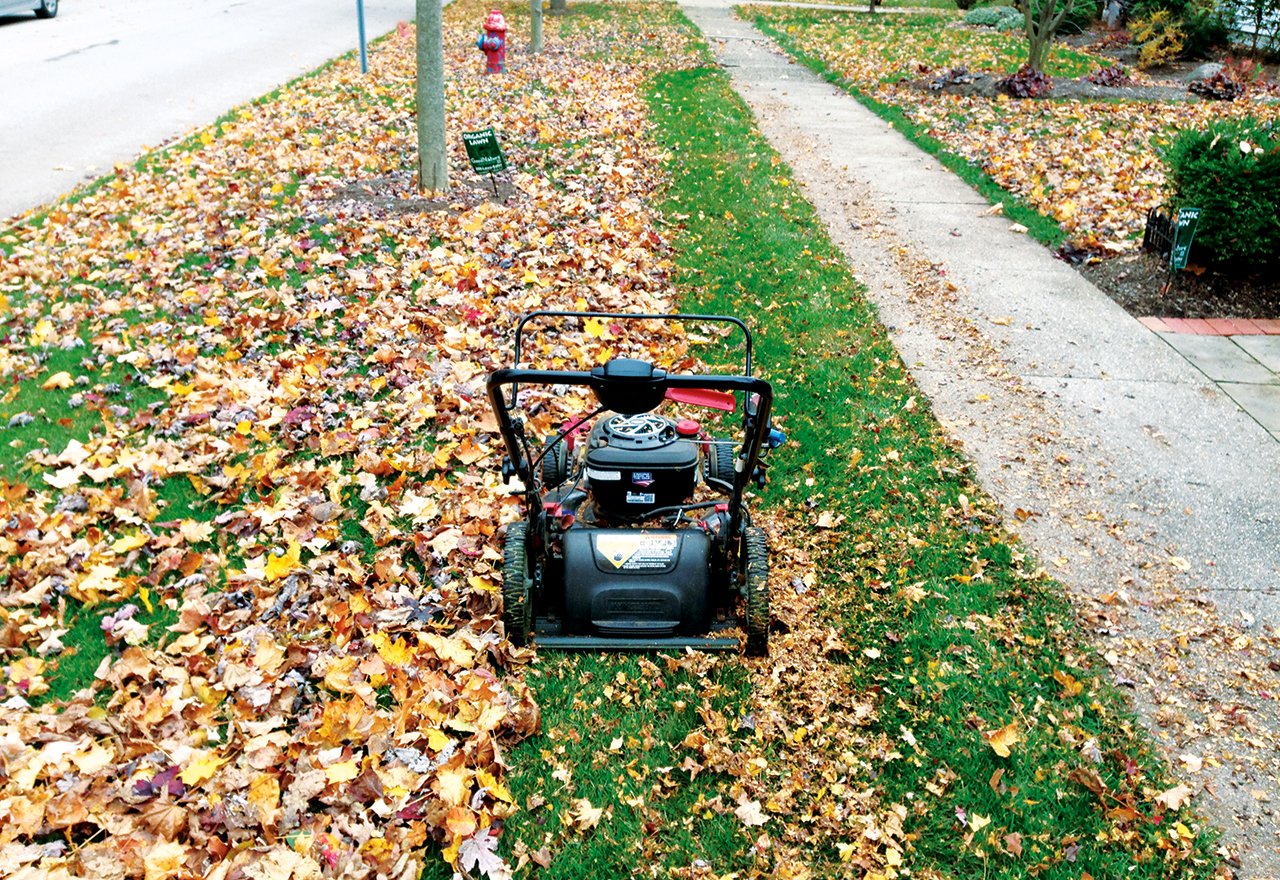 Mowing leaves into tiny pieces on your lawn--also known as mulch mowing-- is healthier for your lawn and soil than piling or bagging them to be removed. Leaf-mulched lawns often need less fertilizer and water. It is also better for our environment because the pollutants from leaf blowers and trucks that must haul away the leaves are avoided. And, leaves piled in the streets can be a thing of the past! Homeowners around Scarsdale have been mulch mowing leaves for many years with great results.
Here are the facts:
Mulch mowing does not harm your lawn—it makes your lawn healthier. Decomposing mulched leaves nestle between the individual blades of grass where weeds might otherwise germinate. Once the small bits of leaves settle-in, microbes and worms start breaking them down. The nutrients from the decomposed leaves enhance the soil while also inhibiting weed growth.
Done correctly, mulch mowing should not make your lawn look messy.
As long as the mulch mowing creates pieces about the size of a dime or smaller, the shredded leaves quickly settle into the lawn without making it look messy. It is important that the leaves left on a lawn without shredding them can smother grass—be sure to mulch mow them!.
It's easy.
Mulch mowing can be done with any standard homeowner or commercial lawn mower. Simply mow over the fallen leaves. All types of leaves can be mulch mowed. However, pine needles, which are acidic, may change the ph balance of your lawn if mulch mowed in large quantities; consider using pine needles as a mulch around the base of pine trees.
All landscapers have the equipment to mulch mow.
If you have a landscaper, ask them to mulch mow your leaves. Many, but not all, landscapers have experience mulch mowing. If your landscaper is new to mulch mowing, the following are key points for them to know:

Equipment:
To help shred the leaves into small pieces, it's recommended that a mulching blade be used. This type of blade, which has grooves to shred the leaves, is inexpensive and available for any type of mower. Mulching kits, which include additional attachments beyond just a mulching blade, are also available at any mower distributor and can be fitted to commercial mowers.
Mulching Technique:
Mowing the leaves in a circular pattern, rather than back and forth in lines, will result in smaller pieces of leaves which decompose more quickly and will avoid "striping lines."
Time: It should take your landscaper no additional time to mulch mow leaves rather than blowing them to the curb. In fact, if done correctly, it actually saves time. It's just as easy (or easier) to mulch mow than it is to blow leaves curbside.
Cost:
Mulch mowing leaves should not cost more than having leaves blown to the curb or bagged. There are many landscapers in Scarsdale that have been mulch mowing properties for years at no additional cost. If your landscaper claims it will be more time-consuming, ask them to try it for a few weeks. They will see it takes no extra time.
If you mow your own lawn, just keep mowing!
You can continue using your mower without installing a mulching blade, but sometimes you may have to go over certain areas of your lawn twice to make sure the leaves have been cut into small pieces. Better yet, you can install a mulching blade yourself or bring it to any local mower shop to install. Try to mulch leaves once a week so the piles don't build up too high for your mower, especially during the heavy drop of leaves. Remember to keep the blade sharpened and the deck height adjusted as needed.
Large piles of leaves will become markedly smaller when mulch mowed.
Shredding piles of leaves significantly reduces the volume of leaves. What looks like a huge leaf pile will shred into tiny pieces and quickly settle into your lawn. Even if you need to put some leaves to the curb during the heavy leaf drop, any reduction in leaves put curbside benefits our environment.
Excess mulched leaves can be placed in your garden beds.
Leaf mulch can be placed into garden beds to help prevent weed growth, to conserve moisture and reduce sprinkler usage, and to provide a protective layer in winter. Shredded leaves look great, are a healthy addition to your yard, and will save you the cost of buying wood mulch. Remember, to avoid damaging trees and plants, never place mulch directly against a tree trunk or shrub and never pile mulch more than 2"- 3" high in a garden bed.
Leaf mulch mowing benefits our local landscape, reduces the number of truck trips in our community, and gets large piles of leaves off our streets.
If you have any questions or comments, email Scarsdale's Conservation Advisory Council.
Leaf Mulch Mowing Resources
Scarsdale Leaf Mulch mowing tutorial: Link https://www.scarsdale.com/424/Leaf-Mulch-Mowing
Educational panel with landscapers and representatives from Cornell Cooperative Extension.
Rally to Save Metro North Wednesday October 7 at 11 am
Details

Written by

Joanne Wallenstein

Hits: 796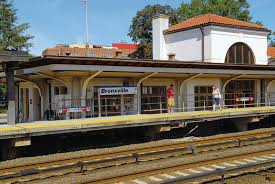 Officials will hold a rally at the Bronxville Train Station on Wednesday October 7 at 11 am to plead for President Trump and Congress to save public transit from doomsday cuts. Billions in federal aid is needed to preserve the imperiled Metro North railroad service.

Come to Bronxville on Wednesday at 11 am to join Bronxville Mayor Mary Marvin, NYS Assemblymember and Chair of the Committee on Corporations, Authorities and Commissions Amy Paulin, MTA Metro-North Railroad President Catherine Rinaldi, Metro-North Commuter Council Chair Randy Glucksman, NY State Council of Machinists Legislative Director Norman Brown, Permanent Citizens Advisory Committee to the MTA Executive Director Lisa Daglian, NY and League of Conservation Voters Policy Director Patrick McClellan.

The rally will be held at Metro-North Bronxville Station at the green space between Station Plaza and Parkway Road (rain location: south side of the station building on Station Plaza.)
Metro-North Railroad, Elected Officials and Advocates Call for Urgent Federal Funding to Save Hudson Valley Public Transportation
Details

Written by

Joanne Wallenstein

Hits: 915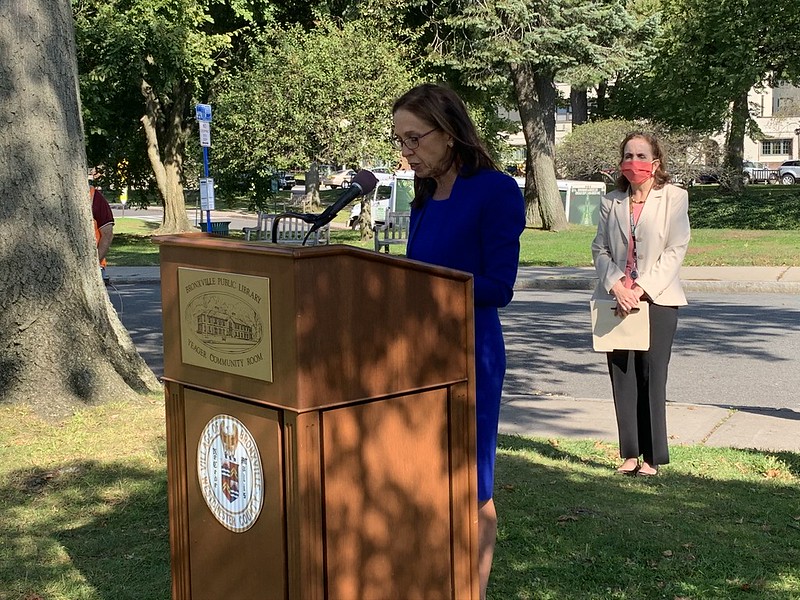 Metro-North Railroad President Catherine Rinaldi and Assemblywoman Amy Paulin joined labor leaders and advocates on Wednesday to demand that any federal emergency funding bill cover all transportation sectors, not just one, and to urgently call on the United States Congress and White House to authorize $12 billion in desperately needed COVID-19-related relief for the MTA to avert draconian railroad service reductions of up to 50%, fare increases, layoffs and the gutting the MTA's historic capital plan. The coalition also insisted the bill include at least $32 billion in total emergency aid for public transportation across the country, which is critical to the nation's economic recovery.

Because of the once-in-a-hundred-year COVID-19 pandemic, the MTA's 2020-2024 Capital Plan is already on hold – a direct hit to Metro-North and MTA customers, employees, suppliers and the region as a whole. The Authority's capital expenditures generate nearly $50 billion in infrastructure investments and more than 100,000 jobs nationwide – making it one of the nation's largest drivers of economic activity. Without needed federal funding, the MTA could be forced to severely scale back the historic $51.5 billion capital construction plan desperately needed to modernize the railroad and expand the New Haven Line to Penn Station via four new stations in the Bronx.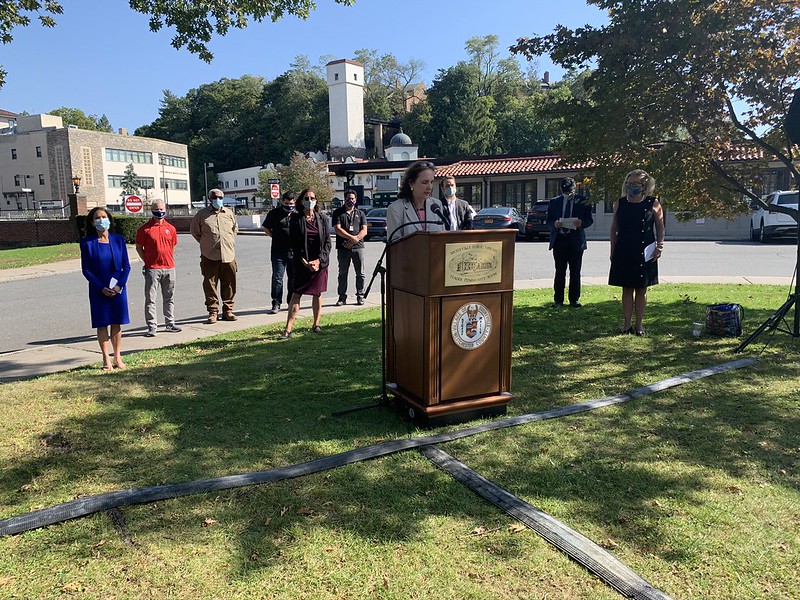 Since the start of the COVID-19 pandemic in New York in March, Metro-North Railroad has played a critical role in helping riders get to their location safely, ensuring doctors, nurses and so many other essential employees get to their jobs on the front lines. While customers have been returning to the system as the region has reopened, ridership on Metro-North is still no more than a quarter of pre-pandemic levels. Currently, Metro-North is operating at 63% of its pre-pandemic schedule.
"As we stand alongside our fierce advocates and community leaders in this fight for federal funding, we want the government to truly understand how critical this is for our riders and employees," said Catherine Rinaldi, President of MTA Metro-North Railroad. "For months we have been calling on the federal government because the magnitude of the COVID-19 financial crisis only gets worse every day. We can only begin the imagine the long-lasting impacts potential service cuts could have on our region and that's why we look to leaders in both red and blue states and urge them to come together to save transit."

"Public transportation is our lifeline," said Assemblywoman Amy Paulin. "New York wouldn't be New York without it. Residents in Westchester County and right here in Bronxville depend on the Metro-North Railroad every single day. Until we have a vaccine, ridership and revenue are diminished and we cannot let our residents suffer as a result. Please federal government, keep us riding, don't just sit and watch the closing doors."

Mayor Mary Marvin said, "Reliable train service is critically important for Bronxville residents, and for our entire region. In this time of economic recovery, it is more important than ever that people can get back into New York City to work, go to school, and visit the many cultural institutions that make our area special. This is impossible without an investment in transit. We must get federal funding to prevent these catastrophic service cuts, and make sure New York remains one of the greatest cities in the world."

Scarsdale Mayor Mark Samwick said, "Part of what makes Scarsdale such a wonderful community is quick and reliable train service to New York City. Our residents and businesses depend on it. If federal funding does not come through to save the MTA, it could take decades to repair the damage to our suburbs and the downstate region as a whole."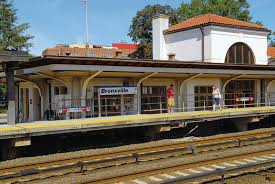 Randy Glucksman, MTA Board member and Chair of the Metro-North Commuter Council said, "The MTA desperately needs federal funding so it can continue to serve riders. Without $12 billion, we're facing a doomsday scenario of service cuts, fare hikes and layoffs. We won't see the new train cars, station improvements, accessibility projects and signal upgrades that Metro-North Railroad needs and that riders deserve. In the worst-case scenario, West-of-Hudson service could be eliminated, stranding tens of thousands of riders. We'll also be faced with Carmageddon as more people drive instead of taking transit. The Hudson Valley's economy – and recovery – will suffer. It's that simple. Metro-North continued to run during the height of the pandemic, getting front line and essential workers where they needed to go, and now the Railroad needs a lifeline. We urge a bipartisan agreement that will provide much-needed funding for our vital transit network."

Lisa Daglian, Executive Director of the Permanent Citizens Advisory Committee to the MTA (PCAC) said, "The MTA's transit system drives the economy of the tri-state region and is essential to our way of life. Without an infusion of $12 billion in emergency federal funding relief, riders will be faced with deep service cuts, reduced cleaning, fare increases, layoffs, and a significant reduction in the MTA's capital program. All of that has the potential to begin a downside into a transit death spiral from which it would take years – even decades – to come back. Supporting transit isn't a New York issue, it's a national issue: the metropolitan area supplies 10% of the nations' economy. Securing additional federal funding that includes relief for transit and cities and states is crucial, or every worst-case scenario will come true and the entire region's economy and recovery will suffer."

"The collapse of public transit will ruin suburbs like Bronxville across the nation," said Riders Alliance Policy and Communications Director Danny Pearlstein. "COVID didn't destroy America's trains and buses but federal inaction is a mortal threat. Transit riders need federal aid now. The House of Representatives has voted repeatedly to save the transit service that millions rely on and the nation's recovery hinges on. Now the Senate and White House must take up the charge and pass a relief bill that carries the nation's public transit systems through the next year."

Patrick McClellan, Policy Director for the New York League of Conservation Voters said, "Metro-North Railroad serves hundreds of thousands of commuters, avoiding countless car trips and keeping the New York metropolitan area's greenhouse gas emissions substantially lower than they otherwise would be. If we are to successfully fight climate change we need more frequent Metro-North service, not the devastating cuts that the MTA will have to make if the federal government lets us down. It's past time for Congress and President Trump to act."
Remembering Anne Rachel Reinwald
Details

Written by

Joanne Wallenstein

Hits: 914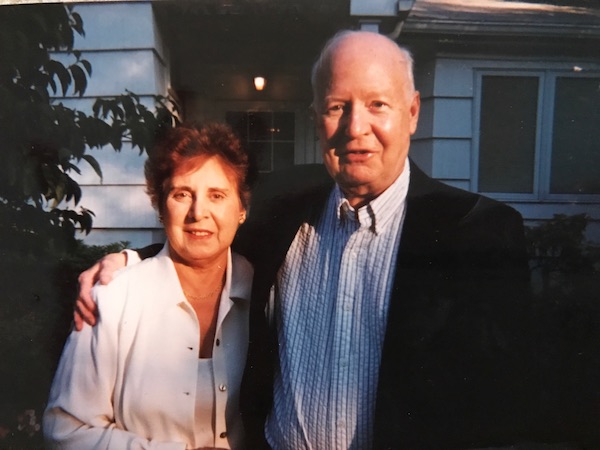 Anne and Charles ReinwaldAnne Rachel Reinwald, a long-time resident of Scarsdale, NY died September 18 in Rocky River, Ohio. She was 94.
Anne was born in Flushing, NY and graduated as Valedictorian of Flushing High School in 1944. She then went on to earn a BA and MA from Hunter College. Anne taught in the New York City school system for over twenty-five years and was loved by and dedicated to her students. After marrying Charles Reinwald, the love of her life, she moved to Scarsdale where she raised her three children and lived for over 50 years. Her husband passed away in 2011.
In addition to teaching, Anne was very active in the community and volunteered at the Scarsdale Women's Club. She played in the town tennis league, was an avid gardener and enjoyed painting with watercolors. After retiring from teaching Anne became a real estate agent and divided her time between her homes in Scarsdale, NY and Jupiter Island, Florida.
Mrs. Reinwald is survived by her son Charles Reinwald (Sarah), her daughters Lisa Silverman (Bob) and Andrea Dabbar (Paul), and her grandchildren Andrew, David, Samantha Silverman and Katie, Will Dabbar. She adored her family, who will remember her as "a caring and generous person who kept strong ties to her family and friends until the end."
In lieu of flowers the family suggests donations be made to Covenant House or St. Jude Children's Research Hospital.