Head Shop Opens in Hartsdale
Details

Written by

Joanne Wallenstein

Hits: 1423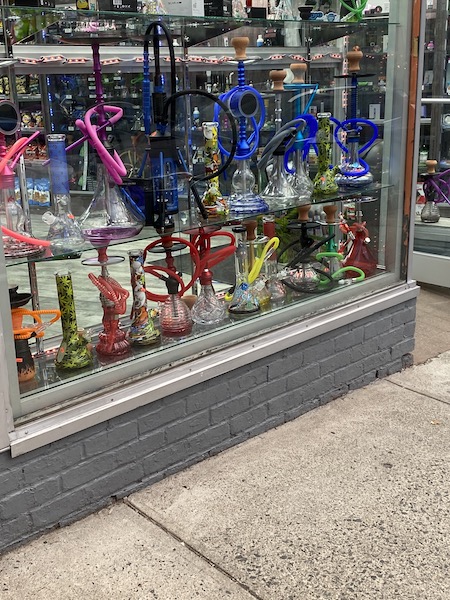 While Trustees ponder how to handle the potential for marijuana sales within the Village of Scarsdale, Hartsdale has recently become home to a new hookah and vape shop, or as we called it in the old days, a head shop.
The new store has opened at 205 East Hartsdale Avenue, smack in the middle of a shopping strip that is frequented by families and children and senior citizens. Along with a refrigerator full of cold drinks and shelves lined with snacks, the store features a large display case of hookah pipes and supplies, cigarettes of every brand, electric cigarettes, vape pens and vape juice. What else? There are CBD gummies, hemp and a full case of cigars. If it is legal to smoke it, you'll find it here.
The front window is lined with bongs and it is called "Hartsdale Tobacco and Candy," sending mixed messages to kids. The store is the owner's second location, with the first located in the Bronx.
In 2019 Scarsdale revised their Village Code to control the location of similar shops. The code prevents the sale of ENDS (e-cigarettes) within 1,000 feet of schools, nursery schools, daycare centers, houses of worship, playgrounds, parks and libraries. However, this code would not prevent the opening of a tobacco, hookah shop or marijuana dispensaries in some retail locations along Scarsdale Avenue, including Garth Road and Wilmot Road.
In the meantime, Fox Meadow and Greenacres residents who frequent Hartsdale reacted to the opening of the new smoke shop. One Greenacres mother pointed out that Hartsdale was the first place she permitted her tweens to walk to alone, and she was concerned that this shop was inappropriate. She worried about the type of clientele it might attract and the fact that it's open late at night. She feared that ultimately a store like this could "destroy the neighborhood."
A long time Greenacres resident was equally as critical of the decision to open the shop. She said, "The opposite of charming and inviting.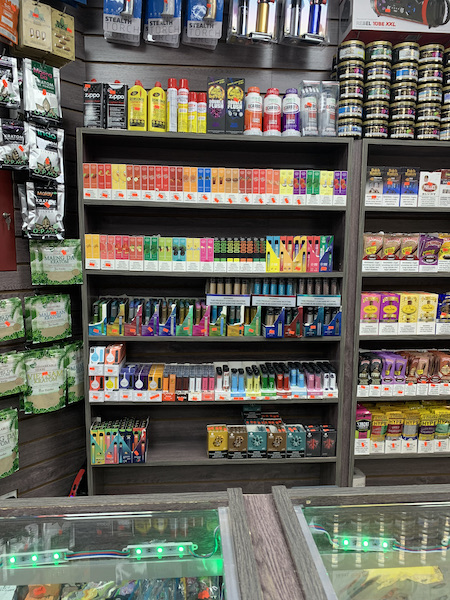 Hartsdale, with its limited and uninteresting range of retail shops, has always had trouble attracting foot traffic. This will help perpetuate that status quo and might serve to repel the suburban family set."
When she saw the shop, Andrea Seiden said "I am shocked. It's so jarring to see alluring hookah pipes next to a pizza shop in a small town that has worked so hard to revitalize itself and offer good restaurant options for families.
Another resident acknowledged the challenges of filling retail sites in our towns. Conincidentally, this week Chase Bank announced that they will close their Hartsdale branch. Pointing at an empty storefront he said, "would you rather have a vacancy or a smoke shop?"
Commenting at a Village Board work session on the sale of cannabis in Scarsdale, Andrew Sereysky said "the cat is out of the bag." Marijuana will be available in White Plains and New Rochelle, a smoke shop has already opened in Hartsdale and this is really a revenue call. We could be looking at $750,000 a year (from sales tax.)" Wendel Gendel from the Scarsdale Drug and Alcohol Task Force also commented at the work session, highlighting the risks these shops pose for local teens.
What do you think about the presence of this new retailer and how would you feel about a similar shop opening in Scarsdale?
Share your thoughts in the comments section below or email us at scarsdalecomments@gmail.com and we will add your thoughts to this article.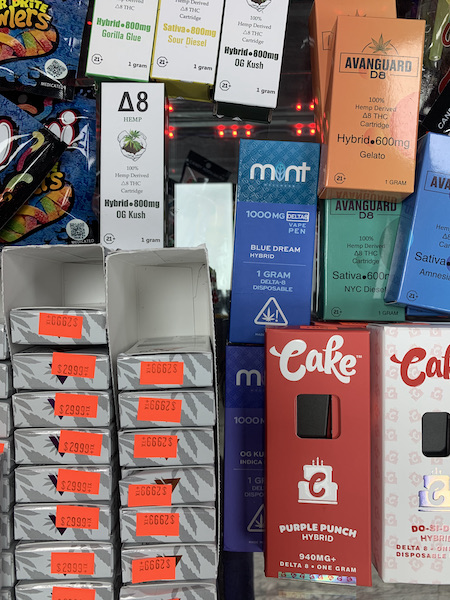 Jewish Community Rallies Against Hate
Details

Written by

Jack Margolin

Hits: 263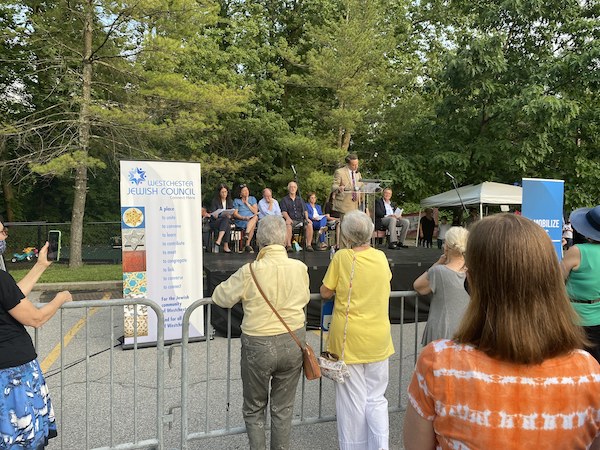 On Monday, June 7th, hundreds gathered at the Jewish Community Center of Mid-Westchester to stand together against anti-Semitism and all forms of hate.
People of all ages and religions were in attendance, as was a heavy police presence.
"Sadly, anti-Semitism has recently reared its ugly head again," said Bill Schrag, President of the Westchester Jewish Council who sponsored the event. "It's time to speak up to make sure the oldest form of group hatred doesn't gain a foothold in our own backyard," he added.
One of the main messages echoed throughout the night was that anti-Semitism should concern everyone, not just those who practice Judaism. Ken Jenkins, Westchester County's Deputy Executive, continued this sentiment throughout his speech: "We're here together to show how strongly we are against anti-Semitism and all forms of hate... If we're standing shoulder to shoulder, there's nothing we cannot do."
In a touching twist, the second-grade class of Westchester Day School got the crowd engaged by singing a few songs. "I've told my staff before, 'never have me go after a bunch of cute kids singing a song!'" joked Kathy Hochul, Lieutenant Governor of New York. Hochul continued on to say, "I want these children to grow up in a world where they are told what anti-Semitism is by their parents and grandparents as a historical fact, that they never have to live the indignity of being assaulted or spit upon or walk into a yeshiva or a synagogue where there are horrible words on a wall."
George Latimer, Westchester County Executive: "Anti-Semitism is not a Jewish problem, it is a human problem."
Mark Fang, Executive Director of Yonkers' Commission on Human Rights: "Perhaps the Jewish experience in America can inform the Asian American path to a true assimilation and humanism, the humanism and assimilation you have achieved. Maybe this is the time that God has brought us together with a new formula, an American formula of assimilation."
Mimi Rocah, Westchester's District Attorney, gave her speech with a very clear message: "Hate has no home in Westchester County. The rise in crimes targeting Jewish community members around the country is obviously very concerning and it will not be tolerated here," she exclaimed.
After an increase in anti-Semitic incidents, it's evident that the politicians, law enforcement, and citizens of Westchester County are united in their efforts to protect the Jewish community.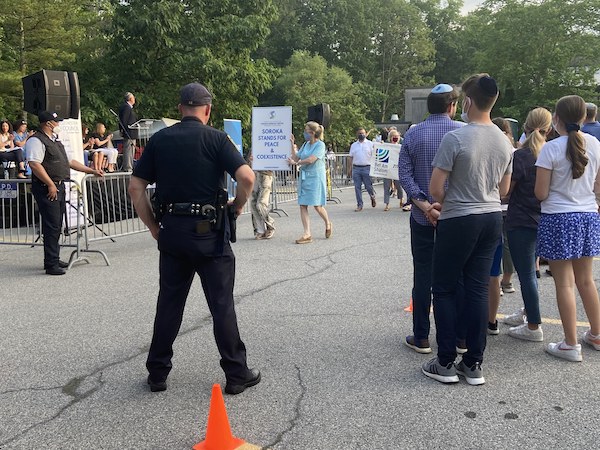 Boys Tennis Team Ends Season 4-3
Details

Written by

Joanne Wallenstein

Hits: 455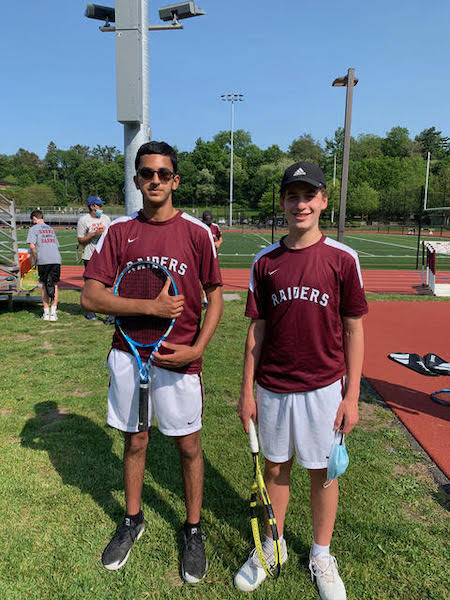 First doubles team Samir Kini and Ben HymanThough the boys tennis season was shorter than usual, it sure beat last year when there were no matches at all. We chatted with Boys Varsity A Tennis Coach Jennifer Roane at the team's last regular match of the season against Rye, and she explained that for the first time ever, this year she welcomed ten new members to the team and had only three returning players.
The relatively green team did well – ending the regular season with four wins and three losses. At their final match against Rye on Wednesday May 19 at home, they had a clean sweep, winning all seven courts.
Here are the results of the match against Rye where Scarsdale scored strong victories on all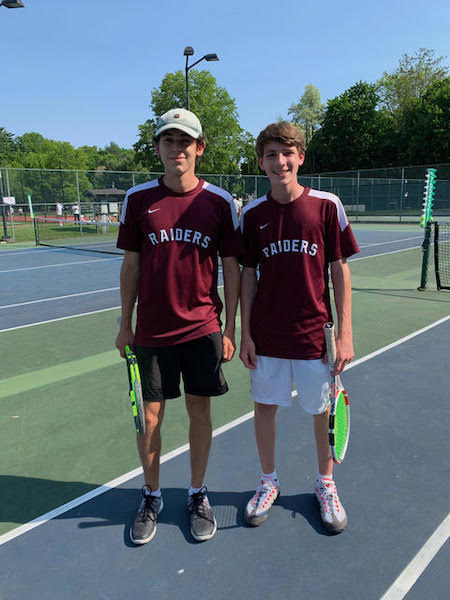 First and second singles, Andrew Broom and Jason Gans courts.
Singles
Andrew Broom vs. Nicolas Echlor 6-3, 6-1

Jason Gans vs. Matthew Templeman, 6-1, 6-0

Adin Lamport vs. Cian Keegan, 6-1, 6-0
Doubles
Ben Hyman and Samir Kini vs. Dylan Rodilosso and Reece Dorfman, 6-1, 6-1
Hiroshi Hebner and Michael Marks vs. Ryan Wyckoff and Patrick Moran 6-1, 6-4
JP Figueiredo and Coby Gantcher vs. Luke Burnham and Nate Collins, 6-1, 6-1
Eric Rodriguez and Trevor Cohen vs. Ty Bibas and Henry Paul, 6-1, 6-4
Kenny Xu and Aditya Menon vs. Johnny Mambino and Naved Azim (non-league)
Roane hopes to send a few teams to the sectionals to be held from June 5-12. There will be no state championship this year.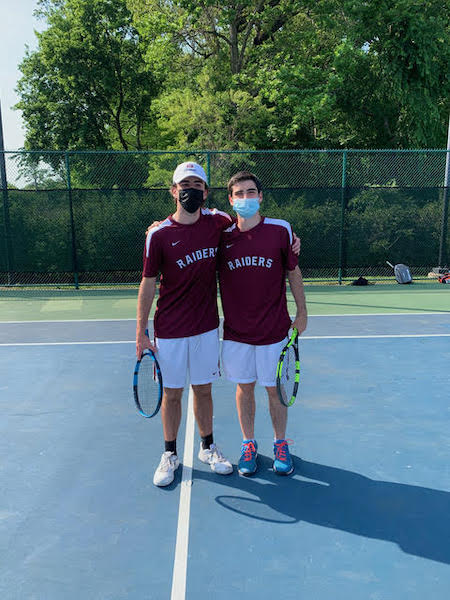 Fourth doubles team Eric Rodriguez and Trevor Cohen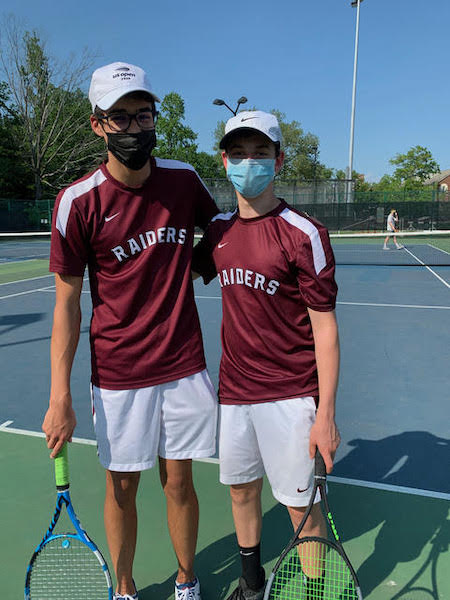 Third doubles team JP Figueiredo and Coby Gantcher
White Plains Hospital Unveils Center for Advanced Medicine and Surgery
Details

Written by

Joanne Wallenstein

Hits: 807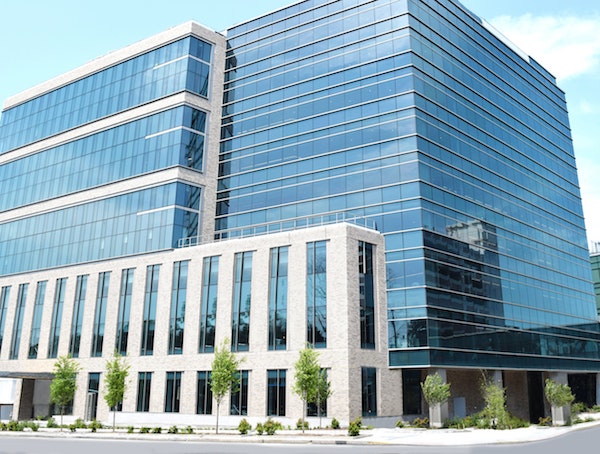 On Wednesday June 2, White Plains Hospital (WPH) opened the doors to its most significant campus addition to date: the new Center for Advanced Medicine and Surgery (CAMS) – a 252,000-square-foot, nine-story outpatient center located at 122 Maple Avenue, at the corner of Maple and Longview avenues, in White Plains. This facility features state-of-the-art operating rooms, endoscopy, ambulatory and procedure suites, wound care delivered through hyperbaric chambers, advanced imaging, non-invasive diagnostic testing and specialty physician offices.
CAMS is the largest dedicated outpatient facility for White Plains Hospital and one of the largest in Westchester County. Connecting to both the main Hospital and Center for Cancer Care, CAMS is the latest addition to the Hospital's ongoing campus transformation, which included a new Center for Cancer Care, completed in 2016, and the Hospital's new lobby, inpatient tower, and operating room renovation, completed in 2015. Since 2015, approximately 622,000 square feet have been renovated or added to the Hospital and its offsite locations.
"As the past year confirmed, having access to advanced care right here in our community is critical," said Susan Fox, President and CEO of White Plains Hospital. "This new facility represents an important step forward in expanding access to comprehensive care delivered by top healthcare professionals in diverse specialties. It also furthers our commitment to enhancing the patient experience, providing the latest advancements in treatment and technology to better serve the needs of our community."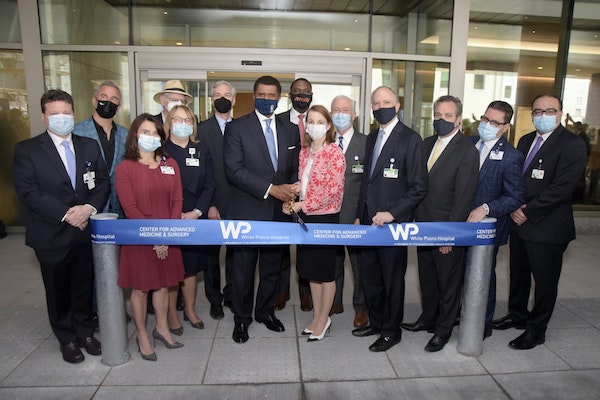 Dr. Kaare Weber, Chief of Surgery; Josh Caspi, Board Member; Frances Bordoni, SVP Ambulatory & Physician Services and Business Development; Peter Lehrer, Board Member; Leigh Anne McMahon, EVP Patient Care Services and Chief Nursing Officer; Tom Roach, Mayor of White Plains; Dr. Philip Ozuah, President & CEO Montefiore Medicine; Congressman Mondaire Jones; Susan Fox, President & CEO White Plains Hospital; Michael Divney, Board Member; Larry Smith, Chairman of the Board, William Null, Board Member, Joe Guarracino, EVP, Chief Administrative Officer & Chief Financial Officer; Joe Mannino, Vice President, Facilities Management & Construction.
The new Center for Advanced Medicine & Surgery will feature ambulatory surgery, endoscopy suites, wound care delivered through hyperbaric chambers, and cutting-edge imaging such as the first and only PET (positron emission tomography) MRI scan in Westchester. This technology provides a higher level of detailed views than traditional MRI, allowing for more precise diagnosis and treatment. The Center will also feature top physicians in such specialties including: Orthopedics; Urology; Pain Management; Ears, Nose and Throat; Thyroid; Colorectal; Vascular; Plastic; and Bariatric care; as well as a comprehensive new Heart and Vascular Program.
Dr. Philip Ozuah, President and CEO of Montefiore Medicine, added, "The new Center for Advanced Medicine & Surgery is a tremendous achievement. As a Health System, we are focused on advancing our long-held mission of providing exceptional care to our extended communities. White Plains Hospital has quickly become the tertiary hub for advanced care in the Hudson Valley. Later this year, the cardiac surgery team from Montefiore will begin performing cardiac surgery at White Plains Hospital. This new facility will allow for local patient access to these surgeons, who will be working side by side with area physicians supporting a comprehensive cardiac program and represents just one more example of our commitment to providing local access to world-class physicians and advanced services."
Features of the new Center for Advanced Medicine & Surgery include:
Enhanced Patient Experience: The patient drop-off driveway is integrated into the building's design, allowing for convenient drop off. Two pedestrian bridges will connect the outpatient facility to the main Hospital and the Longview Parking Garage for optimal convenience and seamless access.
Design and Construction: The project was designed in accordance with the principles of sustainable construction to support energy efficiency, water efficiency, light pollution reduction, and indoor air quality. The project's architect is Perkins-Eastman; the facility was built by Turner Construction; the structure utilizes 2,800 tons of steel and 1,100 glass curtain wall panels.
Smart Building Features: The building will feature a robust IT infrastructure designed to facilitate current and future medical technology and telemedicine. An intelligent infrastructure will support automatic building management, energy efficiency through technology and real-time data collection.
The move-in for departments and programs in CAMS will be in a phased approach beginning on June 7.
Floor by Floor Layout:
Level 2: Advanced Imaging
Level 3: Surgical Suites
Level 4: Endoscopy & Procedure Suites
Level 5: Women's Imaging
Level 6: Non-oncologic Infusion Suite, Pre-Procedure Testing, Urology
Level 7: Heart & Vascular Program - Cardiology, Electrophysiology, Vascular surgeons and Future Home of Cardiothoracic surgeons
Level 8: Orthopedic Surgery, Spine Surgery and Interventional Pain Management
Level 9: The Carl Weber Center for Wound Care & Hyperbaric Medicine, Surgical Specialties including: bariatrics, colorectal, ENT, endocrine and plastics.
About White Plains Hospital
White Plains Hospital is a proud member of the Montefiore Health System, serving as its tertiary hub of advanced care in the Hudson Valley. The Hospital is a 292-bed not-for-profit health care organization with the primary mission of providing exceptional acute and preventive medical care to all people who live in, work in or visit Westchester County and its surrounding areas. Centers of Excellence include the Center for Cancer Care, The William & Sylvia Silberstein Neonatal & Maternity Center and The Ruth and Jerome A. Siegel Stroke Center. The Hospital's Flanzer Emergency Department is the busiest in Westchester County, with more than 64,000 patient visits a year. White Plains Hospital performs lifesaving emergency and elective angioplasty in its Joan and Alan Herfort, MD, Cardiac Catheterization Laboratory and Marie Promuto Cardiac Catheterization Laboratory. White Plains Hospital has outpatient medical facilities across Westchester, including multispecialty practices in Armonk, New Rochelle, Somers and Yorktown Heights; and Scarsdale Medical Group locations in Harrison and Scarsdale.
The Hospital is fully accredited by the Joint Commission and earned its recognition as a Top Performer for Key Quality Measures® in 2015 and 2013. The Hospital received Magnet® designation in 2012 and 2016 from the American Nurses Credentialing Center (ANCC). The Hospital earned a three-year accreditation from the National Accreditation Program for Rectal Cancer (NAPRC), one of 16 hospitals in the nation, and the Hospital's Bariatric Surgical Center is accredited as a Comprehensive Center under the Metabolic and Bariatric Surgery Accreditation and Quality Improvement Program (MBSAQIP). White Plains Hospital has also received full accreditation for its breast cancer program from the National Accreditation Program for Breast Centers (NAPBC) and The American College of Surgeons National Surgical Quality Improvement Program (ACS NSQIP®) recognized White Plains Hospital as a top 10% performing hospital for achieving meritorious outcomes for surgical patient care in 2019. In 2021, White Plains Hospital received the Outstanding Patient Experience Award from Healthgrades® for the sixth time and was the only Hospital in Westchester to be awarded with an A Safety Grade from the Leapfrog Group for the 5th consecutive time.
Weinberg Nature Center to Offer Forest Preschool in the Fall
Details

Written by

Jordi Wiener

Hits: 320
The Weinberg Nature Center will offer a Forest Preschool for children ages three to five years old in the fall. The program will run from 9:15 am to 12:15 pm on Tuesdays, Thursdays and Fridays from September 2 to November 20, 2021.
Based on the European forest school model, preschoolers will be immersed in outdoor STEAM environmental activities that emphasize nature and animal learning., foundations in math and science, language arts and health and wellness.