Annual Light the `Dale Celebration – December 01
Details

Written by

Joanne Wallenstein

Hits: 624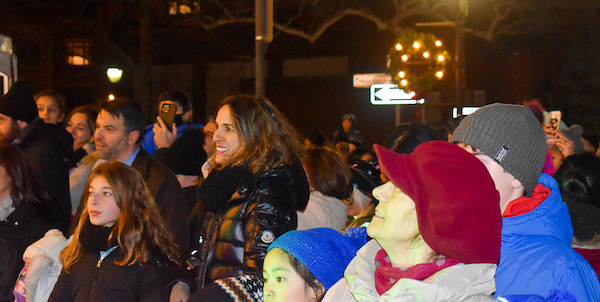 Kick-off the holiday season with us at Scarsdale's annual tree and menorah lighting ceremony, Light the 'Dale, on Friday, December 01, from 5-7 PM at Boniface Circle! The lighting will take place at approximately 5:30PM. Bring your friends and family to enjoy great food, festive music, and other fun holiday activities including cookie decorating and photos with Santa!

Children can enter their names for a chance to Light the 'Dale with Mayor Arest. Click here and use the registration portal to enter your child for a chance to create an extra special holiday memory. If you have entered the drawing for a chance to light the tree with the Mayor, you must be present by 5:15PM. Names will be drawn after Santa arrives.

The Village will continue the tradition of participating in the Marine Corps' Toys for Tots campaign. This year, understanding the increased needs of the less fortunate, Mayor Arest is issuing a special challenge at the Light the `Dale celebration: "Fill A Van for Toy's for Tots." Let's come together to show our community's generosity in a big way. Bring an unwrapped toy and place it in the donation van, prominently parked at the event. Your contribution can make this holiday season extra special for a child in need.

A special thanks to the Parks, Recreation and Conservation Department, Scarsdale Police and Fire Departments, Scarsdale Volunteer Ambulance Corps, and the Scarsdale Business Alliance, for making this wonderful event come together.
Locals Attend March for Israel Rally in Washington
Details

Written by

Joanne Wallenstein

Hits: 902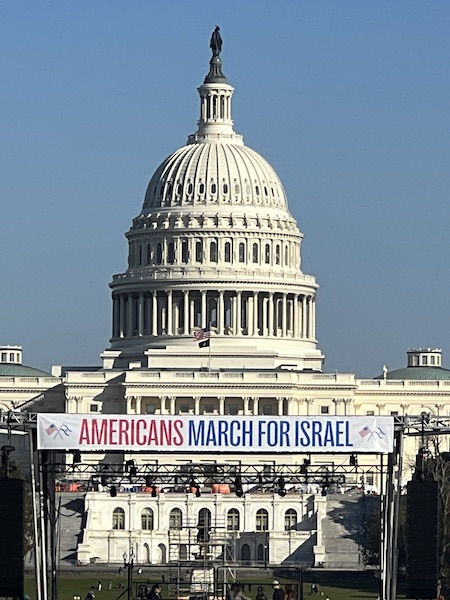 Photo Credit: Cynthia SamwickTwo busloads from Westchester Reform Temple and twelve from synagogues in White Plains were among the 290,000 people who travelled to Washington D.C. on Tuesday November 14 to demonstrate support for Israel on the mall. The press reported that the March for Israel Rally was the largest Pro-Israel demonstration in history.
Speakers included:
-ActressTovah Feldshuh, Graduate of the SHS Class of 1966
-CNN Political Commentator Van Jones
-NYS Senator Chuck Schumer
-House Speaker Mike Johnson
-Senator Joni Ernst
-House Minority Leader Hakim Jeffries
-Ambassador Deborah Lipstadt
-Actress Debra Messing
-A video address from the President of Israel Isaac Herzog
-Rachel Goldberg, mother of a hostage
Cynthia Samwick said, "Participants represented a diverse tapestry of Jewish life, with individuals spanning various religious beliefs and backgrounds. Among them were students, groups of old and new friends, families, neighbors from near and far, and Israelis, all united in a peaceful display of solidarity. The atmosphere was awe-inspiring, evoking a unique sense of hope and spirit. Contrasting the event's harmony, the gathering served as a stark juxtaposition to those who advocate violence and hate, highlighting the contrast between peaceful unity and destructive discord. Am Yisrael Chai."
Another resident reported that the demonstration was peaceful but the crowd got fired up at times with frequent chants of "Bring them Home, Am Yisrael Chai, Never Again, and at one point, No Cease Fire."
It was an exhausting day for those who travelled from Westchester as buses left a 6 am and did not get back until 11 pm. All in all it was a 16 hour day – with a two hour rally.
State Assemblywoman Amy Paulin travelled with the two busloads of people from Westchester Reform Temple. She said, "I was proud to march today in solidarity with Israel and against anti-semitism and hate! Together We Will Prevail! יחד ננצח"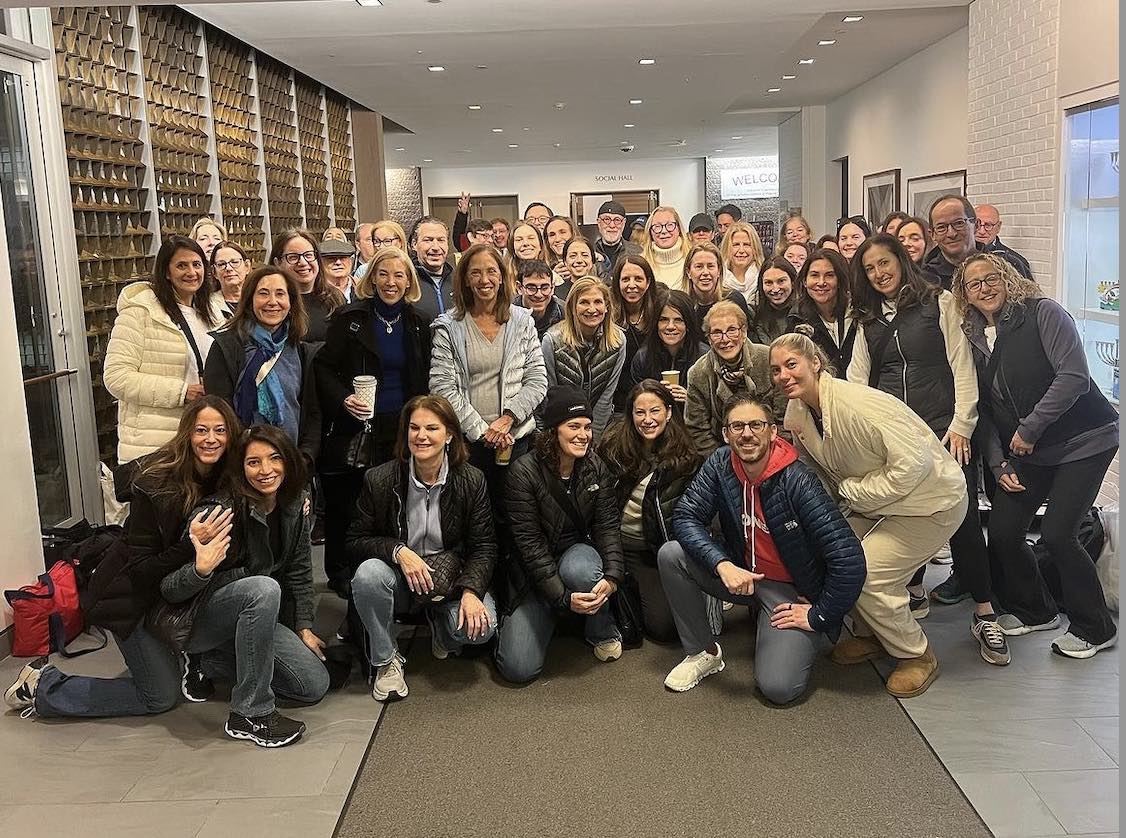 Amy Paulin, Rabbi Blake and two busloads from Westchester Reform Temple.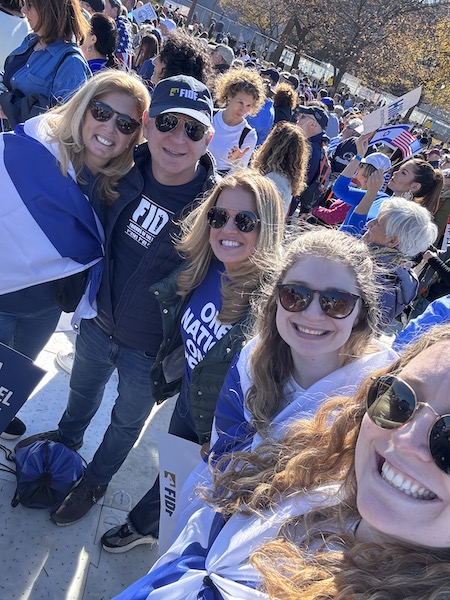 Former Village Trustee Rochelle Waldman, Former Mayor Marc Samwick, Cynthia Samwick and Jessica and Sydney Waldman.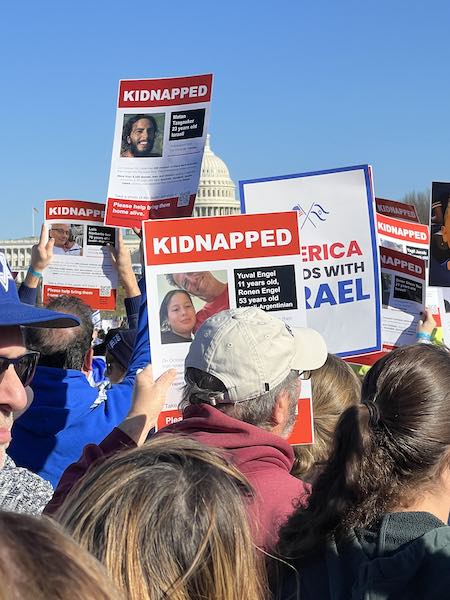 Photo Credit: Cynthia Samwick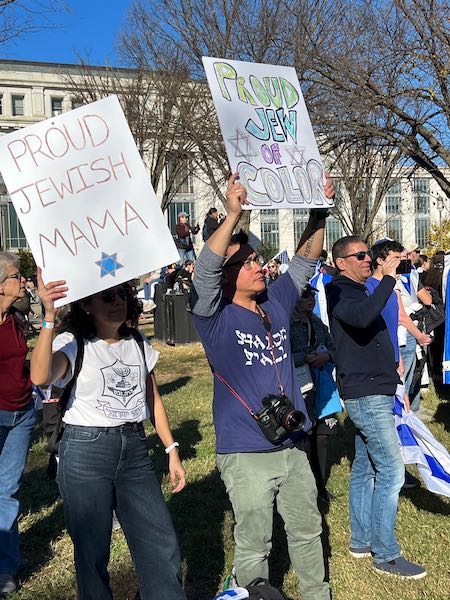 Photo credit: Flo Wiener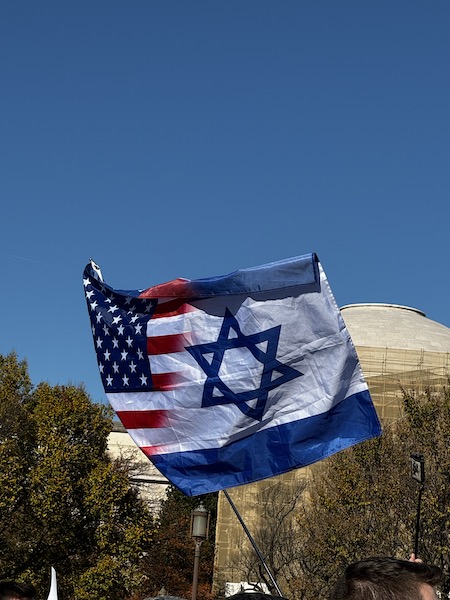 Photo Credit: Cynthia Samwick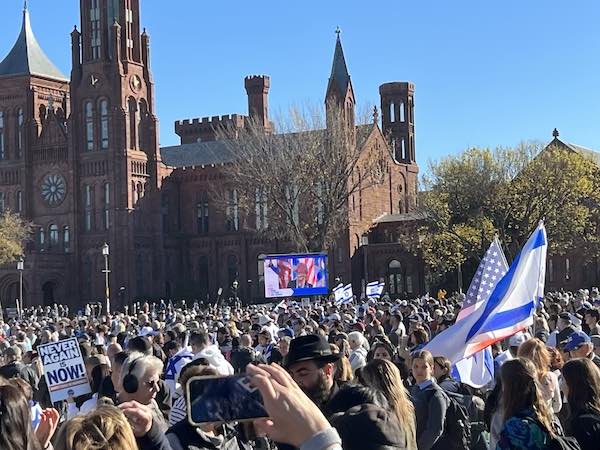 Photo Credit: Flo Wierner
Feeding Westchester Fills the Ever-Growing Demand for Food
Details

Written by

Joanne Wallenstein

Hits: 612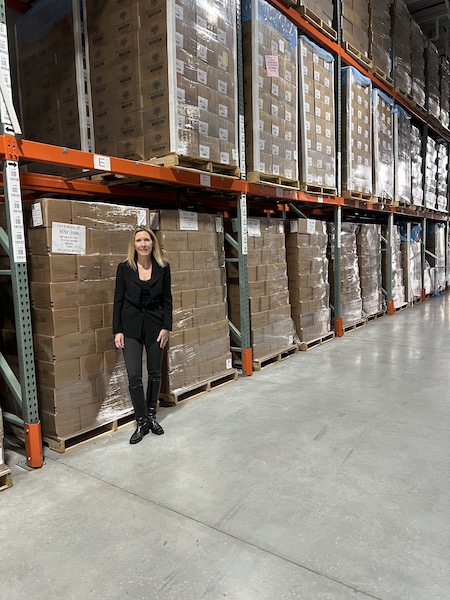 Jenine Kelly in the newly expanded warehouse.Though many of us have lived in Westchester for decades, do we really know the economic composition of the county's population?
After a visit to the Feeding Westchester warehouse and distribution center in Elmsford, I realized that my assumptions about the financial well-being of county residents was deeply flawed.
Where did I go wrong? While touring the facility I learned that 1/3 of Westchester families are "food insecure." Ten percent live below the poverty line and 24% don't make enough money to feed their families.
Food prices went up a staggering 9.9% in 2022 and are expected to increase another 5.8% this year. People simply can't make ends meet with inflation driving up the cost of necessities like gasoline and oil.
In order to meet growing demand for food, Feeding Westchester just added 18,000 square feet of space to store and distribute food. Before the COVID crisis, the organization fed approximately 140,000 people each month. This year, that number is up to 220,000 people each month.
Where does all this food come from? Feeding Westchester purchases 59% of the food they distribute, receives donations for 26% of their needs and gets 15% of their food from the USDA. In addition, the organization is able to salvage surplus food from stores like Stop and Shop and Wegmans. This food would have ended up in the trash.
They also accept non-food items such as school supplies, personal hygiene items, diapers, pet food and supplies that they also pass on to those in need.
I toured the large warehouse and saw tens of volunteers sorting food into bags for distribution to nearly 300 partners and programs including food pantries, soup kitchens, shelters and schools.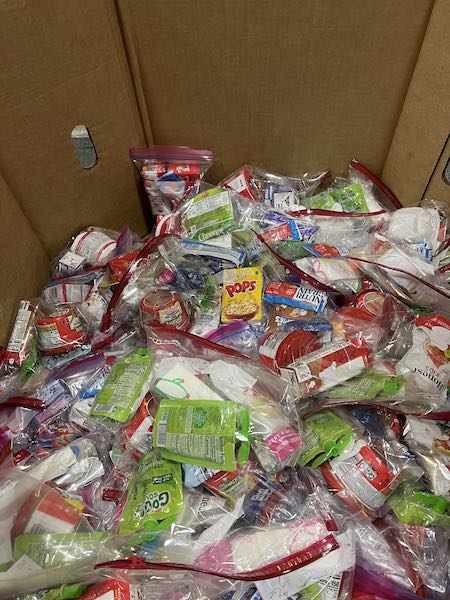 Meal Packs
The new facility includes the largest freezer in Westchester – 5,408 square feet and a huge walk-in refrigerator allowing them to store fresh produce and meats.
There were packets for breakfast, lunch and dinner, many containing fresh fruits and vegetables.
The effort is partially staffed by 11,000 individual community and corporate volunteers who worked 46,000 hours last year. On some days a company will send 60 employees for a day of competitive food packing. Regular volunteers are also a vital part of the effort.
Vice President of Development Jenine Kelly says that Westchester residents are extremely generous about helping people in their own backyards, however the need continues to grow.
She encouraged adults and students to get involved, by
-making regular monthly donations

-hosting a food drive

-hosting a fundraiser
-doing advocacy work

-volunteering to pack food

-spread the word about the good work of Feeding Westchester.
There are many ways you can help.
Take a look at their website here: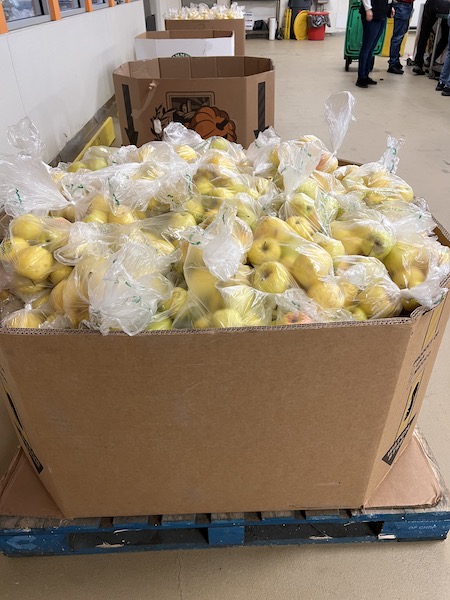 Apples for distribution
Heathcote Neighbors Object to the Demolition of a Mid-Century Modern Home on Lincoln Road
Details

Written by

Joanne Wallenstein

Hits: 847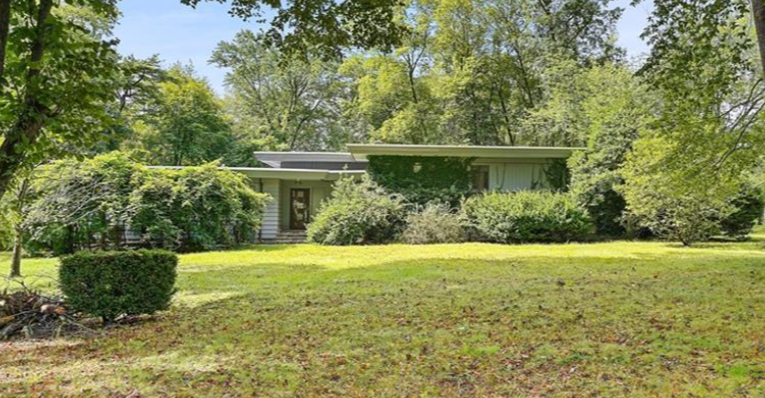 Neighbors are becoming more pro-active about preserving their neighborhoods and trees. In the past month, residents have launched appeals to save 27 Woods Lane, to fight renovations on Autenreith Road and now to bar the demolition of a Mid-Century modern home on Lincoln Road. The application to raze 46 Lincoln Road comes on the heels of a decision by the NYS Supreme Court to deny an appeal to override the Scarsdale Village Board and permit the demolition of another Mid-Century modern home on Birchall Drive.
We received this flyer today concerning an application to tear down 46 Lincoln Road that will be heard by the Committee for Historic Preservation on Tuesday night November 14, 2023 at 7 pm.
Save 46 Lincoln Road, Scarsdale
On Tuesday evening, November 14th at 7:00 the Committee for Historic Preservation will meet in person at Village Hall to discuss the DEMOLTION of this beautiful historic residence.
As per one of the Criteria to Determine Historical Importance the Committee shall consider the level of significance in American History, architecture, archaeology, engineering, and culture present in the building, as well as the integrity of location, design, setting, materials, and workmanship and: That the building embodies the distinctive characteristics of a type, period or method of construction that possess high artistic value.
Being that this home, is one of only a few Mid-Century modern homes remaining in town and perhaps the only remaining "Usonian" home it achieves this criterion in many ways.
The term "Usonian" was intended to describe an architectural style that was tailored to the United States' society. Like the adjective "American", it was intended to define the North American society: a way of life that existed in harmony with nature and free from previously prevailing conventions.
The use of Native Materials: a mix of wood, stone, and metal utilized in manners not done today.
The exterior connects with the Interior; the stone wall at the rear enters the home and becomes the fireplace or hearth of the home. The home has low stone walls that blend into the landscape.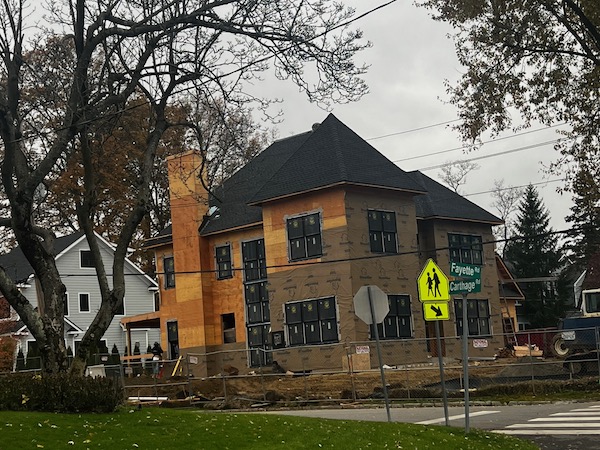 This home, at the corner of Carthage and Fayette Roads, appears to be too large for the lot.
Usage of flat roofs with large, cantilevered overhangs for passive solar heating and natural cooling.
The home is embedded in the landscape, sits on the site in harmony with the surroundings for views of nature and privacy. The layout of this special home is governed by the site not by the setbacks.
"No house should ever be on a hill or on anything. It should be of the hill. Belonging to it. Hill and house should live together each the happier for the other." Frank Lloyd Wright
If you can attend, please come to the meeting at 7 pm on Tuesday November 14 at Village Hall and let's try to protect this wonderful home and our neighborhoods.
Letter to the Editor: BAR and CHP Meetings Should be Accessible via Zoom
Details

Written by

Cynthia Roberts

Hits: 542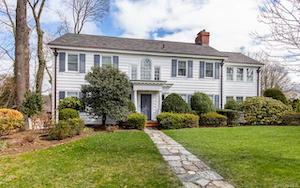 (This letter was written by Cynthia Roberts of Autenreith Road)
You may have read about the petition for a six-month moratorium on development and tear downs in Scarsdale that has been signed by hundreds of Scarsdalians and was presented to the Village Board of Trustees on October 24, 2023.
Many of the 40 residents at Rutherford Hall last night in support of the petition have appeared before either the Board of Architectural Review and/or the Committee on Historic Preservation, or both recently. These residents expressed frustration at the breakneck pace that historic homes are being demolished or significantly renovated, only to be replaced with one or two "cookie cutter" homes jammed onto the same lot in neighborhoods that are known for their charming character.
Mayor Justin Arest stated last night at the BOT meeting that he welcomed input from the residents. Fortunately, the BOT meetings are held both in person and via Zoom, so that residents with young children, older residents, and residents with health issues are able to participate in our government without attending the evening meetings in person. I was impressed with the ease with which a few residents made comments to the Board from home during the public comment period via the Village's virtual Zoom connection. I congratulate the Board on extending procedures that were created due to the Covid-19 pandemic, thereby furthering participation in our local government.
Noted exceptions to this combination of in-person and virtual meeting procedures, however, are the Board of Architectural Review and the Committee on Historic Preservation. Neighbors are provided with notice of their meetings by mail 10 days prior to the meetings, or 7 days prior if the notice is personally served. The notices specifically state that the meeting only provide for in person participation. Virtual Zoom participation is not provided.
I understand that the current staff may not have the time to facilitate this audio/visual connection for residents. The Village, however, should make it a priority to facilitate participatory government in Scarsdale. Resources should be dedicated to enable all residents access to all of the meetings and decision makers that will impact their community.
Sincerely yours,
Cynthia Roberts
15 Autenreith Road