Director of Counseling Says Pandemic Has Had a Major Impact on the College Admissions Process
Details

Written by

Joanne Wallenstein

Hits: 1031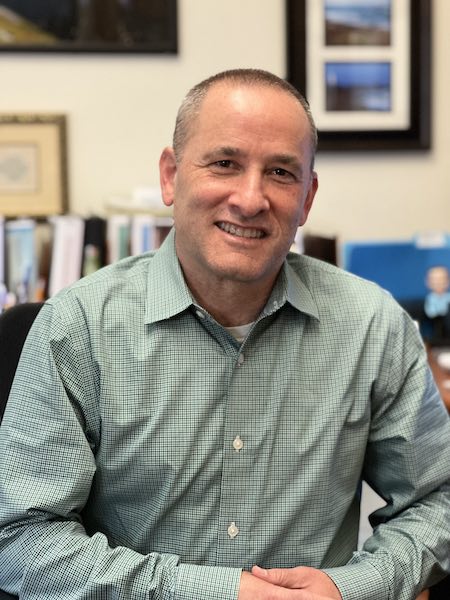 Oren Iosepivici, Director of Counseling at Scarsdale High SchoolHow have the new "test optional" policy, changes in legacy admissions and diversity targets impacted college admissions for Scarsdale students? SHS Director of Counseling Oren Iosepovici shares thoughts and stats below:
1. As we emerge from the COVID crisis, how was the college counseling process this year? Were you able to meet with students and parents in person?

By and large, the counseling process this year felt much more normal, certainly as compared to last year. Depending on individual circumstances, we were able to hold many meetings in person, and more so as the year progressed. Though there is no substitute for an in-person interaction, there are certainly some benefits to having a virtual option, especially with respect to convenience for parents who do not have to completely rearrange their schedules. As we do every year, we will reflect on our experiences and thoughtfully consider whether a hybrid approach may work best for our students and families moving forward.

2. Since many of this year's seniors could not visit schools in-person, how has that affected their choices of where to apply?

The opportunity to visit colleges was much more available this year, so we saw less of an issue than we did for the past two graduating classes. Anecdotally speaking (and individual experiences may not always speak to this of course), we found students were able to visit schools in person in the fall. This was most evident if they were considering applying somewhere under an early admissions plan and wanted to make one last visit.

3. How has the new test optional policy, legacy admission policy and diversity targets affected Scarsdale student's college application and admissions experience?

There is no doubt that the Covid-19 pandemic has had a major impact on the admissions process, and that "test optional" has been the primary driving force of this shift. Over the past few years, and especially the last two, the number of applications at many schools has increased substantially. Across the country, those who may have shied away from applying to a specific school (due to having lower test scores than the published average) now felt more empowered to apply. For the colleges themselves, this was an opportunity to see students in their applicant pool who may not have previously applied, and to fulfill a promise they had long made to their own constituencies - that is, to enroll a student body that is broader in every respect - socioeconomic, geographic, and one that includes students from diverse backgrounds.

To demonstrate the immense changes that have happened, I feel it would be helpful to share some of these statistics to show how much more selective this process has gotten overall. In any given year, our seniors collectively apply to hundreds of different schools, and focusing on one or two subsets (i.e. Ivy, "top 50", etc…) does not speak to this fact. To that end, the list below includes schools that are among our top twenty "most applied to" institutions: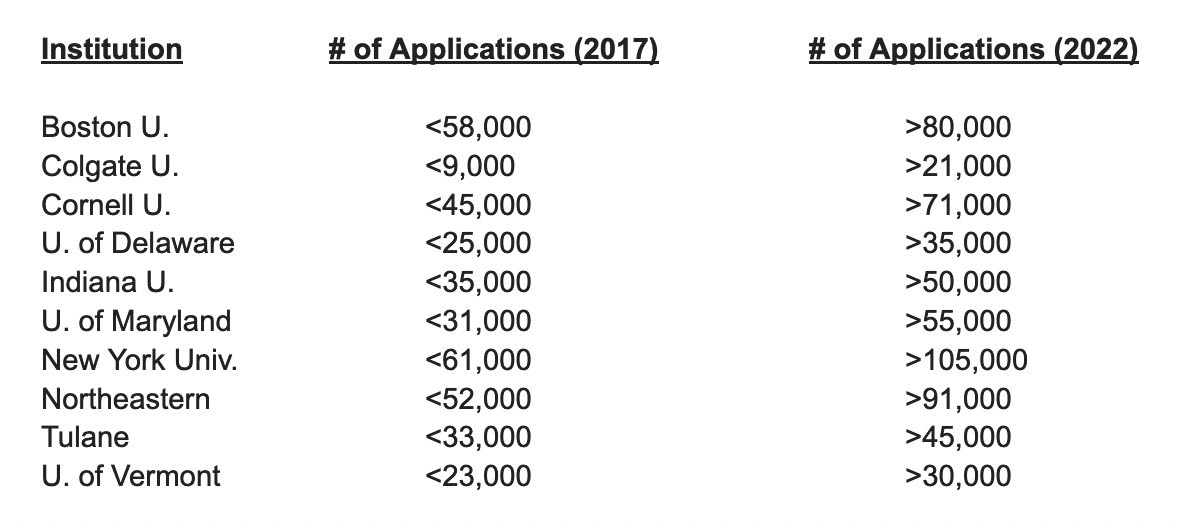 The numbers above extend far beyond these colleges, and reflect the increase I had mentioned previously. The current admissions landscape has provided schools with an applicant pool that allows them to admit and matriculate a more diverse group of students. At the same time, most institutions have not grown in size, so the growth in applicants has caused a decrease in the admissions rate. It would come as no surprise that most applicants (whether they live in Scarsdale or not) would therefore experience a more challenging admissions outlook. For example, NYU's admission rate was 32% five years ago and 12% this year. It would therefore stand to reason that students who were clearly admissible a few short years ago (even one or two years ago) would face considerable headwinds now.

To your question regarding impact on legacy, diversity, etc., the answer is "of course we're seeing a shift in how these factors influence admissions decisions." An increase in the applicant pool has generally meant a larger group of students that would be attractive to institutions interested in developing a more diverse community, and most schools' missions are focused on that goal. Though children of alumni/ae continue to have an advantage at some institutions, a school's focus on other priorities means that other factors that benefited some students in the past may not have the same impact as they did twenty, ten or even five years ago.

4. What if any aspects of students' experiences and applications have become more or less important in this new environment?

It might be surprising to learn that at many institutions, test scores were never the primary driver in the admissions process. The test optional movement has made this even more stark. Many of us would argue that the amount of time we see students prepare for exams is not congruent with their overall significance in the process. As always, a student's performance in their academic coursework continues to play the most important role. Other factors include ones that provide a holistic picture of the student, including the essay, involvement beyond the classroom, and letters of recommendation. While strong test scores are certainly not harmful, we often see students devote significant time, energy, and of course financial resources in trying to achieve a specific goal with respect to test score. A point (or two) on an ACT, or 40 or 50 points on the SAT does not provide the benefits that many students believe.

5. Given the competitive environment, how do you manage parent and student expectations?

We view "managing expectations" as one of the most difficult aspects of our role. We are counselors first and foremost, and we do not relish in increasing student stress, nor providing information that is upsetting. Unfortunately, that is sometimes the reality, as we would simply not be fulfilling our responsibilities if we were not providing honest information to our constituencies. We do not love the terms likely, target, and reach, but however one chooses to categorize schools, schools that may have seemed realistic a few years ago given a specific academic profile may be in a completely different category now. The admissions world has changed, and it's my sense that some may still see schools' selectivity as they did ten or twenty years ago. That perspective fails to account for the current reality.

We believe that finding the right fit is what is truly important, and that the "best" school does not necessarily mean the most selective one. From our vantage point, the most important factor in the college process is developing a well-balanced list of schools that meets that individual's criteria and preferences. For example, if a student is interested in institutions that would provide a healthy balance of academics and sports, there are many schools that would fit that criteria. If another is interested in small liberal arts schools, there are just as many that would be a match.
We focus on providing students with a comprehensive list of schools that is balanced with respect to selectivity, and will ultimately allow students options to choose from. To that end, we do our best to familiarize ourselves with the incredible opportunities that are available nationally, and we ask our students to keep an open mind and remember that there are many wonderful places where they could be successful.

It might surprise students and parents to learn that beyond the extensive programming we offer students, there is considerable work done behind the scenes through conversations we have as a department. One such example is in late fall, we meet as a group to review the college list of every one of our seniors, providing feedback and suggestions to each other regarding an individual student's list and whether additional suggestions make sense based on the likely outcomes. It reflects our mission of consistently reflecting on our students, their goals, and how we can best support them.

6. Overall, what is the average number of schools students are applying to? How does this compare to previous years and what has been the impact on the guidance department?

A few years ago, it was not uncommon for students to apply to an average of 6-10 schools. For a variety of factors, those numbers have increased. For some context, we processed over 6200 transcript requests in the Counseling office this past year, which is an average of 15 applications per student. Those include schools that students were considering applying to but never did due to an early acceptance, but still reflects the increased volume we are seeing.

I would add that as unpredictable as the process may seem to students, given our experience and careful analysis of data, we are not often surprised by ultimate decisions. There are of course exceptions to this, both positive and otherwise, but overall we look to counsel our students to reflect on their profile and how that fits into the specific schools they are considering.

7. What majors or special programs such as STEAM, engineering, medicine etc. are trending with this class? Have the number of students applying to liberal arts programs decreased? Are you seeing geographic shifts in where students are willing to travel for school? Differences in attitudes between attending city vs. country locations?

I wouldn't say there has been a specific trend with special programs or majors, nor have we seen a shift with respect to the number of students applying to liberal arts programs. As of this writing, approximately 25% of our students who are pursuing postsecondary education will do so in New York State, with the remaining number attending institutions out of state and internationally. That is relatively consistent with previous years. We also note the fact that our students applied to over 370 unique schools this past year, and will end up matriculating at approximately 130 different institutions. That speaks to the diversity of interests and criteria our students have, and is often surprising to those who believe that "everyone applies to and attends the same schools".

8. Any advice on college prospects and planning you would offer to parents and underclassmen?

Though some of the recent trends and data may be sobering, the reality is that the vast majority of our students find a "home" they are thrilled with. There are so many wonderful options to choose from, and as long as students are self reflective and realistic, the process can and should be an exciting one. Just as importantly, we find our alumni/ae to report they are well prepared regardless of the ultimate destination.

As Deans, we believe that students should see their high school journey as providing them with the ability to develop life long skills. If students focus on their personal and emotional growth, this process can simply be an extension of that rather than the pursuit of an ultimate prize to attain.

9. Any other thoughts you wish to share?

We continue to engage colleagues on the admissions side to gain insight into the latest trends and practices. Deans are members of local and national counseling organizations, and every year we attend several admissions conferences, as well as travel to dozens of institutions to gain firsthand knowledge of schools. Our ongoing professional development is done in the service of our students and families, allowing us to provide the most updated information, as well as insight to schools our students may not be as familiar with. We recognize that college admissions is incredibly important to so many in our school community, and we will continue to emphasize to students to focus on their personal and academic growth, rather than experiencing high school as a means to an end.
Brown, Pascutti and Schulhof Elected, Budget Passes with 77% Approval Rate
Details

Written by

Joanne Wallenstein

Hits: 1189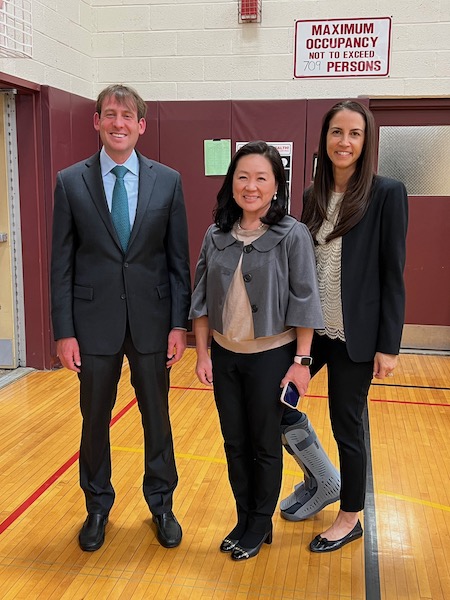 Ron Schulhof, Suzie Hahn Pascutti and Colleen Brown were elected to the Scarsdale School Board (Updated 5-18) The mood was upbeat at the Scarsdale Middle School gym on Tuesday night May 17, 2022 while board members, nominees, administrators and parents waited for the counts for the budget and school board votes.
The entire cabinet turned out including Interim Superintendent Andrew Patrick, Assistant Superintendents Eric Rauschenbach, Edgar McIntosh, Stuart Mattey, Treasurer Jeff Martin, Technology Directors Jerry Crisci and Rachel Moseley along with District Clerk Honore Adams and Press Officer Michele Verna. Perhaps, due to the recent resignation of School Superintendent Dr. Hagerman following the revelation of a tax issue with the IRS, school leadership was on hand to reinforce their support for the Scarsdale Schools.
The school board election was uncontested and the three candidates nominated by the School Board Nominating Committee were the only names on the ballot. Ron Schulhof was nominated to serve a second term, along with newcomers Coleen Brown and Suzi Hahn Pascutti.

The Board of Education had also experienced some upheaval when Board President Karen Ceske and Board Member Carl Finger both opted not to run for second three year terms. That left the Board with two more vacancies and few seasoned members to lead in difficult times.
While waiting for the result of the vote, we learned that Mayra Kirkendall-Rodriguez had made a last minute push for write in votes. Citing unexplained IRS penalties and liens, lack of response to question and the lack of a long term financial plan she urged voters to elect her due to her expertise as a financial risk consultant and PTA volunteer.
When the votes were counted, the 2022-23 budget passed with a 77% approval rate with 496 yes votes to 148 no votes. Voter turnout was light, in comparison to 2021 when a contested election for the school board brought out 1,788 voters, and in 2020 when 4,153 budget votes were cast. See a history of Scarsdale budget votes below: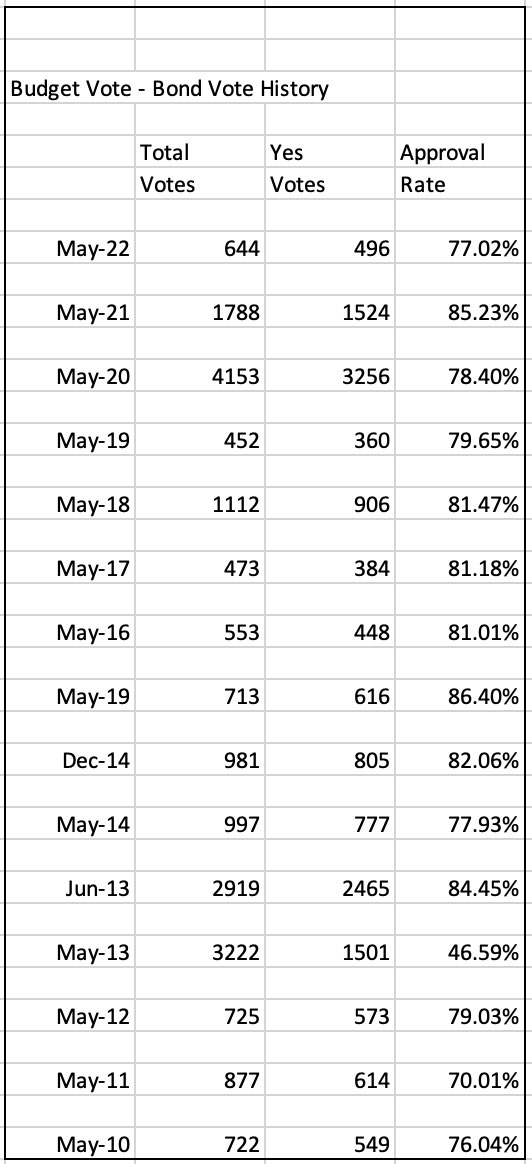 This year, school board candidates received the following number of votes:
Ron Schulhof 448
Colleen Brown 415
Suzie Hahn Pascutti 445
At the time, Election Officer Rita Golden announced there were 266 write-in votes and 153 of those were for Mayra Kirkendall-Rodriguez. At the election, the district clerk did not delineate for whom the remaining write in votes were cast.
However on 5-18, the district updated the results and released the details of the write in votes:
They provided the following counts, totalling 220 not 266 write in votes.

Mayra Kirkendall-Rodriguez: 184
Irin Israel: 3
ABC: 3
None: 3
Yaniv Blumenfeld: 3
Ron Schulhof :1
Colleen Brown: 1
Suzie Hahn Pascutti: 1
Brian Leff: 1
Julie Leff: 1
Neil Leff: 1
Tara Greco: 1
Michael Otten: 1
Megan Simon: 1
Ann Marie Nee: 1
Robert Berg: 1
Robert November: 1
Chris Morin: 1
Diane M. Gatto: 1
Albert Kramer: 1
Preet Bharara:1
Kerry Hayes: 1
Mimi Rocah:1
Thomas Maguire: 1
David Brown: 1
David Buchen: 1
David Benderson: 1
Moira Crouch: 1
Edward P. Rooney Jr. 1
The voters approved a $173 mm budget which translates to a 3.45% increase in the tax levy, below the maximum allowable rate of 3.5%. Due to rising concerns about mental health, the budget includes funding for an additional school psychologist and a social worker at both the middle and high schools. At the elementary schools an additional math teacher will be hired to implement a new Next Generation math program. Per pupil spending is $35,291 per student, placing Scarsdale as the seventh highest spender in the 53 districts in Westchester/Putnam/Rockland counties.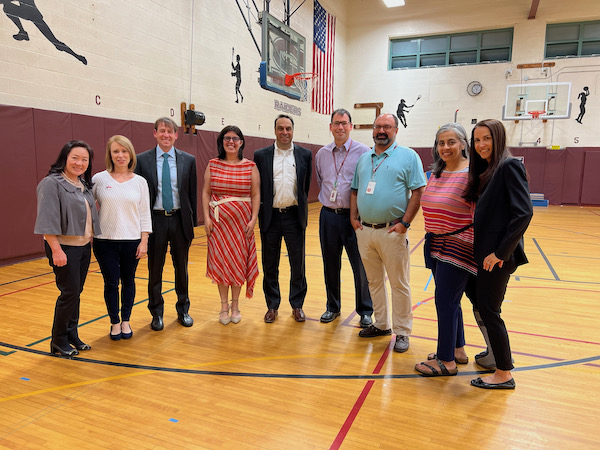 Current and future school board members gathered for a photo with Interim Superintendent Andrew Patrick.

We chatted with Interim Superintendent Andrew Patrick, who has been on the job for less than two weeks, about his priorities for the coming months. He mentioned hiring the two new school psychologists and social workers, continuing work on the school's Diversity, Equity and Inclusion policy and returning to the school's strategic plan to set priorities for the coming school year.

Following the announcement, the Board of Education passed a resolution to acknowledge the results of the budget vote and Board of Education election and Board President Karen Ceske and Interim Superintendent Andrew Patrick thanked everyone who ran the election and participated by voting.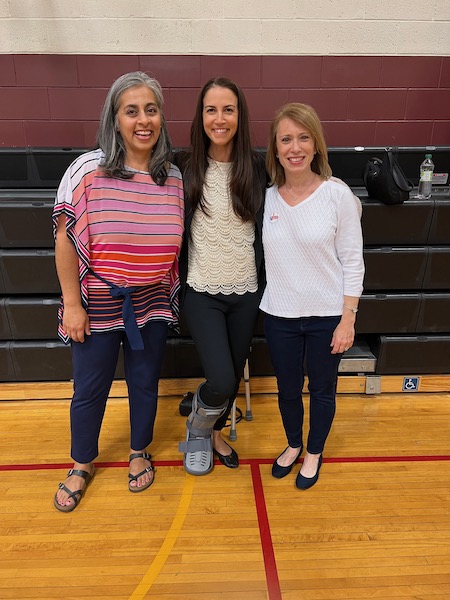 Amber Yusuf, Colleen Brown and Karen Ceske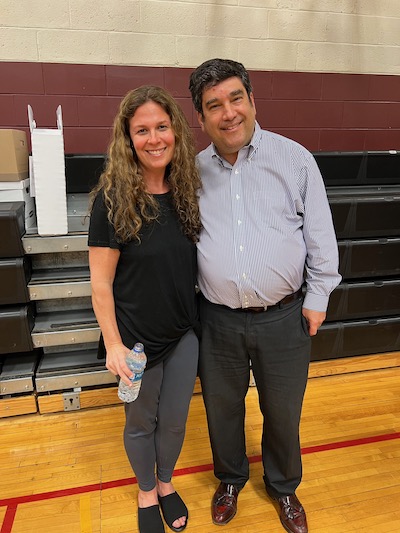 Leah Debitzer and Art Rublin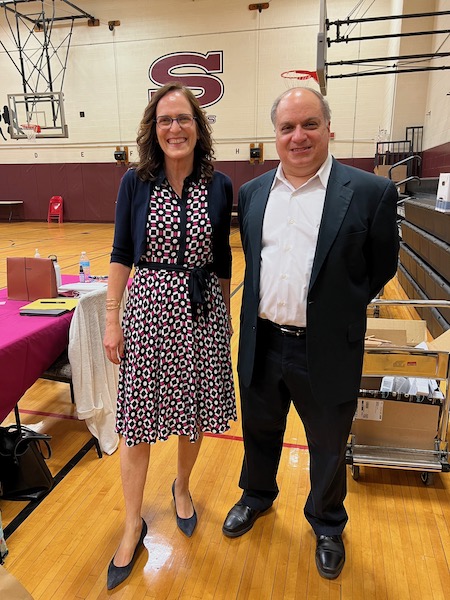 Technology Team: Rachel Moseley and Gerry Crisci

Proposal to Light Crossway Field to be Considered at Planning Board Meeting on May 4
Details

Written by

Joanne Wallenstein

Hits: 1697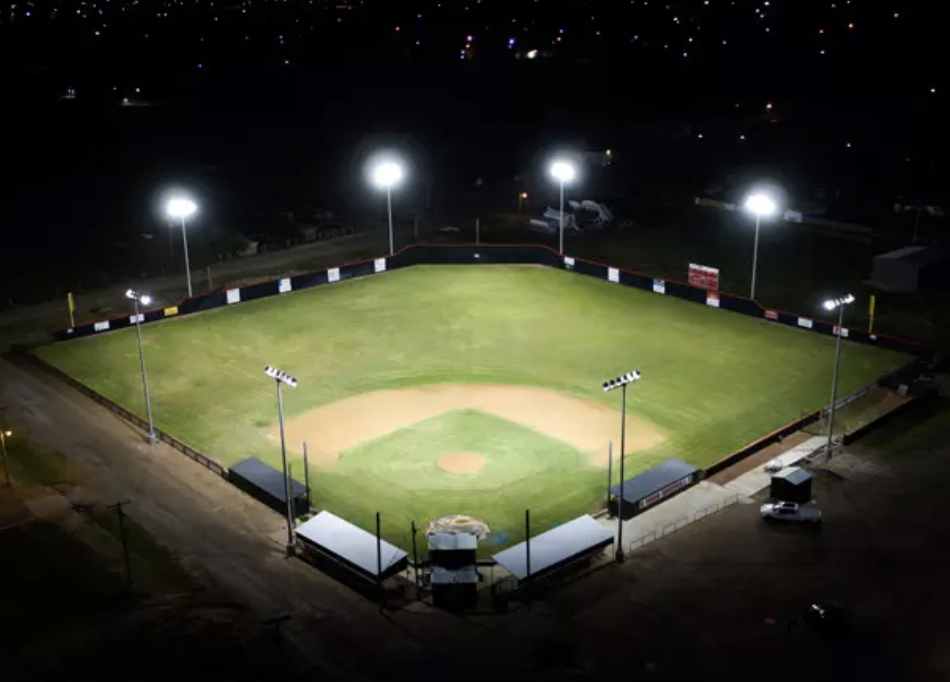 The Scarsdale Little League campaign to install lights on a baseball diamond at Crossway Field continues with a hearing of the Scarsdale Planning Board scheduled for Wednesday May 4 at 7 pm via Zoom.
The Planning Board will consider a proposed $455,000 gift from the league to finance the installation of lights on Crossway 1 and in the parking lot to allow for night games in the spring and fall. In addition to underwriting the cost of the installation, they have offered to fund the utility and maintenance costs for 25 years.
They estimate that the lights would be used for a total of 88 days for five out of seven days per week during the fall and spring. The proposal has received the endorsement of the Scarsdale Advisory Council on Parks and Recreation.
At the hearing, the Planning Board will consider the location of the lights, the type of lights, the potential for light spillage and "the potential impacts on adjacent land uses, including but not limited to potential increase in noise and traffic created by athletic events, including practices and contests conducted after sundown."
Once they consider the questions above, they have been charged with making a recommendation on the proposal to the Village Board.
The proposal has both supporters and objectors.
A group called the "Crossway Lights Committee of the West Quaker Ridge Neighborhood Association" are among those who are seeking to turn down the proposal. Here is a letter from that group forwarded to us by Gerald Antell:
Crossway Lights are an Unnecessary Luxury
Night games would be fun. Night games would be cool. This is how Little League Board member, Steve Pass frames the motivation to offer a $ 500,000 gift to the Village to install 80 foot steel poles at Crossway Field. A permanent change to a neighborhood that has historically opposed lighted fields and is fighting them now. Our Petition to Oppose this thoughtless proposal has been joined by nearly 200 residents and is growing by the day.
Field availability is not the issue here. In fact, the Little League's own website states:
"many travel teams from other towns have been club teams without reliable access to their town fields, so more games than usual have been played in Scarsdale........we expect that trend to continue.".
It is also well known that Scarsdale baseball fields have been used by teams from other towns for years.
As our Petition makes clear, the Crossway/Boulder Brook Sports "Complex" is already saturated with more sports activity on weekends and afternoons than anywhere else in the Village. Loads of traffic, noise, players, spectators, ice cream trucks, police cars and trash for hours on end. But this outrageous lighting project proposes to make it worse, disrupting the neighbors until 10 PM, by the time all the cars drive off.
The lighting project estimates 88 nights of use per year. And that's just for Little League games. As the Recreation Department publicity acknowledges, if Crossway were lighted, requests are anticipated from many teams and leagues including Men's Softball, Varsity/JV/Freshman Baseball and Softball, Recreation League Softball and Travel Softball. A lighted field could be allocated seven (7) nights a week, from April through October. That's quite a change for a neighborhood that has never allowed night-time activity in its history.
Supporters of the lighting project point to a similar installation at Butler Field at the High School. This is a laughable comparison. The Butler Field area has had lighted facilities for at least four (4) decades. And since the 2019 installation, the lights at Butler Field have been used, on average, once every two weeks. No wonder there has been mostly favorable reaction from the Butler neighbors----those lights are barely used!!!
But not all Butler neighbors are happy. In fact, our Petition now includes some. It turns out that many Butler neighbors felt ignored during the planning of that project and they are still unhappy about it now.
$500,000 is a lot of money. And the Little League is generous to offer it. The Village and the Recreation Dept. would love to accept it. But their answer should be: Thanks. But No Thanks.
Please join:
Petition to Oppose the Crossway Lighting Project
No.Crossway.Lights@gmail.com
Gerald Antell
Alan Garfunkel
John Lofaso
Co-Chairs ----Crossway Lighting Committee
West Quaker Ridge Neighborhood Association
Hagerman Resigns Again Under the Cloud of an Investigation
Details

Written by

Joanne Wallenstein

Hits: 5401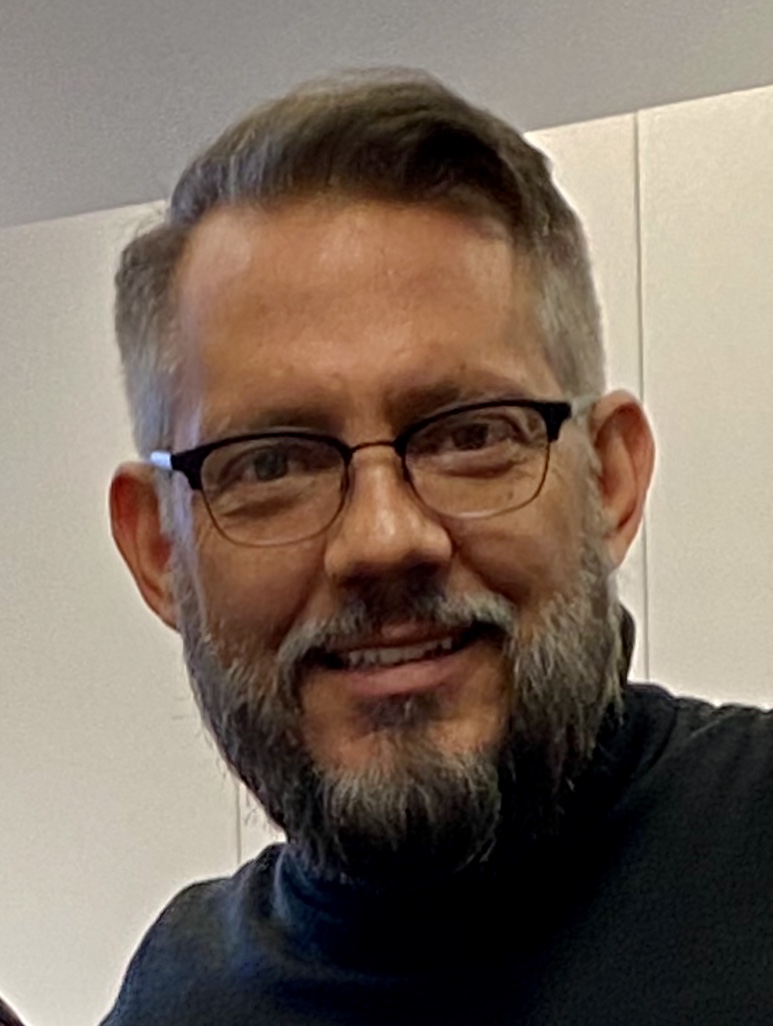 Exactly seven weeks to the day after the Board of Education learned that there was a tax lien, fines and penalties against the Scarsdale School District due to errors in payment of payroll taxes in 2020 and 2021, the embattled Schools Superintendent, Dr. Thomas Hagerman, has resigned for the second time in just five months.
Hagerman surprised the Board of Education and the community with his first resignation on January 24, 2022 when he announced that he would be leaving Scarsdale at the end of the school year, breaking the terms of his recently extended contract which stipulated that he give 12 months notice before resigning.
In the intervening weeks, the Board launched two searches: one for an interim superintendent and another for the permanent replacement of the superintendent.
In the midst of this work came more stunning news. On March 25, 2022 the Board of Education learned that the school district had failed to pay the correct amount of payroll taxes in 2020 and 2021, resulting in penalties and interest totaling $1,722,473 and a call for a back tax payment of $843,558 for the fourth quarter of 2020.
On March 30 they shared that news with the public when they called a special meeting to approve an $843,558 payment to the IRS for taxes due for the fourth quarter of 2020. The somber Board attested that though the district had learned of the tax problems in June 2021, they had failed to inform the Board until nine months later on March 25, 2022. On April 4, they offered more information about the issue and revealed that there was a $1,309,118 tax lien against the school district. At the time, it was not clear who in the administration was aware of the penalties and lien, and why they had failed to share this information with the Board.
Things did not improve after this revelation.
On April 20, 2022, Dr. Hagerman offered an explanation of what had occurred to his new employer, the Latin School of Chicago. However, in that letter he excerpted comments from Scarsdale Board of Education President Karen Ceske, but misrepresented her statements by omitting three paragraphs and adding some wording of his own. He left out the fact that the Board was "working with legal counsel and other appropriate advisors," to resolve the current IRS payroll tax issue, and the fact that "the Board is planning to do an investigation of the administration." He added text to indicate that the Board had been in communication with the IRS, working towards a resolution.
However, the Board was not aware of the issue and was not in communication with the IRS.

He later issued a correction which was emailed to the Scarsdale community and the Board of Education also sent out an email acknowledging the error.
In hindsight, many speculated that Dr. Hagerman had tendered his resignation in January, knowing that the tax problems with the IRS were not going away very quickly.
In order to determine what had transpired, on April 20, the Board of Education held yet another special meeting. After two hours in executive session, they passed a resolution to retain Attorney Anthony J. Brock to "to conduct an investigation of the IRS payroll tax issue beginning Monday, April 25th."
The Board also considered hiring an accounting firm to do an audit of the district's payroll processing procedures but has not as yet announced that they have been hired.
After several more special meetings were announced, and some cancelled, the Board scheduled another Friday surprise. At 1:51 pm on Friday May 6, they scheduled a meeting in executive session at 4:30 that same day.
This one ended quickly. Shortly after 5 pm, the Board came out of executive session and announced that Dr. Hagerman had resigned. In his statement he said that "the IRS issue has become a major distraction," and "although I have already resigned my position as superintendent of schools effective June 30, I now feel it is best to do so more immediately in order for the district to keep its focus on students and a successful ending to the school year."
The Board accepted his resignation and appointed Dr. Andrew Patrick as interim superintendent for the 2022-23 school year. In their announcement about Patrick they said, "We are confident that he is the best individual to lead our schools at this time and provide important continuity in the months and year ahead. He possesses a deep knowledge of, and true passion for, education, along with leadership expertise, a collaborative nature, and exceptional interpersonal and communication skills. He understands the culture and values of our schools and is dedicated to the success of all of our students in addition to the members of our faculty and staff."
Shortly afterwards, the Board posted Dr. Hagerman's separation agreement with the district. In it, the district agrees to pay him for 25 vacation days, $3,357 toward his annuity, $8,319 to the SUNY Optional Retirement Plan and to continue his health and dental insurance through June 30. 2022. He will not receive any salary for the balance of the contract.

It limits any further comment on the matter, saying, "The parties have agreed to only provide the statements hereto as "Exhibit A" and "Exhibit B" in response to inquiries regarding this Agreement."

In exchange, he relinquishes, releases and waives all possible claims and causes of action against the district and the district agrees not to file any claim or bring any lawsuit against him. See the entire agreement here.
Community members we reached were happy to see this chapter of Scarsdale history come to an end. A parent who is active in the schools said, "As I listened to the Resolution being read, I felt a huge sense of relief. I feel that this moment will help the morale of the district; it certainly made me feel better and I'm glad that the Board was able to get it done. I think that Dr. Patrick is an asset to the district and that he will bring forward some positive momentum for the Scarsdale Schools."
Others wondered if the Board had already received the investigator's report. A reader commented, "What a quick resignation. There must have been some VERY damaging things in the investigator's findings. I truly hope we all get to see that report." She also noticed that the Board accepted Hagerman's resignation without a thank you or the long goodbyes that are customary for other departing administrators.
Another observer said, "I speculate that the BOE was only willing to make a deal this generous to avoid a lengthy, expensive counter-suit being filed against the district by Dr. Hagerman's lawyer in the future. The agreement allows him to step down vs. being fired, in exchange for the guarantee that he cannot sue."
Mayra Kirkendall Rodriguez, a keen observer of Board matters offered the following: "I have no schadenfreude that he resigned. Sadly, Dr. Hagerman leaves under a dark cloud with a tarnished legacy. Now, he will never have to answer any of Scarsdale residents' questions. And we are still in the dark about what happened. Will the BOE now finally start answering at least our budget and accounting questions? The IRS lien and penalties have not gone away. I am worried about the health of Scarsdale schools' finances, because I want to make sure that our children receive the needed academic, mental, and emotional development resources that they need to thrive."
On everyone's mind is what is in the investigator's report? Will the District release it? Will the Latin School of Chicago stick to their deal with the embattled superintendent? Did Dr. Hagerman resign in order to pre-empt being fired or sanctioned?

Are You Entitled to a Property Tax Exemption? Here's How to Apply
Details

Written by

Joanne Wallenstein

Hits: 665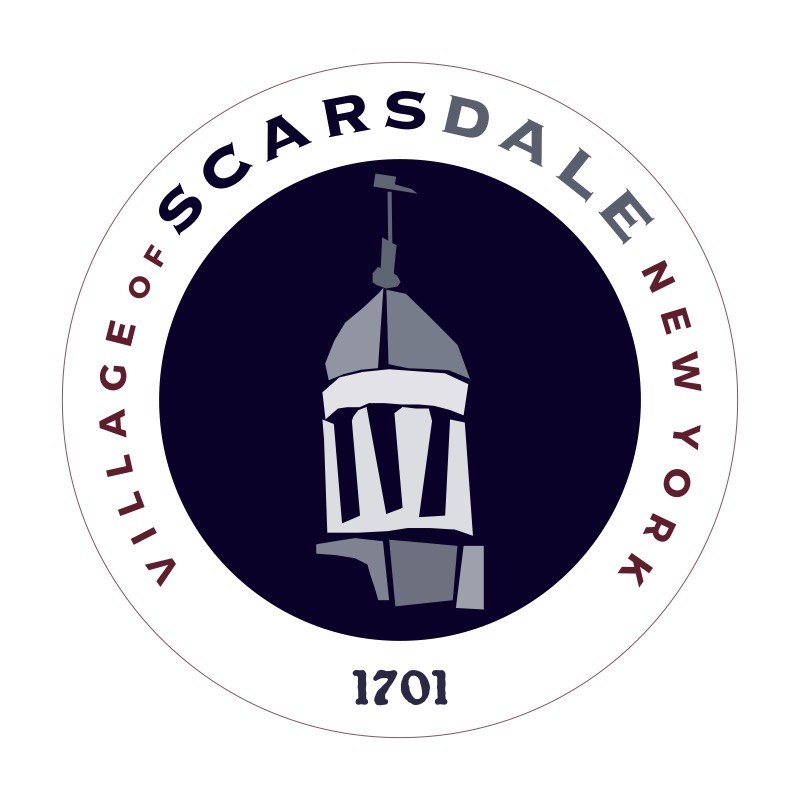 Scarsdale Assessor Victoria Sirota has prepared a presentation of available tax exemptions and how to apply for them if you're entitled. The presentation can be viewed on the Village website here:

A complete list of real property tax exemptions, applications, and instructions can be downloaded from the New York State Department of Taxation and Finance website

• Star Exemption. Homeowners currently receiving the Basic STAR property tax exemption may upgrade to the Enhanced Star if one of the owners is 65 years of age by December 31, 2022 and the household 2020 income is equal to or below $92,000. One may also visit the online NYS Star Resource Center for more information.
• STAR credit. New applicants may apply online through the NYS Department of Taxation and Finance, or by calling 518-457-2036. The May 02 filing deadline does not apply to the STAR credit.
• War Veteran's Exemptions. Eligible war veterans must submit the initial exemption application form and separation papers to the Assessor's Office by the filing deadline.
• Low Income Senior Exemption. Under this program, property owners at least 65 years of age by May 01 whose income is less than $37,399.99 may be eligible for exemption benefits on a sliding scale.
• Persons with Disabilities and Limited Incomes. To qualify, persons with disabilities must submit documented evidence of their disability and meet income limitation requirements not to exceed $37,399.99.
The exemption application deadline is typically May 01. However, since May 01, 2022 falls on a Sunday, both new and renewal exemption applications must be received in the Scarsdale Assessor's Office or postmarked no later than Monday, May 02, 2022. If you have any questions or need copies of the exemption applications, please call the Assessor's Office at 914-722-1133 or e-mail the Assessor at assessor@scarsale.com.