Pastor and Corrections Commissioner Announces Candidacy for Congress
Wednesday, 16 August 2023 09:16
Last Updated: Tuesday, 22 August 2023 17:11
Published: Wednesday, 16 August 2023 09:16
Joanne Wallenstein
Hits: 1619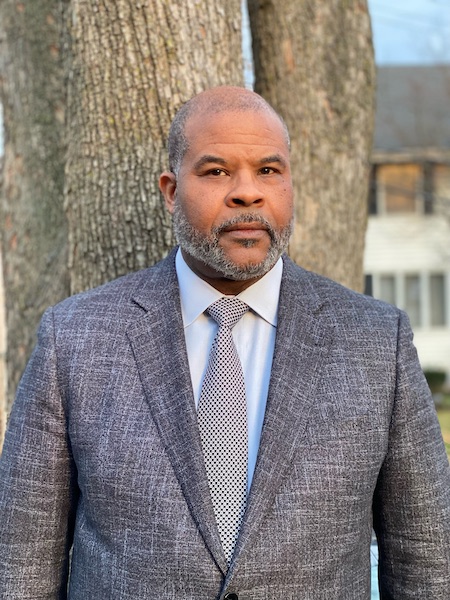 "I'd rather have 50% of something than 100 percent of nothing." That's what a newcomer to the Westchester political scene had to say about the polarization in Congress that's deadlocking progress on bills that would help the American people.
The Deputy Commissioner of Correction for Westchester County and the Senior Pastor at Shiloh Baptist Church in Tuckahoe, Michael Gerald has an unusual profile for a candidate for U.S. Congress. He started out as a police officer and itinerant evangelist and ended up leading a large church and a major county department. He is a retired New Jersey State Trooper who holds a Bachelor of Science in Law and Justice from the College of New Jersey, a Master of Ministry from the Princeton Theological Seminary, and a Doctorate in Ministry from Eastern University. Now he's ready to take the next step by vying for national office.
Gerald has announced his candidacy for the Democratic nomination for Congressional District 16, the seat currently held by Jamaal Bowman. Though there will be re-districting, the 16th now includes a portion of the Bronx and large swath of Westchester County. Asked why he decided to challenge Bowman he said, "We need a real Democrat. Not someone who is playing politics and governing from the extremes."
What are his views? He said, "I am running to represent Westchester properly – to ensure that every constituency is supported, heard and seen. I am running to ensure that our infrastructure needs are resolved. I am running to restore civility and respect in the office. I am running to ensure that politics isn't being played with votes or positions. I am running for the youth who need a progressive champion for the best education possible. And, I am running for the working and shrinking middle class folks who are being squeezed in all directions. Finally, public safety is a priority and perceptions of unsafe communities threatens the very fabric of our society."
Discussing the current dynamic in Congress, Gerald said, "Hakim Jeffries is the future of the party. He is charismatic and he is open minded. America has always governed from the center." He vowed to work with colleagues to negotiate, compromises and do what's best for the working class, for the environment and for our infrastructure.
He said, "I wouldn't be running if the current incumbent's positions mirrored mine or were congruent with the values of Westchester." He cited Bowman's "no" vote on the infrastructure bill has an example of what's wrong with far left and far right factions voting against legislation that would aid the constituents they represent. He said that bill impacted more than just infrastructure…. it meant jobs, affected the cost to bring goods to market and the price of food and basic needs." Gerald vowed to "work decisively with the leadership to get things done." He said, " I will not be an ideologue."

It's early in the race and Gerald is currently focused on raising funds for the campaign. He will need to file to run officially in February 2024. What if County Executive George Latimer also decides to vie for the nomination? Gerald said, "If George decides to run, I will support him – I will not run."
Learn more about Michael Gerald here.