Feeding Westchester Fills the Ever-Growing Demand for Food
Wednesday, 01 November 2023 15:53
Last Updated: Friday, 03 November 2023 19:11
Published: Wednesday, 01 November 2023 15:53
Joanne Wallenstein
Hits: 612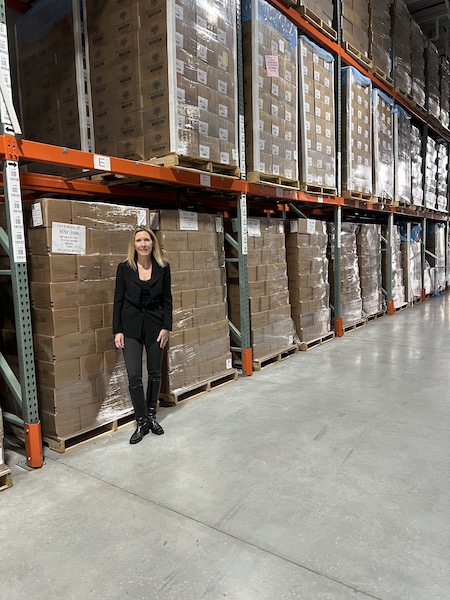 Jenine Kelly in the newly expanded warehouse.Though many of us have lived in Westchester for decades, do we really know the economic composition of the county's population?
After a visit to the Feeding Westchester warehouse and distribution center in Elmsford, I realized that my assumptions about the financial well-being of county residents was deeply flawed.
Where did I go wrong? While touring the facility I learned that 1/3 of Westchester families are "food insecure." Ten percent live below the poverty line and 24% don't make enough money to feed their families.
Food prices went up a staggering 9.9% in 2022 and are expected to increase another 5.8% this year. People simply can't make ends meet with inflation driving up the cost of necessities like gasoline and oil.
In order to meet growing demand for food, Feeding Westchester just added 18,000 square feet of space to store and distribute food. Before the COVID crisis, the organization fed approximately 140,000 people each month. This year, that number is up to 220,000 people each month.
Where does all this food come from? Feeding Westchester purchases 59% of the food they distribute, receives donations for 26% of their needs and gets 15% of their food from the USDA. In addition, the organization is able to salvage surplus food from stores like Stop and Shop and Wegmans. This food would have ended up in the trash.
They also accept non-food items such as school supplies, personal hygiene items, diapers, pet food and supplies that they also pass on to those in need.
I toured the large warehouse and saw tens of volunteers sorting food into bags for distribution to nearly 300 partners and programs including food pantries, soup kitchens, shelters and schools.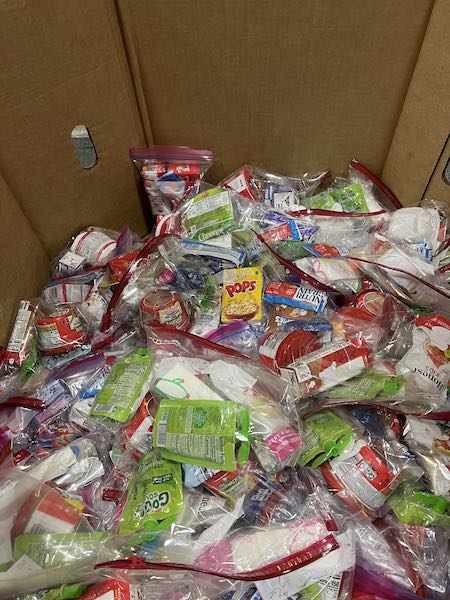 Meal Packs
The new facility includes the largest freezer in Westchester – 5,408 square feet and a huge walk-in refrigerator allowing them to store fresh produce and meats.
There were packets for breakfast, lunch and dinner, many containing fresh fruits and vegetables.
The effort is partially staffed by 11,000 individual community and corporate volunteers who worked 46,000 hours last year. On some days a company will send 60 employees for a day of competitive food packing. Regular volunteers are also a vital part of the effort.
Vice President of Development Jenine Kelly says that Westchester residents are extremely generous about helping people in their own backyards, however the need continues to grow.
She encouraged adults and students to get involved, by
-making regular monthly donations

-hosting a food drive

-hosting a fundraiser
-doing advocacy work

-volunteering to pack food

-spread the word about the good work of Feeding Westchester.
There are many ways you can help.
Take a look at their website here: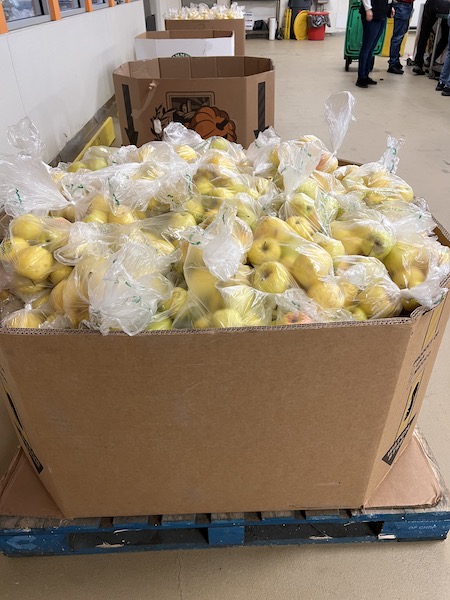 Apples for distribution