SVAC Takes Home Top Awards at Regional EMS Annual Dinner
Thursday, 30 May 2019 11:56
Last Updated: Thursday, 30 May 2019 18:28
Published: Thursday, 30 May 2019 11:56
Joanne Wallenstein
Hits: 2425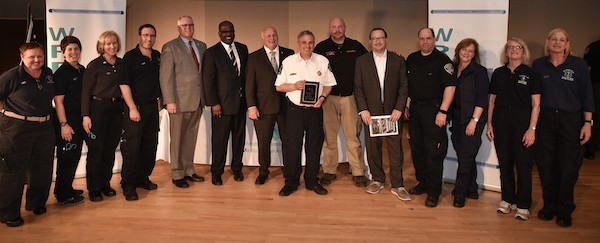 Scarsdale's Volunteer Ambulance Corps took home four awards, including the coveted Chairman's Award at the Westchester Regional EMS Council Annual Awards dinner on Thursday night May 23 at SUNY Purchase. Founded in 1970, SVAC became the first ambulance service in the county to offer advanced life support in 1996. They now have three ambulances and handle over 1,800 cases each year. The corps provides service to Scarsdale as well as the north end of New Rochelle and has an on-scene arrival time averaging less than five minutes.
For the past eight years, SVAC has offered EMT classes and they became an official New York State Training Center in 2016. Since then they have graduated 16 classes of EMT's and offered a six-week EMT class for high school seniors.
For recognition of the agency as a whole and their educational excellence, SVAC was granted the Chairman's Award, which had not be given in five years.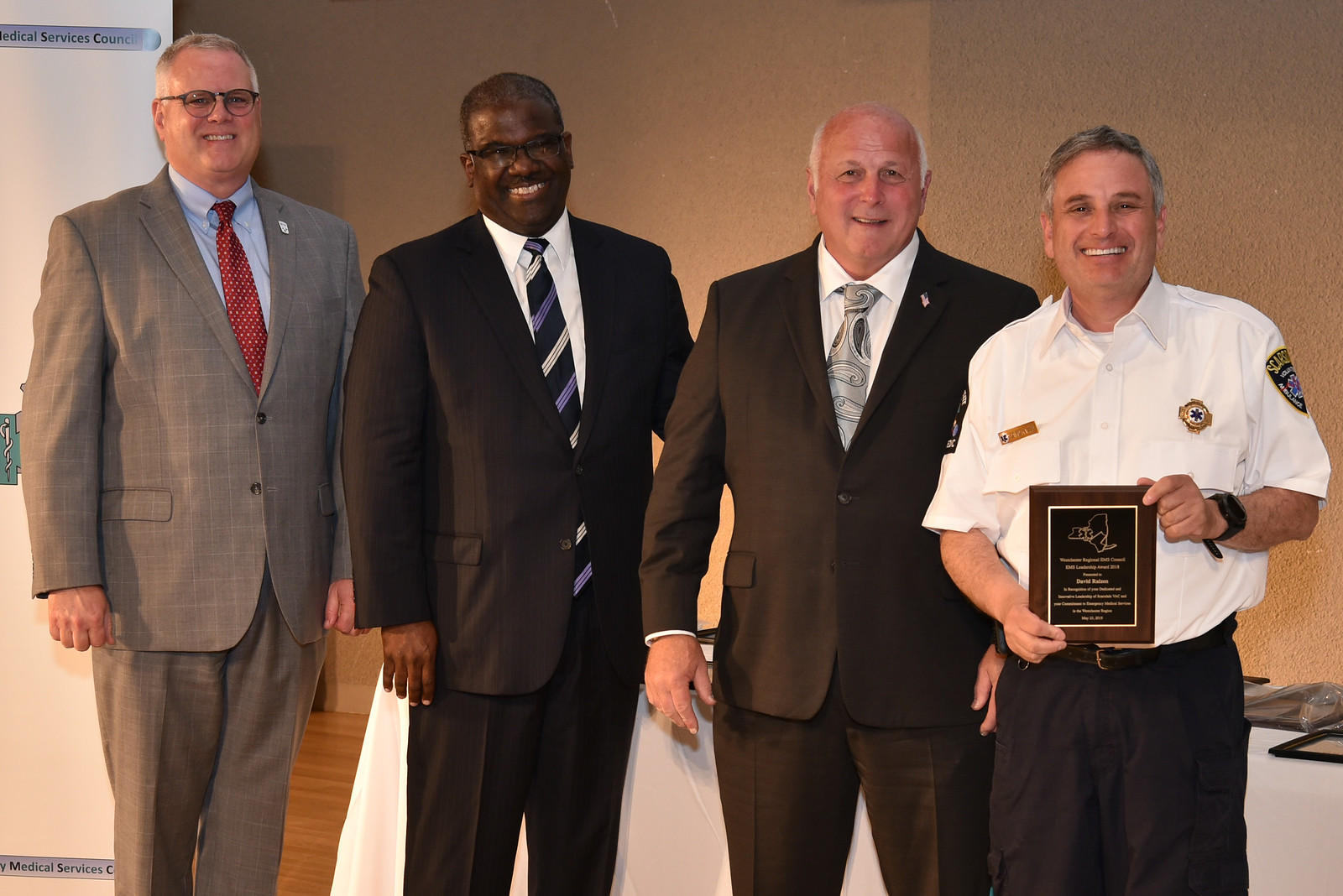 SVAC President and champion David Raizen was given the Westchester County Leadership Award. Raizen is a lifelong resident of Scarsdale and took CPR while a student a Scarsdale High School. When he turned 18, he started riding the SVAC ambulance and continued his education, receiving his EMT certificate in 1979 and certification as a Paramedic in 2017.
Under his 15 years of leadership, the corps has grown from 25 to 130 volunteers. He has upgraded the level of service and provides advanced life support. In 2014 David became the youngest person to be awarded the Scarsdale Bowl, the Village's highest award for volunteering.
SVAC also won two additional awards related to lifesaving work at specific events:
Four members of the Ambulance Corps and four Scarsdale Police officers received an award for saving the life of a man found at the bottom of his pool. According to his son, the man had complained of chest pain a few hours earlier. His son found his father at the bottom of the pool and called 911. Emergency workers arrived within 3 minutes and were able to rescue the man from the bottom of the pool and successfully resuscitate him.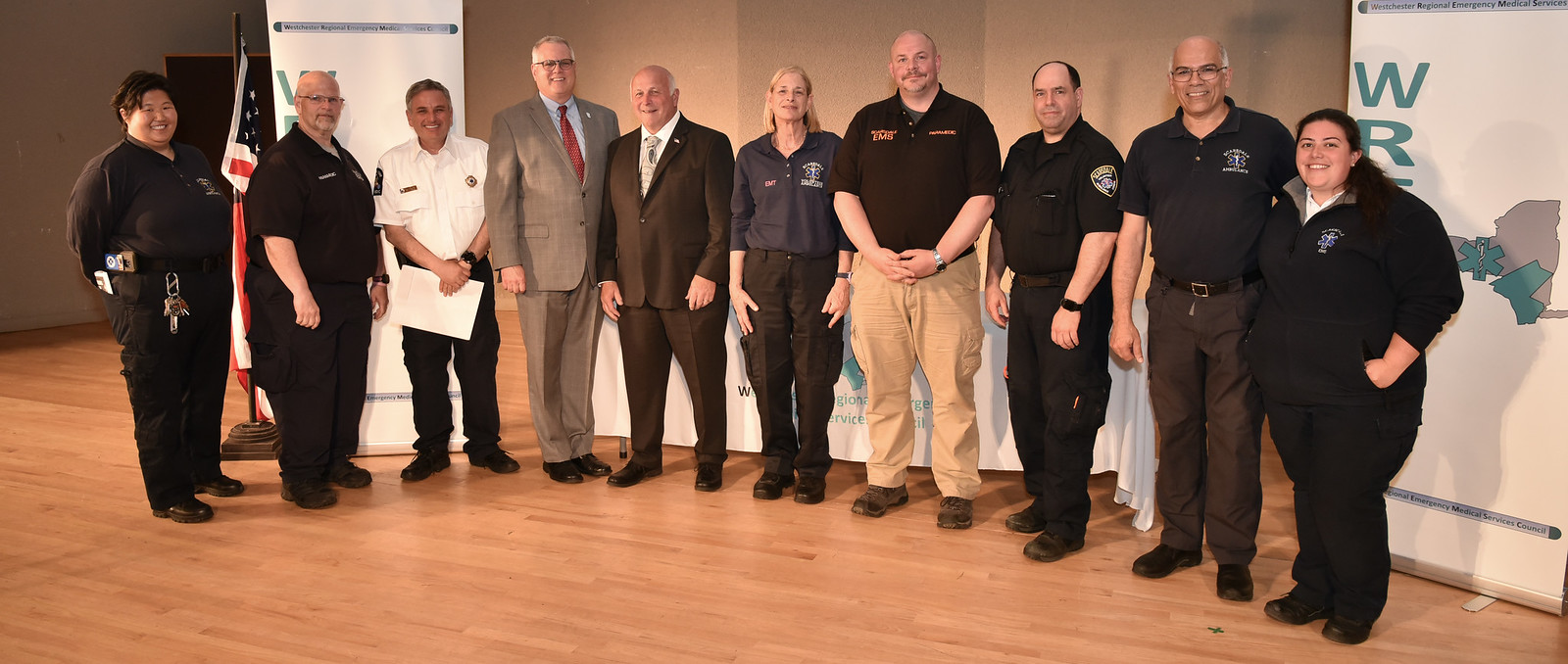 Here are the names of those who received the award:
SVAC
David Raizen Paramedic
Robert Rizzo Paramedic
James Gross EMT
Elissa Schilmeister EMT
Scarsdale Police
Anthony Santana
Michael Coyne
Michael Siciliano
Victoria Wanterman
A second award was given for saving the life of a 25 year-old man who had overdosed on heroin. His father found him and summoned SVAC who found the father doing CPR on his unresponsive son. David Raizen and Paramedic Wolfgang Lawton administered large doses of NARCAN while performing CPR and resuscitated the victim. Also credited for their efforts were:
Alyssa Murray Paramedic
Heliodoro Mendes Paramedic
Deborah Fuchs EMT
In both instances, the victims left the hospital in the same condition they were in before the events.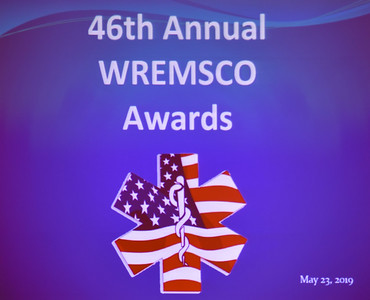 Congratulations to SVAC on the awards and thanks to all they do for residents of Scarsdale. They rely on community support to fund their work. Please give a gift to keep this vital service available to all residents. Learn more and donate here:
Photos by Jon Thaler. See more here: