Steve Rambone Says Goodbye to a Job He Loves
Tuesday, 25 June 2019 08:23
Last Updated: Tuesday, 25 June 2019 19:50
Published: Tuesday, 25 June 2019 08:23
Joanne Wallenstein
Hits: 2196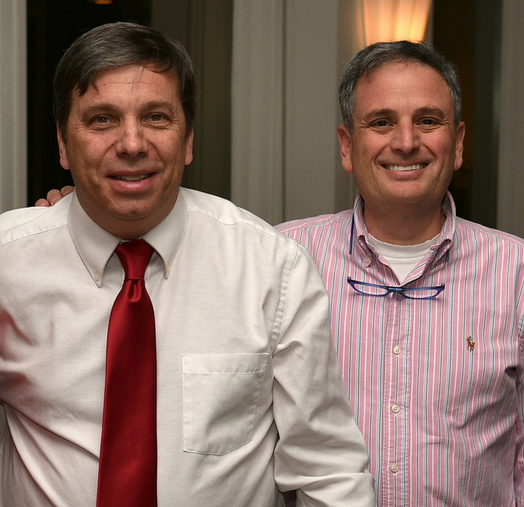 Steve Rambone and David RaizenSS Scarsdale Middle School Technology Teacher and SO Advisor Steve Rambone is retiring after 30 years on the staff of the school. A memorable teacher with a wonderful sense of humor, Steve is fondly remembered by generations of Scarsdale students. We asked him a few questions about his years in the 'Dale and here is what he shared.
We understand you grew up in Scarsdale – what are some of your best memories of being a boy here?
It seemed like a simpler time, I grew up on Barry Road in Edgewood and my friends and I would ride our bikes everywhere, the Village, our friends houses and the north end of Eastchester, as long as we were back home by 6pm. We would play hours of baseball at Edgewood field. Our parents had no idea where we were. And no cell phones!
Over the years you have lived and worked here, much has changed and much has remained the same. Please comment.
There are so many nice families living in Scarsdale, I don't think that has changed at all. As far as changes, the real estate has changed, squeezing homes everywhere and all the teardowns going on.
What courses did you teach during your 30 years at the school? What clubs/organizations did you manage?
I started teaching Industrial Arts my first year of teaching in Scarsdale in 1985. That changed around 1990 to Technology Education which is more computer based. I have been the faculty advisor to the Student Organization (the S.O.) for 28 years and have coached the school Volleyball team in the fall and softball in the spring.
What was one of the most unusual things that students built or designed in your class?
I had senior options students for many years and we built an amazing gas powered go-cart.
How has the curriculum of your class changed as technology has evolved? What units have been eliminated/added?
It started out basically a woodworking class but it has changed although we still do a small woodworking project we now do 3D printing which was unheard of 10 years ago.
What are some funny things that stand out in your tenure at SMS?
I remember when computers were introduced into the classrooms, the first were the Apple 2E. All staff members had to go through training to operate a printer. Now, I can't imagine anyone going through training to push "print".
Have there been many accidents? Lost fingers? Do tell!
A few scrapes and cuts but I have been proud of my excellent safety record.

What are some of the more challenging aspects of teaching in schools today?
The issue of cell phones in school and in the classroom. It is getting worse every year and some students (and parents) are addicted to their phones. God forbid they go without looking at the phone for a little while.
What will you miss after your retirement and what are you happy to leave behind?
The students and my fellow staff members have been great. I will miss them all.
What advice would you give a graduating senior this year?
To enter and continue a career that you will enjoy, I have loved every moment of my 34 years teaching in Scarsdale. I have no regrets, I am glad I picked a field I loved.