Scarsdale's Recycling: It Really Does Get Recycled!
Monday, 04 November 2019 11:49
Last Updated: Monday, 04 November 2019 13:33
Published: Monday, 04 November 2019 11:49
Conservation Advisory Council
Hits: 2000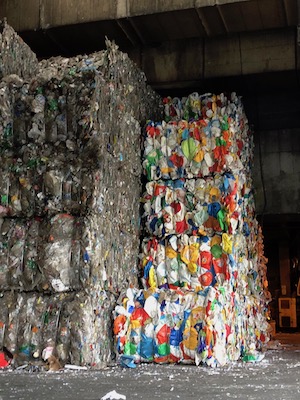 Plastic sorted and ready for recycling.If you ever wonder whether the items that the Village picks up from our residences on recycling days or that are brought by residents to the Scarsdale Recycling Center (110 Secor Road) really get recycled, the answer is a resounding yes, they do indeed get recycled. Described below are the recycling streams provided by the Village and what happens to the items placed in those streams:
Commingled Recycling: Commingled recyclables are plastics marked 1-7, aluminum, glass, tin and cartons (e.g., milk cartons and juice boxes). The Village's commingled recycling goes to Westchester County's Material Recovery Facility (MRF) in Yonkers where the plastic, glass, metal and cartons are sorted according to material type, bundled and then sold to be made into new products.
Paper and Cardboard Recycling: Included in this category are regular paper (e.g., white, lined, colored, shredded and printer paper), paper envelopes, phone books, magazines, newspaper and cardboard boxes. As with commingled recycling, our paper and cardboard are brought to the Material Recovery Facility in Yonkers where they are bundled and then sold. This material goes to paper manufacturing plants and is made into new paper products.
One great thing to note: Because Westchester has dual stream recycling--where commingled recycling is picked up separately from paper and cardboard--our County has a clean recycling stream which results in greater marketability of the items in that stream. Due to its dual stream recycling, Westchester County has been able to weather the recycling market downturn. Not only does the County receive millions of dollars (over $4 million in 2018) for its recycling but also it saves millions of dollars (over $5.4 million in 2018) on the fees it would have been charged had these items been disposed of as trash.
Food Scrap Recycling: ALL food is accepted in the Scarsdale food scrap recycling program. Included are meat, dairy, fish, bones, egg shells, spoiled and cooked foods, seafood and nut shells, bread, rice, pasta and oily foods– everything! In addition to food scraps, soft paper products (napkins, paper towels, tissues and wax paper) and products made from natural fibers (e.g., paper coffee filters, tea bags, wood popsicle sticks, wood/bamboo chopsticks and wood toothpicks) can also be included. Click here for a complete list of accepted items. Food scrap recycling is taken to a composting facility where it is turned into compost which is used by landscapers, homeowners and farmers. Compost made from Scarsdale's food scraps is available to residents during the Village's annual Giveback Day, usually held in April.
Furniture and Household Items: Most types of furniture in good condition and not over-sized are accepted at the furniture donation shed at the Recycling Center. Some household items such as small mirrors, lamps, mattresses, working appliances and TVs are also accepted. These furnishings are donated to a Westchester County non-profit organization that provides household furnishings free of charge to economically disadvantaged Westchester individuals and families. Please check the list of accepted items here.
Household Items, Toys and Sports Equipment: This category includes any small household item, toy, garden tool, bicycle and sports equipment in usable condition as well as any electronics in working condition. The Take It or Leave It shed at the Recycling Center provides a place where residents can drop off any item in usable condition and take any item that they can use. The shed has proven to be a great success--items left there quickly find new homes. Please drop off your items at the shed, and please take items, too! For more information, click here.
Electronics: Most electronics such as TVs, computers, printers, monitors, cables and wiring can be put in the E-waste bin at the Recycling Center. Not all items with a cord are accepted, so please consult the Village's list of accepted items here . All electronics are brought to a facility that takes them apart and separates the components, which are then recycled.
Scrap Metal Recycling: Any metal, of any size, makes up this category. Everything from nails and screws to file cabinets and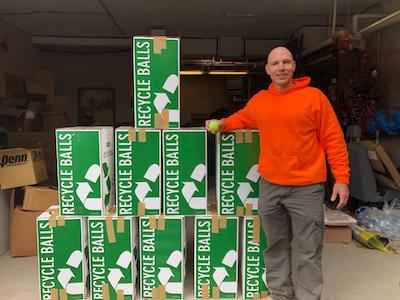 3000 tennis balls ready to be recycled.barbecues. Items that are mostly metal but have a few non-metal components can also be included. All metal is sold to a scrap metal recycling facility where it is recycled into new products. The metal recycling container is at the far right end of the Recycling Center.
Textiles: Included in this category are clothes, shoes (please tie them together if possible), belts, hats, towels, sheets, tote bags and handbags. Textiles are sold to a textile recycling company that sorts them by condition and resells, repurposes or recycles them. Click here for more information.
Tennis Ball Recycling: Tennis balls can be recycled at all of the Village tennis courts as well as at the Recycling Center in the provided tennis ball recycling receptacles. Balls can be in any condition. The Village ships the tennis balls free of charge to a recycling company where they are ground up and used as a subsurface for new tennis courts. This year, the Village already has sent 3,000 tennis balls to be recycled.
The Village has provided ways for our residents to truly recycle most items they use every day. So, please, reduce, reuse, recycle.
If you have any suggestions or questions regarding recycling, email Scarsdale's Conservation Advisory Council.