Eagle Scout Constructs Dollhouses for Fire Training
Wednesday, 13 May 2020 11:15
Last Updated: Wednesday, 13 May 2020 11:19
Published: Wednesday, 13 May 2020 11:15
Joanne Wallenstein
Hits: 1092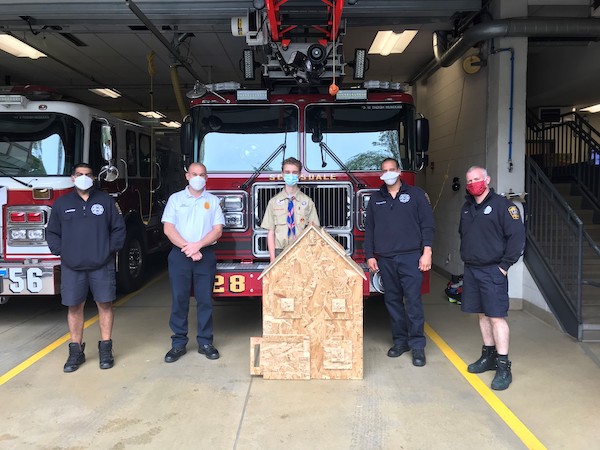 Boy Scout Tyler McCarthy from Scarsdale Troup 4 recently completed his Eagle Scout service project. His project was to construct four identical dollhouses called the "Palmer's Dollhouse" for the Scarsdale Fire Department. The Palmer's Dollhouse is a fire training prop that simulates fire spread throughout a structure based on the number and location of exterior openings. It teaches firefighters a realistic understanding of what we call "the flow path" in an outdoor classroom setting without needing to commit a great deal of resources.
These dollhouses will be a great training tool for both the career and volunteer firefighters of Scarsdale. Above find a picture of (L-R) FF Justin Mathew, Chief James Seymour, Boy Scout Tyler McCarthy, FF Mark Rosenfeld, FF Tim Duffy on May 8, 2020.
Unfortunately due to social distancing, the department was unable to hold an acceptance ceremony. Hitchcock Presbyterian Church is the Charter Organization for Scarsdale Troup 4.