Help for the Birds and the Bees
Thursday, 08 April 2021 12:46
Last Updated: Thursday, 08 April 2021 12:52
Published: Thursday, 08 April 2021 12:46
Joanne Wallenstein
Hits: 1119
SHS Senior Sarah Jane Traumer built a garden to improve the local habitat for butterflies, bees, birds and even bats in Scarsdale. These pollinators carrying pollen from the stamen, which is the male part of a flower, to the stigma of another flower, which is the female part of that flower and need native plants to survive and thrive.
For her Girl Scout Gold Award Project Traumer strove to improve the environment for pollinators by creating a native plant pollinator garden at the Weinberg Nature Center. She worked with nature center director Samuel Weinstock, President of the Friends of Scarsdale Parks (FOSP) Madelaine Eppenstein and a team of volunteers to prepare the soil and plant native pollinator plants in the first ever pollinator garden at the Center.
FOSP donated 250 landscape plugs and provided advice on how to efficiently plant the landscape plugs to ensure the success of the garden.
The garden provides a habitat for pollinators and as a medium to educate visitors about the importance of pollinators, their endangerment, and how to help them. It features a diverse selection of plants to ensure that the garden will successfully attract and nourish generations of various pollinator species throughout their life cycle. The garden not only aids the conservation of pollinators by providing a habitat, but also spreads information on how everyone can aid in the conservation of pollinators as well.

Traumer created signage for the garden to convey these messages and included pictures of the flowers to inform visitors about the diversity of the garden. She created a survey to gain insight on the effectiveness of the signage, visitor demographics and how the garden has impacted them.

This spring, Traumer plans to continue her pollinator preservation efforts by incorporating more pollinator gardens throughout the village, thus making Scarsdale a "Buzzing Community".
How can you make your own garden pollinator friendly? Here are some tips from Traumer: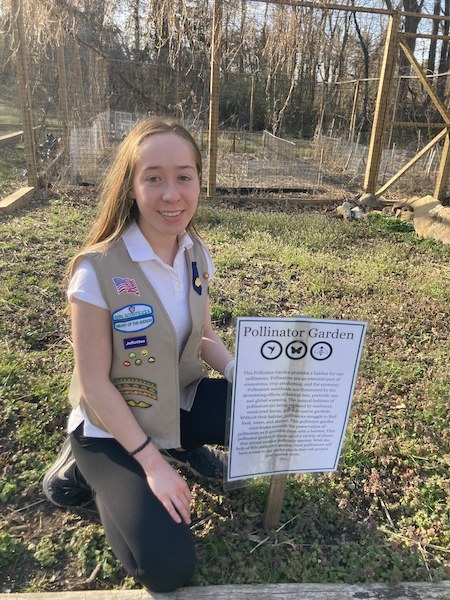 Sarah Jane Traumer
1. Plant native plants: Native plants, like those in this garden, provide an excellent habitat for our pollinators and can be planted in your yard.

2. Avoid Using Pesticides: It is important to avoid use of pesticides as they are toxic and kill pollinators.

3. Limit size of grass lawn: Lawns solely made up of grass have no benefit for pollinators. Make these lawns beneficial by planting pollinator-friendly plants.

4. Provide Water: Keep your local pollinators hydrated by setting out a shallow dish or saucer in your yard.

5. Provide Shelter and Nesting Sites: Native plants, as displayed in this garden, provide an excellent habitat for our pollinators and can be planted in your yard!
Which plants does Traumer recommend? Echinacea 'Ruby Star',Packera aurea, Monarda 'Claire Grace', Asclepias syriaca, Phlox paniculata 'Jeana', Rudbeckia laciniata 'Autumn Sun', and Eupatorium 'Ruby'.

Help to turn Scarsdale into a buzzing community by planting these natives in your garden and visit the Weinberg Nature Center to learn more.