The Return to High School: Both Foreign and Familiar
Wednesday, 21 April 2021 18:08
Last Updated: Friday, 23 April 2021 11:27
Published: Wednesday, 21 April 2021 18:08
Joanne Wallenstein
Hits: 845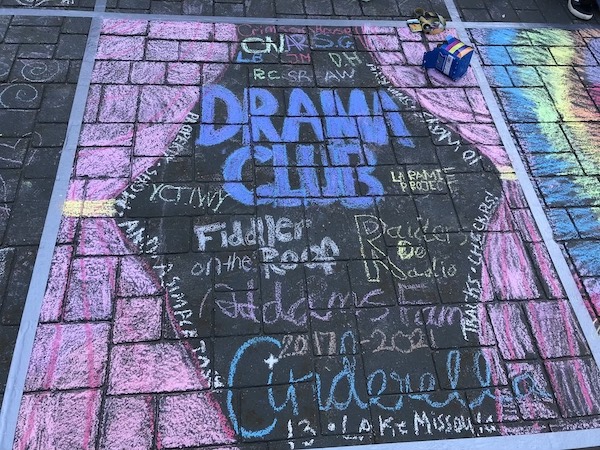 At long last this week, Scarsdale High School students returned to school full-time, with classes held every day of the week, including Wednesdays.
The schedule was not the only change to greet students. All desks are surrounded by plastic and students need to sit in assigned seats in each class.
According to an email from SHS Principal Ken Bonamo, "Classroom configurations will be different: desks will be closer together than they are now and will have polycarbonate shields affixed to the desktops to mitigate the spread of aerosols." He explained, "Teachers will have seating charts that reflect how students are seated in their classrooms in case contact tracing needs to be performed."
What about those attending remotely? The memo says, "Students who are virtual-only at the start of the fourth quarter will remain so for the remainder of the school year. Students who are in person will be permitted to attend classes virtually when they have an excused absence but are not required to be offered tests virtually by their teachers. If such students are absent on the day of a test, they can take the test or a make-up test at the teacher's discretion, in person or virtually."
How's the first week going? Most students were a bit overwhelmed by the transition from two days to five days of school, but overall they were happy to see their friends and get off Zoom.
Here are comments from a few Scarsdale High School students:
Vivan Guo: As a senior, it was really nice being able to see many friends that I hadn't seen in-person for over a year. I also had access to the library, where I was able to study and hangout with friends. Most students came in-person, even previously virtual students, so my classes were packed with people. The only negatives are that there is an increased chance of contracting COVID since there are more people and people tend to cluster together, and that I feel more tired afterschool. But overall, I am enjoying the social energy and I feel great going back to school. However, it seemed as though teachers started assigning a lot more work, which made the back-to-school process a lot more stressful. A lot of my senior friends are worried about upcoming papers and tests and AP Exams, and I can't imagine what the workload is for sophomores and juniors. I wish that the school kept Wellness Wednesdays because they were an important break in the week and allowed us to relax, catch up on work, study, and meet with teachers. 5 days of school from 8am-3pm with hours of extracurriculars and homework every week is really not sustainable
Sydney Piccoli: Going back to school, I definitely had mixed emotions. After three quarters, I became quite accustomed to the shorter forty minute periods that allowed classes to move at a faster and more comprehensive pace. I also developed a routine to balance my extracurriculars, homework, and social life — in large part because of asynchronous Wednesdays. Thus, I definitely entered fourth quarter with reservations of such a pivotal change when only eight weeks remain in the school year. However, after a few days back, I can confidently say that although the new schedule requires more mental energy and time to get used to it is comforting to know that a sense of normalcy is returning — not to mention each classroom is now filled with more energetic and smiling students!"
Sara Wong : On the first day back, it felt a bit weird seeing twice as many people as I did when the school was still separated. On the other hand, I really enjoyed seeing my friends that were in the other cohort, and I personally like having in person classes as opposed to zoom meetings as I find zooming and staring at a screen all day can be exhausting. For me, the "new" schedule doesn't feel that new as we used it before quarantine. However, it does feel a bit different having periods that are ten minutes longer, as I had gotten accustomed to shorter periods. One part I was less happy about was removing asynchronous Wednesdays — I definitely won't be as well rested as I was with the old schedule. Despite these changes the new schedule is just another reminder that SHS is slowly but surely returning back to normal.
Janmariz Deguia: The transition has been overwhelming because being in person after a year online is truly such an odd and unique experience. I've adjusted well and I have my friends and teachers and copious amounts of frees to thank for that, but I got lucky. I know people who are taking APs and don't have good teachers or frees and the transition has been tough. It depends on each student's circumstance. For me, I almost enjoy the crowded hallways and seeing everyone again, even though last year all I ever wanted to do was leave. I'm very glad to be back.
Alex McCarthy: To be honest, it was both foreign and familiar. It felt great to see all my friends in one place but it was very strange to be around so many people at once. The crowded hallways were comforting and anxiety inducing. Sometimes the school feels as it did before COVID hit, but sometimes it feels almost as if we shouldn't be back just yet. I definitely missed the people and *most* of the environment. Online school does not compare.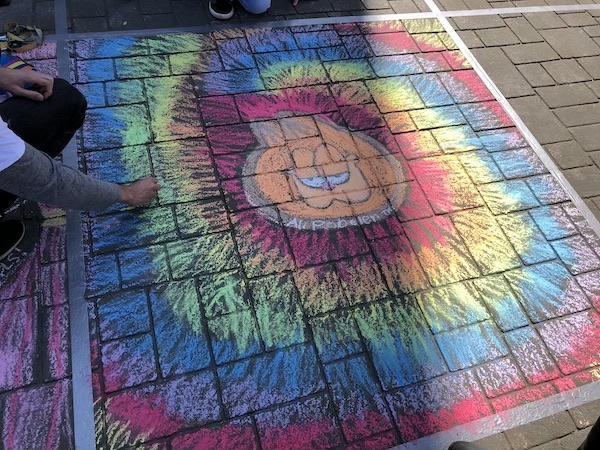 Chalk it Up
On Wednesday, April 14, Scarsdale High School seniors met at the front steps of the high school for the annual senior chalking event. Although the chalking was postponed from the fall, when it usually happens, Wednesday turned out to be the perfect sunny day to continue the tradition. In an effort to promote distancing and be more Covid-safe, seniors signed up for different time slots to chalk with their friends. While nothing about the chalking this year was typical, the Scarsdale seniors definitely made the best of it and left some amazing, colorful designs on the walkway up to school. Below are pictures of the SHS Drama Club seniors, and their chalk design.
Do you have pictures of chalking? Please forward them to scarsdalecomments@gmail.com to share here.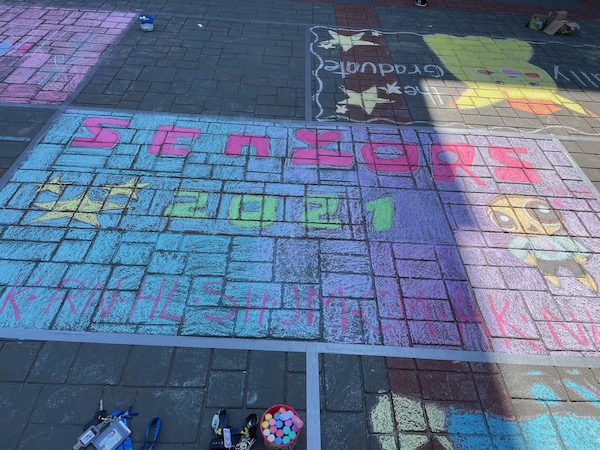 -contributed by Jamie Robelen