A Tree Grows in Scarsdale
Monday, 03 May 2021 09:16
Last Updated: Monday, 03 May 2021 19:08
Published: Monday, 03 May 2021 09:16
Joanne Wallenstein
Hits: 1098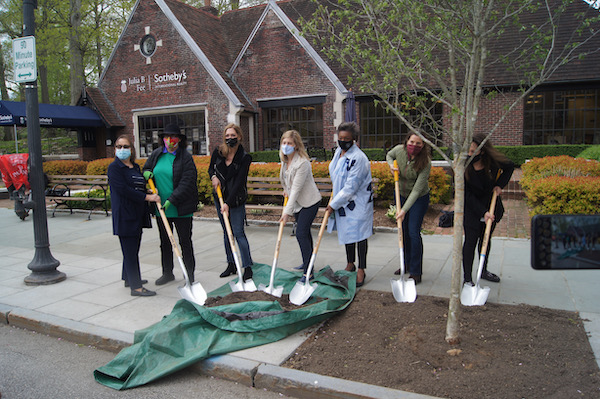 Scarsdale Village volunteers, trustees, staff and county and state officials gathered on Chase Road in Scarsdale on Friday afternoon April 30 to celebrate Arbor Day and to recognize Scarsdale's designation as a Tree City for its 38th year.
To mark the day, the Friends of the Scarsdale Parks selected a Winter King Hawthorne tree, to replace a tree that had been removed in front of Julia B. Fee three years ago. The tree was donated by Julia B. Fee.
In attendance were Madelaine Eppenstein from the Friends of the Scarsdale Parks, Michelle Sterling from the Conservation Advisory Council, Marcy Berman Goldstein and Ken Giddon from the Scarsdale Business Allliance, Village Trustees Karen Brew and Lena Crandall, Scarsdale Mayor Jane Veron, Peter McCartt from the Westchester County Sustainability Committee and State Senator Andrea Stewart Cousins.
Newly elected Mayor Jane Veron thanked everyone for their collaboration and said the planting of this tree was a sign of "rebirth and regrowth" in the Village which is so appropriate at this time. She thanked Julia B. Fee for donating the tree and all the volunteers and Village staff responsible for keeping Scarsdale a Tree City.
Conservation Advisory Council Chair Michelle Sterling said, "I feel privileged to live in a community that cares so much about trees and the earth."
NYS Senate Majority Leader Andrea Stewart Cousins remarked on the spirit of volunteerism in Scarsdale, saying, "Everyone does something in Scarsdale. It's an incredible community. She presented the Village with a NYS Senate proclamation for its designation as a Tree City USA, due to its strong commitment to policies to protect trees.
With that, everyone was invited to shovel some soil at the base of the tree to give it a strong start in its new home.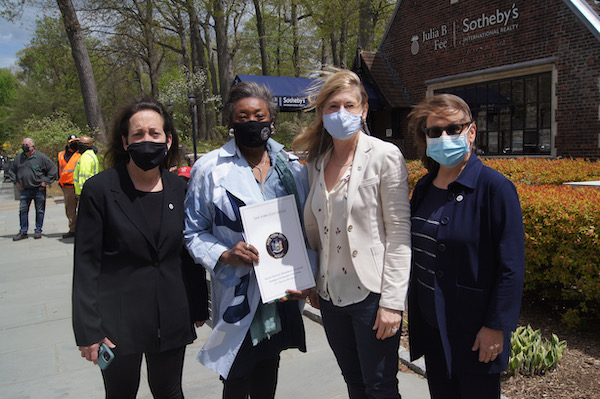 Village Trustee Karen Brew, Majority Leader Andrea Stewart-Cousins, Mayor Jane Veron and Village Trustee Lena Crandall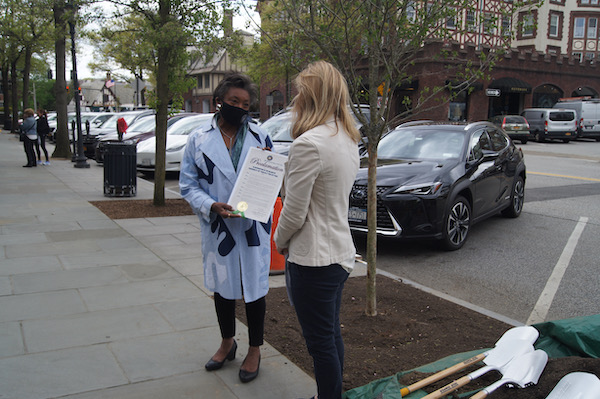 Stewart-Cousins presents the NYS proclamation to Veron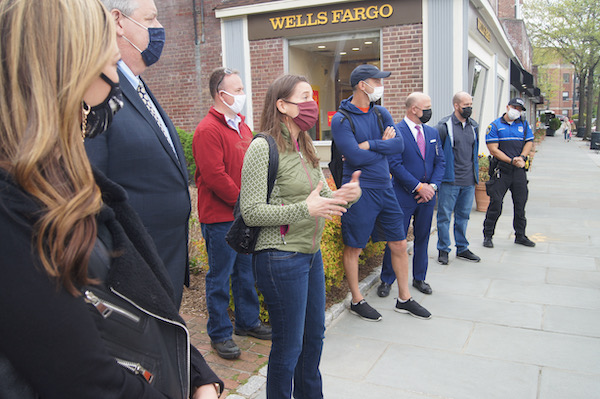 Michelle Sterling Chair of the Scarsdale Conservation Advisory Council