Jewish Community Rallies Against Hate
Wednesday, 09 June 2021 21:45
Last Updated: Wednesday, 09 June 2021 21:53
Published: Wednesday, 09 June 2021 21:45
Jack Margolin
Hits: 803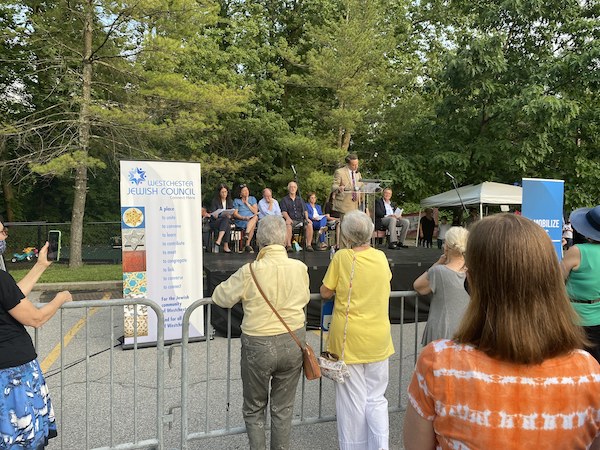 On Monday, June 7th, hundreds gathered at the Jewish Community Center of Mid-Westchester to stand together against anti-Semitism and all forms of hate.
People of all ages and religions were in attendance, as was a heavy police presence.
"Sadly, anti-Semitism has recently reared its ugly head again," said Bill Schrag, President of the Westchester Jewish Council who sponsored the event. "It's time to speak up to make sure the oldest form of group hatred doesn't gain a foothold in our own backyard," he added.
One of the main messages echoed throughout the night was that anti-Semitism should concern everyone, not just those who practice Judaism. Ken Jenkins, Westchester County's Deputy Executive, continued this sentiment throughout his speech: "We're here together to show how strongly we are against anti-Semitism and all forms of hate... If we're standing shoulder to shoulder, there's nothing we cannot do."
In a touching twist, the second-grade class of Westchester Day School got the crowd engaged by singing a few songs. "I've told my staff before, 'never have me go after a bunch of cute kids singing a song!'" joked Kathy Hochul, Lieutenant Governor of New York. Hochul continued on to say, "I want these children to grow up in a world where they are told what anti-Semitism is by their parents and grandparents as a historical fact, that they never have to live the indignity of being assaulted or spit upon or walk into a yeshiva or a synagogue where there are horrible words on a wall."
George Latimer, Westchester County Executive: "Anti-Semitism is not a Jewish problem, it is a human problem."
Mark Fang, Executive Director of Yonkers' Commission on Human Rights: "Perhaps the Jewish experience in America can inform the Asian American path to a true assimilation and humanism, the humanism and assimilation you have achieved. Maybe this is the time that God has brought us together with a new formula, an American formula of assimilation."
Mimi Rocah, Westchester's District Attorney, gave her speech with a very clear message: "Hate has no home in Westchester County. The rise in crimes targeting Jewish community members around the country is obviously very concerning and it will not be tolerated here," she exclaimed.
After an increase in anti-Semitic incidents, it's evident that the politicians, law enforcement, and citizens of Westchester County are united in their efforts to protect the Jewish community.