SHS Cheerleaders Have Something to Cheer About
Wednesday, 19 January 2022 14:39
Last Updated: Wednesday, 19 January 2022 15:01
Published: Wednesday, 19 January 2022 14:39
Joanne Wallenstein
Hits: 905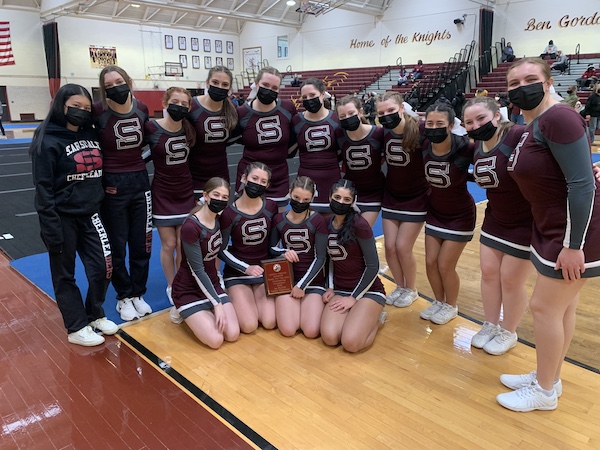 Scarsdale Varsity after placing first at the Mt. Vernon competitionThe Scarsdale High School cheerleading squad finally has something to cheer about. Amended guidelines announced by the Scarsdale School District on Tuesday January 18, 2022 clear the way for school trips. This was just in time for the Scarsdale Cheerleaders to plan their trip to attend and compete in the UCA National Competition in Orlando from February 11 -13, 2022.
The team had a heartbreaking 2020-21 school year as they were barred from competing, due to guidelines from the American Academy of Pediatrics (AAP) who advised that masks could be a hazard during competitions. The warning said, "Face masks should not be worn for competitive cheerleading...because of the theoretical risk that the mask may get caught on objects and become a choking hazard or accidently impair vision."
However, though Scarsdale rules barred the girls from competing, 30 neighboring districts and teams from around the country did compete with the approval of their districts. At the same time, many other varsity teams were out on the field, the court and the gym.
So it's especially sweet news for the team that they will travel to Florida from February 10 -14, each team member to be accompanied by one parent or chaperone.
Assistant Coach Brianna Crispo explained, "The UCA National competition is the most prestigious championship in the U.S. Over 20,000 athletes attend this competition from all over the country. We have made it to the semi-final round for the past four years, becoming closer and closer each year to qualifying for the final round. We have high hopes for them this year and believe that they can make it if they hit a clean routine."
According to team co-captain Sabrina Finegold, "The competition begins on Friday 11, where varsity (and if JV attends, JV) will compete in prelims. When we arrive at ESPN Wide World Of Sports, we go straight to the warmup mat, where we warm up tumbling and stunts, and if we have time do a full mark through (walk through our whole routine without stunts or tumbling). We then go to the backstage area where there is usually one or two more teams waiting to go. We compete our routine and then wait to hear if we made it through the next round. There is little to no contact with other teams, making it very COVID friendly. If varsity or JV makes it through, we compete at semifinals on Saturday and then hopefully Finals on Sunday."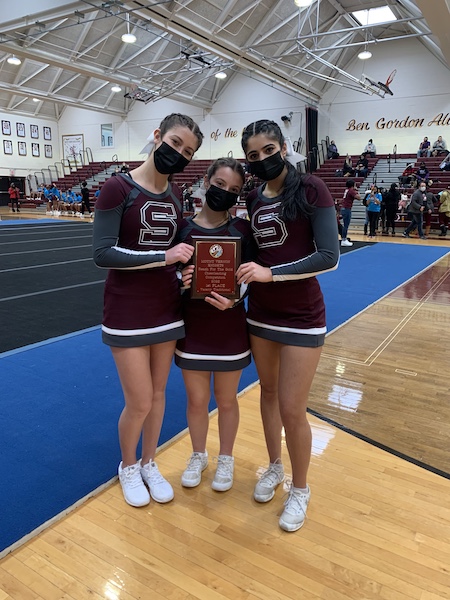 Captains holding our first place plaque at the Mt. Vernon Competition (from left to right: Blake Goodman, Sabrina Finegold, Lily Kiaei)
We asked if the team had raised money to fund the trip and Finegold said, "On a normal year we hold various events like our Scarsdale Competition and bake sales for football games, which we use the year after for our nationals trip. Although we were not able to do that last year, we still have some funds left over from the 2019-20 season."
Commenting on the season so far she said, "This year has been going extremely well. This team is the best Scarsdale has ever been. What makes this team so special, is the series of obstacles that have been placed in our way over the past two years— being denied the opportunity to practice and then compete last year, and then this year with the ever changing protocols regarding our competitions (for example we were approved to go to nationals, then unapproved and the re-approved)."
"Despite this instability, this team comes to practice every day, ready to put in the work no matter what is thrown our way. To prepare for nationals, we have been trying to complete as many full run throughs at practice as possible, as well as attend as many local competitions as we can. This team has the skill to get to finals, it's the nerves that get in our way. We believe that the more times we complete a routine, the more it will become muscle memory."
Assistant Varsity Coach Brianna Crispo added, "This group of cheerleaders is all heart. After enduring so much adversity the past year, we wanted nothing more than to see them compete on the mat at nationals. They worked so hard to earn a spot, practicing 5 days a week and competing locally on the weekends. I am so proud of them for fighting for what they love. We are thrilled to once again be able to watch these young ladies shine and compete for a national title."
Team Roster

Ella Hahn
Isabella Godshall
Sabrina Finegold (Captain)
Flora Zik
Lily Kiaei (Captain)
Blake Goodman (Captain)
Sydney Block
Olivia Reich
Noa Shiloach
Halle Jakubowicz
Mia Vatanapradit (Manager)
Audrey O'Hare
Ellie Mantzouris
Michelle Sosner
Sophie Brenner