Volunteers at WRT Cook Thanksgiving Dinners for Those in Need
Monday, 21 November 2022 11:38
Last Updated: Monday, 21 November 2022 11:40
Published: Monday, 21 November 2022 11:38
Danielle Feigenbam
Hits: 1083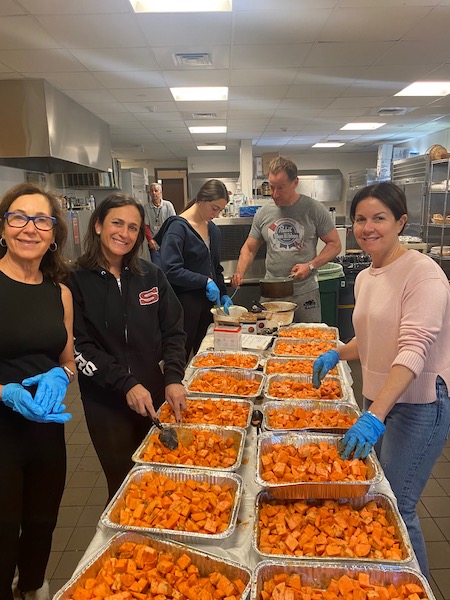 Congregants from Westchester Reform Temple are doing their part to fight food insecurity in our local communities. To ensure that as many people as possible, regardless of circumstances, have the opportunity to celebrate Thanksgiving, the temple is joining a local Scarsdale tradition - Grandma Pat's Thanksgiving Dinner - to come together to feed those who might otherwise go hungry on Thanksgiving.
On Sunday November 20, members came together to prepare Thanksgiving meals for those in need. The WRT community will continue to cook, bake, and assemble meals for distribution by volunteers in time for the holiday. The meals will be distributed at local churches and community centers through Meals on Main and The Friendly Fridge Network.
A bit about Grandma Pat: Grandma Pat was the mother of a local Scarsdale mother, Cindi Fisher, who shared in the belief that no one should go hungry, much less on Thanksgiving when others are able to gather around a table and enjoy a holiday meal. When Pat passed away, Grandma Pat's Thanksgiving Dinner was her family's way of not only feeding those who are hungry but also of keeping alive the traditions of showing kindness and support to those who are experiencing food insecurity. Cindy Fisher is teaming up with the synagogue to continue her family's tradition.