2023 Health, Beauty & Wellness Fair Shines in the Rain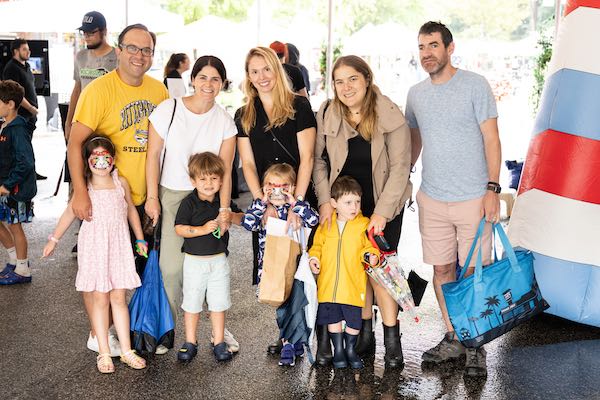 Steady rains did not stop the 2nd Annual Health, Beauty & Wellness Fair, presented by White Plains Hospital on Sunday, September 10th in the Village center. The event was a combination of health and wellness vendors with the offerings of the Scarsdale Farmers' Market and games and fun for children.
Fortunately each vendor was shielded from the elements by a tent – and they braved the rain and wind with smiles. We stopped by and chatted with representatives from Scentfluence, Back to Rock, Anthi's Greek Specialties, Arlotta Food Studio, Baked by Nandini, Babka Paradise, Copper Faucet Soap Company and Khem Studios, who were all cheerful despite the less than ideal conditions. Kids posed for photos in costume, tried the racetrack and had their faces painted staying dry under large dining tent.
Marcy Berman-Goldstein from the Scarsdale Business Alliance planned and produced this ambitious event. Here's what she had to say:
"Despite the unfavorable weather conditions, we are grateful to the community members who showed up to support our Farmers' Market Vendors and the HBW Fair sponsors and participants. The Scarsdale Business Alliance (SBA) relies on its community events and fundraising efforts to operate and to support its business members, and remains committed to continuing to infuse vitality in our Village center. Thank you to this year's sponsors. Without their generous support, this event would not have been possible."
Families in attendance enjoyed participating in numerous activities, including the 30' mini-raceway with remote-operated cars, multiplayer balloon blast game and fan-favorite classic carnival games, photo-booth, GameTruck gaming sessions, face painting, caricatures and music activities. Lulu's Blue's Cruise Band entertained attendees with blues, jazz, funk, rock, and reggae.
We are thrilled to have selected Scarsdale Edgemont Family Counseling Service (SFCS) as the 2023 beneficiary. Jay Genova, Executive Director of SFCS offered an inspiring message: "On behalf of the Board of Directors, Staff and for all those that receive services through SFCS, please accept our heartfelt thanks for selecting SFCS as the beneficiary of the Health, Beauty, and Wellness Fair. The event was well-organized and provided SFCS with a unique opportunity to market our services and interact with the community in a fun and light-hearted way. We hope that we lived our messages of being adaptable and resilient and that we delivered the message that SFCS is available to the community in rain or shine."
Photos by Mark Jessamy