Sapori for the Glorious Flavors of Northern Italy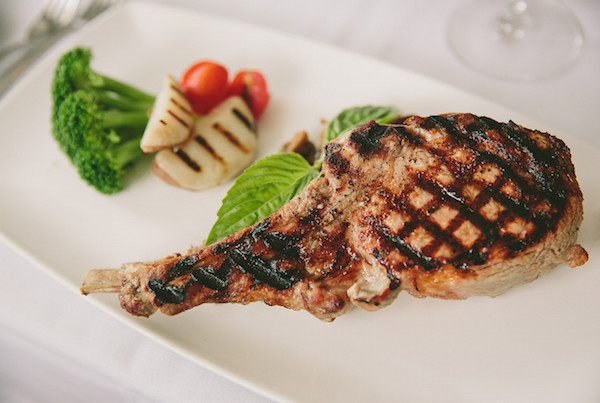 In Italian, the word for flavors is "sapori." In Westchester, Sapori is the place to savor the glorious flavors of Northern Italian cuisine. Sometimes we enjoy an Italian trattoria or a contemporary Italian bistro, but often, it is a classic Northern Italian restaurant that we desire. Then, it is time to visit Sapori.

The simple freestanding building has been home to Gregory's for many years to be followed by several other dining spots for shorter tenures. Judging by the food and service at Sapori, for the last four years, I expect it will be serving its guests for many years to come.

I had the pleasure of chatting with co-owner Kenny Balidemaj. One of five brothers, he grew up on a farm in Montenegro, and was surrounded by fresh food. "Good food is in our blood. I am a people person and love interacting with our guests. I have been influenced by my older brothers and learned about restaurants from them. At Sapori, we treat everyone the same. Quality and top service are very important here. We prepare everything to order and visit the market almost every day. Some of our most popular dishes are our freshly made pastas, branzino, veal chops and chicken scarpariello. Our sauces are light and highlight the excellent quality of our ingredients." On a bustling weekend evening, the dining room was tended to by Kenny Balidemaj, his brother Sammy Balidemaj and his nephew Eddie Vucetaj. They could not have been more solicitous. The kitchen is headed by Chef Giovanni Hasandjaj, who studied culinary arts in Montenegro and worked in many fine restaurant kitchens in the tristate area. The well trained wait staff is certain that your water glass is refilled and your silverware is replaced for each course. They attend to each table carefully but unobtrusively.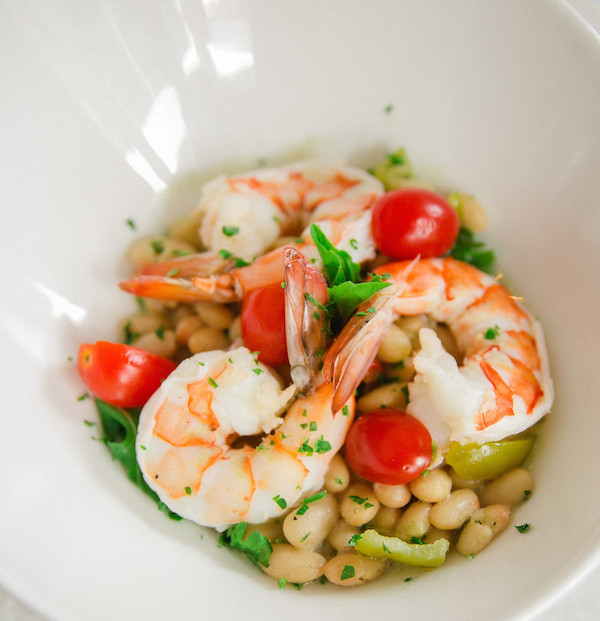 We chose a table at the bay window, overlooking the patio, where several tables are set, weather permitting, in full view of busy Central Avenue. On future visits we may choose the large dining room boasting a beautiful brown toned veined marble fireplace, or the intimate rear dining room. Adjoining these rooms is the bar area for a more casual experience. Down a spiral staircase is the wine cellar with a large selection of Italian and international wines, a perfect party setting. Note the tasteful traditional paintings and an elaborate crystal chandelier as your eyes gaze upward, as well as a balcony with a formally set table, a showpiece which sets the mood for your dining experience.

We settled into our comfortable tapestry upholstered chairs at our crisp white linen clad table. If I were with several guests I might choose the circular tapestry backed banquette. With mellow music in the background, we nibbled on house made breadsticks, rustic bread, olives and cheese and a cruet of oil and vinegar. Antipasti, or the dishes that precede the pasta course are classic and delicious here. From the menu we loved the gamberi alla griglia. Colossal, and I really mean monumental sized grilled shrimp, were tossed with Tuscan beans, arugula and sliced cherry peppers for a bit of heat in a light dressing. Of the daily specials we sampled the stuffed portabello mushrooms. This giant mushroom cap was filled with a shrimp and crabmeat mixture. The meaty textured mushrooms paired well with the fresh seafood for a hearty starter. Another special was crab cake. Its crisp coating complimented the mostly crab filling. An endive frond acted as a container for the mustard dressing that accompanied this dish. On future visits, we may try calamari fritti, mussels posillipo, spinach and cheese stuffed eggplant, burrata or beef carpaccio. Homemade soups and salads are other possible starters.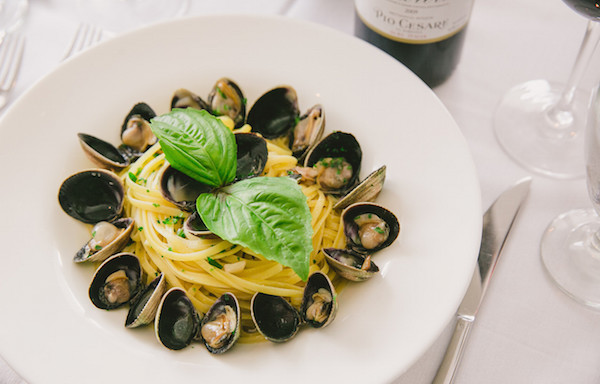 One of the highlights of a meal at Sapori is a selection of their pasta dishes, many of which are home made. Gluten free and whole wheat pastas are offered, as well. When my appetite requests a special pasta dish, not to be missed is the house made cavatelli salsiccia. Here, the handmade pasta is tossed with strips of sweet sausage sautéed with broccoli rabe. The sausage was free of any gristle and the broccoli rabe was chopped into easy to eat pieces. Topped with freshly grated cheese to your taste, this dish was heavenly. Rigatoni with its many ridges, is the perfect partner for Sapori's Bolognese sauce. Here the all veal sauce fills every nook and cranny of these pasta cylinders. I place the Bolognese here among the finest renditions of this classic. Gnocchi with eggplant, tomatoes, pecorino romano and extra virgin olive oil, squid ink pasta with seafood in champagne sauce and four cheese ravioli are other homemade pasta choices here.

Main courses of chicken, veal, fish and meats are top quality. With at least five to six varieties of fresh fish each day, we chose a special of parmesan encrusted halibut. Here simplicity rules and the flavor of the fresh thick and flaky fish stands out beneath its delicate lemon and white wine sauce. The kitchen at Sapori is expert at fish preparations. Lemon sole oreganata, shrimp scampi or fra diavolo, salmon, Dover sole and branzino, finished tableside are good choices. If veal is your choice try the veal with mixed mushrooms in a shallot brandy sauce or as I did, Veal Sapori where the scaloppine is served with artichoke hearts, sun dried tomatoes and asparagus in a white wine lemon sauce. The quality of the veal was exceptional and I thoroughly enjoyed this colorful and excellent presentation. Future visits may include rack of lamb, grilled veal chop, filet mignon, chicken scarpariello or duck breast with apricots, dried cranberries, and port wine reduction.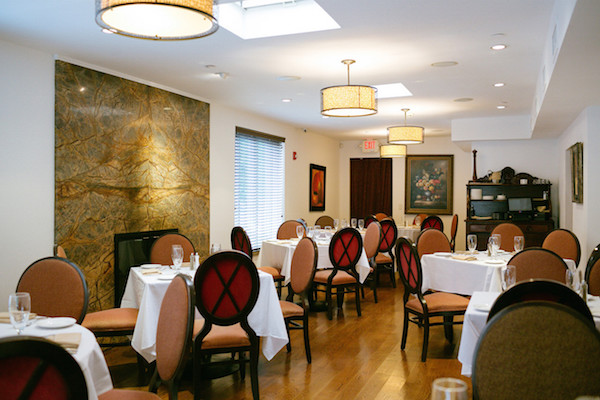 Desserts here run the gamut from chocolate mousse cake, apple strudel, crème brulee, tiramisu and, as I sampled a not too sweet ricotta cheesecake which was a perfect ending to a delightful meal.

Whether it is lunch, dinner or a party, pay a visit to Sapori where "sapori", fine flavors are the name of the game.
Sapori
324 Central Park Avenue
White Plains, NY
914-684-8855

Recipe: Grilled Veal Chops – Serves 3

Ingredients:
3 12 oz. veal rib chops, cut 1 inch thick
2 Tbsps. extra virgin olive oil plus more for drizzling
2 cloves garlic, minced
1 Tbsp. rosemary leaves
Salt and freshly ground pepper, to taste
1 pound sliced mushrooms, sautéed in olive oil

Instructions:
Light a charcoal grill. On a platter, mix the 2 Tbsps. olive oil with the garlic and rosemary. Set the platter aside. Season the veal chops with the salt and pepper and drizzle generously with olive oil. Grill over moderately high heat, turning once or about 6 minutes on each side. Transfer the grilled chops to the platter. Turn them to coat both sides with the oil and garlic mixture. Generously drizzle the veal with olive oil and let the chops rest for 3 minutes turning a few times. Spoon the juices and oil over the chops. Serve with sautéed mushrooms.
Contributor Judie Dweck has been writing about restaurants and food for many publications. She teaches creative cooking to children at Scarsdale elementary schools. Through the years, her articles have appeared in Jack and Jill Magazine, Spotlight, The Pleasure of Cooking and The Scarsdale Inquirer. She balances her restaurant tastings with daily ballet classes.