Grant and Grinhaus Receive Golden Dozen Award
Details

Category: The Goods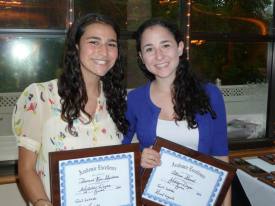 Senior Co-Captains Allie Grant and Kim Grinhaus both received multiple awards at the All-Section Lacrosse Awards dinner on Tuesday, June 14th at the Casa Mia Manor House in Blauvelt, NY. Kim Grinhaus, a goalie, was honored as an All-Section goalie, and Allie Grant, a midfielder, received All-Section Honorable Mention. Grinhaus made 76 saves this season, which was shortened due to injury. Grant led the team in goals scored with 62 goals in 2011 and also had 10 assists; she had 7 goals and 1 assist in a 16-11 loss to North Rockland. The Scarsdale team lost in the Section 1, Class A, Quarterfinals to Lakeland/Panas, the eventual Section 1 champion.
While there were 100 recipients of All-Section Honors, selected from over 40 high schools, only 12 athletes received the coveted Golden Dozen Award, two of which were Allie Grant and Kim Grinhaus. This award is bestowed upon a select few senior athletes who not only stand out on the field but also excel in the classroom and in giving back to the community. Athletes were selected from all of Section 1 which includes Westchester, Rockland and Putnam Counties. Both athletes were also honored this year and last year as U.S. Lacrosse High School Academic All Americans.
Allie Grant will be going to Cornell University in the fall. Grant scored over 100 goals in her varsity lacrosse career netting her 100th goal in Scarsdale's playoff win over Carmel. In addition, Grant was a two-sport athlete, also being Captain of the Gymnastics team this year, and qualifying for post season competition all four years on floor and balance beam events. She received All-League honors for her efforts in gymnastics for the past two years. She has been involved in community affairs, working with children whose lives have been touched by cancer at Gilda's Club as well as working with developmentally disabled and underprivileged children at Southeast Consortium and Westchester Youth Bureau. She was a Peer Leader, involved in student class government and was also honored by Scarsdale's Rotary Club this year for her community and academic efforts. Grant is a member of the Honor Society and was one of 10 finalists in the Tri-State Area for Deloitte-Touche's Positive Coaching Alliance 'Triple Impact' Award in Fall 2010 for her contributions/success in sports, academics and community service activities.
Kim Grinhaus will be continuing her lacrosse career at Union College in the fall. She also played varsity Soccer for Scarsdale and was a starter and received All League honors this year. With a rigorous academic load, Kim also found the time to contribute significantly to the community. She helps children with special needs by teaching them sports. In addition, she has worked with autistic children using music and the arts to help them develop positive self esteem. Grinhaus was also a civics education advisor at the high school for the past two years. She was selected to represent the Hudson Valley and Empire State Lacrosse teams for her outstanding performance and ability. As a result of her sports, academic and service record, she just received the Nina F. Mooney Memorial Award at Scarsdale HS to a senior girl for these contributions.
Other Section 1 student athletes who received the Golden Dozen Award were: Julia Bruton (Bronxville), Katherine Flynn (John Jay CR), Hannah Gutenplan (Horace Greeley), Melissa Hanson (Walter Panas), Kristen Hodgkinson (Yorktown), Kristina Howe (Pleasantville), Aileen Kurpis (Yorktown), Mackenzie McIndoe (Clarkstown North), Megan Murray (Bronxville) and Geneva Toland (Nyack).
Scarsdale Athletes Honored at Maroon and White Barbeque
Details

Category: The Goods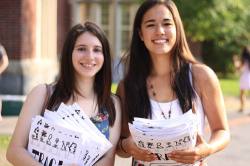 On Tuesday, June 7th, Scarsdale's spring athletes gathered at the high school for a barbeque. The Maroon and White sponsored the cookout to honor athletes with special awards. Two seniors were given the Pepper Awards, which commend students for their leadership, spirit and academic excellence. The awards were presented to Kathryn Peruski and Hiroki Kobayashi. In addition, the Nina F. Mooney memorial award was given to Deborah Grinhaus, the Nonie Kopp memorial award was granted to Ianni Drivas and the Elizabeth Timberger Memorial Award was given to Maitali Hans. There was a huge buffet of burgers, hot dogs, salad, pasta, cookies and ice cream served on maroon covered tables for everyone to enjoy. See photos of the event below.
Photos by Lindsay LeBoyer
USTA Tennis Tournament on in Scarsdale
Details

Category: The Goods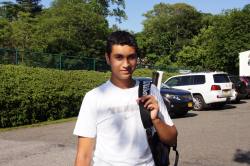 The John Parker Compton Memorial Tennis Tournament is underway this week, with matches played at the Fox Meadow Tennis Club and at Scarsdale High School. Now in its 65th year, the tournament is open to all area high school-age tennis players. The "Comptons" is a USTA level 2 sponsored event.
Matches began on the afternoon of Monday, June 6th and will continue this week with the last final to be played on Monday, June 13th.
According to tournament director Dorothy Yewer, 40 players enrolled this year, all playing singles in draws for
boys and girls 14 and under and 18 and under. There was not adequate sign up for a doubles draw. The boys 14 and under was the largest draw with 19 players participating while the girls 14 and under had just 7 entrants.
On Thursday, June 9 the boys 18 and under singles final will be played at Fox Meadow at 3:30 pm when Scarsdale's David Josselsohn is set to meet Douglas Gursha of Chappaqua. At the same time there will be two boys 14 and under matches in progress.
In the girls 14 and under final on June 8, Adrienne Travis of Scarsdale defeated Francesca Johnson also of Scarsdale 6-1, 6-4. The girls 18 and under final is set for Friday at 4 pm. Unfortunately the number one and number two seeds, Michelle Furnari of Scarsdale and Jackie Urbanati of Harrison withdrew. The boys 14 and under final will be played on the afternoon Monday, June 13.

Pictured at top: Aazum Shaikh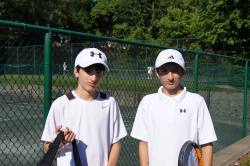 Comptons USTA Tournament Continues in Scarsdale Today
Details

Category: The Goods

The Comptons continues today at Fox Meadow Tennis Club on Wayside Lane and the community is invited to watch the semi-final and finals matches. Here's the upcoming match schedule for today, Friday, June 11 and Monday, June 13.
Friday:
Girls 18 and under final - Joanna Rymarowicz, of Bronxville to play Nicole Kass of Scarsdale at Fox Meadow Tennis Club at 4:00.
Boys 18 and under semi and final - As a semi-final match was cancelled on Thursday due to the rain, both matches will be played Friday. Semi-final match of Douglas Gursha (Chappaqua) v. David Josselsohn (Scarsdale) will be followed by the finals when Kelvin Lee will play the winner of the previous match. Matches will start at 3:30 pm at Fox Meadow.
Boys 14 and under semi-final: Max Kursban vs. Niklas Dohle both of Scarsdale at 3:30 Friday at Fox Meadow.
Monday:
Boys 14 and under final: Ferdinand Schmuck (Bronxville) will play the winner of Friday's semi-final match between Max Kursban, and Niklas Dohle
By way of background, the John Parker Compton Memorial tournament is a USTA level 2 ranking tournament. It honors John Compton who died, shortly after graduating from high school, in Italy during World War II. He was a Scarsdale native, and a graduate of Scarsdale High School where he was a member of the Varsity tennis team. His family founded the tournament to run in perpetuity and dedicated it to their son's sense of honor, fair play and enthusiasm for the sport.
Raiders Boys Tennis Team Dominates League and Sends Six Teams to Conference
Details

Category: The Goods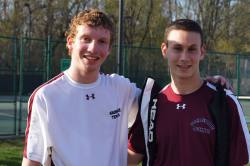 For the second consecutive year, the Scarsdale Varsity A team has won the league. In fact, Scarsdale has not lost a league match in the past two years. Commenting on the success of the season, Scarsdale coach Jennifer Roane states, "We were undefeated in the league and the only match we lost was to a very strong team in Cold Spring Harbor. As a test to our talent, we were invited to go to California next year." In March of 2012, Scarsdale will be traveling to California to compete in a tournament to which only sixteen high schools in the country were invited. It comes as no surprise that Scarsdale had a record six doubles teams in the Conference II tournament.
The All-State doubles duo of Ben Fife and Austin Kaplan came into the Conference tournament as the number one seeded team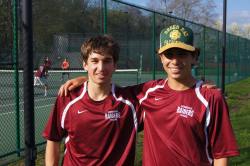 . Fife and Kaplan finished second in the state tournament last year and have continued by capturing the doubles league title last week. Due to the rain, Fife and Kaplan could not begin their Conference title quest until Friday, May 20th when the matches had to be moved to Sound Shore Indoor Tennis in Portchester. The doubles state finalists cruised through to the conference finals where they met a very strong Pelham team. Scarsdale persevered to win the conference finals in straight sets 6-4, 6-4. Fife believes they have yet to reach their potential this year and will continue to improve. "We are waiting to really show our talents but I am definitely content with our play to this point," says Fife. Kaplan agrees that their postseason play will continue to improve and he has the state tournament in mind. "First we are going to focus on the sectional tournament, but of course we have our sights on returning to states," says Kaplan. Certainly, the sectional tournament will be exciting for this talented duo.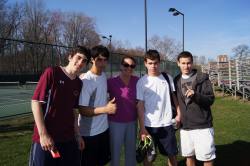 The other Scarsdale doubles teams who qualified for the conference tournament were Jared Greenwald and Ian Rabin, Ben Shapiro and Johnny Baker, Andrew Gorobetz and Ben Bernstein, David Josselson and Danny Somekh, and Tom Kohn and David Goldberg. Goldberg, Scarsdale's co-captain, was defeated in the quarterfinals despite advancing to the state tournament the past two years. Greenwald and Rabin played an excellent first match, winning 6-0, 6-4. Unfortunately, the tandem of Greenwald and Rabin were defeated in their second match by a very strong New Rochelle team. Gorobetz and Bernstein won a tight and exciting first match 7-5 3-6 10-5 against a strong Solomon Schechter team. After a hard fought second match, Gorobetz and Bernstein were defeated in a super tie-breaker 6-4 3-6 10-6. Shapiro and Baker were forced to play fellow teammates Somekh and Josselson in the second round. After a tight first set, Baker and Shapiro were able to improve their serve and volley strategy in order to win the match 7-6 (4) 6-1. Shapiro and Baker fell to the finalists in the semi-finals and earned a spot in the sectional tournament. The section one tennis tournament will begin Wednesday May 25th at Veterans Park at 3 pm.