More Chat
Details

Hits: 3011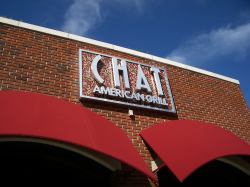 Good news for Scarsdale diners.  The long awaited Chat American Grill plans to open on Christie Place at the end of September.  The site is abuzz with construction and the red and black décor is sleek and stunning.  In addition to the dining area, Chat American Grill has a large patio and will serve outside under heat lamps for as long as the weather allows. There is also a party room for private gatherings.  Owners Mario Fava and Mauro Lusardi are experienced restauranteurs both in Westchester and Manhattan.  Their first venture was Lusardis on Second Avenue and 78th Street in the city and they extended the business to Westchester where they own Lusardis and Chat 19 in Larchmont, and Moscato and now Chat American Grill on Christie Place.  There is no basis to the rumors that Chat American Grill will replace Moscato.  

The restaurant will serve brunch, lunch and dinner seven days a week and feature the same moderately-priced menu as Chat 19 in Larchmont.  With ample parking available in the new Christie Place parking lot, Chat American Grill will be able to accommodate a crowd.
Add a comment
The Gran Caffe Opens
Details

Hits: 2646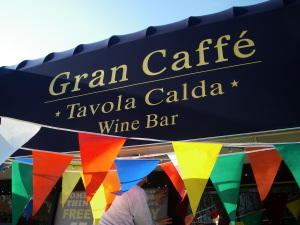 The owners of Rustico have opened the Gran Caffe next door to their well-known restaurant on Central Avenue. The Caffe will serve the community breakfast, lunch and dinner.
Scarsdale10583.com stopped by to meet owners Anna and Nello who opened the Caffe three weeks ago and already appear to have a bustling business and happy clientele. The Caffe is a casual spot that has something for everyone.  Open at 7 am, they serve an assortment of gourmet coffees and teas to accompany your bagel, muffin,  scone or omelet. For lunch there's a long list of sandwiches, wraps and Panino including the Caprese with fresh mozzarella, tomato, roasted peppers, parma prosciutto, basil and olive oil or the Modena which is mortadella, capicolla, soppresata, prosciutto, provolone, lettuce, tomato and oil and vinegar. The thin crust pizzas, soups, salads and selection of hot meals all looked fresh and delicious.
Pastries, sold by the piece, are supplied by the former pastry chef of the Gramercy Tavern and Sushi Samba, and for dessert there is also gelato and italian cookies.

The restaurant has ample seating and would be a nice venue to meet a friend for lunch or coffee, or to sit alone, sip your coffee and read the paper.  At night they are open late to accommodate those who want to stop by for a glass of wine or dessert.

In addition, the shop is offering catering: supplying many of the dishes well known at Rustico, such as Lasagna Bolognese, Pasta Amatriciana, Fra Diavlo, Puttanesca, or Veal Marsala, Francese or Piccata; all in trays for up to 20 peopl.. Think about calling the Gran Caffe to cater your holiday get togethers.

Stop by and welcome the Gran Caffe to the neighborhood. Mention Scarsdale10583.com and receive 10% off your purchase.

Gran Caffe
Gourmet Deli by Rustico
Home of the Ultra Thin Crust Pizza
749 Central Avenue
Scarsdale, New York
914-574-5834
Open: Monday - Sunday, 7 am to Midnight
Add a comment
Cupcakes Come to Westchester
Details

Hits: 4113
Yum –the Flour & Sun Bakery, Westchester's first and only cupcake bakery, has opened in Pleasantville.  The cupcakes are made from scratch daily, using only the finest ingredients.  The goods are delectable and the store is lovely – well worth a trip up the Bronx River Parkway.

Classic cupcakes are offered everyday – vanilla with vanilla icing, vanilla/chocolate, chocolate cake with vanilla icing and chocolate/chocolate.  Mouth-watering daily specials are too numerous to list.  There's chocolate cream cheese, lime, red velvet, peanut butter and jelly and more. Take a seat at the counter and enjoy your cupcakes with one of six varieties of tea while you watch the action in town from the window.

In addition to the cupcakes at the retail shop, special orders are available for corporate events, baby showers, holiday parties, birthdays, and weddings.


Store hours are:

Sunday: 10-5 pm
Monday: CLOSED
Tues-Thurs: 11-7 pm
Friday: 11-8 pm
Saturday: 10-8 pm

And you'll find the bakery just a short walk from the Jacob Burns Film Center at:



19 Washington Avenue
Pleasantville, New York
914-495-3232
Add a comment
Thin Crust Pizza on Depot Place
Details

Hits: 3138
Delectable thin crust pizza is now available at All'Antica on Depot Place next to the train station in Scarsdale Village

Pizza by the slice, or in full and half-sizes are on the menu at All'Antica, Scarsdale newest pizzeria and restaurant. You'll find and impressive array of toppings; sausage, spinach, eggplant and portabello mushrooms are just a few. We've heard great reports about the Finocchia (with anise and sausage), Melanzana (eggplant and gorgonzola) and Pesto Pizzas. Want more?  There's chicken and eggplant parmigiana and a range of entrees including pastas and salads.  Eat in or take out, but definitely give it a try.
All'Antica
8 Depot Place
Scarsdale
914-472-4848
914-472-4899
allanticapizza.com
Monday-Friday 11am-10pm
Saturday 12pm - 10pm
Add a comment
Lunch Today, Rubble Tomorrow
Details

Hits: 1890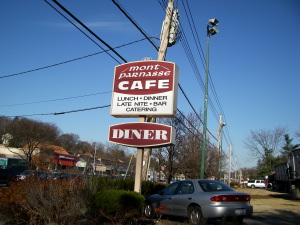 A sad sight on Central Avenue... all that's left of the Mont Parnasse Diner is a pile of rubble.  I've got memories of omelettes, french toast, grilled cheese sandwiches and jello with whipped cream. It was an old-time, expansive eatery, with leather banquettes, tall cakes buried in icing and juke boxes on each table. I am sure you have fond recollections as well. George McGuire of the State Contracting Co., was on hand to do the demolition and hauled away over 200 tons of rubble. What will be built in it's place? I bet you already guessed! Another bank? No, it's Walgreens. A new 11,000 square foot  drugstore will be built to open in 2010.
Add a comment