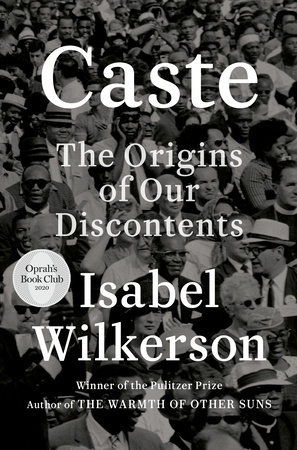 LWVS Book Discussion: Cocktails, Conversation, and Caste
Thursday, April 15, 2021
7:00 p.m. - 8:00 p.m. via Zoom

In this turbulent time with heightened political conflict, is there another approach to understanding racial and social division throughout history and today?
How does the notion of "caste" change how we see racial injustice?
We look forward to having a lively discussion about one of the most talked about books of the year, Caste: The Origins of our Our Discontents by Isabel Wilkerson.
In her fascinating book, Isabel Wilkerson asserts that America has been shaped by a hidden caste system, a social hierarchy which extends beyond factors such as race and class, which continues to fuel division and discord. Wilkerson explores and compares the caste systems in India, Nazi Germany, and America and identifies eight pillars common to all. She employs the stories of real people to illustrate how caste is experienced in everyday life and offers ideas that can move America forward towards a more united and common humanity.
For this book discussion, we are privileged to be joined at our book discussion by Richard Westmoreland, whose speech before the New Orleans City Council in 2015 in support of taking down Confederate Statues in New Orleans is quoted in the book. Westmoreland will share his experience of giving that speech and its frightening aftermath.
To continue our Centennial celebration, here is the recipe for Beatrice Sevcik and Tony Gibney's League Centennial Cocktail.
We look forward to seeing you on April 15th! Please RSVP below; zoom link will be emailed to those who RSVP. Questions? Email Leah Dembitzer at lwvspresident@gmail.com.

RSVP HERE

Bronx River Books in Scarsdale Village is offering a 10% discount on the purchase of the book when you mention you are participating in the League of Women Voters of Scarsdale Book Group.
Categories