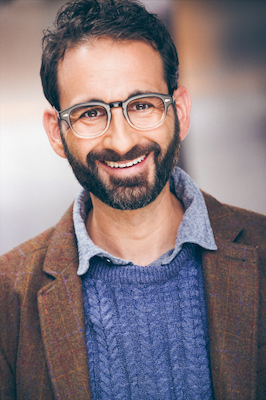 A Conversation with actor/author Erik Lieberman
Thursday, June 24 at 7:00 PM
Join us for a conversation with actor and author Erik Liberman. Erik is known for originating roles in productions across stage and screen, including the Transparent series finale for Amazon, The Band's Visit, The Hunchback of Notre Dame and War Paint. He will be discussing his acting and writing careers, all things Broadway, and the intersection of queerness and classic cinema.
Born in Coconut Grove, Florida, Liberman was mentored by Maureen Stapleton, named a YoungArts winner in high school, and trained at London's Complicité and National Theatre, where he came under the wing of Judi Dench. He received a grant to study with master clown teacher Philippe Gaulier in France, and in Los Angeles, was the face of noted improv-and-sketch-comedy school, The Groundlings.
Liberman was "discovered" by 21-time Tony Award winning director and producer Harold Prince as a winner of the Lotte Lenya Competition. Prince hired him for his Broadway debut in Lovemusik, written by Oscar winner Alfred Uhry and starring Tony winners Donna Murphy and Michael Cerveris, remarking of the actor, "Erik is the real deal. Once you've seen him, you can't forget him."
Liberman went on to receive Helen Hayes, Ovation, Garland, and Connecticut Critics Circle Awards, his onstage work reviewed as "a showcase of sheer star power." He originated the roles of The Telephone Guy in the award-winning The Band's Visit opposite Tony Shalhoub, Charles Revson opposite Patti LuPone and Christine Ebersole in War Paint, and Clopin, King of the Gypsies, in Alan Menken, Stephen Schwartz, and Peter Parnell's The Hunchback of Notre Dame. Other theatre highlights include: Motel the Tailor in Fiddler on the Roof opposite Harvey Fierstein and the film's star, Topol, acclaimed portrayals of comedian Groucho Marx Off Broadway and at The White House, and major revivals of Stephen Sondheim musicals. He has appeared in benefit concerts under the auspices of Sondheim, Lin Manuel Miranda, and Carol Burnett, and on television, is recognized for roles on Amazon's Transparent, Modern Family, Martin Scorsese's Vinyl, among others.
Liberman has also contributed to numerous books including Performance of the Century and, with his father, Wisdom From an Empty Mind and Luminous Life: How the Science of Light Unlocks the Art of Living. His master class series, Bridge to Broadway, benefited 45 charities and earned him a 2020 Encore Award from The Actors Fund.
Categories