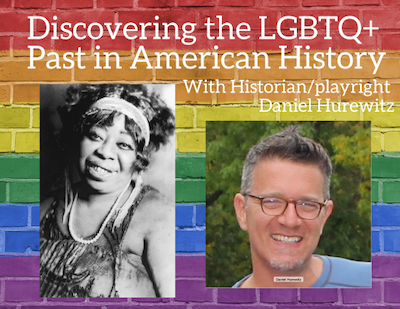 Tuesday, June 29 at 7:00PM
For most of us, if we know anything about LGBTQ history, it's a couple of quick facts about the Stonewall Riots and the fight for marriage equality – events that feel largely unrelated to most of the rest of the country's history. In this talk, however, historian Daniel Hurewitz explores the essential role LGBTQ folks have played at key moments in the larger narrative of American history. Looking at three fascinating individuals from the last 150 years, he makes clear how LGBTQ people have long been vital actors at the heart of our national story.
The Emelin Theater invites all to join in its Rise & Shine Virtual Celebration in honor of the theatre's upcoming reopening this Fall.
The one hour virtual event will be hosted by legendary WFUV and SiriusXM radio DJ Dennis Elsas, and features exclusive performances by a diverse roster of world-class artists who have previously graced the Emelin stage including David Broza, Amy Helm, Flor de Toloache, Ballet Hispánico, Jake Shimabukuro and David Bromberg.
The evening includes special appearances by Founding Board Member Emily Grant, Mamaroneck Mayor Tom Murphy and Larchmont Mayor Lorraine Walsh, CNBC Senior Economics Reporter Steve Liesman, and many more to thank the community for their support and speak to everything the theatre is doing to meet this new day.
"The Board and staff are excited to be planning for our re-opening in Fall 2021, and to be upgrading our jewel of a theater to give our returning audience and artists the best experience possible," said Elliot Fox, Emelin's Executive Director. "This Virtual Celebration is our way to share our excitement, and show our gratitude to everyone who helped make that possible: our patrons, donors, members, sponsors, artists and the entire community."
Emelin's Rise & Shine Virtual Celebration is free to all; donations are welcomed. This event will be streamed on VIMEO and on the Emelin home page, and can be viewed on a variety of different devices and TV streaming apps. Please visit our home page on emelin.org on Jun 17 at 7:30pm (EST) to stream this event.
Categories