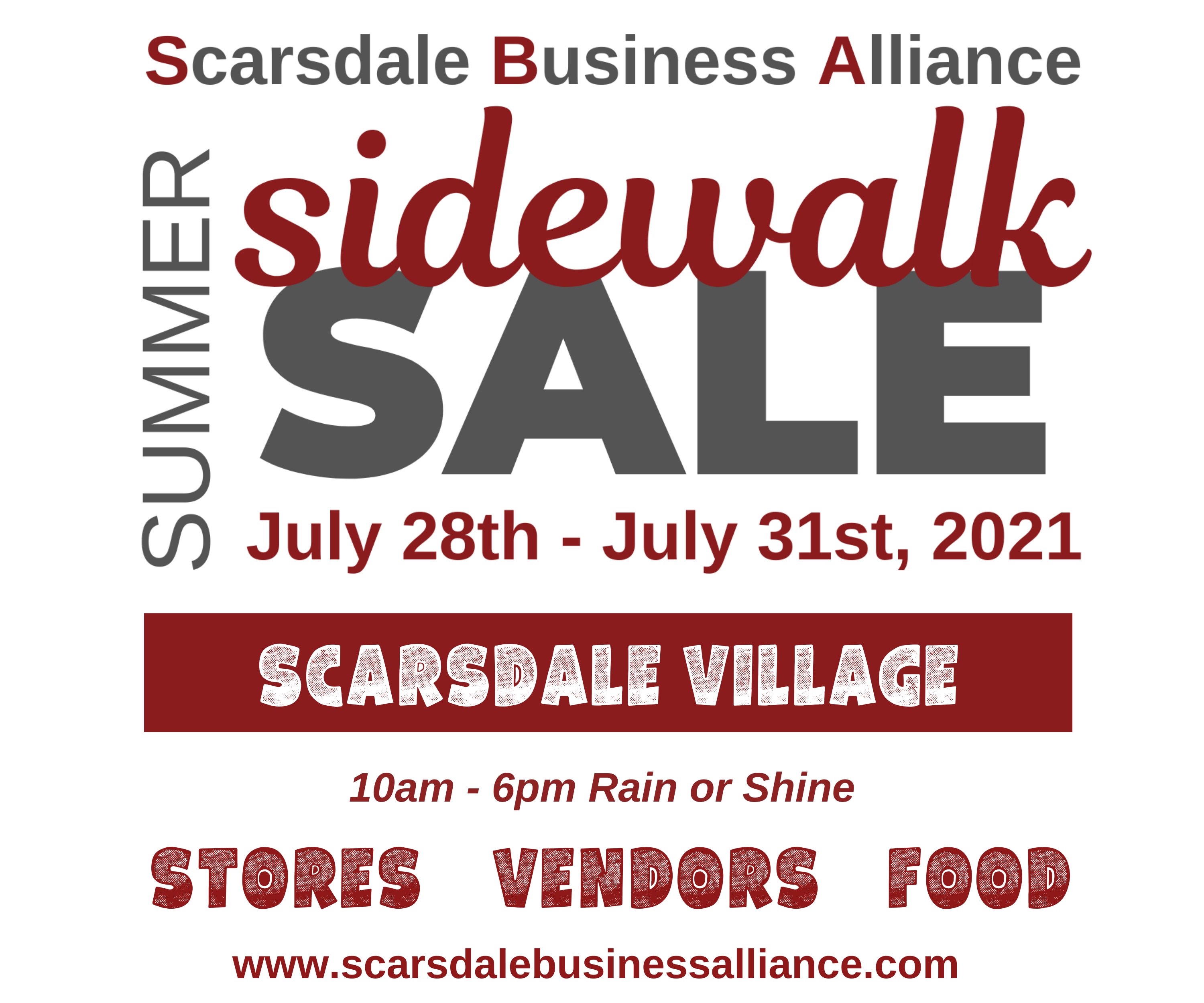 The Scarsdale Business Alliance (SBA) is thrilled to announce that the 2021 Summer Sidewalk Sale will take place Wednesday, July 28th through Saturday, July 31st in Scarsdale Village.

Visit the Village center throughout the week to take advantage of fabulous sales and discounted deals. In addition, health and wellness service providers will be on hand to educate you about the resources they offer. In between all the shopping, be sure to stop by the Dine the 'Dale tent in the Village center to enjoy table service, delivery and carry-out from over two dozen Scarsdale restaurants.

We look forward to providing the community with safe outdoor spaces to shop and support our local retail merchants, as well as a venue to learn about local health and wellness resources and service providers.

8 hour pay-as-you-go Pango parking is available daily in the Christie Place commuter garage (64 East Parkway), with free parking on the weekends for Village consumers.

In addition to our brick and mortar merchants, we welcome SBA health and wellness members as well as service providers to participate in the Sidewalk Sale again this year, with designated spaces provided on Boniface Circle in the Village center, which will be closed to vehicular traffic. In addition, limited space for home businesses will be available by lottery. Please contact us for more information (info@scarsdalebusinessalliance.com).
Sidewalk Sale Opening Day 10am - 6pm
Wednesday July 28, 2021
Orangetheory Fitness in Chase Park 6 - 7 pm
Orangetheory is a heart rate based HIIT total-body group workout that combines science, coaching and technology to guarantee maximum results from the inside out. It's designed to charge your metabolism for MORE caloric afterburn, MORE results, and MORE confidence, all to deliver you MORE LIFE.
The free class will be led by a professional certified Coach, including cardio and body weight exercises designed to be low- impact on your body but high results driven for your goals. Call now for more information (914)359-4567
Categories