Changing Places: Troy to Become Assistant Superintendent, 22 Granted Tenure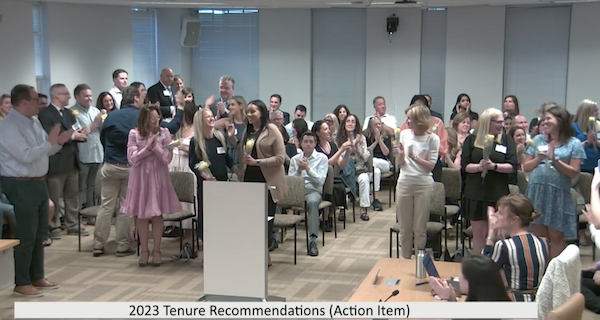 22 staffers were granted tenure on May 8, 2023Scarsdale Middle School Principal Megan has been selected to be the district's next Assistant Superintendent for Human Resources and Leadership Development. She will fill the position left by Drew Patrick when he was promoted to Superintendent of Schools last year.
Troy began her career in Scarsdale as a Social Studies teacher at Scarsdale Middle School where she served as a teacher for 16 years and the department chair for five years. In 2017 she became the principal of the school, following the retirement of Michael McDermott. Now, just six years later, Troy will take a place in the district administration, playing a key role in the superintendent's cabinet.
Announcing her appointment, Patrick explained that the district had received 73 applications for the position, interviewed ten and chose four for a second round. From those four, two were asked to return for finalists day. Stakeholders including parents, teachers and administrators held sessions with the applicants and Troy emerged as the leading candidate. She will start her position on July 1, 2023.
Troy expressed her gratitude for the opportunity and said, "I look forward to working with you all."
Troy received her official appointment at the May 8 meeting of the Board of Education, where Dr. Patrick discussed succession plans for both the middle school and Edgewood Elementary School where principal Dr. Tashia Brown will leave at the end of the school year.
The district is now conducting both an internal and external search for interim leaders at both schools. There will be searches for permanent replacements next school year.
Tenure
Also at the meeting, there was a joyous celebration for 22 members of the school staff who were granted tenure. Among the group were an elementary school principal and the assistant principal of that same school as well as an assistant principal at Scarsdale Middle School.
Dr. Patrick opened the ceremony with a description of the rigorous evaluation process that the description uses to assess staff members seeking tenure. He quoted from the interim Assistant Superintendent Carol Priore who expressed here sincere congratulations and said, "The people who we place in front of our students everyday make the difference… Better than a thousand days of diligent study is one day with a great teacher."
Megan Troy will be the new Assistant Superintendent for Human Resources and Leadership Development
The names of each of the awardees was announced by their school principal or administrator, and there was warm applause for each from a packed room of fellow teachers and family members.
Here are the names of those who achieved tenure:
Melissa Feingberg, Principal Fox Meadow
Trisha Iasello, Assistant Principal Fox Meadow
Christopher Coughlin, Assistant Principal Scarsdale Middle School
Micole Horowitz, Psychology
Greenacres Elementary School
Erin Bloom
Amy Correnti
Vincent Destefano
Catherine Herlihy
Quaker Ridge Elementary School
Sarah Bhatt
Joanny Marty
Karen Rozencwaig
Lisa Geraghty
Jessica Elkhatib
Scarsdale Middle School
Kristin Madden-Crudden – General Special Education
Scarsdale High School
Wynter Williams, General Special Education
Michael Kumaresan, Math
Christopher Menick, Math
Haley Rauch, Math
Michelle Britto, Social Studies
Elizabeth Harris, Social Studies
Christopher Hughes, Social Studies
Carine Thompson, Social Studies