School Administration Provides Details for Potential December 2017 Bond Offering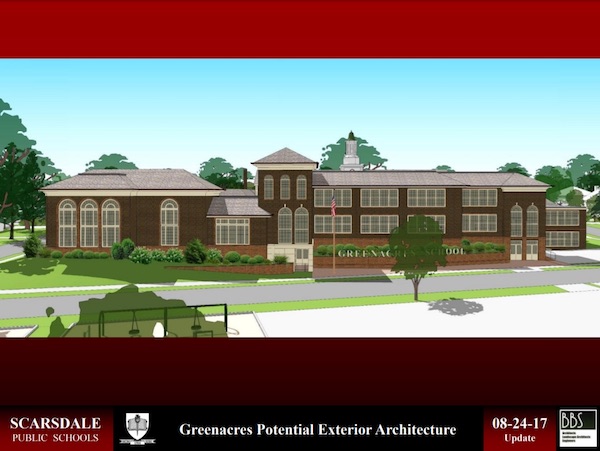 The Scarsdale Board of Education met on August 24, 2017 to hear presentations from several consultants who will be involved in upcoming renovations to Greenacres School and district wide upgrades. Architects provided a first look at the design for the expansive additions to Greenacres and consultants reviewed SEQRA plans, construction management and financing options. They sought to address safety concerns raised by parents who will have children in the school during the renovation and proposed to shorten the construction timeline to one school year and two summers (about 14 months) and to include eight temporary trailers for classrooms on the field opposite the school.
Assistant Superintendent Stuart Mattey invited representatives from BBS architects, Park East Construction, and environmental consulting firm JC Broderick to share details of the design, construction planning and environmental review for Greenacres. Mattey said the bone would also finance district-wide facility needs, including roofing, electrical upgrades and health and safety issues on all district schools. Due to the timing of the meeting during summer vacation, only about two dozen residents attended.
Mattey announced that a Greenacres Building Committee, would be formed and start meeting September 5. They are charged with working with BBS architects and Park East Construction to refine building designs and logistics, consider safety issues and construction planning. The committee will work with consultants to address such practical issues as parking, student's entrance and exit to the new school and access to the playground across the street.The committee will be comprised of two members of the Board of Education, district employees, Greenacres staff members, two representatives from the Greenacres Neighborhood Association, parent representatives from the PTA and the Village Planner.
In addition, a District-wide Facilities Committee will be appointed to become familiar with the proposed scope of work, provide feedback to district administrators on proposals, and serve as key communicators to all district constituents on the proposed bond referendum. Meetings will start in early September and continue throughout the fall. Members of the facilities committee comprise two Board members, nine administrators, seven teachers, five community members, 15 parents, and one high school student. Among other issues, they will consider the possible installation of air conditioning in instructional spaces. They will also devise a communications strategy to help support the passage of the bond referendum.
Superintendent Hagerman outlined a speedy timeline for the proposed bond offering. In order to hold a community-wide vote on the $64 million referendum in December, the Board of Education would need to agree to hold the referendum at their October meeting. This provides very little time for examination of the design of Greenacres or an evaluation of a lengthy list of proposed projects for the other schools. The two committees, who will begin their work in early September would need to provide input in just a few shorts weeks.
The Board of Education scheduled a series of public meetings for the future:
● September 11 for updates on the projects and committees, and to poll board members on the proposed scope of the project;
● September 25 to discuss project and committee updates as well as hear district-wide committee recommendations;
● October 16 for the Board to vote on bond propositions;
● December 14 for district residents to vote on the bond proposition
Kristen Nannini a representative from JC Broderick gave an update on SEQRA, an environmental impact assessment mandated by local governments for most large projects or activities. She said JC Broderick is in the early stages of planning and gathering information on the project sites. She also spoke to the issue of "historic" status during her outline of the SEQRA process, as such designation is part of that process. She reported that the New York State Parks and Recreation Department has ruled that Greenacres is an "eligible structure" for historic preservation. She noted that the district does not have to pursue this status, and most districts do not --but that the state Parks and Recreation Department must be consulted on the design of Greenacres to ensure that it meets their aesthetic standards and blends properly with existing building characteristics. This woud need to be done before the Board of Education can adopt a SEQRA resolution on October 16, which is a deadline that must be met in order to hold a December bond vote. BBS Architects said they anticipated the building's eligibility when they formulated their exterior design plan.
Meanwhile, architect Roger Smith said that BBS has continued to meet with the building administration, faculty and staff. Floor plans, architectural designs and engineering systems continue to be updated and investigated. BBS presented their exterior architectural plans as well as a topographical site map. A video rendering of the school can be seen here.

The exterior echoes the design elements of the current building while greatly increasing its mass. On the Huntington Avenue side, a six classroom addition would extend to the curb. The three story addition would have no setback from the street. On the Sage Terrace side, a large learning commons would be added.
Architects are proposing the addition of a two-story learning commons which will also serve as a hub for student entry and exit to the school. The library and "maker space" will be renovated together. The gym interior will also be fully renovated with skylights. New sections of the building will be "reinterpreted", not duplicated from the old school. Every new and renovated area will have up-to-code air conditioning. All old unit ventilators will be replaced with new ones. As part of the Energy Performance Contract (EPC), all old technology is to be updated and maintained. New air unit ventilators are expected to have a 30-40 year life span. Fourth and fifth grade classrooms will be 800 square feetwhich is slightly larger than the state mandate. Only one design option was presented, possibly due to the project timeline.
Park East Construction will handle the renovations. Principal James Wojcik said that the company has over 20 years of work experience, and management of over two billion dollars in the K-12 sector, company. He "feels confident in completing operations while promoting student safety." The company has software and supervisors who will be responsible for construction at all times while keeping the sites safe. Park East will provide the Board with updates monthly, complete with before and after pictures.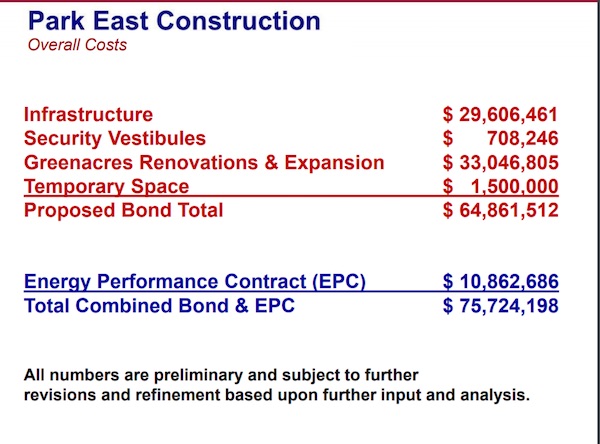 Park East outlined two potential construction schedules; one ending in the summer of 2020 and the other ending in the summer of 2021. Either schedule will incorporate interior construction during summer months when students are out of the building. Heavy lifting will always occur outside school hours.
Dr. Hagerman said that he also plans to ask village officials if a partial closure of Huntington Avenue would be possible for the duration of the construction project. He said he is trying to set up a meeting with them.
At the conclusion of the meeting, Dr. Hagerman discussed the timeline and said, "Some have been complaining that the process is "too fast." He defended it saying, "There's a certain amount of work to be done" and "it doesn't matter if we spread it out over two to three months or one and a half months," adding, "It's still the same kind of work that needs to be done." So, "Giving ourselves another three to four months doesn't necessarily do anything, unless there's more work than what we see right now. But, again, I think we got a lot of clarity from our consultants. If we do that in a week or once a month whether it is a week or a month, it's the same amount of work..."