New Learning Commons Attracts a Crowd at Scarsdale High School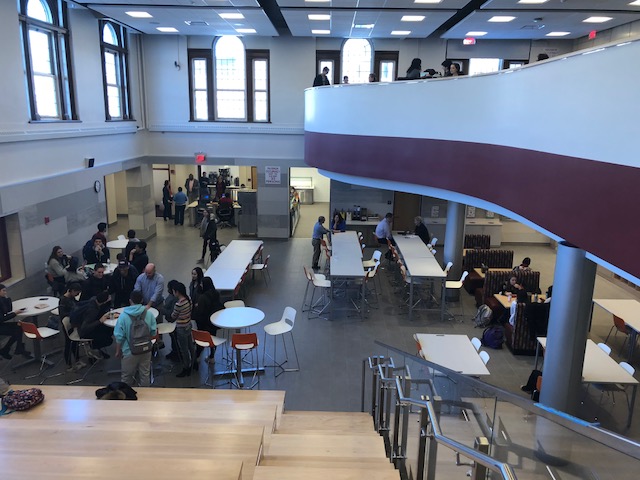 Curious where your high school student is spending all their time? The answer is in Scarsdale High School's new Learning Commons, which opened on Wednesday January 10, 2018 at Scarsdale High School.
The construction of the learning commons was funded by the 2014 school bond referendum and is one of the first of many new spaces that will open across the school district. In order to provide more collaborative learning space and additional food service, Scarsdale High School's old gymnasium has been revamped into every student's dream work and leisure space.
When the multi-level space opened on Wednesday, students' and teachers' mouth dropped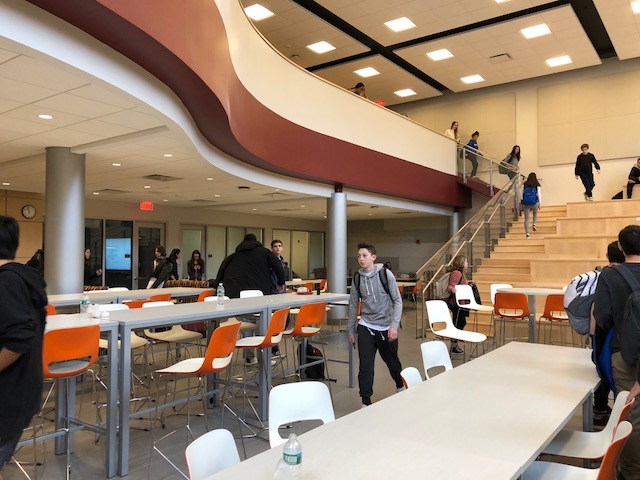 as they entered the doors. They stepped inside to find booths and high tables, providing a cozy, restaurant-type atmosphere where students can eat, work, or simply relax. The facility includes a brand new kitchen that offers fruit, vegetables, drinks, and snacks along with even tastier options such as muffins, customized omelets, sandwiches, chopped salads, pizzas made to order, a pasta bar and themed specialties. An omelet station gives students the chance to order eggs with custom fillings including cheese, potatoes and bacon. The salad bar provides a choice of greens such as romaine, spring mix, kale or spinach which can be mixed in with chicken, cheddar, feta or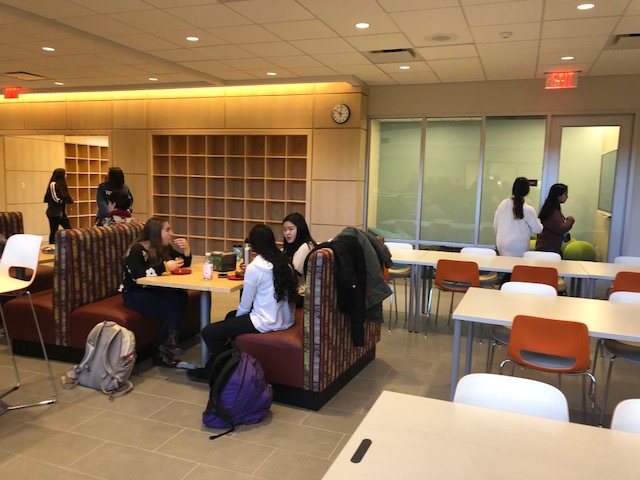 goat cheese as well as celery, edamame, cucumbers, carrots, peppers and sprouts.
And if that was not enough, students were awed to encounter a frozen yogurt machine and a full array of toppings such as oreos, sprinkles, heath bars, strawberries, raspberries, pineapple and graham crackers to name a few.
Watch out Starbucks: The coffee machine turns out flavored coffees that can be mixed with a variety milk and milk substitutes.
To create a more sustainable environment, the cafeteria is using real utensils, bowls and plates that will be washed and reused to cut down on waste.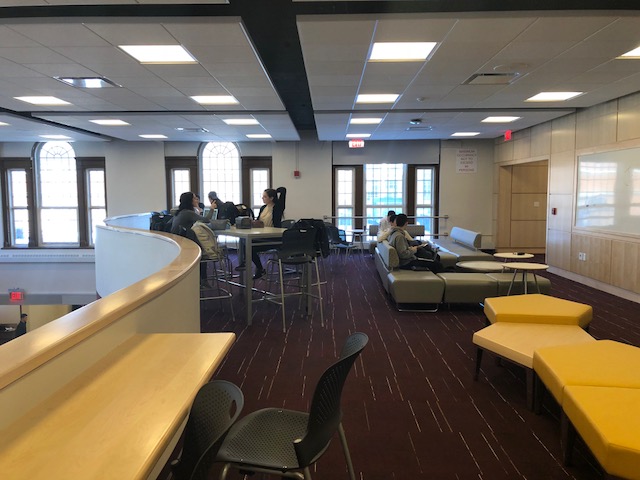 Graduated stadium seating and a staircase lead up to the mezzanine level, where more couches, tables, and individual Chromebooks are provided. Both the first and second floor provide students with the opportunity to work in smaller rooms where they can engage in collaborative academic work more quietly, with bean bag chairs, smart boards, and tables. Teachers are also able to reserve the private rooms for specific classroom use. Brand new bathrooms are located in the back of the first floor. Many students said the staircase set up reminded them of sets for the scenes of movies, High School Musical and The Internship.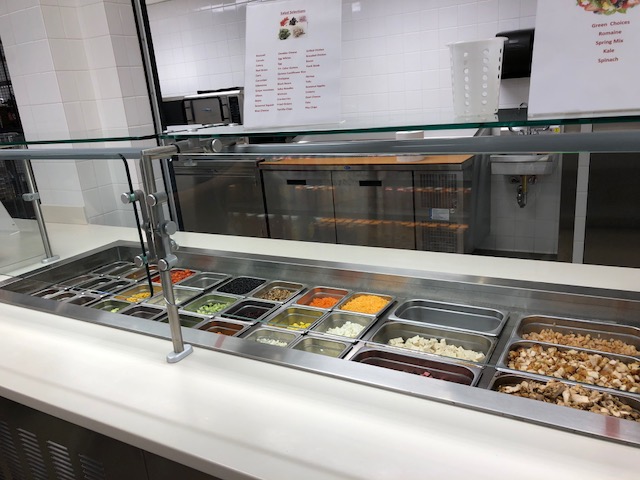 Discussing the new facility, SHS Principal Ken Bonamo said, "We are excited about the new Learning Commons and delighted by the positive reception it has received so far. The kitchen hours are currently scheduled from 9 a.m. until 3:30 Mondays through Thursdays and from 9 a.m. to 2:30 on Fridays, with a break during 4th period so the kitchen can switch from breakfast to lunch service. We are adjusting those hours based on staff availability and student demand, so they may change as we move forward. The goal is to have continuous food service during and just after the school day, with the kitchen in the cafeteria open before school through the end of lunch, and both spaces open during the lunch periods (peak service time)."
Bonamo continued, "The "learning stair" is intended to be used just as we are seeing students use it--to congregate, eat, converse, and work together. There will also be a mechanized screen installed so that presentations can be projected for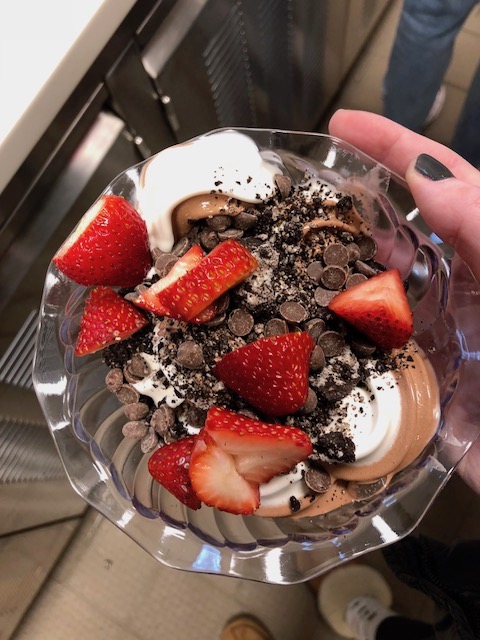 viewing from the learning stair; this should be in place in the near future."

This state of the art facility is already encouraging students to stay at school for free periods rather than get in their cars and go to the Village. The casual work spaces feel more like college than like high school and it will quickly become many students favorite place to hang out.
Pam Rubin is the Secretary of the Scarsdale Schools Education Foundation, which raises funds for projects and initiatives not covered by the school district's budget. $2.25 million has been raised over the last three years to fund the cost of the Fitness Center and Design Lab. She said, "The SSEF is thrilled with the new spaces. The Learning Commons including the new Design Lab, Paver Garden and the Fitness Center will be transformative in terms of the student experience at SHS. We are very proud to be part of the continued innovation in the Scarsdale schools."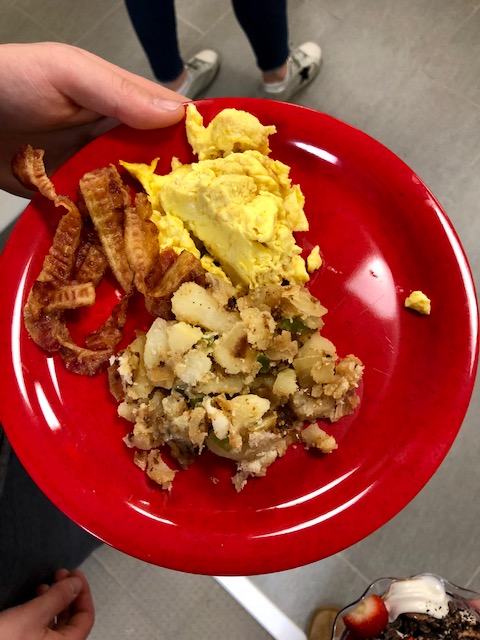 Sarah Kazan '18 noted, "It's a refreshing environment that is sort of like a mix of the library and cafeteria. It's a great place where kids can hang out, eat and do homework. I love to have a change of scenary and will definitely spend my free periods here."