Maroon and White Celebrates Fall Athletes at Mulinos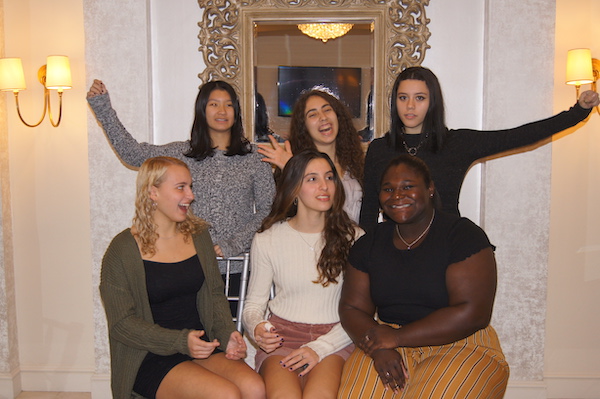 (Bottom row) Kayla Hunt, Michaela Lenskis, Aiyana Lebron (Top row) Sara Vatanapradit, Gillian Zitrin, Isabella deCastroMaroon and White hosted a spirited fall sports dinner on Wednesday November 6 at Lake Isle at Mulino's. Parents and student athletes were greeted at the door with an upbeat soundtrack and invited to participate in a 50-50 raffle to raise funds for the installation of permanent lights at Butler Field and to purchase Maroon and White gear including a large comfy fleece and the ultimate sports wrap. All the rooms of Lake Isle were filled with excited students, parents and coaches for a celebration of the successful fall program and the senior athletes.
Rose Mastracchio who chaired the dinner said, "We had approximately 715 athletes, coaches, and families attend this year which was similar to last year (approximately 700 guests). It is a wonderful night to celebrate the accomplishments and comradely of our athletes."
Here are pictures of the senior athletes from each team and a bit about their seasons:
Cheerleading – Coach Stacy Monteiro
The team was very active this fall – and was quite visible during the football season. The season has just begun and the Raiders won their first competition at Yorktown last week. The regional competition takes place in two weeks. Scarsdale hopes to return to the UCA Nationals – which takes place in February.
Cross Country – Coach Rich Clark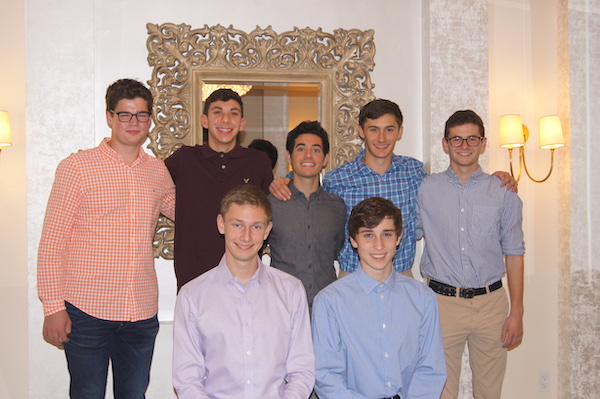 Sam Denison, Matthew Shepitan, Ford Lechner, DJ Matusz, Daniel Asner, Ward Bandsma and Joseph SamuelsScarsdale performed very well at the League 1B championships. The all league boy's team came in first place for the 6th consecutive year– and out of 29 runners placed 4 in the top 8. Daniel Asher took 3rd and Jake Coleman, DJ Matusz and Alex Friedman took 6th through 8th place, respectively. Their female counterparts also put in a solid performance placing second – and out of 24 runners the Raiders placed 6-9 – with Alexandra Simon, Victoria Capobianco, Alexa Doyle, and Natalyn Kapner taking those spots.
The boys team won the county championship and are competing for the right to go to the state championships in sectionals.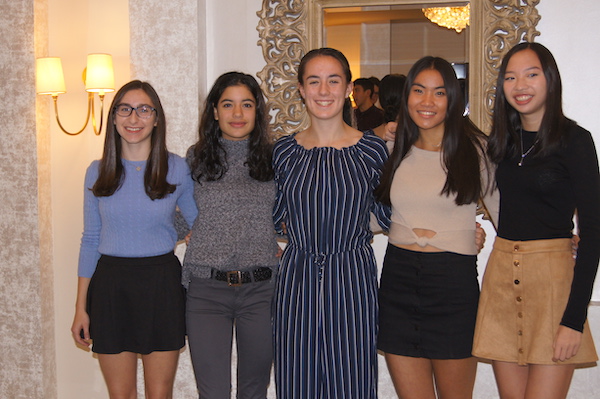 Emma Feldman, Isabel Lago, Annabelle Jacobs, Michelle Pang, Victoria Capobianco




Field Hockey – Coach Lauren Barton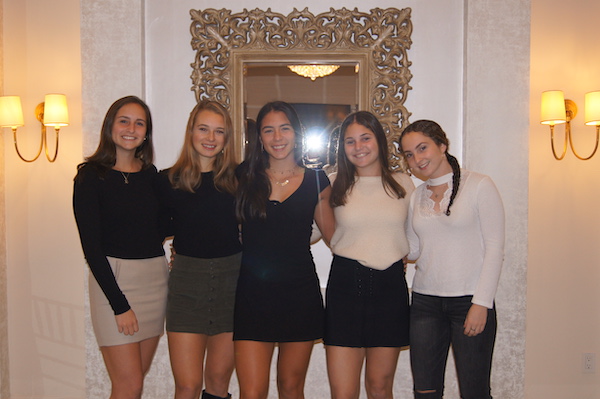 (From left to right) Elizabeth Scarcella, Sophia Franco, Sophie Carroll, Andie Novenstein, and Jordan Titone. The Raiders had a strong 2019 season – finishing the regular season with a 13-4-2 record. Scarsdale had a great playoff run – advancing to the semifinals where it fell to Mamaroneck.
The team was led by senior co-captains Sophie Franco, Sophia Carroll and Liz Scarcella as well as fellow senior Andie Novenstein. Junior Emily Felder, sophomore defensemen Olivia Franco and Maeve Jacobson, and goalie Angela Hoey developed nicely during the season and made major contributions
Football – Coach Andy Verboys
Scarsdale had a strong bounce-back season in 2019 – and ended the regular season with a 5-2 record. The playoffs yielded two tough competitors for the Raiders and they fell to Spring Valley and Arlington in those contests.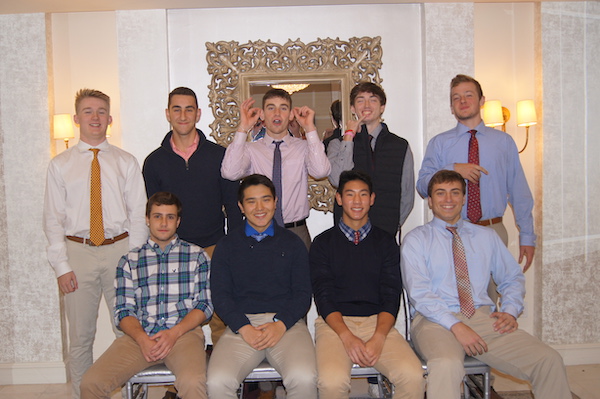 (Bottom row) Tyler Miller, Richard Gao, Harry Song, Dean Mancini, (Upper Row) Adam Freihofner, Sam Feldman, Ian Roghtenberg and Mike Callaghan, Chris SaengerScarsdale was led by junior Ben Miller, senior co-captains Harry Song, Sam Feldman, Chris Saenger, and Dean Mancini who played actively on both sides of the ball, and a strong backfield consisting of Julian Glantz, Jake Potters, and Adam Freihofner.
Boys Soccer- Coach Marcos Monteagudo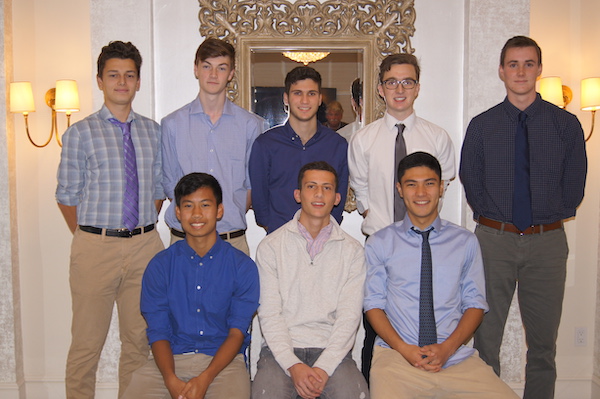 Patrick Artes, Ben Rubin, Calvin Lee, John Dowd, Josh Strassberg, Zach MedvinskyUnder first year coach Monteagudo Scarsdale finished 8-6-2 overall and 3-2-1 in the conference this year. The team lost in penalty kicks in the first round of the playoffs to White Plains.
The team was led by senior co-captains Calvin Lee, Zach Medvinsky, and Ben Rublin. Luca Schettino had a strong campaign as the teams starting goalie – he, along with fellow junior Cooper Cohen, and Sophomore Luke Peltz look to lead the team in the 2020 season.
Girls Soccer – Coach Mindy Genovese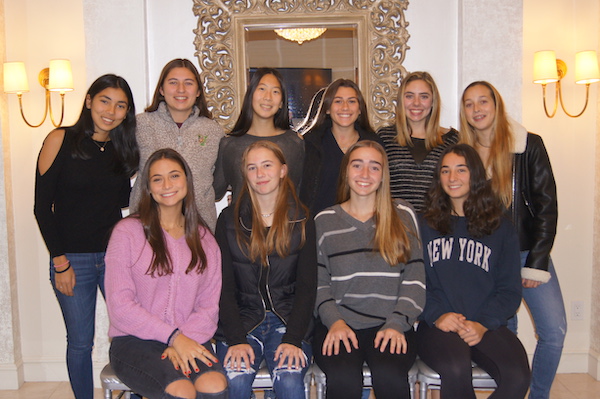 (Bottom Left to Right) Bella George, Olivia Bryant, Megan Quirke, Elizabeth Shawn, (Top Right to Left) Sophia Caione, Sophia Trujillo, Olivia Silberstein, Sophia Hu, Ines Hull, Sophia VercelliThe Raiders had 6 victories and 11 defeats during its 2019 season. Scarsdale went through a rebuilding season after last year's league champions saw 11 players graduate. The team lost in the first round of the playoffs to a highly ranked Suffern team. The team is positioned to rebound in 2020.
Girls Swim and Dive – Coach Barney Foltman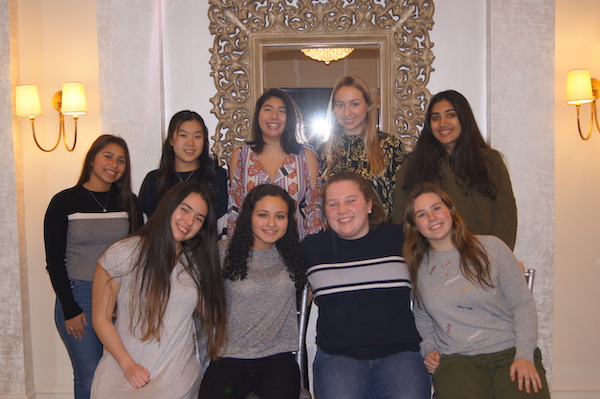 (Back left to right) Elena Oregno, Felicity Huang, Julia Kawai, Rebecca Maude, and Isha Bedi (Front left to right) Julia Campbell, Angela Ferigno, Megan Katchis and Emma GlaserThe Raiders Swim and Dive team put up a 4-5 record after moving up to a higher division this season. Junior Maddie Seltzer continued her high school streak of qualifying for the state championship with another standout performance at the Section 1 championships. Her second place finish at the tournament will see her compete at States on November 15th. Two Scarsdale relay teams qualified for the state championship tournament.
Girls Varsity A Tennis – Coach Jennifer Roane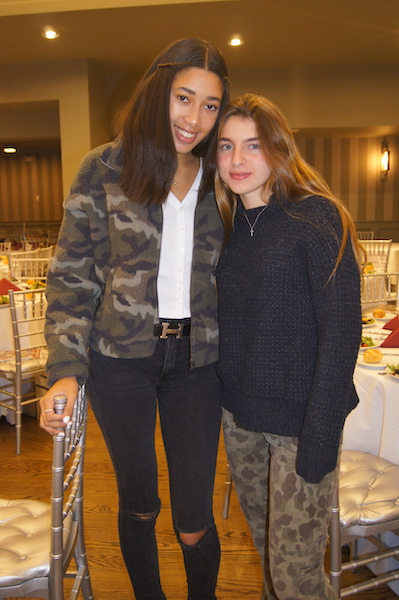 Luisa Mendes and Maggie Akutey from the Varsity A Girls Tennis Team.The Girls tennis team produced a strong 2019 campaign. The team plowed through the regular season and achieved an undefeated season. Further, the Raiders won every match but one during the 11-game season! The squad continued its success during the Section 1 team tournament – again not suffering a single defeat during any of the rounds. The Section champs advanced a singles player and all four doubles players to the outrounds.
The duo of Freshmen Natalie Hu and Junior Zoe Tucker shined during the season: finishing 8th in the state, 3rd in Section 1, winning conferences and named All-Section. They each had fantastic regular seasons as singles as well - Hu was 11-0 and Tucker 9-1.

Girls Varsity B Tennis Coach Feld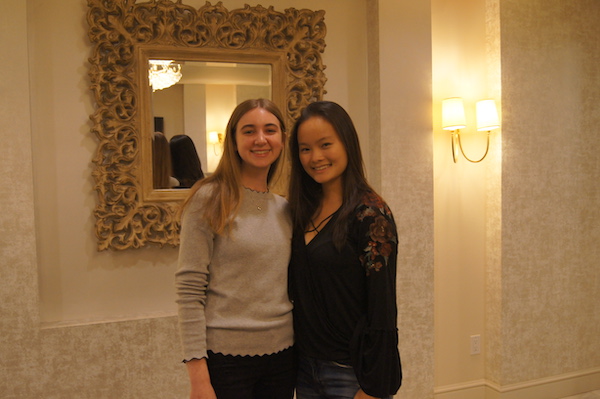 Maya Shaked and Sarah Epstein from the Variety B Girls Tennis Team
Boys Volleyball – Coach Jim Williams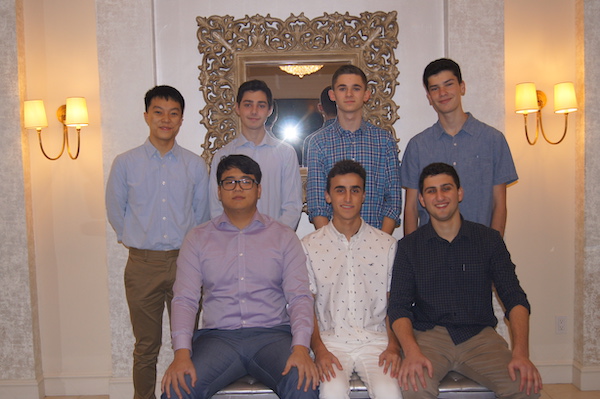 (Bottom Left to Right) Dorji Phuntso, Jack Mintzer, Ari Sontag (Top Left to Right) David Peng, Ethan Gates, Dylan Wasserberger, Schoen AmidorThe boys volleyball team had its best season by far in its four year history – sported an 8-6 record. The teams 8 wins were twice the amount it had achieved during its first 3 years. The teams first playoff appearance was a great success – with a win against Clarkstown North – avenging 2 regular season losses - in its first ever playoff match. The team made it to the Section finals – where it lost a close match to Suffern.
The team was led by sophomore Santiago Gomez – who banged home 177 kills during the season and seniors Justin Mandel and Dorji Phuntso who had 21 and 18 aces, respectively. Gomez and senior David Peng led the team in digs – as each recorded almost 200 for the season – while junior Gustavo Quaresma de Moura had over 30 blocks and 300 assists for the season.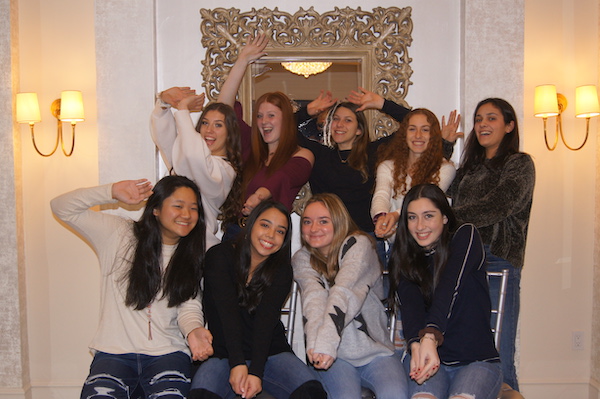 (Btoom Left to Right) Megan Chin, Jordy Love, Julia Strangulations, Coco Dweck (Top Left to Right) Ruby Foligno, Alexa Rupe, Sara Shepetin, Rachel Schwartz, Sophia LaarajGirls Volleyball – Coach Ann Marie Nee
The Raiders had a successful regular season – with a 22-11-4 and 6-2 conference record. Unfortunately, they suffered an upset defeat vs. Mahopac in the first round of the playoffs.
Senior Magan Chin nailed 478 kills to lead the team, while fellow senior Sara Shepetin contributed 180. Shepetin also had 57 aces while seniors Julia Strong and Jordy Love had 42 each. Jacqueline Joyce was the team's leading blocker with 41. Strong and Chin added over 300 digs each for the season.
(Corrections or misspellings? Please email us at scarsdalecomments@gmail.com)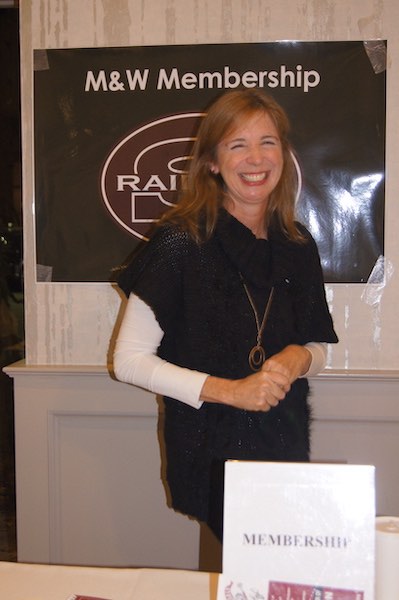 Deb Franco greeted everyone at the door.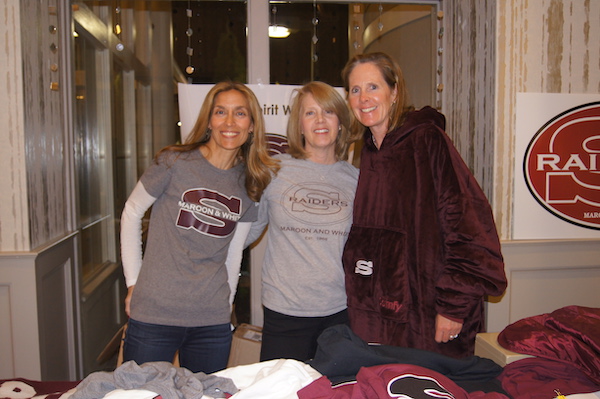 Don't forget the moms -- or the great Maroon and White merchandise.