Students Head Abroad for Cultural Exchanges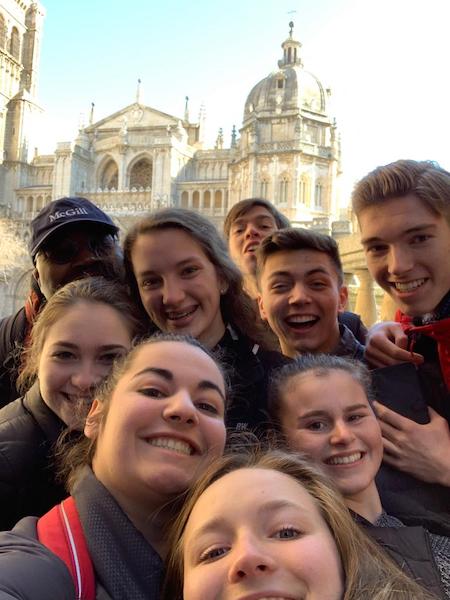 Scarsdale High School has traditionally offered some eye- opening international travel opportunities to their students and this year is no different. Though one trip had to be cancelled due to the emergence of the Corona Virus, the other trips will go on as planned.
We spoke to SHS Social Studies teacher Heather Waters who coordinates the Scarsdale High School Global Opportunities Program and reviewed an impressive line-up of trips planned for this year.
Yes – as you might imagine – the school was forced to cancel a 13-day tour of China planned for April. Five students were scheduled to travel and the itinerary spanned Xian to Shang Hai, including the Terra Cotta Warriors and a home stay with a Chinese family. Due to the health crisis, Waters is in the process of cancelling that plan now.
For the fourth year, an exchange with Heidelberg Germany is in process. During the February break, six students will travel to Germany, do homestays with German families and study the refugee experience. Scarsdale students leave on Friday February 14 for Germany and will stay through February 24. Students from Germany will visit Scarsdale from March 14 -24 and be hosted by the students involved in the exchange. That trip is being chaperoned by history teachers Carlos Bedoya and Patrick Healy.
The 13 students on the Spanish exchange will leave on Friday February 7 for a 14 day tour of Spain including Madrid, Toledo, El Escorial, Segovia and Cuenca. The program is an exchange with students from Colegios Ramon y Cajal, a high school in Madrid. Scarsdale students will stay with students from the school, some days shadowing their hosts at the school while other days taking day trips and walking tours. This trip is chaperoned by Ms. Waters with Dean Michael Thompson. The Spanish students who participated in the exchange visited Scarsdale in September.
Waters is very excited about a new offering – a service trip to Vietnam from April 2 -11, 2020 for 12 students. Before they go students will meet with a panel of local Vietnam Veterans to get their perspective on America in the Vietnam War and go to Little Vietnam in NYC to tour art and sample Vietnamese food. The itinerary will include Hanoi, a Halong Bay cruise, Hoi An, and the Cu Chi tunnels. Students will meet and work with students at a secondary school to build a handicap accessible ramp and work with orphans and the learning disabled. They will spend a day working with farmers and fishermen at a village near Hanoi. The trip will be chaperoned by Heather Waters and Jennifer Rosenzweig.
On the schedule for this summer, is a return visit to Singapore for the Pacific Youth Leadership Summit in July. Three high school juniors will attend.
Waters is enthused about the many program offerings but is also seeking out other schools abroad that can participate with larger groups of students. Currently the trips can only take a small group of students and there is demand for more.
Learn more about the program here: