Maroon and White Celebrates Winter Athletes at Lake Isle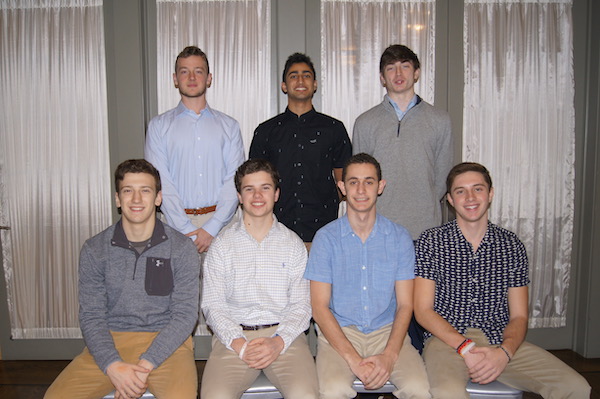 Boys Basketball: (front row) Dennis Alter, Fisher Waterhouse, Matthew Lipsay, Evan Kashanian (top row) Chris Saenger, Jayshen Saigal, Michael CallahanRaider spirits were high on Tuesday, March 3rd as Maroon and White, Scarsdale High School's parent-supported athletics organization, hosted a Winter Sports Awards dinner at Mulino's at Lake Isle to celebrate the winter program. Student athletes –basketball players, bowlers, cheerleaders, gymnasts, runners, swimmers, skaters, skiers and wrestlers -- were reunited with their teammates and coaches as they handed out awards while reminiscing about the winter season. The large scale event was held just days before the entire district closed down in response to the Coronavirus - and it was great that the show went on.
Here are pictures of the senior athletes from each team and a bit about their respective seasons:
Boys' Basketball - Coach Joe Amelio
Apart from a trip to San Diego, season highlights included the Maroon and White tournament and scrimmaging Stepinac High School.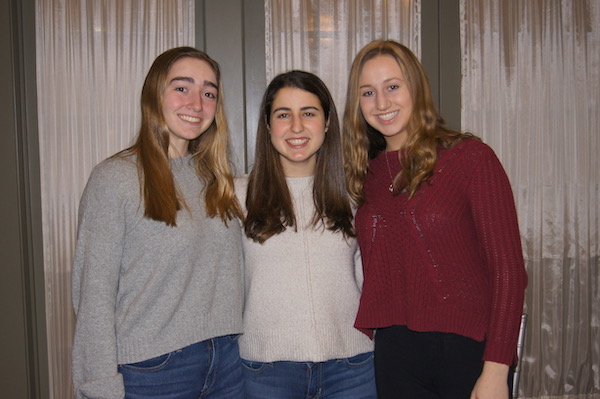 Girls Basketball: Meghan Quirk, Jessica Solodar and Kayla MaroneyGirls' Basketball - Coach Michael Blanco
Season highlights for the girls' basketball team included beating Mount Vernon twice, home and away, in two very close games. The Raiders also achieved third place in their league: after starting the season 0-7, they went 7-6 and pulled off a 7-13 overall record by the end of the season. The team also got to spend two breaks together practicing, which was "really fun" according to senior captain Jess Solodar.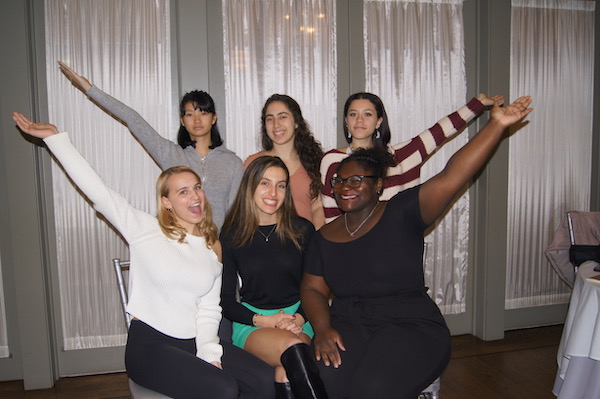 Cheerleaders: (top) Sara Vatanpradit, Gillian Zitrin, Isabella deCastro, (bottom) Kayla Hunt, Michaela Lenskis-Kristian, Aiyana LebronCheerleading - Coach Stacy Monteiro
After attending nationals in Orlando, Scarsdale's cheer team continued their outstanding year by receiving a Grand Champion win at Mount Vernon and second place at fall sectionals.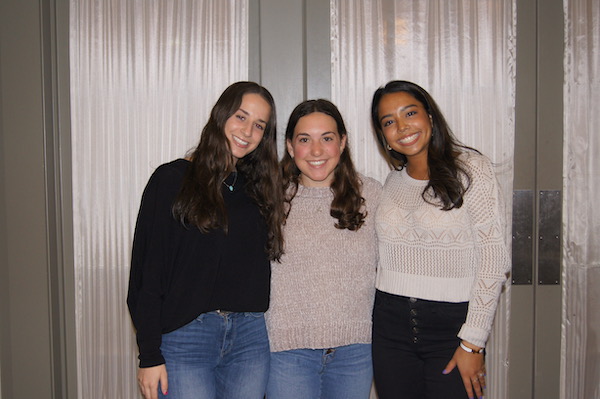 Gymnasts: Leila Shalom, Molly Grand and Jordy LoveGirls' Gymnastics - Coach Jennifer Roane
The girls' gymnastics team had a successful season with several noteworthy achievements, including Charlotte Bonanno's win of Raider of the Week, breaking 150 points at the first meet, as well as sending the most team members to sectionals.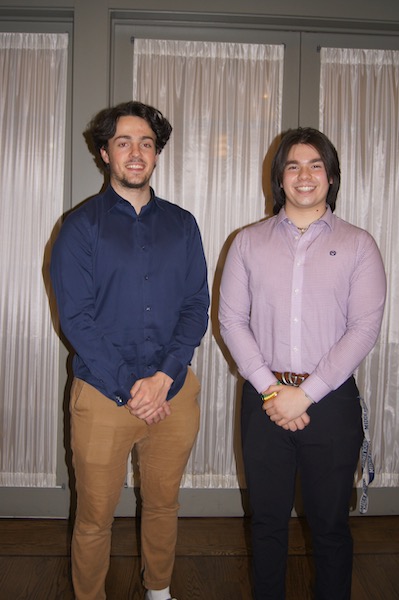 Ice Hockey: Arthur Mortreux and Luke SchurBoys' Ice Hockey - Coach James Synowiez
The Raiders had a notable season with a 11-10 record, most memorably beating New Rochelle 9-1.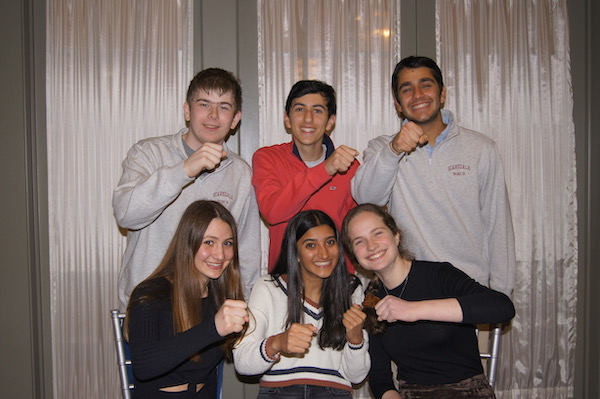 Skiers: (top) Wolf Cukier, Jeremy Schmelkin, Rishabh Gharekhan, (bottom) Brooke Paykin, Leela Chari, Elizabeth SeiderSkiing - Coach Patrick Liu
Scarsdale's ski team enjoyed a consistent performance, sending six girls and five boys to sectionals.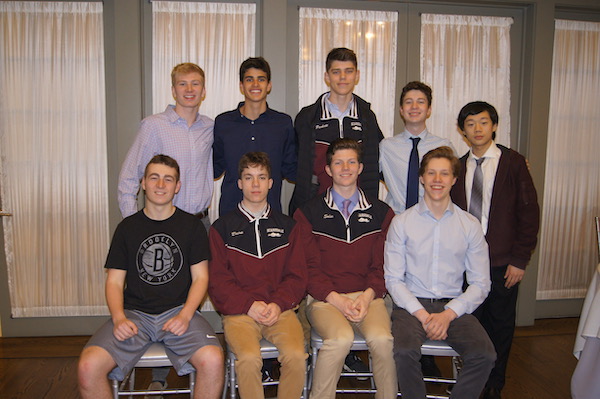 Swimmers: (top) Brendan Lee, Lucas Figueriredo, Thomas Becket, Jacob Rosenthal, George Liu (bottom) Josh Fisher, Anton Daire, John Solie and Stuart AndersenBoys' Swimming - Coach Inga DeNunzio
The team had a winning record, sending two relays to state championships, and one surprise result – beating New Rochelle after having lost to them the previous three years. The team also had three divers in this year's lineup, more than in any other roster in recent memory.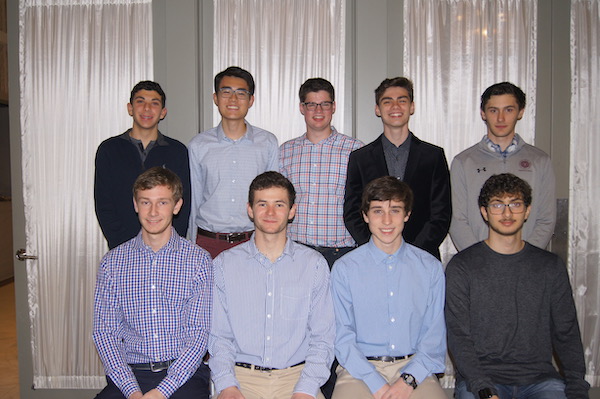 Boys Track: (top) Matthew Shepetin, Max Yang, Sam Denison, Jack McEvoy, DJ Matusz (bottom) Ward Bandsma, Daniel Asher, Joseph Samuels, Erik Ruiz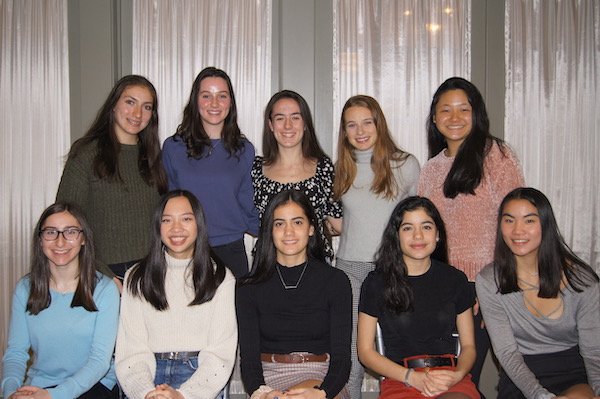 Girls Track: (top) Lisa Asirev, Bridget Foley, Victoria Capobianco, Sophia Franco, Magan Chin, (bottom) Emma Feldman, Michelle Pang, Natalia Lago, Isabelle Lago, Annabelle Jacobs Track - Coach Rich Clark
The Raiders had a strong 2019 season, coming in third at the Milrose Trials and first at the league meet. Senior Jack McEvoy described one memorable moment, DJ Matusz's win in the 600-meter race at sectionals, a "photo finish" in which he beat out his competition by just 0.2 seconds. Sophomores Avery Bensche and Diya Shadaksharappa went to state qualifiers, as did senior Sophia Franco, who scored second and qualified for states. Franco also received the League and Section Title. Other highlights included a new school record for the girls' 4x800 meter race, and several new personal records: 9:39 for Jake Coleman in the 3200 meter, 4:44 for Alex Friedman in the mile, and 5:01 for Victoria Capobianco in the 1500 meter.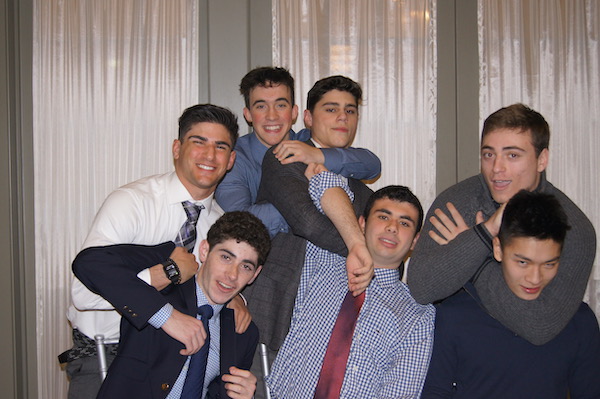 Wrestlers: (top) Connor Raff, Jack Cioffi, Tommy Reynolds, Dean Mancini, (bottom) Daniel Flink, Matthew Hoffman, Victor GaoBoys' Wrestling - Coach Jeremy Szerlip
At their tournament, Dean Mancini, Conner Raff, Tom Reynolds, and several other seniors placed in finals, where they hijacked the audio system and blasted Katy Perry.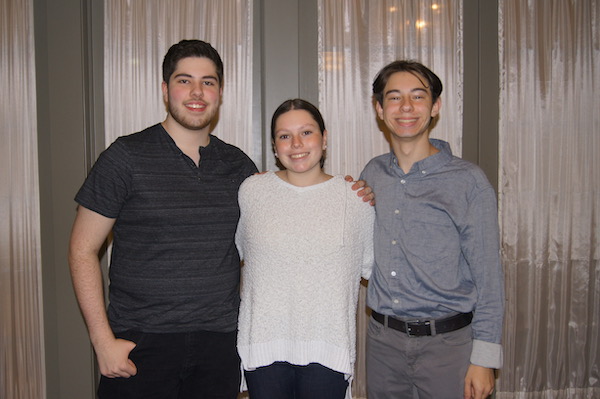 Bowlers: Eric Donohue, Lisa Thurman and Brett GoldsteinBowlers - Coach Gregory Leong

Raiders Bowlers had a fun season, travelling by bus to Bowlerland in the Bronx to practice twice per week for the eight week season. The team finished second and bowler Zoe Kulic qualified for the sectionals but was unable to go due to illness.