District Unveils New DEI Website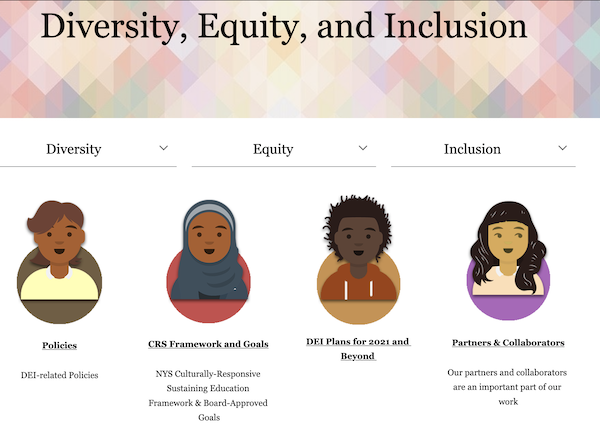 The concept of diversity, equity and inclusion and what it means for a public school district is not easy to grasp. Is it an idea that is taught, a philosophy that impacts the school's physical plant, an employment policy for faculty and staff or an ethos for how those in the school community should relate to one another? The answer is all of the above. If so, how can the district adapt to include DEI into all aspects of the school experience for Scarsdale's 4,700 students and staff?
In order to answer these questions and to build a home for their DEI policies and initiatives, the district has built an impressive new website that is accessible, informative and well designed. It showcases all aspects of DEI in the Scarsdale Schools, including term definitions, goals and policies, a history of DEI initiatives, information about partners and collaborators, reading resources, information for faculty and staff, statistics, student involvement and more.

As explained on the website, "The Board of Education and Scarsdale Union Free School District are committed to creating and maintaining a positive and inclusive learning environment for all students, especially those currently and historically marginalized. As such, we are committed to ensuring that all students feel safe, included, welcomed, and accepted, and experience a sense of belonging and academic success.

We recognize that inclusive education is based on the principles of acceptance and inclusion of all members of the school community. Therefore, students and faculty should see themselves reflected in the curriculum, physical surroundings, staff/faculty representation, and the broader environment, in which diversity is honored and all individuals are respected.
In order to realize this goal, it is imperative that the Board, District employees, and volunteers, and students understand the historical injustices and inequalities that have shaped our society and recognize and eliminate the institutional barriers, including racism and biases, that have and may continue to contribute to disparate educational outcomes within our schools."
An exploration of the new website reveals a wealth of information pertaining to the staff, the students and the curriculum and highlights policies on topics such as sexual harassment, student harassment and bullying, the teaching of religion and controversial issues and equal educational opportunities.
Other pages define DEI goals by grade level and showcase a library of books that deal with these sensitive topics for children of all ages.
The site was designed to be user friendly for students, staff, parents and the community. The icons on the home page are easy to understand and navigate. An exploration of the site shows how much the district has already done that may be reconsidered through the lens of DEI.
The site can be accessed by visiting the Scarsdale School District website and going to Shortcuts, DEI or by clicking here. Whether or not you have children in the schools, take a look at this impressive new undertaking. It should make you proud to live here and be a part of the community.
Presenting the new DEI page to the community at the October 18 BOE meeting, School Superintendent Dr. Hagerman called it a "rich resource," and explained, "The working definitions are a springboard for conversations." He said, "It is designed for a variety of audiences," and will allow users to "Dig into our DEI plans for 2021, what has happened already and the path that took us to where we are today." He noted the speakers, collaborators and authors who are working with the district on enriching the DEI experience, all represented on the site."
He said, "We are adding to this every day. We are incorporating the feedback that we receive. I would encourage folks to use this tool to follow our diversity trajectory in the community." He thanked parent leaders who have been integral to the district's DEI work.