Varsity Girls Tennis Team Headed to Billie Jean Tennis Center for State Finals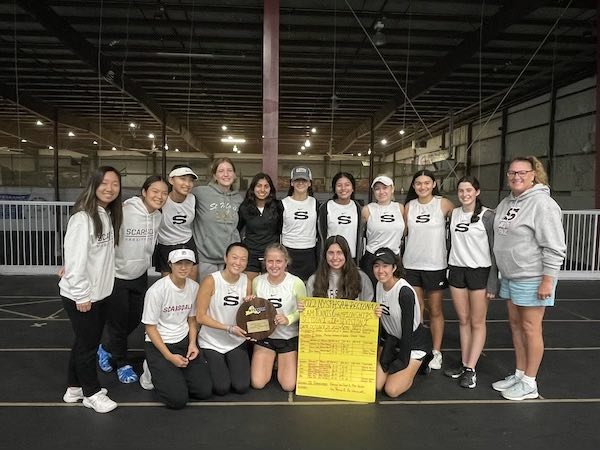 Team posed after their victory in Goshen with Coach Jennifer RoaneA second stellar year for the Scarsdale High School girls tennis team. In 2021, for the first time in Coach Jennifer Roane's 27 years leading the team, the girls went all the way to the state finals at the USTA Tennis Center and won. This year, the question was, could they do it again?

And to everyone's delight, they are headed to the state finals again. They will play their Division 1 semifinal at 11 am on Friday November 4 at the USTA Billie Jean King National Tennis Center in Flushing Queens.
Though the team has five new freshman and sophomores, they had an outstanding season, finishing undefeated, 16-0.
After completing the regular season, the Raiders beat Harrison Hight School 4-0 to capture the Sectional title. From there they went on to play in a sub-Regional match in Binghamton on October 20 against Ithaca High School who was undefeated in their section but no match for Scarsdale, who defeated them 7-0.
On the road again, they advanced to the Regional Finals in Goshen, NY near Woodbury, on Sunday October 22, 2022 where they played Monroe Woodbury. In order to win the match the team had to win on four of the seven courts, playing three singles matches and four doubles matches. When the first four courts went to Scarsdale, the other three matches were suspended.
Playing singles for the team at Goshen were Natalie Hu in first, Giana Marks in second and Katie Kendall in third singles.
Doubles teams were as follows: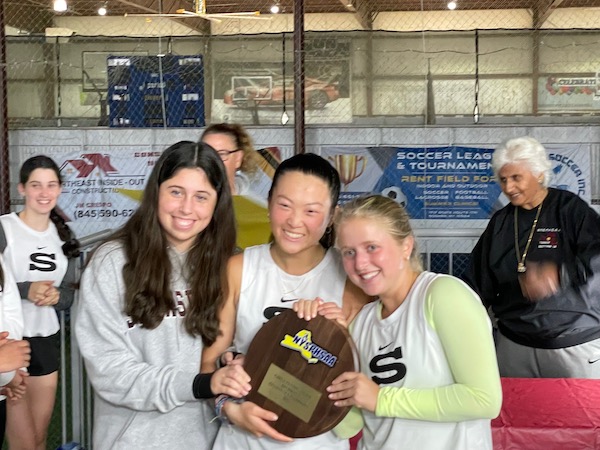 Campbell Alin, Natalie Hu and Maya Cukierman
First Doubles: Emma Ha and Maya Cukierman
Second Doubles: Maya Vora and Yelena Sahakyan
Third Doubles: Natasha Pereira and Emily Hyman
Fourth Doubles Carly Alin and Jalyn Ryu
See the scores below.
Commenting on the season, senior and team co-captain Natalie Hu said, "The regional match was a routine win for the team as we swept. My match was tough because the girl I played, Maeve Cassidy, plays tournament year round like me. I was winning 6-4 3-2 when the team won, but I knew I had to bring my best game that day. I was very happy to take the first set because Maeve has been the best player in her section for the last five years. I think I shocked some people when she lost the first set to me."
"Going into the semifinals of states we are very excited. We've had an amazing season so far and we want to continue it to the end. It's a little heartbreaking knowing that us seniors only have two more matches left in our high school careers, but we are going to give it everything we have to defend our state title. There will be a lot of pressure on us to win, but we are in a great position to do so. Nothing is guaranteed, but our team is looking very strong. We will be playing Bethlehem in the semifinals, which is a team that we scrimmaged against in the beginning of the year and beat 6-1. If we win, we will most likely play the winner of section 11 (long island). They will be playing their section final on Tuesday (Port Washington vs Syosset). No matter who we play we are just taking it one point at a time."
The NYSPHSAA Final 4 will be held on Friday November 4 at the USTA National Training Center in Flushing, Queens. Scarsdale will meet Bethlehem for the Division 1 semifinals at 11 am. If they are successful, they will play in the finals at 4:30 pm.

Go Raiders!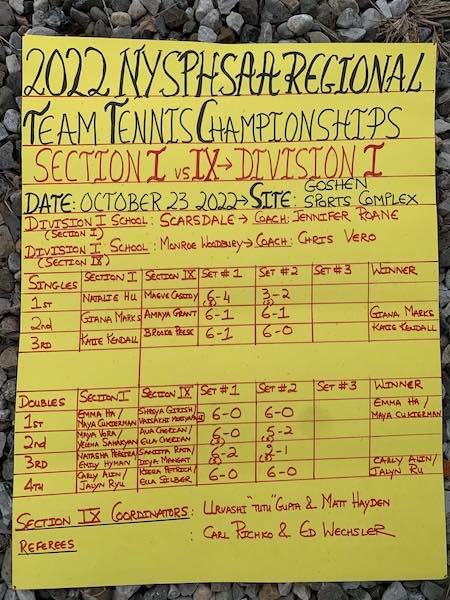 The scoreboard from the match in Goshen.