LWVS Seeks High School Applicants For Unique Students Inside Albany Conference

Tuesday, 07 January 2020 15:36
Last Updated: Tuesday, 07 January 2020 15:48
Published: Tuesday, 07 January 2020 15:36
Joanne Wallenstein
Hits: 1429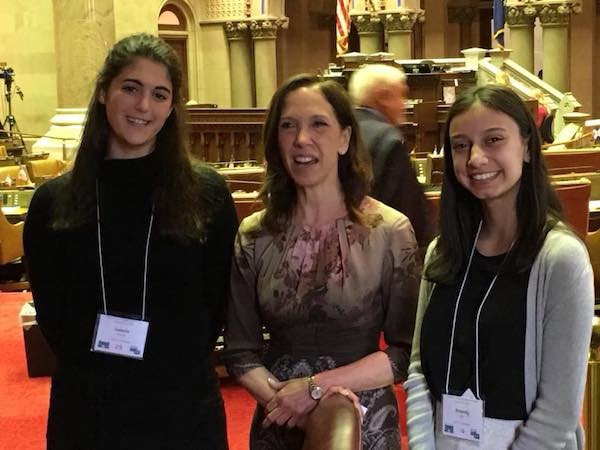 For the ninth consecutive year, the League of Women Voters of Scarsdale will select two high school students to attend the annual Students Inside Albany conference, to be held May 17 – 20, 2020. Any Sophomore, Junior or Senior student who attends Scarsdale High School or resides in the school district is eligible to apply. Students Inside Albany is a four-day conference designed to immerse students in the process by which public policy is proposed, revised and enacted in New York State. This conference deepens their understanding of their individual responsibility in our representative democracy and provides them with tools for meeting that responsibility. Scarsdale students who attended this conference in the past were unanimous in their enthusiasm about the program. The conference allows them to interact with students from all over the state, learn about their New York State government and the process by which citizens can participate in policy making areas, as well as tour the capitol and meet state legislators. The League of Women Voters New York State Education Foundation, Inc. and our Scarsdale League will pay all students expenses, including hotel and meals.
Applications are available on the LWVS website (http://lwvs.org/youth.html) and are due by February 3, 2020.

For more information, including photos from last year's conference, visit the League of Women Voters, New York State under the Youth Programs tab.


Last year's Scarsdale attendees, Andrew Morin and Rishabh Gharekhan, are happy to answer questions from interested students. Contact LWVSyouthprograms@gmail.com for more information. You may also contact LWVS coordinators Joan Bowen (914-552-0596 or bowenfamily5@gmail.com) or Erika Rublin (917-658-3461 or erublin@gmail.com) for more information.