Letters from John Biers, Debra Asher-Zitrin and Mayra Kirkendall Rodriguez
Friday, 07 May 2021 14:57
Last Updated: Friday, 07 May 2021 14:59
Published: Friday, 07 May 2021 14:57
Joanne Wallenstein
Hits: 940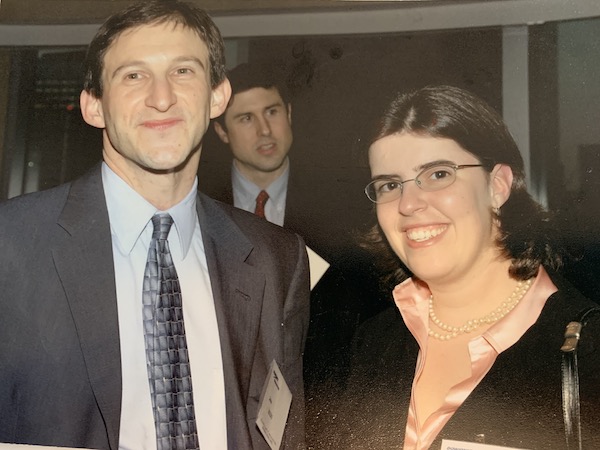 John Biers and Jessica Resnick-AultWe received the following letters concerning school board candidates after our publication date on Thursday. See below for letters from John Biers, Debra Asher-Zitirn and Mayra Kirkendall Rodriguez
As an SHS graduate who now lives in New York City, I would like to offer a strong endorsement for Jessica Resnick-Ault, who is running for Scarsdale School Board.
I have known Jessica since 2004, when we worked together in Houston at Dow Jones Newswires. Jessica is a great team player with a terrific can-do spirit. As a journalist, Jessica has shown a consistent capacity to overcome journalistic barriers, sift through conflicting information, negotiate difficult personalities and report the facts at the heart of the issue. While a school board has a different mission than a newsroom, having someone who knows how to ask tough questions with grace would be a great asset, as would a board colleague with a real skill for working collaboratively with other people. I can't imagine a better choice for the board during this challenging period.
Like all schools, Scarsdale's will face a lot of difficult choices in the year ahead. I would feel reassured of a bright future for my alma mater with Jessica on the board.
Sincerely,
John Biers,
SHS Class of 1989
To whom this may concern,
As a 18 year resident of Scarsdale who has seen much leadership come and go I wholeheartedly support Jessica Resnick-Ault for her candidacy as a member of the Board of Education.
As a young, working, single mom Jessica has a never ending can do attitude. She juggles the demands of a high profile energy journalist with the demands of raising her child and their dog, caring for her home and her huge volunteer commitments. She seems to singlehandedly run a grass root community service based organization that provides whatever is needed to the less fortunate.
In the past 6 years I have gotten to know Jessica well. She is a driven, creative, hardworking, patient and thoughtful friend and advocate.
We have discussed many issues over the years. Most importantly, if we didn't agree on a matter we always had respectful dialogues empathizing with each other's point of view. People need to be heard and we must work together. These are the most important skill sets necessary as a member of the Board of Education and Jessica embodies the spirit of these ideals.
It is with these views in mind I hope you join me and cast your vote for Jessica on May 18.
Debra Asher-Zitrin
Nelson Road
Kirkendall-Rodríguez Endorses Singer And Is Deciding Between Israel and Resnick-Ault
My husband, Brice, and I have lived in Scarsdale for a decade and have been active volunteers in numerous school and civic organizations. I have been attending and participating in Board of Education (BOE) meetings for seven years, even before my kids entered Fox Meadow Elementary School. The volunteer trustee position at the BOE is by far the most demanding in our Village. Having a Board that has a diversity of professions, skills, and volunteerism record is critical to provide oversight to the Administration and to be inclusive of the different views of residents, students, teachers, and staff.
I strongly support Alison Tepper Singer for the Board because of her expertise in economics, finance, and school budget analysis. When at the height of the pandemic, Robert Berg, Sean Cohen, Bob Selvaggio and I were advocating for residents to be able to pay their school taxes in two installments, Alison immediately understood how helpful this would be for our residents, especially during the economic crisis. She was instrumental in helping make this important change, which had already existed in numerous municipalities in Westchester County. Additionally, Alison has asked the right questions to make sure that the school budget has been under the tax cap for the last three years. Not having her on the Board would leave Scarsdale residents, who care strongly about the long-term fiscal sustainability of our school district, without representation.
Unlike Alison, no existing board members or candidates have a track record of advocating for special needs education. When my co-chair at Fox Meadow's Diversity and Inclusion Committee and I ran an event about anxiety in children and teens, Alison was quick to provide us contacts and suggestions to enable us have a successful event for Scarsdale's residents. I am also very impressed by Alison's leadership on the District's Diversity, Equity and Inclusion policy. I appreciate that she works to ensure that all our students are treated fairly in order to have a successful learning environment.
Yes, like so many in town I have felt the adverse effects of the pandemic on my elementary school kids. The District's Restart Steering Committee was the most influential group in determining when our students could return to school; Alison was not in that committee until very recently. Using Alison as a scapegoat is unfair and would leave us without her impressive skill set on the Board at a time that the District faces the enormous task of determining how to adjust the curriculum as we discover what emotional and academic challenges may have arisen for our students due to the pandemic. There are also important capital projects before us such as renovating Fox Meadow and Edgewood Schools; the Scarsdale community needs Alison's attention to detail and her financial skills to provide oversight to the Administration as it works on the school budget and complexities of a future bond issue.
It is unfortunate that we do not have rank choice voting, because that framework is designed to show favor for more than one candidate. Jessica Resnick-Ault is analytical, a dedicated volunteer and comes from Edgewood, which has no representation on the Board presently. She is approachable and a hard worker. Additionally, as a single parent, she would provide an important perspective at the BOE. Irin Israel has devoted hundreds of hours advocating for our students, so that they can be in class, in-person fulltime. He has worked tirelessly to learn about important issues facing our school district. Importantly, he has run his own campaign and is not beholden to any opaque committee. Alison, Irin, and Jessica called me several times to exchange views about their campaign and our schools; I appreciate that they have been seeking out different members in our community to learn our views. I thank them for running for such an important board.
All the best,
Mayra Kirkendall-Rodríguez
Fox Meadow Road