SHS Students Spread Their Wings After a Stressful School Year
Thursday, 15 July 2021 07:42
Last Updated: Thursday, 15 July 2021 07:49
Published: Thursday, 15 July 2021 07:42
Sydney Piccoli
Hits: 1767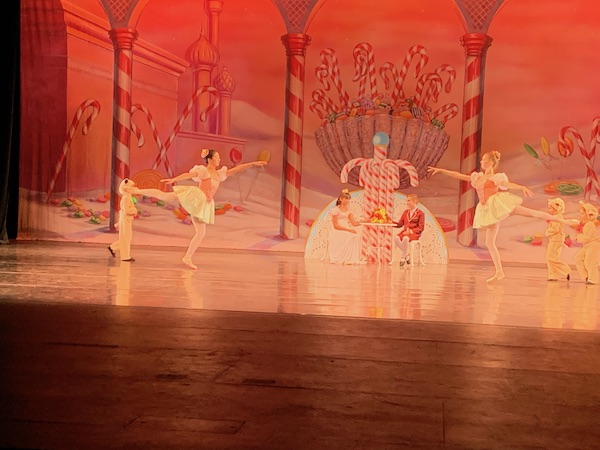 Rising Seniors Emily Shiromonto is doing a summer intensive in ballet in NYC.It's been a month since Scarsdale schools went out of business for the summer. Students have happily traded in their backpacks and textbooks for beach bags and swimsuits. Without the pressure of school on their shoulders, more Scarsdale students are undoubtedly out and about—the question is what are they busy doing?
Several students are broadening their horizons through academic programs and science research. "I am spending my summer doing a math program called M3C at Mercy College for four weeks ... I hope to get better at math seeing it is a subject that I want to improve in," mentioned Wubet Jean-Baptiste '22. Maggie Peng and Ronan Gandhi, two rising seniors enrolled in Scarsdale High School's science research course, have been working at laboratories. "I'm doing science research on a technique called chest wall strapping, which we're hoping can help patients with chronic obstructive pulmonary disease (COPD) breathe more easily. It's all remote, so I do most of my work on my own with a few Zooms each week," explained Peng. "Because I'm doing work independently, there's definitely a big part of the lab experience that I'm missing out on."
After a long year of homework and studying, many students are also spending more time focusing on their passions. "I've been going to a ballet summer intensive camp in the city ... So far, I feel that my technique and the way I am expressing myself while dancing is improving, so I hope to get even better at dance during the last weeks of the camp," remarked Emily Shiromoto '22. After a rise of anti-Asian hate crimes, however, summer trips to the city pose several concerns for Scarsdale residents. "In terms of the commuting, due to the hate crimes against Asian Americans, I am more afraid of being attacked than I was before COVID. In some ways, I am more worried about the commuting than the actual camp and dancing," added Shiromoto.
Scarsdale students are also volunteering their time to help those in need. Juniors Ava Londa, Anna Forest, and Justine Karp are counselors at Sunrise Day Camp, which serves as a day camp for children with cancer and their siblings free of charge. "Working with seven-year-olds who are either battling cancer or have siblings who are suffering has made me much more appreciative of life itself and the health of those around me," mentioned Londa. "I have learned not to get too worked up or complain about the little things and focus on more important aspects of life," she added. Ethan Hersch is working with the Zuckerberg Institute to help local businesses recover from the pandemic. More specifically, he is helping a business rehire old employees that were laid off last year and get new customers in the door. Even though the program is virtual due to COVID-19 concerns, Hersch has been able to experience several educational benefits. "I've learned that businesses mostly need help with social media and online advertising to attract customers," he remarked.
Scarsdale teenagers can also be found working a variety of jobs at local pools, ice cream shops, and clothing stores. Ben Ewing '22 is working at a snack shack in Ardsley for the summer, which has allowed him to meet teenagers from all around Westchester. Janmariz Deguia '22 is a saleswoman at an American Eagle in Pennsylvania. "I work at a Crossing Premium Outlet so we get hundreds of people a day. People come from all over the country and it's so cool to talk to them," she mentioned. "I'm glad that I work so directly related to clothes so I can always work on my knowledge of fashion and it's inspired me to sketch designs in my free time," added Deguia.
Eliana Zitrin '22 is spending her summer working at a sleepaway camp and taking care of the staff kids. "I've had a lot of fun both with the kids during the day and with my co's and other friends at night/periods off. It's also just really nice to be back at camp doing all the traditions and feeling the whole sense of community that there always is here again," she said.
As job markets become increasingly competitive, students can be found interning and broadening their networks as well. Charlotte Davis is interning for a local artist and helping her with social media and commissions. "I think I have become much more independent this summer. Getting my driver's license, having a job, and thinking about college has made me feel very excited for the future, and I hope by the end of the summer I feel content with what I achieved," she remarked.
And last, Scarsdale students are also using the summer to get a head start on college touring and standardized test studying. "This summer, I am planning to do a bit of college touring. We had a road trip to Maine, and on the way back down we toured a few colleges in Boston. Other than that, I'll mostly be preparing for junior year and the SAT," said Emily Wang '23. "I'm organizing my time well so that I can get some of my college stuff done before senior year as well," mentioned Lydia Jin '22.
Beyond working, interning, volunteering, and studying, Scarsdale students are prioritizing their wellbeing after such a stressful year. "After being cooped up for the majority of the past year, being able to get out of the house and travel has been really amazing... I realized that mental well-being isn't negotiable under any circumstances, no matter what the surroundings are," mentioned Wang '23. As more public areas reopen and masks are slowly becoming less needed for the vaccinated population, Scarsdale teenagers are spending time with one another as well. "[The new mandates] allow me to meet with my friends more often in person, and to catch up with those who I simply interacted with digitally during COVID-19," said Gandhi '23.
Although Scarsdale students are doing a variety of activities this summer, one thing can be said for sure: they deserve a break. "Most summers I have been part of the swim team or traveled around the world, but this year I made it a goal to have no schedule," concluded Deguia.